LA County Fair: It's Fair Time! Fair, Food, & Fun! + Ticket Giveaway
By: Erin
Disclosure: I was invited out to the Media Food Preview Night at the LA County Fair and I was provided with a 4 pack of tickets with a parking pass to the LA County Fair. All opinions are my own and I've been going to this fair for as long as I can remember. 😉
It's that time of year again folks, and you know what that means! It's time for the LA County Fair. All the rides, games, shows, concerts,  new animal exhibits and of course one of the main attractions, the FOOD!! Every year, the food is a huge draw at the fair, and as usual will not disappoint .  You will see the oh so familiar fried food fare from longtime fair favorites such as Chicken Charlie's, but the fair does have some Gluten-Free options, one of my personal favorites; Terri's Berries and then there is the Los Angeles International Wine & Spirits Marketplace. The Fair started last Friday, August 30th and will run through September 29th. This past Wednesday I was invited out to a food preview for a sneak peek of what's in store for this year's UN-LEASH Your Inner Fair at the LA County Fair!
This year the fair has been turned into "Calitopia," where you can keep cool with underwater and animal adventures like those found in San Diego, animation workshops and Enterprise exhibits from Hollywood as well as wine tasting experiences straight from Napa Valley.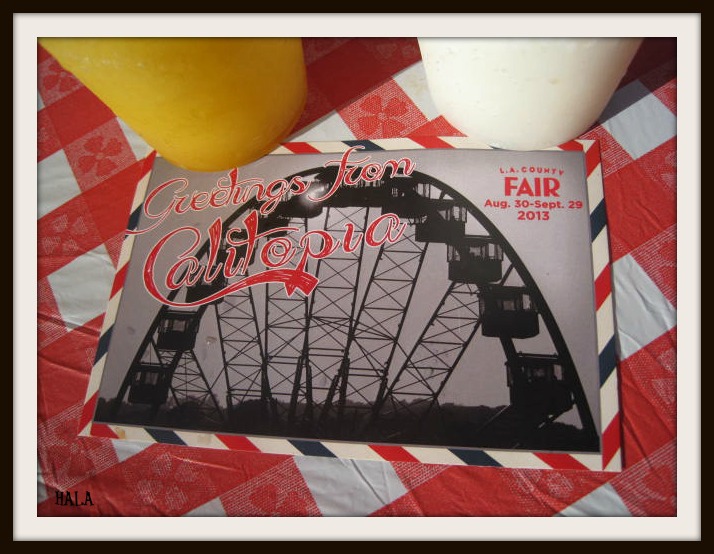 NOW! Onto the Food and Giveaway that you are probably here for. 😉 You can find these food vendors while out and about at the fair this year as well as many others.
The FOOD!!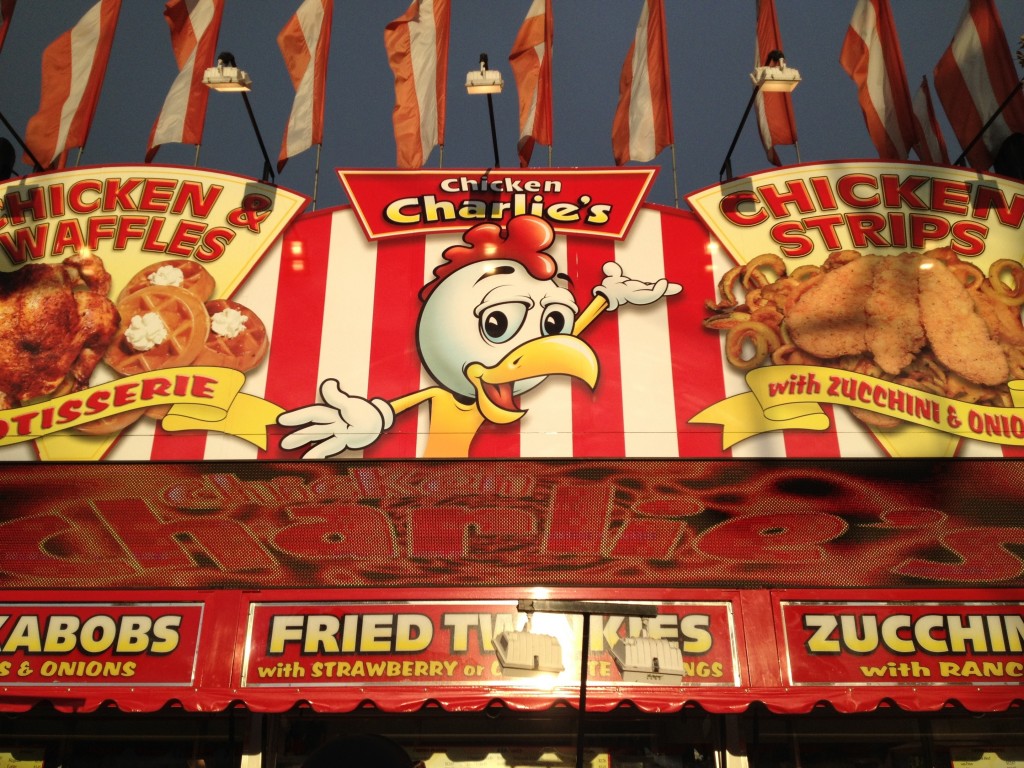 How about we start out with some deep fried fair food fun? Be the first to try out the new Krispy Kreme Hamburger ($9.95), the Krispy Kreme Sloppy Joes ($7.75), Totally Fried Bacon Wrapped Pickles ($6.75), Waffle Dogs, and if you want something on the lighter side, they do have chicken kabobs. Don't forget dessert! They also have the Totally Fried Twinkie that you can get with either chocolate or strawberry sauce drizzled on top.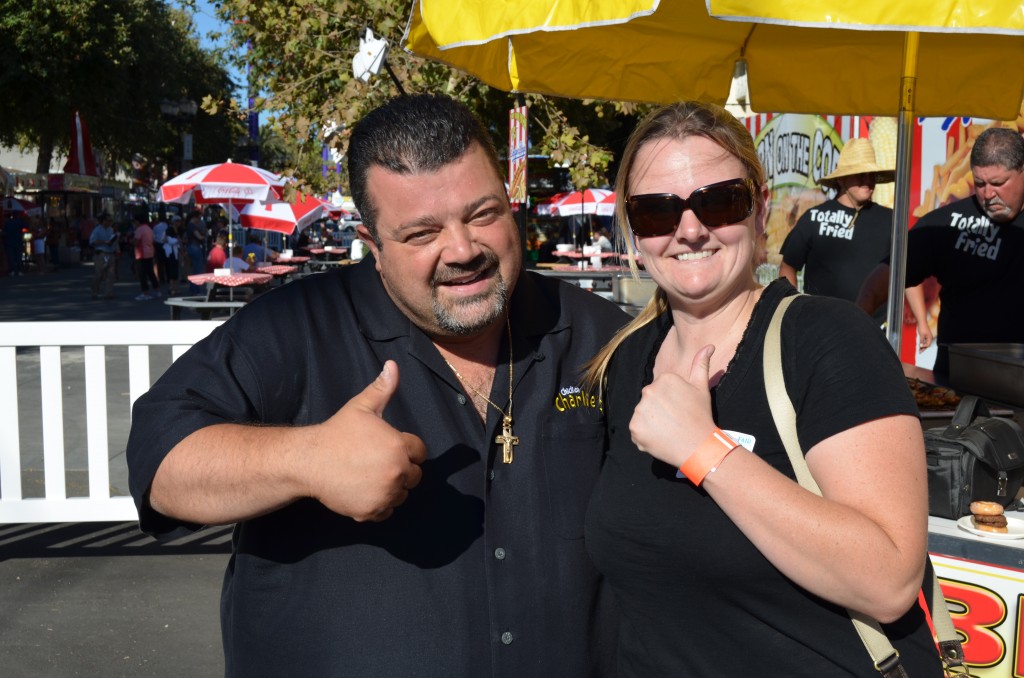 Chicken Charlie himself was there, so I just had to stop and get a picture taken with this famous fair icon. 🙂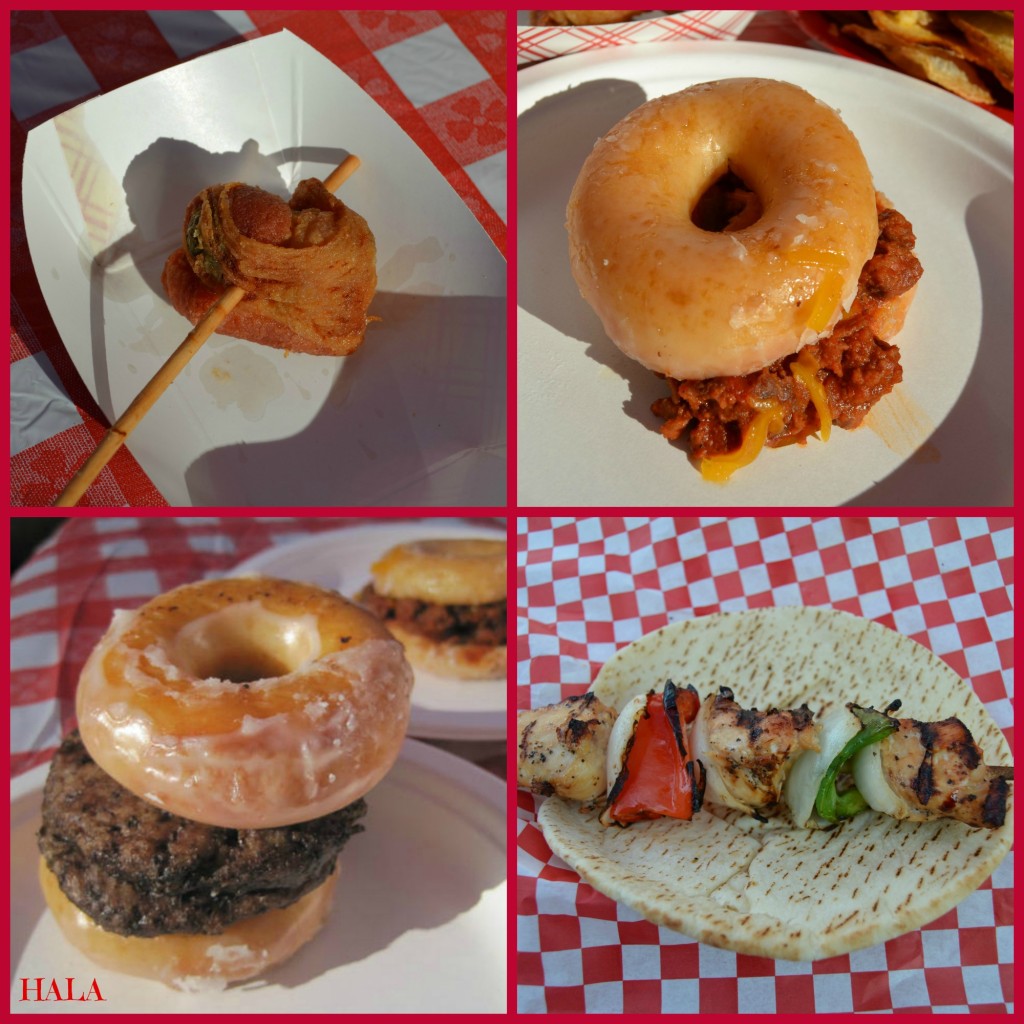 My favorites would have to be the Krispy Kreme Sloppy Joe and the Bacon wrapped pickles! Yum!

2. Texas Style BBQ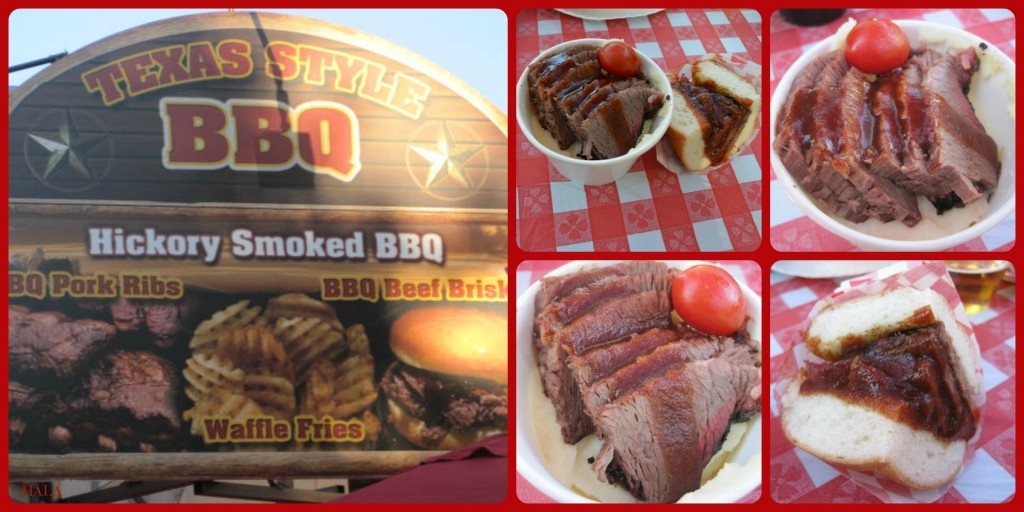 Bound to be one of this year's favorites, Texas Style BBQ! They have come up with a very creative and clever creation called the Beef Brisket Sundae! It runs about $7. Served in a paper sundae cup, it is filled with mashed potatoes instead of ice cream, and topped with a dome of barbecued brisket slices, and you can't have a sundae without a cherry on top! Cherry tomato that is. 😉 It was a huge hit this night and sure to be one at the fair as well. It is a mountain of yummy BBQ goodness. They also had a BBQ sandwich to try as well.
3. Tasti Chips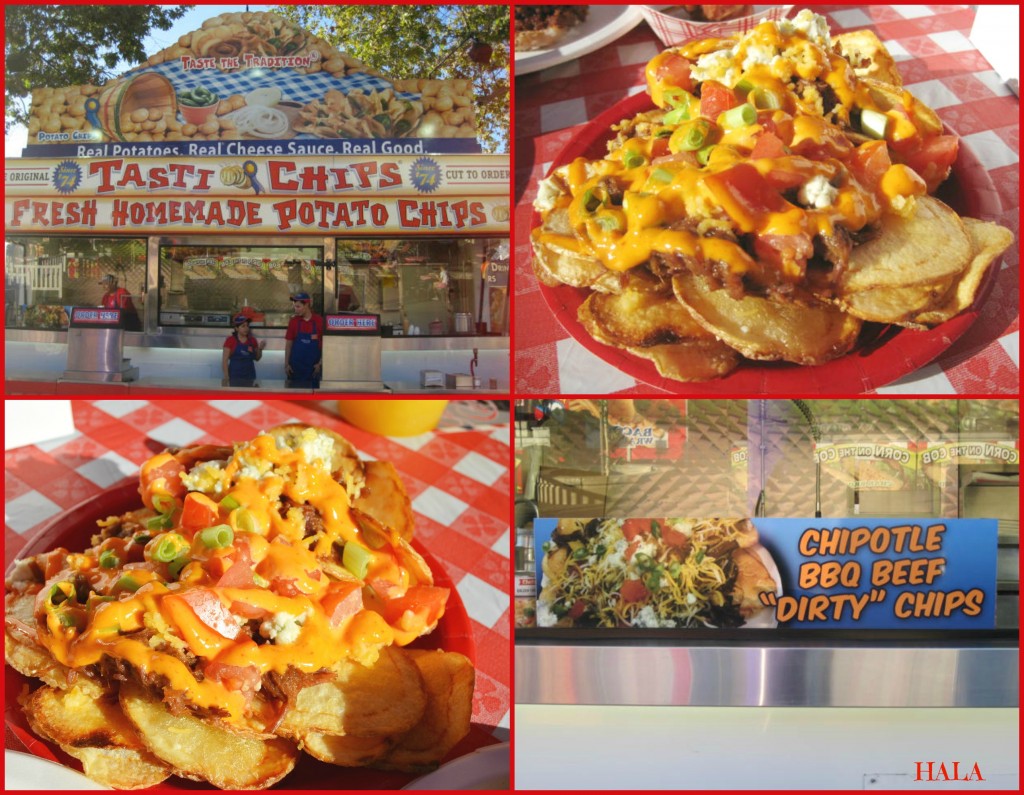 Another huge hit of the night, was the Tasti Chips! Gluten-Free (as long as you get it plain that it is, not as it is shown above!), Tasti Chips use fresh California grown potatoes and 100% pure allergen free peanut oil. Each basket is hand-stirred and cooked to perfection for that perfect crispy chip. New this year at the fair is the Chipotle BBQ Beef "Dirty" Chips, shown above, you can see all the different flavors these toppings provide.
4. Skinny Bar & Food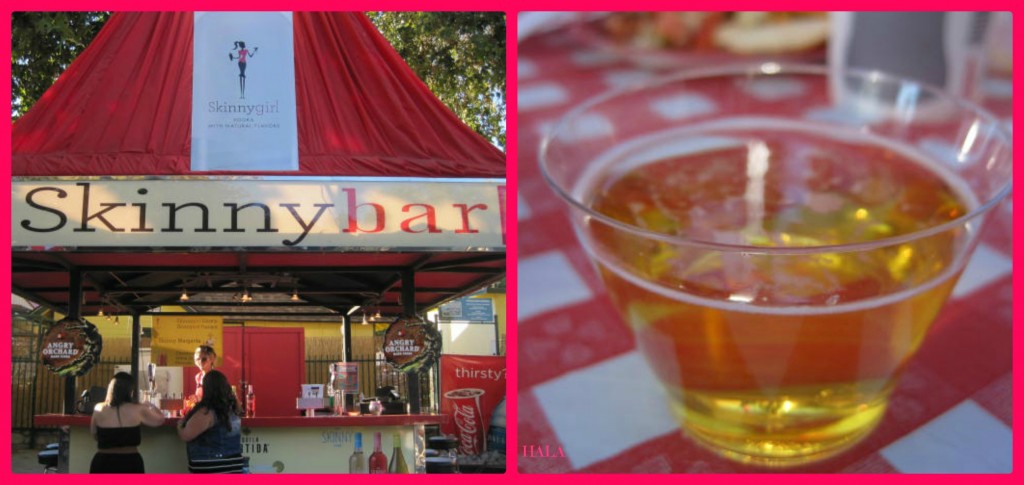 Back again this year with their skinny girl cocktails for a low-calorie treat! I was overjoyed when I saw that they will also be serving up Angry Orchard! I LOVE their hard cider! Perfect on such a HOT summer evening!
5. Fresh Fries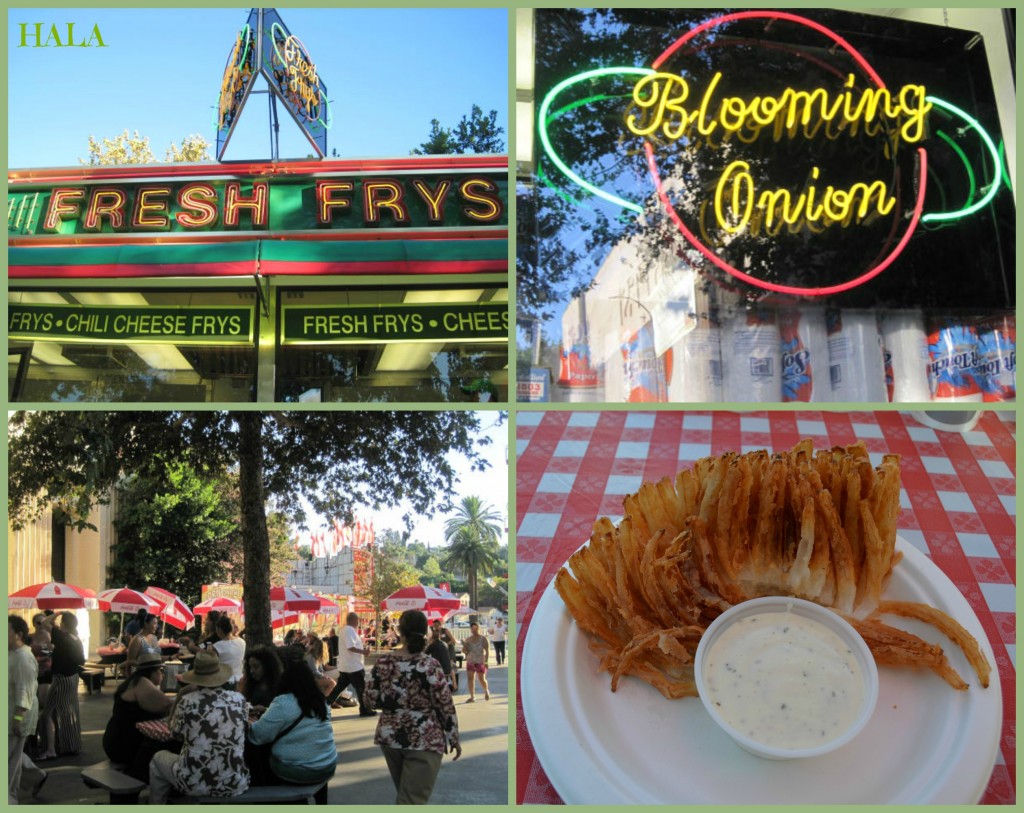 Last year I found one of my fair favorites here, the Marshmallow Yammies! Make sure to try those! They also have their famous blooming onions which are quite addicting. It will be gone before you know it, especially with the ranch dipping sauce that is severed with this special treat.
6. Cornucopia Cafe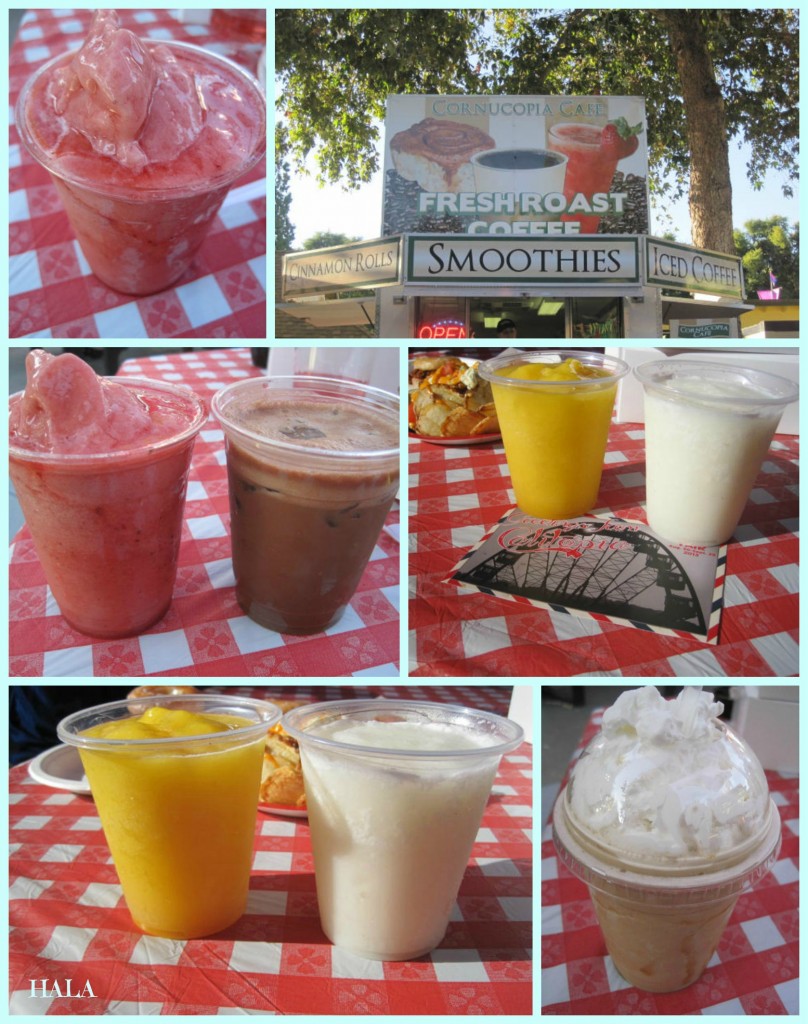 The perfect for stop for the whole family to cool off at! Serving an array of smoothies, iced and hot coffee, frapes, as well as your favorite sweet treats! Fresh Fruit, beer and wine too! The smoothies they were serving up this night for us included the Pina Colada, Strawberry, and Mango! ($5.29 each) They really hit the spot in the sweltering heat. As you can tell we went through quite a few smoothies and iced coffee drinks they were that good!
7. 10-Pound Buns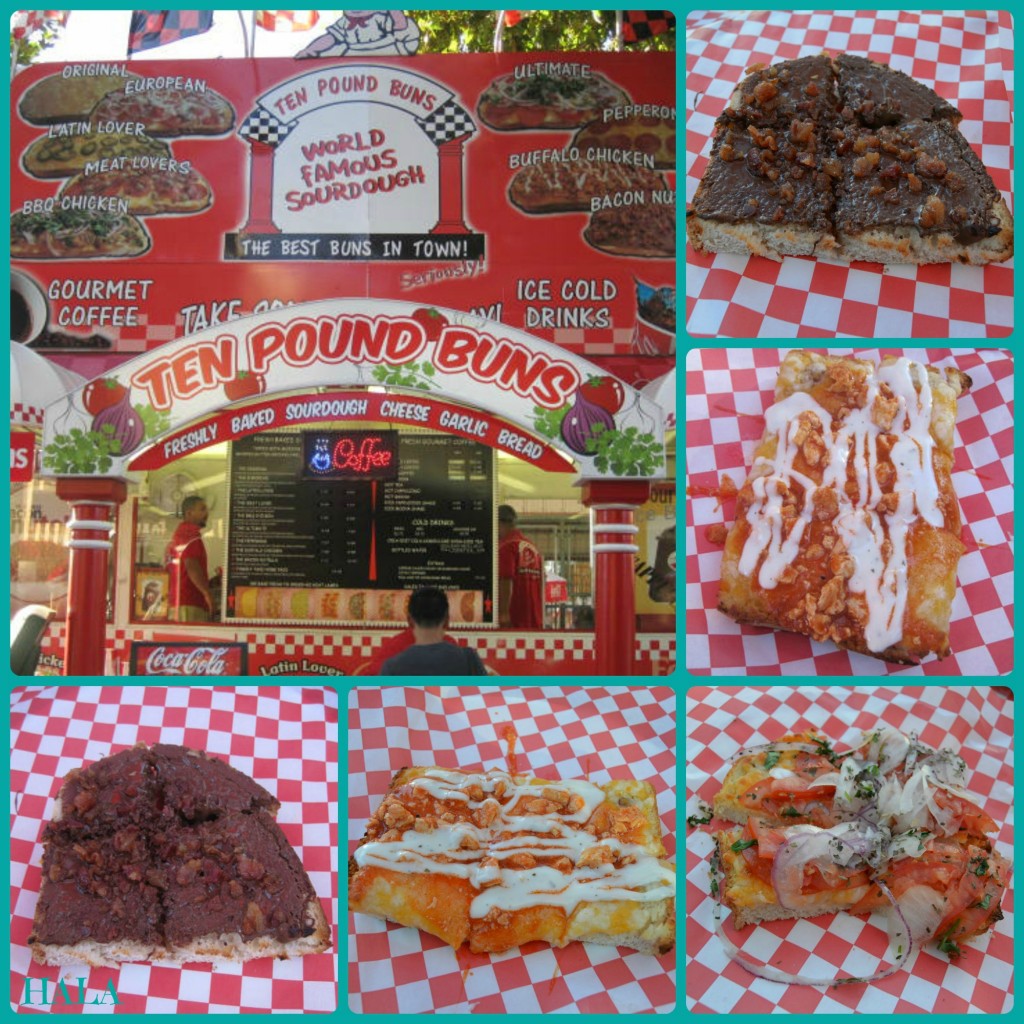 Always a favorite, they provide seven delicious mixtures of cheese, onions, garlic and much more. All slathered onto a very LARGE, freshly baked slice of their amazing world-famous sourdough bread. Our favorites include the Bacon Nutella, the Buffalo Chicken, the Ultimate, and the BBQ Chicken! If you can only get one, I would recommend the Bacon Nutella! It is a perfect mix of sweet and savory. ($7.11 for a full slice or $6.19 for a half-slice.)
8. Harold & Belle's to Geaux
Here to bring you the flavors of New Orleans cuisine, served in style. Items include Crawfish Etouffee ($10) as well as your fill of catfish, crawfish, bread pudding and much more.
9. Monster Dogs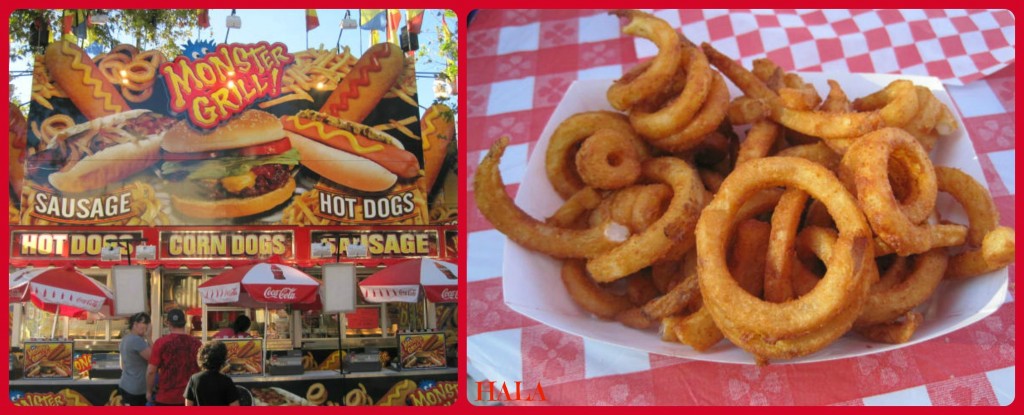 What would the fair be without the classics? Corn dogs, hot dogs, hamburgers, and curly fries cooked to a crispy golden brown.
10. Los Angeles International Wine & Spirits Marketplace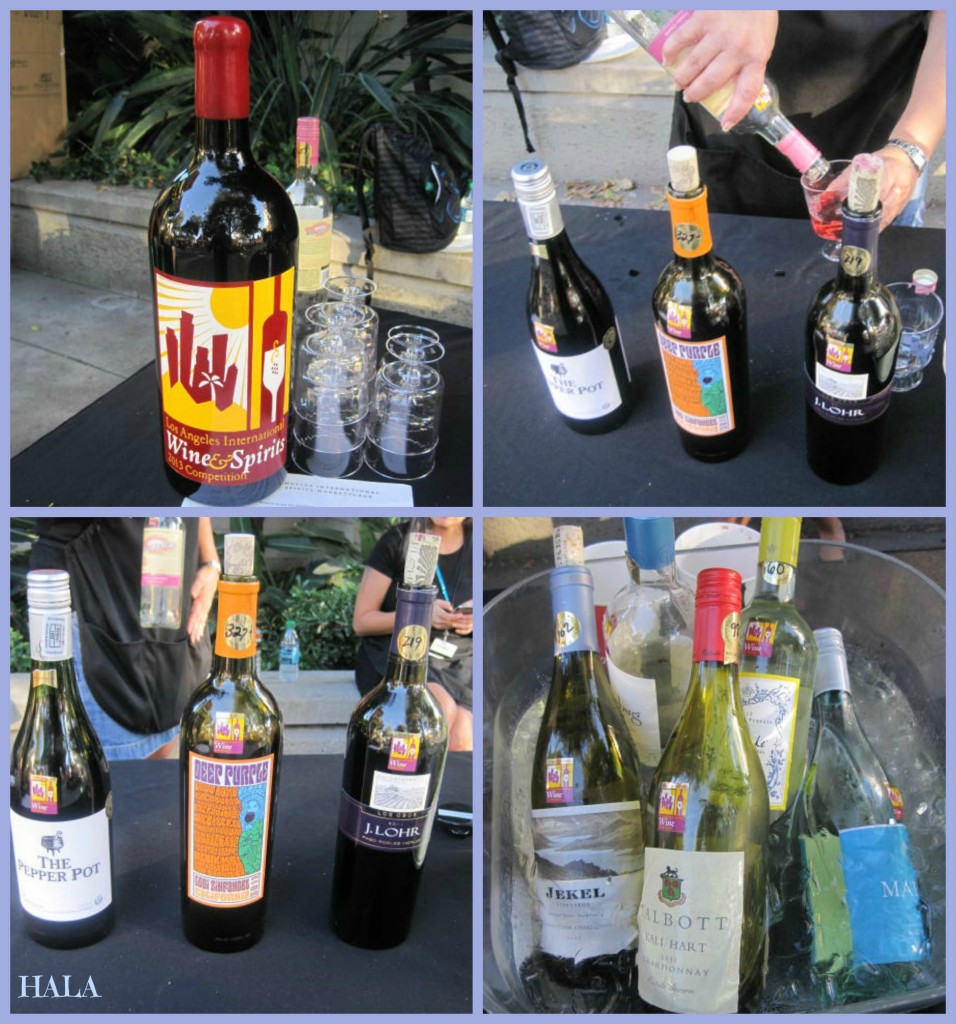 Love Wine? Then this is the place to be if you want to try something new or one of your favorites with wine tasting or just grab a glass or two. 😉
11. Corn on the Cob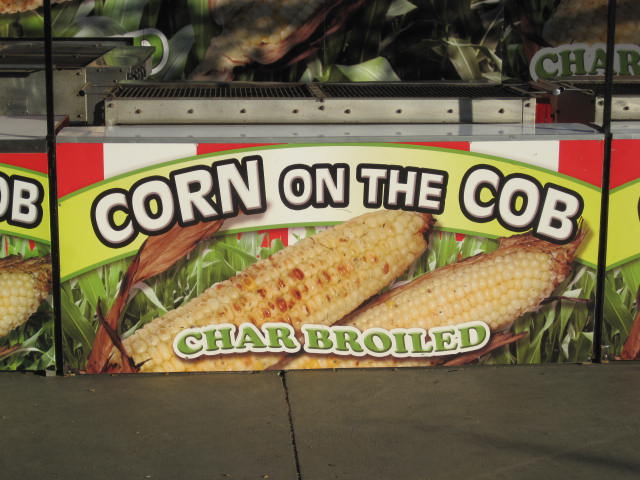 Not at the Fair Food Preview, just one of my personal fair favorites! I cannot go to the fair and not get some corn!! 😉
TIME FOR SOME FUN
Would you like a chance to WIN some tickets and a Parking Pass to the Fair? Well here's your chance! Enter in the rafflecopter form below! Good-Luck!
No purchase necessary, void where prohibited.  Must be 18 years or older, reside in the US and able to attend the fair as transportation is not provided.  All other rules can be found on the sweepstakes page.  Giveaway ends at 12am PST on September 9th.  Winner will be notified by email and tickets will be mailed out to the winner by the sponsor, NOT Horsing Around In LA.
So what are you waiting for? The fair will be gone before you know it!! Get going!! 🙂
If you aren't the lucky reader that wins some tickets to go, here's some more info on how you can get your tickets. Be sure to check out the LA County Fair's website below for places you can find discounted tickets at so that you can save your money to go towards some of the yummy food seen in this post! 😉
August 30th through September 29th
Admission Prices:
Season Pass- $29.99
Weekdays
Adults, 13+: $12
Child, ages 6-12: $8
Seniors 60+: $10
Weekends
Adults, 13+: $19
Child, ages 6-12: $12
Seniors 60+: $15
Parking:
Weekdays $12
Weekends $15
Valet/Gate 3 $30
Season Pass $60
See you at the FAIR!!!!!
You can also connect with the LA County Fair on Facebook and Twitter