It's BBQ Time at Marie Callender's with their Backyard BBQ Menu!
By: Erin
Disclosure: I was invited out to a lovely luncheon with OC Mom Blog to try out Marie Callender's new Backyard BBQ Menu! All thoughts and opinions remain my own.
Living in sunny Southern California, we are lucky that we can pretty much have a BBQ any time of year if we'd like. However nothing beats a BBQ in the summer time and at Marie Callender's you can now enjoy a great BBQ meal with their new Backyard BBQ Menu!
Marie Callender's has always been a family favorite, a place my grandma would especially love to take us to as they have the salad bar that you can get with your meal and meals that come with a piece of pie, a great deal can always be found at Marie Callender's!
When I got the invite from OC Mom blog to come try out the new Backyard BBQ Menu here and spend an afternoon with a group of lovely women who I am glad to call my friends, I could not refuse! From now through September 26th you can enjoy some delicious BBQ entrees starting at $9.99 plus tax and comes with a free slice of Marie's legendary pie (excludes cheesecakes, seasonal fresh fruit pies and promotional pies). So without further delay, here are some of the mouth-watering goodies you will find at your local Marie Callender's on the Backyard BBQ Menu!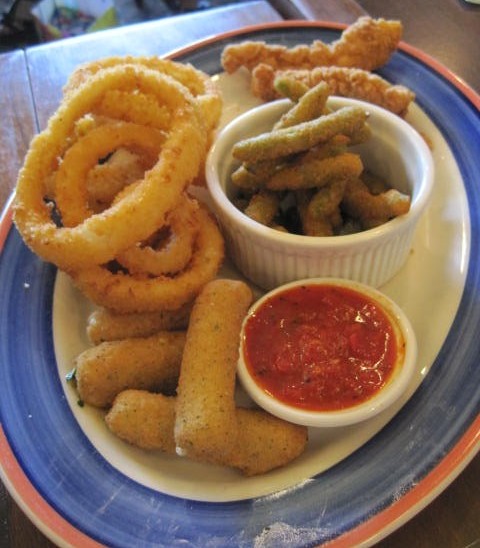 Appetizer Combo Platter that is perfect for sharing! $13.49 A nice sampling of mozzarella sticks, onion rings, crispy green beans (my absolute favorite part of this platter!) and crispy chicken tenders. Served with a spicy chipotle ranch and marinara sauce for dipping to your heart's content.
Black Bean & Chicken "Chimis" New! $8.49 A crispy tortilla filled with chicken, black beans and jalapeno jack cheese. Served with roasted corn salsa and spicy chipotle ranch dressing for dipping. These little guys are full of flavor and make for a great appetizer!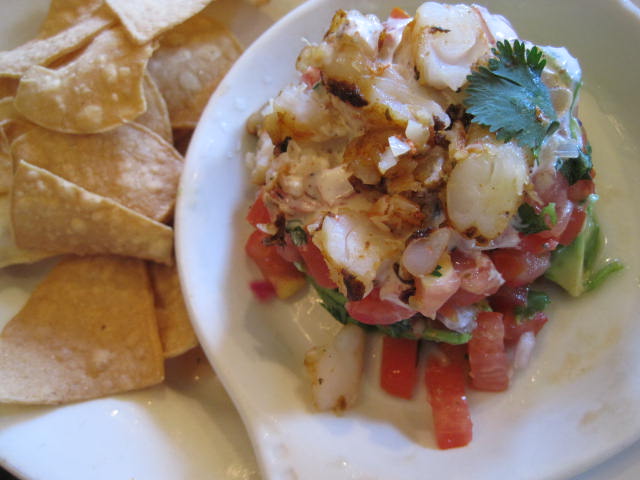 Fresh Avocado & Shrimp Stack $8.49 Fresh avocado, pico de gallo, spicy chipotle ranch dressing layered and topped with Cajun grilled shrimp. Served chilled with crispy tortilla chips. Being a huge fan of avocado and shrimp, this one had me drooling for more. It's so fresh, light and very flavorful. It's also low on calories as well.
 BBQ Turkey Sliders– $9.99 Dry rubbed slow-roasted turkey breast, thinly shaved and topped with BBQ sauce topped with coleslaw on mini ciabatta rolls served with fries. I LOVED these sliders! The combination of BBQ sauce and coleslaw with the turkey was a nice summery touch.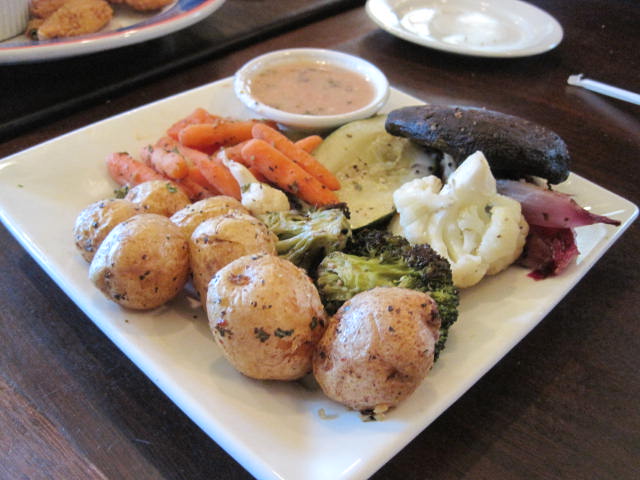 A vegetable platter for any vegetarians out there in case you are not into all of these BBQed meats! The veggies were very fresh and tasty! I may love my BBQ, but I do love my veggies as well! 😉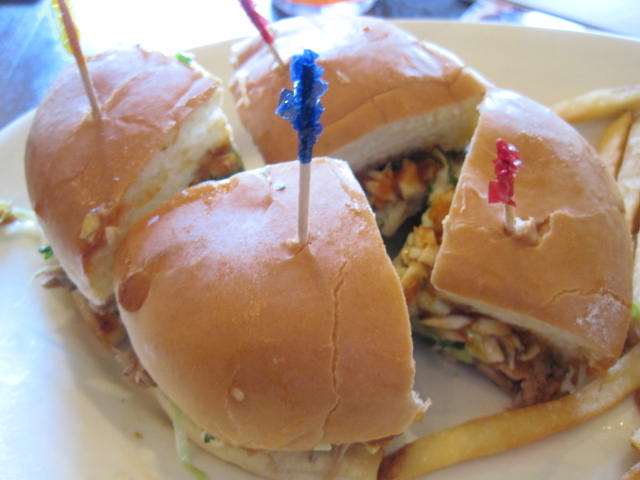 BBQ Pulled Pork Sandwich– $10.99 Tender, slow-cooked pork in BBQ sauce with coleslaw on a toasted bun served with fries. This one was another yummy slider, sure to please you.
You also have the option to build your own platter for $15.99 and  you get to choose 2 of your BBQ favorites such as: Tri-Tip, Grilled BBQ Shirmp shrimp skewer, St. Louis BBQ ribs, Grilled Chicken Breast, and Crispy Chicken Tenders. You also get to pick two sides to go with your BBQ Feast: BBQ bakes beans, sweet potato fries, coleslaw, potato salad, french fries, loaded mashed potatoes and southern-style Mac N' Cheese with ham and applewood smoked bacon. Oh, and you can't forget the Pie!! You also get a slice of Marie's pie (excludes the special pies and cheesecakes). What a deal!
Here are some of the creations that were served up to us from the Build Your Own BBQ Platter option!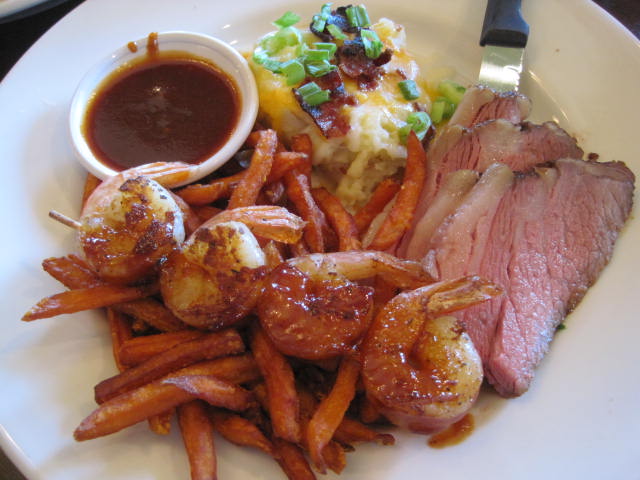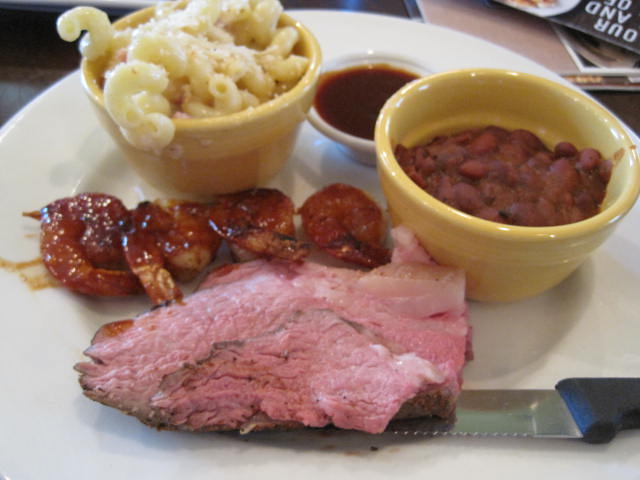 During these warm summer months, sometimes you crave something lighter, like a salad. Marie Callender's has you covered as they have quite a few options for a delightful BBQ or summer salad option!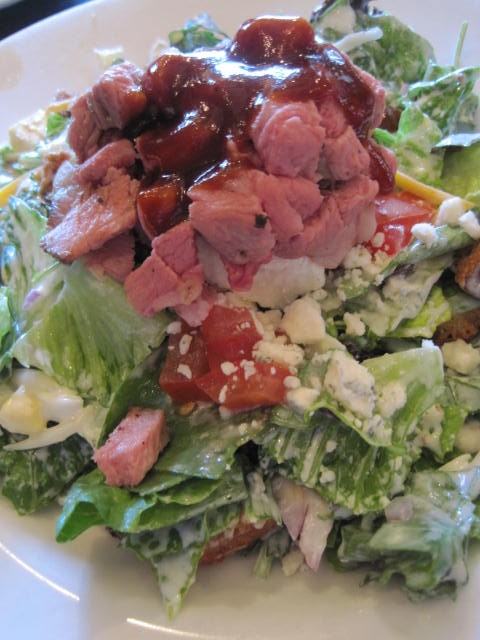 Tri-Tip Salad $12.99 Crisp lettuce with tomatoes, jack and cheddar cheese, chopped hard boiled egg, red onion and croutons tossed in tangy ranch and topped with gorgonzola cheese, slow-roasted tri-tip and BBQ sauce. This is a perfect BBQ option if you are craving BBQ, but want something on the lighter side.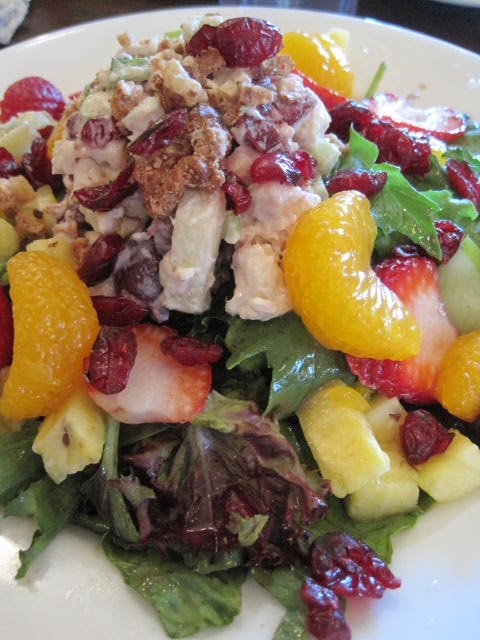 California Chicken Waldorf Salad $11.99 Fresh baby greens and crisp romaine lettuce tossed with fresh strawberries, pineapple, apples, mandarin oranges, cranberries, gorgonzola cheese, caramelized pecans and balsamic vinaigrette- topped with a delicious chicken waldorf salad.  I saw this salad and I just had to order it and it was AMAZING!! I will be going back to have this again for sure.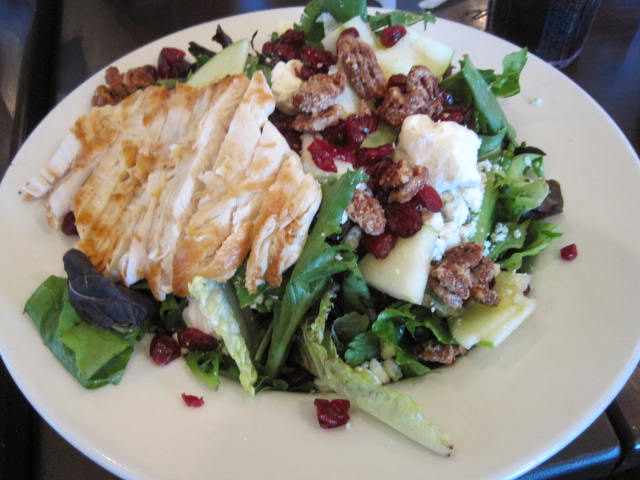 Another delightful salad from Marie Callener's that a fellow blogger had for lunch!
After being royally stuffed, it was then time for the best part of any meal, dessert!!! Ready for some PIE? There were so many to choose from that we all just had to have a little bit of each! There was not a pie that I did not like! 😉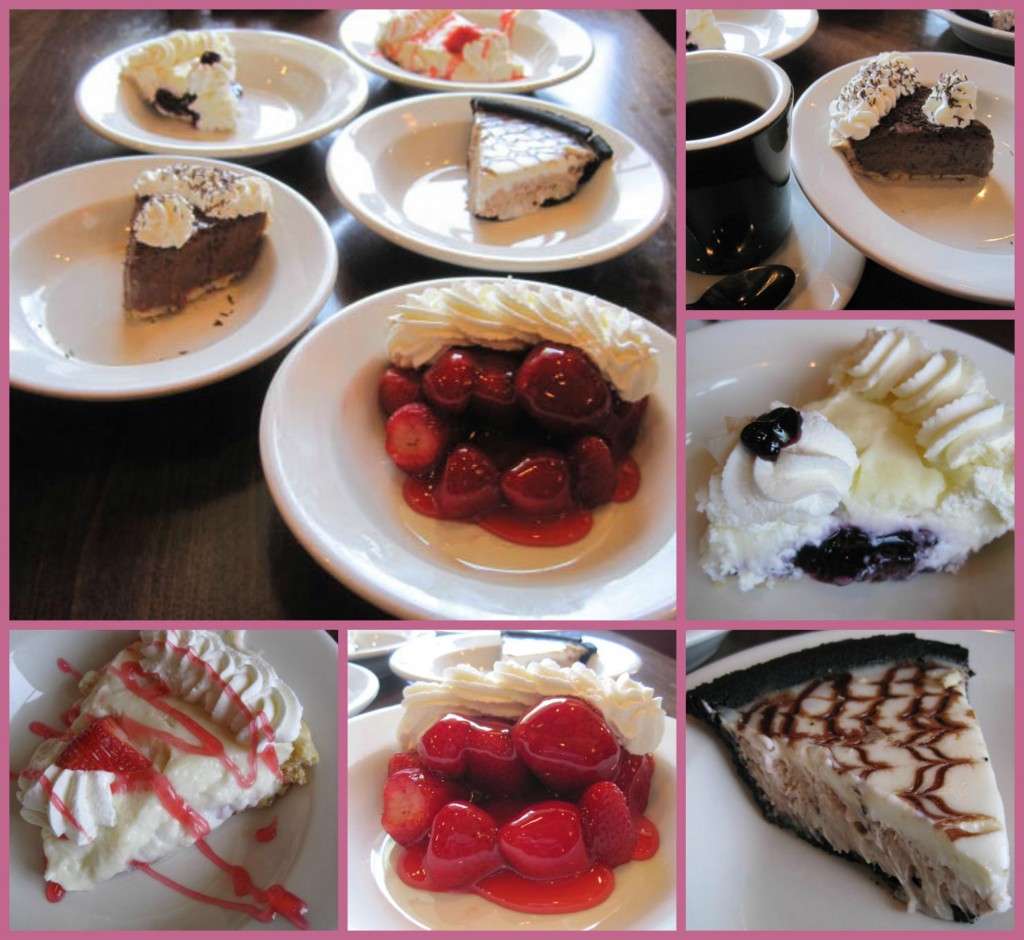 Now THREE of my readers will be able to EACH WIN a $10 Pie Card to go out to Marie Callender's to enjoy YOUR FAVORITE pie! You can enter below in the Rafflecopter form! Good-Luck and Enjoy your Pie!   =)
What kind will you get? 😉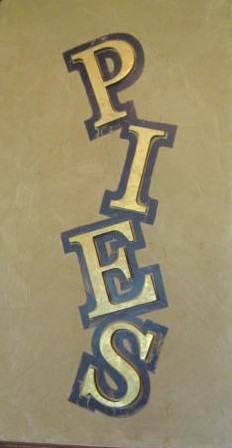 The girls out to lunch at the OC Mom Blog Luncheon! Love these girls! <3