Hispanic Scholarship Fund Leaders in Education Awards 2013: Paving the Way for Higher Education
By Erin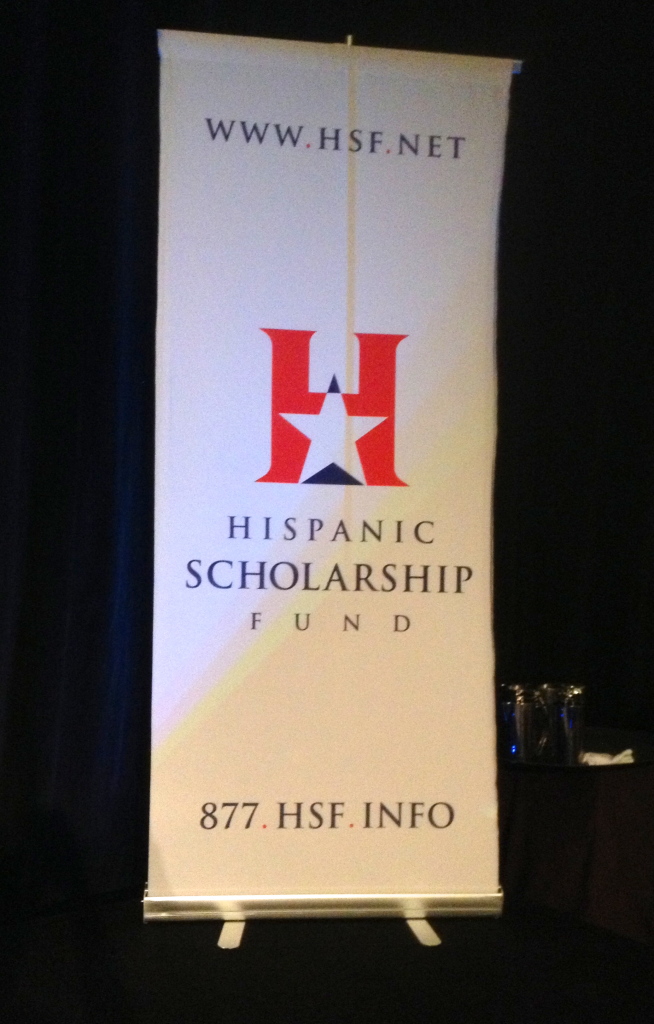 As an educator and teacher myself, I truly appreciate all the efforts of organizations that invest in our future and help students achieve their dreams and goals through their generous support of financial aid. Without these outlets for students to turn to, many would not be able to pursue higher education and earn advanced degrees that they are otherwise very capable of achieving if it weren't for that financial gap, especially with today's ever increasing price of a college education. I am ecstatic to partner up with the Hispanic Scholarship Fund (HSF) to raise awareness of their dedication and commitment to helping students and their families navigate collegiate life. From getting that acceptance letter and securing financial aid to finding that first job and gaining employment after graduation. We teach because we have a passion and we love our kids in the community. Any way we can help them succeed has my full and 110% support.
Here is a little bit more about the Hispanic Scholarship Foundation:
The Hispanic Scholarship Fund is the nation's largest not-for-profit organization supporting Hispanic higher education. They are committed to strengthening America through supporting Latino academic advancement.
Founded in 1975, HSF provides American families with the financial and educational resources they need to achieve a college education to help America be more competitive.
At present HSF has awarded over $360 million in scholarships and supported a broad range of outreach as well as education programs to help students and their families.
Their Mission: To increase the number of Hispanic college graduates by providing scholarships and assistance to students and their families.
Their Vision: Is a college degree in every Latino household.
The HSF Leaders in Education Awards (LEA) was held at the JW Marriott at L.A. Live in downtown Los Angeles the other day on Thursday, April 18th, 2013. This year marked their third year of having this annual LEA luncheon to raise awareness for HSF and I was lucky enough to attend and meet all of these very inspirational students, educators, parents, and volunteers/mentors that are leading the way for our future. These outstanding Southern California individuals were celebrated for their exemplary efforts of perseverance through their hard work and leadership to succeed in meeting and exceeding their goals. HSF works hard to recognize the contributions of leaders in the community and their impact in education and the nation.
Now meet just a few of HSF's fabulous Sponsors that were in attendance: Toyota, Coca-Cola, & Wells Fargo.

Of course, you all know me, if there's a horse in the room, I WILL find it! Low and behold, LOOK who I found! It's Mack, the Wells Fargo Horse! All Honorees received one of these cute cuddly guys!

 Meet the 2013 HSF Leaders in Education Honorees:
School of the Year: Animo Leadership Charter High School in Inglewood, prepares students for college, leadership, and life through innovative instruction, a rigorous curriculum, and the use of cutting-edge technology.
Educator of the Year: Teresa Carreto is the Career and College Advisor at Roosevelt High School, it is her job to ensure that every graduating senior is headed to college or a technical school.
Parent of the Year: Lorena Aguilar is a strong supporter of learning and hard work, she has instilled these values in her children from a young age and this has enabled her to bring up two wonderful young ladies as a single mother. She has contributed her own success as well as the success of her children, to these core values along with the support of her family.
Female Student of the Year:  Barbie Aguilar maintains a 3.5 GPA and is active in school clubs as the Cervantes Spanish Honors Society Club, the Animal Club, where she volunteers at pet adoption centers and her beloved Salsa Club. Barbie credits Salsa dancing with helping her blossom and gain self-confidence. She advises her peers to do their best and set high goals in everything they do.
Male Student of the Year: Ariel Salazar is from a low-income family which has made him work harder for himself, his family and his people. He started doing volunteer works in his early teens and continues to regularly volunteer at his church, local community club, Salvation Army and other organizations.
Volunteer/Mentor of the Year: Oscar Ayon Puga and President/Co-Founder of Unidos Por La Musica has a main goal to empower students into being all they want to be in life and to share his formula for success; Knowing what you want, Focus, and Perseverance.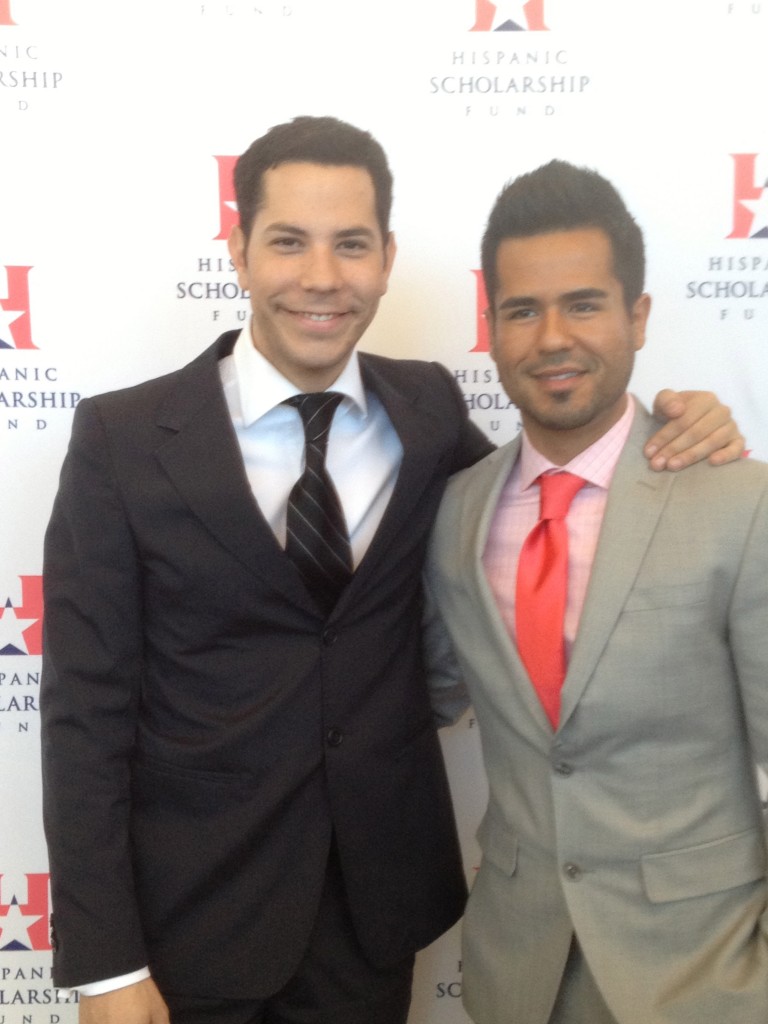 Presenter of the Award Christian Chavez with Volunteer/Mentor of the Year Oscar Ayon Puga
The HSF has really built an awesome support system, and is one thing that I truly loved about this event. Not only were the students recognized, but everyone else as well that helps out along the way that contribute to these students success; the parents, the teachers, volunteers and mentors, and the schools. Like the saying goes, it takes a village. It really does, and when the community comes together like this, the skies the limit. Personally I know I would not be where I am today if it were not from the help and encouragement of beloved teachers, coaches, mentors and help from my parents.
Highlights from the Event that I Loved:
*Speaking with President and CEO Fidel Vargas. I loved hearing his story and what his plans are for the future of HSF. He is a six time HSF recipient himself and he believes in the power of giving back to the community and to the foundation that helped him get where he is today and is ready to take HSF to the next level. Be on the lookout for a special campaign to launch in September of 2013. This campaign is vital for the future of HSF and the students, educators, parents, and schools that count on them.
*The Pledge to Text Event that took place during lunch! It was awesome to see and hear over the course of one meal, how much money could be raised so that more students can achieve their dreams of attending college and earning their degrees through sending a simple text message. Over $75,00 was raised during this time and will help out many more deserving students.
*Seeing all of the honorees speak and how heartfelt, sincere, and emotional they all were. Each and everyone of them were so thankful for the opportunity and excited to see their dreams coming true. Each one had such a unique perspective on life and I cannot wait to see where life takes them all next.
You can connect with HSF  here on Facebook and Twitter.
Disclosure: This is part of a compensated campaign with Smith New Media and HSF.net However, all opinions expressed are my own.