By: Erin
Are you ready to go on an adventure to Paris that will delight your taste buds?  Do you have your passport ready to go? Well, if you don't (at least if you are in the US)  you are in luck! Dominique's Kitchen in Redondo Beach, CA is here!! Opening in October of 2012, this is an absolute jewel of a restaurant tucked in on the famous Pacific Coast Highway just minutes from the ocean & pier. Walking in, you truly feel transformed as if you are leaving the L.A. area and entering another country. Dominique's is an intimate bistro, the tables are close & cozy to one another & the warm family atmosphere makes you feel right at home. Be ready to make some new friends when you visit Dominique's! I have been to Paris, France before, so walking into this blissful place brought back many happy memories. I felt like I really was back in Paris.
The restaurant space is small enough to enjoy an intimate dinner, yet large enough to not feel claustrophobic. There is patio seating for the warmer summer days and nights outside as well as an indoor type patio that is covered with heaters should it get too cold.

When the opportunity arose to review Dominique's I jumped at the chance to try out this new Euro-French restaurant. A French restaurant, here, nearby? I didn't have to fly to Paris for some good French food? Yes, Please! I have been craving a trip back to France, so this was a wonderful  substitute. Now, anytime I'm missing Paris, I just need to hop in the car and my new-found Paris vacation is just a hop, skip, and jump away at Dominique's in Redondo Beach! I brought my fellow blogging buddy and dear friend Kirsten over at SoCal Kids Outdoor Adventures with me as I knew she could use a vacation just as much as I did and she loves to be adventurous and try out new things! 😉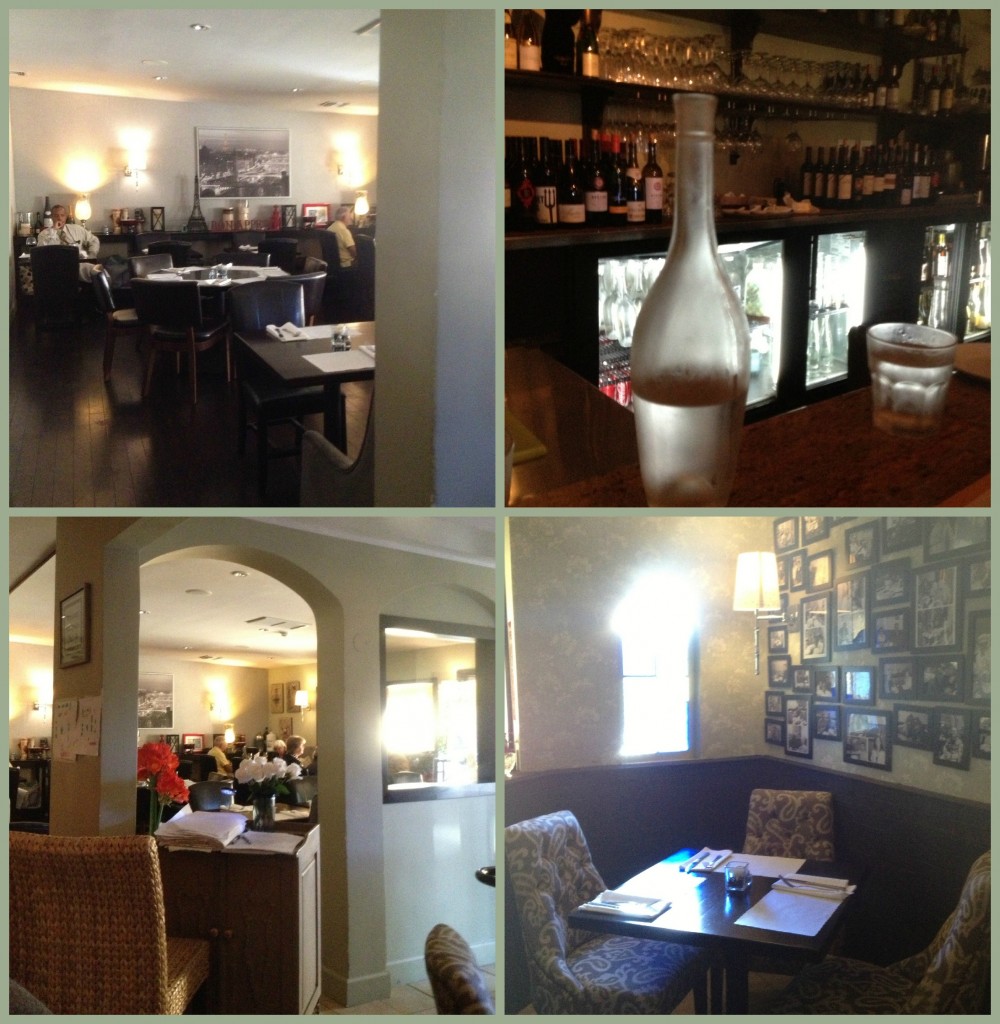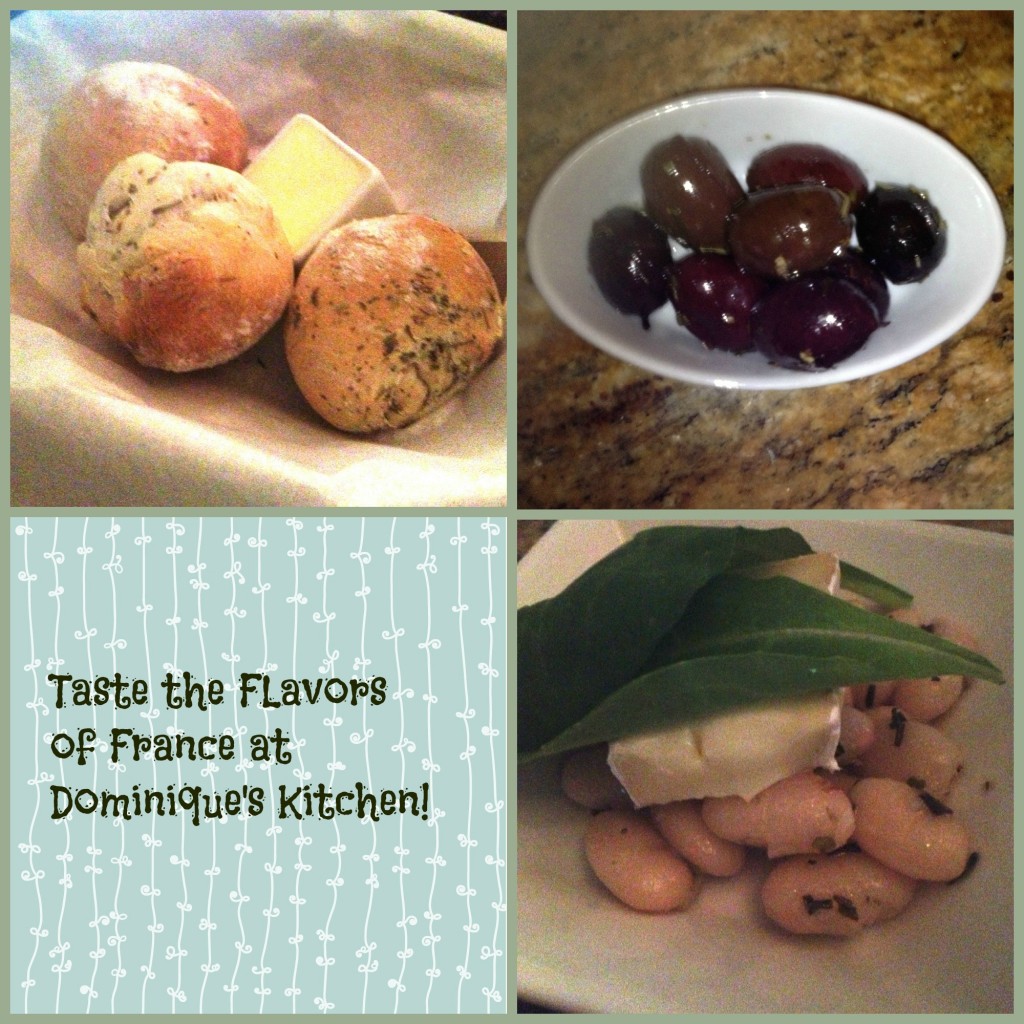 We arrived in fashion on Monday evening to check out all of their Happy Hour Specials. I love a good Happy Hour, and a $3 Happy Hour Menu, how can you pass that up? Where EVERYTHING on the menu is only $3? YES!  On Dominique's Happy Hour Menu, everything is $3! Check it out for yourself! Happy Hour Menu  Happy Hour is on Monday's from 4pm-6pm.
 Our flavor adventure started with a trio of appetizers. Fresh moist rolls hot out of the oven with rosemary and salted butter (these are addicting so be careful!), White Beans with Brie cheese and Black Olives got our taste buds craving more. To drink, I ordered the Sangria off of the $3 Happy Hour Menu, which I highly recommend! I don't think I've ever had one quite like this, it was marvelous!  It was smooth and a bit fruity. It had a little bit of a kick to it, but it was a delight.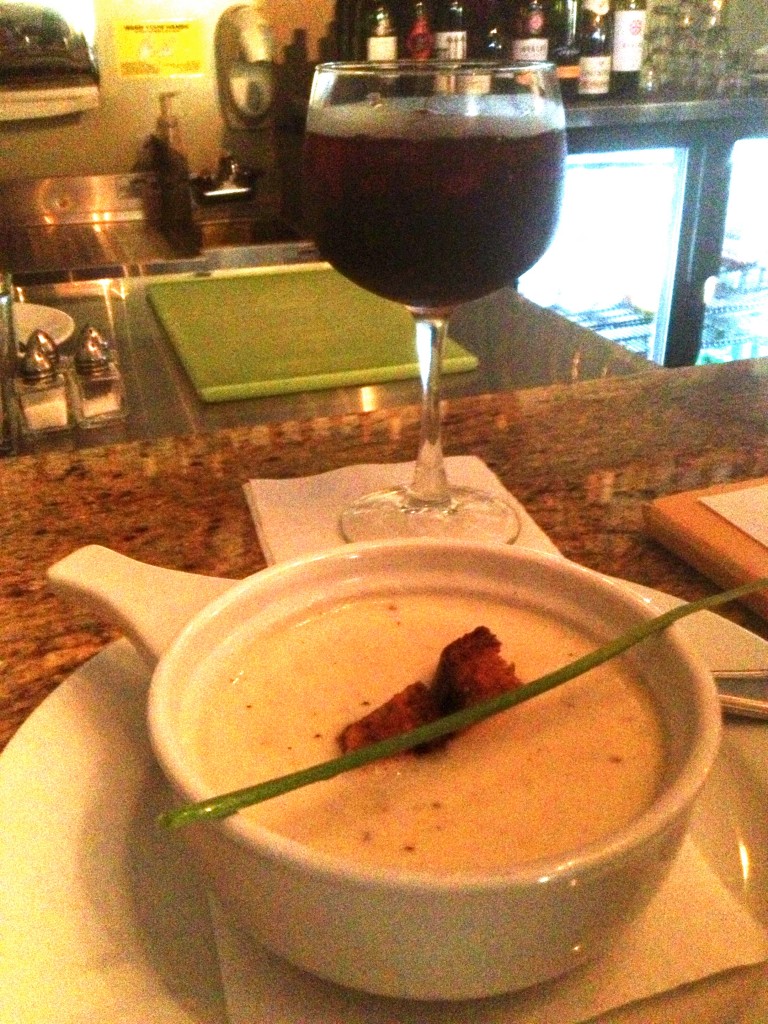 The first food item we ordered off of the Happy Hour Menu was the 'Soup of the Day' which happened to be Cream of Cauliflower. I had never had this before, so I was very curious to try it out. It was full of  creamy flavor and it was extremely satisfying! It was not too salty and the cauliflower flavor was not overpowering of the other flavors in the soup.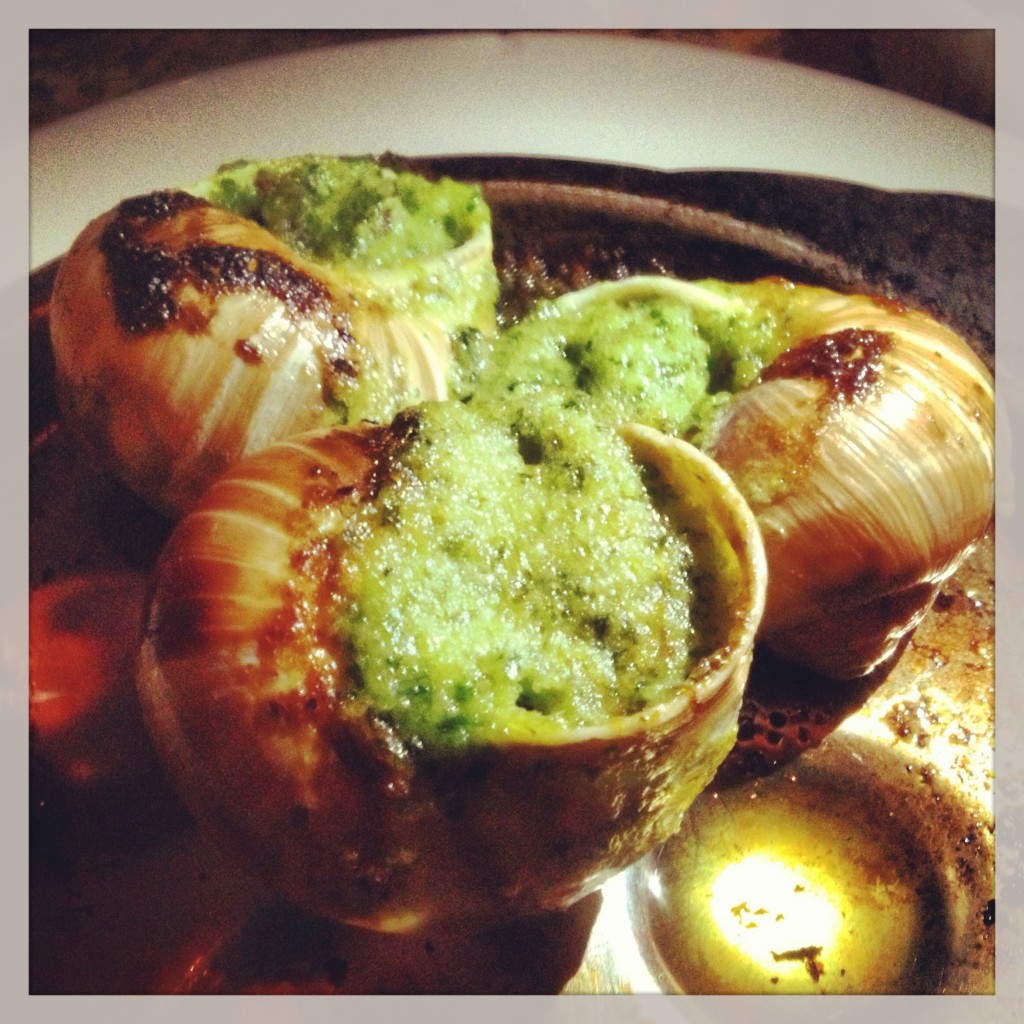 Kirsten and I had been debating. The escargot?  Should we? Neither of us have had it before. Sure! Why not? It's on the $3 Happy Hour Menu, so if we don't like it, it's not a big deal. The escargot arrived in a light garlic/pesto sauce. It wasn't my favorite appetizer of the night, but I would try it again!  I actually did enjoy it!
Now for another trio off of their Happy Hour Menu; we went for the Imported cheese with dried fruits, French salami with pickles and house made chicken liver pate with baby pickles, black olives, mache and cider vinegar. Each dish gave us a different flavor note that built on the next. They all complimented each other very well, especially with the wine. You can't forget the wine! 😉
Dominique Theval the Chef and Owner came over and introduced himself to us. We were unsure of what to order next, so who better to ask what would be best to try out than him? Without pause, he quickly suggested the deep fried kale with parmesan shavings. I had been pondering on ordering this earlier, so this sealed the deal. Oh.My.Gosh. Boy oh boy, this one you HAVE to try if you indeed do make it out to Dominique's! I have had kale before and I like kale, but I have never had it like THIS before! I LOVE it now! You can eat this stuff and pop it in your mouth just like popcorn. The parmesan adds the perfect touch and flavors to the kale. The canola oil in it gives it a nice juicy touch when you bite into it. I will be going back again just for this!
The most delicious kale you will EVER eat!
On to the main courses now! (Your STILL hungry you may be asking, why yes of course! We shared everything, and we paced ourselves, we were here for quite a while just enjoying ourselves, taking it all in, admiring the friendly, lively and homey atmosphere of the place.) I was craving a good steak, so I went ahead and ordered the grilled prime angus ribeye with green peppercorn, sautéed Russian banana fingerling potatoes and fresh asparagus. The meat was very tender, juicy and just how I like it. The sauce brought out the best in the flavors of the ribeye.
When Kirstin heard what the special of the night was, she was hooked as they are her favorite. Mussels with a side of garlic fries for $16.99 was calling her name.  Of course I had to help her out a little bit (hey she helped me out with mine, and we BOTH still had PLENTY of leftovers!) They were mouth-wateringly delicious. They came in a very nice butter, garlic, onion, and parsley  sauce that paired perfectly with the mussels. We were tempted to just drink that stuff straight from the bowl, but we were good and refrained from that.
Ready for the BEST part of any meal? Why, yes, it IS time for DESSERT!! There is ALWAYS room for dessert!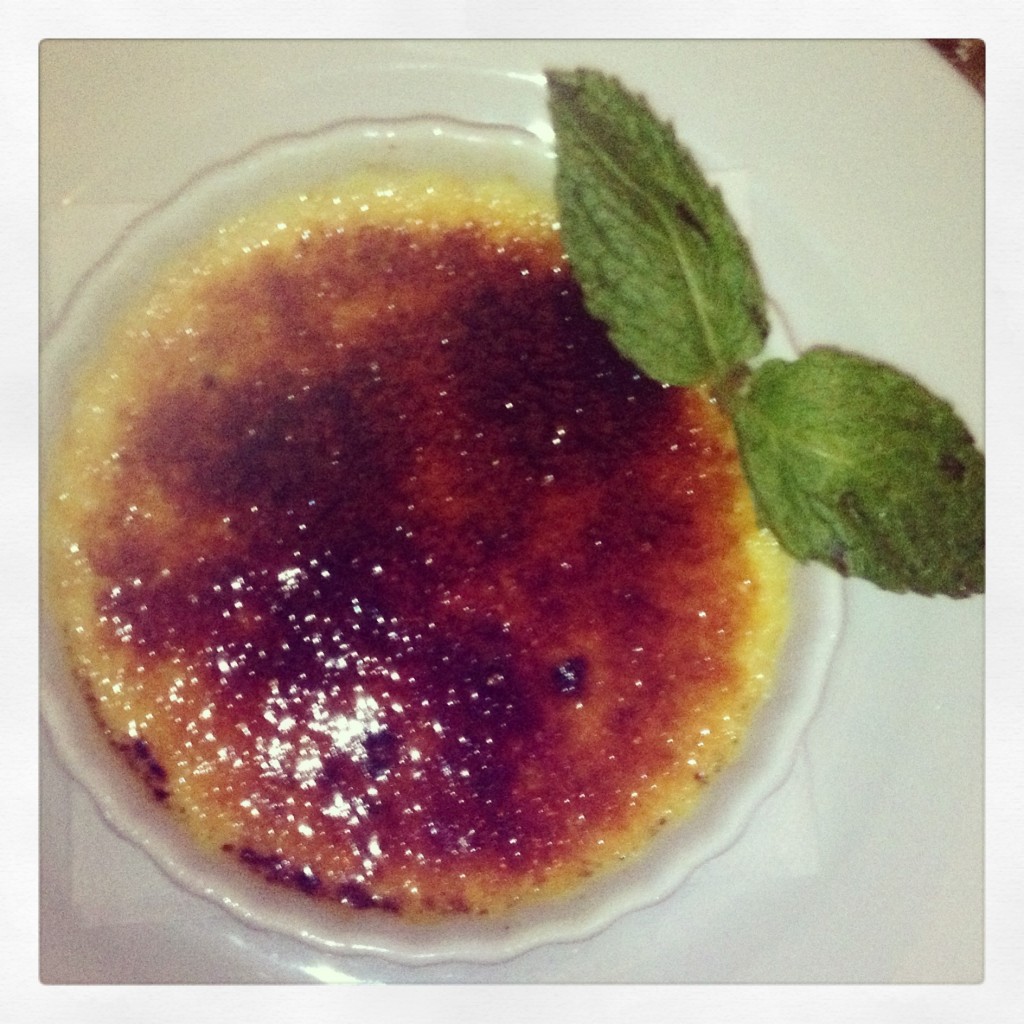 As our eyes danced in delight at the dessert menu, we went for the Passion Fruit Crème Brule and the Dark Chocolate Mousse. Both of which were amazing, but the creamy smoothness of the chocolate mousse left me wanting more and totally won me over. Dominique's Kitchen truly is a quaint piece of France in Redondo Beach, and delivered the goods in French style and flare.  To anyone wishing to visit France without the wallet breaking price of airfare like I was, be sure to give them a go! The food is amazing, the ingredients are fresh, the ambiance is magical, the staff is so warm and welcoming to all, and the sangria was the best I've ever had! Dominique's knows how to do it right!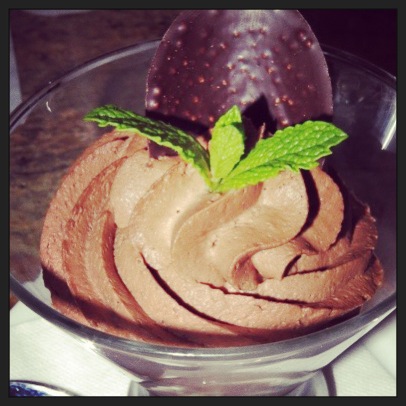 To stay in touch with Dominique's so that you never miss out on all of their latest specials and flavors make sure to follow them here:
Pintrest
Disclosure: Special thanks to Dominique's Kitchen for having me in to review them. I was provided with complimentary items off of their menu. All thoughts and opinions are my own.