Picnicking with Good Boy Organics!
By Erin
You have probably noticed by now that I love to have picnics and tea parties and anything else that will get me outdoors. Well, I found a product here when I attended Expo West back in March that is just PERFECT for a nice spring or summer picnic! It is called Good Boy Organics!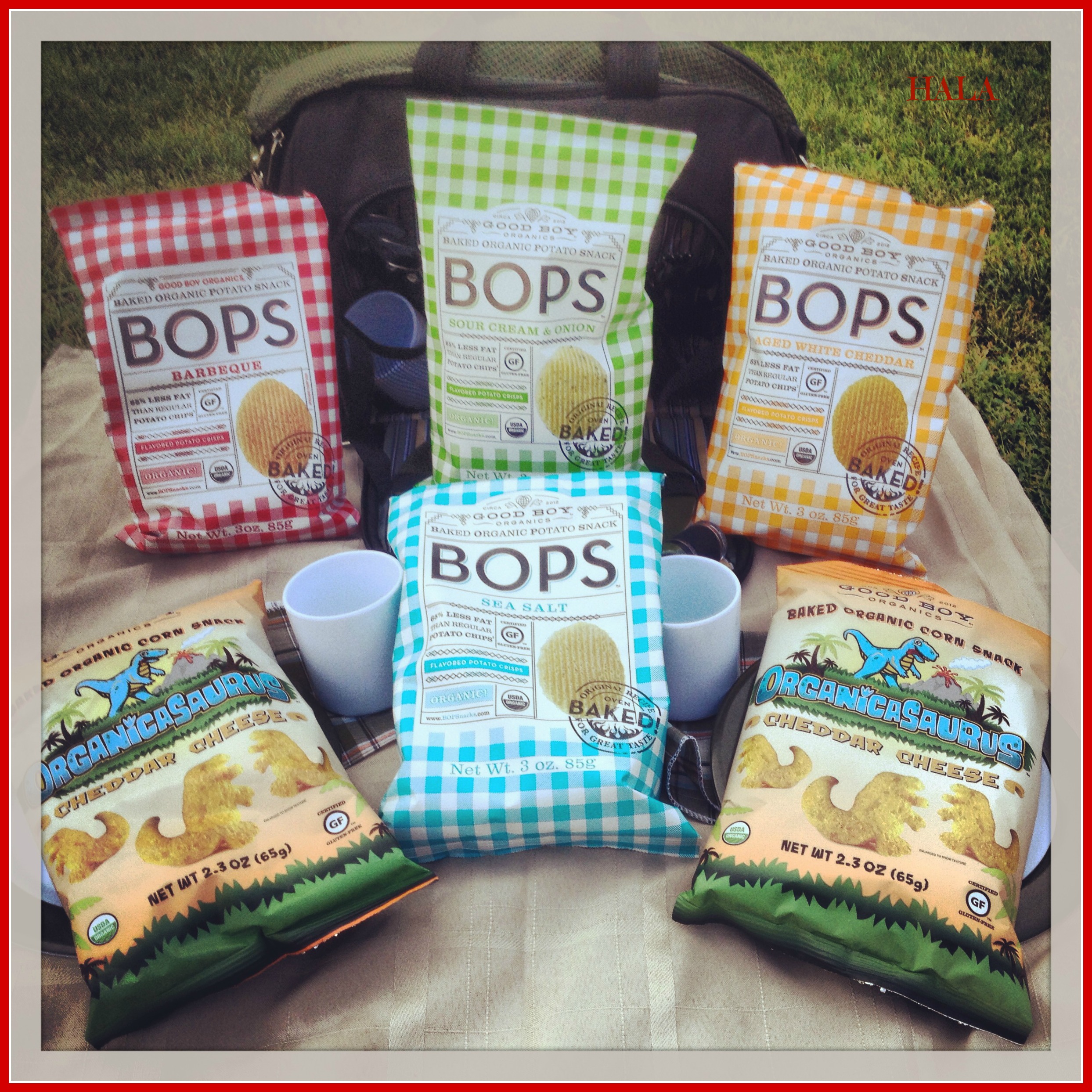 Good Boy Organics has two products that I reviewed.  BOPS (Baked Organic Potato Snack) pictured here in four different flavors and the Organicasaurus. All of their products are USDA certified organic, certified gluten-free, non-gmo, have no preservatives, no trans fat, and are baked, not fried. The BOPS also have 65% less fat in them than regular potato chips! These chips are a reduced fat alternative to fried potato chips. I am also in love with the packaging. The packaging for the BOPS makes me want to have a picnic every time I look at it! Good Boy Organics focus is on Certified Organic and Non-GMO products for the entire family. Look for them at your local grocer!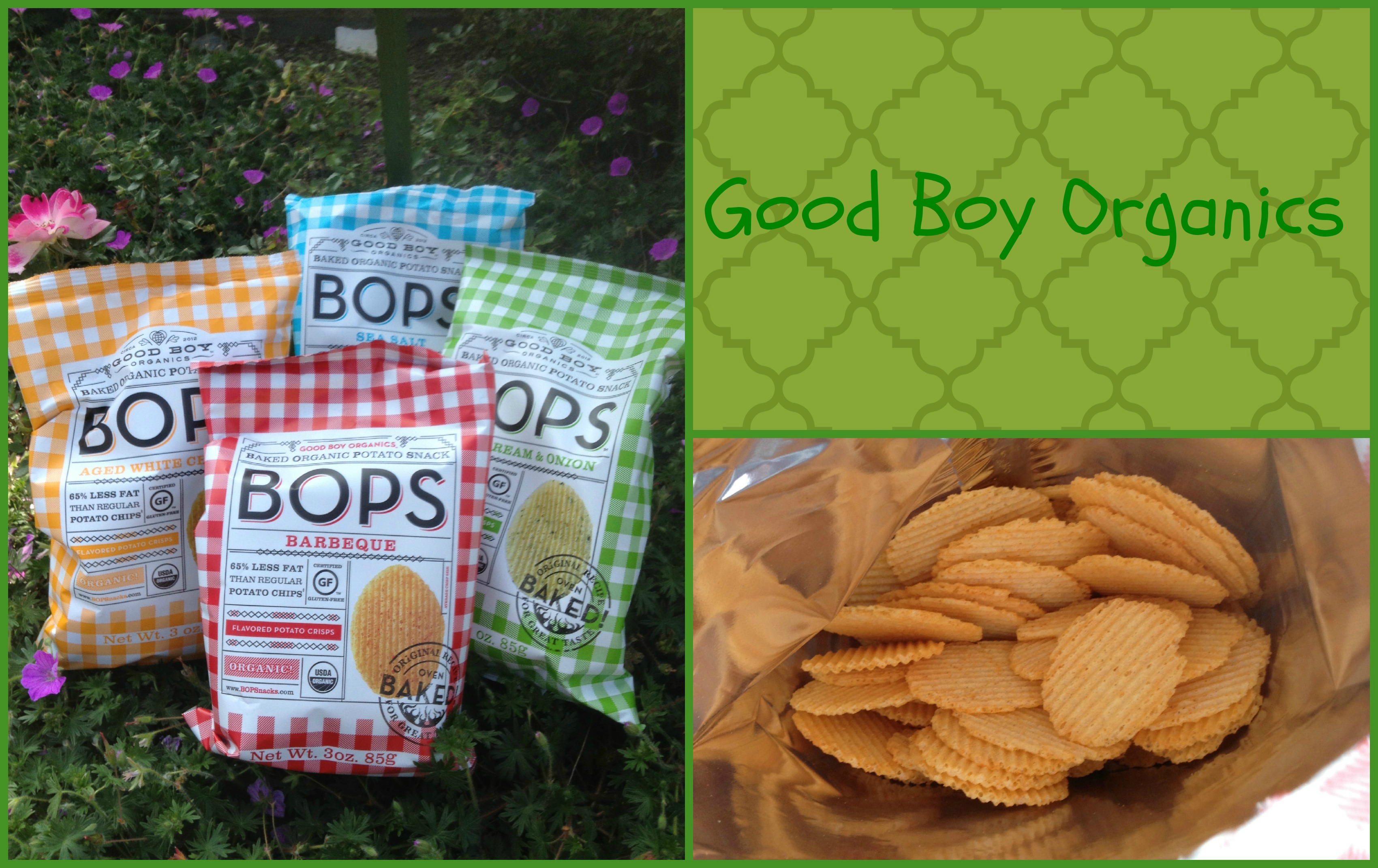 BOPS (Baked Organic Potato Snack)
Now onto the BOPS ( Baked Organic Potato Snack). I LOVED these. They come in four different delicious flavors.
Flavors:
*Sea Salt
*Sour Cream & Onion
* Aged White Cheddar
*Barbeque
What I love about these chips:
They are very light and crisp with a nice crunch! Best of all they are full of flavor.    The Sour Cream & Onion and the Barbeque were my favorites. Being that they are certified organic, certified gluten-free, enrrolled in the Non-GMO's Project's verification program, baked, not fried, and 65% less fat than any other regular potato chip, you just can't go wrong with these! They are only 120 calories per serving, which is one oz (about 26 crisps).

Organicsaurus
The Organicsaurus (Baked Organic Corn Snack) is perfect for kids and snacking! I even liked them and I'm an adult! Even the cats love them! My boy Moe here could not get enough of Good Boy Organics. He kept me company during my little picnic, wanting to put his head in the bags to try and get a taste. I think he really loved the shape of these little critters as he loves chasing lizards around. 😉
What to love about them:
A Baked Organic Corn Snack, it is the ONLY organic cheese puff available of this kind! How neat is that? It's like a cheese puff, except with none of the bad stuff in it that you have no clue on how to say the name of because the ingredient name is a mile long. They are Certified Organic, Certified Gluten-Free, Enrolled in the Non-GMO Project's product verification program, baked, not fried, and last but not least, you have to love the SUPER FUN 3D Dinosaur Shape!! I can picture kids getting very creative with these! Biting their heads off, building things, decorating their plate in cool organicsaurus landscapes. The possibilities are endless. Hope you don't mind playing with your food? 😉
Here's the ingredients list so you can see for yourself, no crazy looking stuff is in here: Corn (flour and/or grits), sunflower oil, cheddar cheese seasoning (dextrose from corn), salt, sugar, cheddar cheese (milk, sodium citrate), potato starch, paprika, yeast extract, onion powder, garlic powder, silicon dioxide, sunflower oil. Organic. Contains Milk.
Are you wondering where you can  buy these at yet?
Where to find Good Boy Organics? 
Already on the East Coast, you can find them at places such as Whole Foods North East, Fairway Market, Wegmans, Earthfare and other natural grocer stores.
For those of you on the West Coast, they will be making their debut this April and May. Stores will include: Central Market, Vitamin Cottage, New Frontiers, Nugget, Jimbo's and many others.
Now for the fun part!  Jamie from Minnesota Girl in LA and I were able to team up on this one to bring you this fun giveaway! One lucky Horsing Around In LA or Minnesota Girl in LA reader will win a variety prize pack  case of 12  bags  of Good Boy Organic BOPS and Organicasaurus! The case will come with 2 flavors each of the BOPS Potato Snacks and 4 Bags of Organicsaurus. Total value is $42.68.
To enter, click the below Rafflecopter link and you can enter! Good-luck!! 🙂
Make sure to follow Good Boy Organics on their Social Media Channels: Facebook Twitter Pintrest & Tumblr
No purchase necessary, void where prohibited.  Must be 18 years or older and reside in the US.  Winner will be chosen through the use of Rafflecopter and notified via email.  All other rules can be found here. Giveaway ends at 9pm PST on 4/26/2013.
Disclosure: I received some product to conduct the review. Giveaway prize is to be fulfilled by Goodboy Organics. I was not compensated for this post and all thoughts and opinions remain my own.