The Adventures of Planning a Wine Tasting Trip!
By Erin
Wine anyone? 😉
How about a quick get away to wine country with about 25 of your closest girlfriends?
Then join me on the adventures of planning a wine tasting trip!
1. If an offer looks *TOO GOOD TO BE TRUE* It probably is.
I found an offer on one of those discount type sites (think Groupon/LivingSocial). Once it was purchased I quickly called up the company to make our reservation, done and done! Then it was off to decide which wineries we wanted to go to, so I could call this company back and give them our desired itinerary for the day we had chosen to go on.
THAT'S when I started to see all these red flags go off in my head about this limo company…
2. DO YOUR RESEARCH
I found this wonderful and informative website called the Temecula Valley Wine Country  (Temecula is in Southern California, google for the website, I had to remove the link for the time being here as they were having issues with their website), which has a list of all the fabulous wineries in the area, their websites, and all the information you could ever need about them when planning a trip! On that site there is also a tab titled "Plan Your Trip" and has a listing of Transportation Partners in their Responsible Partnership Program. Registration is recommended for ALL transportation companies. Reservations are highly recommended for all transportation companies prior to bringing any guests to any of the wineries in the Temecula Valley. Needless to say, I did NOT see this company listed as an approved company on their very LONG list of transportation companies that had been approved. They did have a registration form that could be filled out and the company in question could easily register…. that is if they were a legit company running business legally…
Upon further investigation I found ANOTHER important website that you will want to BOOKMARK and save for future reference in case you ever want to rent a limo, party bus, or any other form of transportation (or for a Moving Company as well!) I found the California Public Utilities Commission page. You can look up a company in California and find out what their TCP# (Carrier ID) is, and what their status is! Turns out the company in question had their Carrier Permit REVOKED back in April of 2010…. which would explain WHY it wasn't listed on any of their other websites. Not only that, but when I asked the company what their TCP# was, they had given me a DIFFERENT companies TCP# which was valid, but was a totally different company.
Needles to say, I canceled our reservation ASAP and quickly got a FULL REFUND from this discount website.
3. Ask around for references from people you know and trust.
Back to the drawing board for a company to work with that was legit. It didn't take long for me to figure something out. Earlier that year my mother had gone on a limo trip with some friends up to Hollywood as someone's son had a limo company in Long Beach so they had gotten a SUPER deal on a limo. I found out the needed contact info for this wonderful company, which you can find here at Limo 4 Me. If you click on that link and scroll to the bottom of that page, you can check out the party bus we traveled on, which is called Pirates of the Carribean! All of their info checked out and were a complete joy to work with! I hope to be able to plan another fun trip with them soon!
4. Make RESERVATIONS at the wineries! If you come in a limo or Party Bus, you WILL need one!
Okay, so now we are really ready to ROCK N' ROLL! I found a couple of wineries we could make reservations for our group that did not require a deposit on the wine tasting (since I could not afford to put a deposit down or pay in full for 25 GIRLS up front for wine tasting), I was already taking a risk by putting a down payment on our party bus, not knowing if I'd be able to have 25 girls willing to pay for the Party Bus. Which, without a doubt this will be the MOST stressful part of planning your Wine Tasting Trip by far. Collecting the funds from your friends that are going on this trip with you as some will  be more timely than others. Or you just might not end up having enough people wanting to go, then you'll end up having to pay more than your fair share for the limo. Luckily the later part did not happen to us. We had enough girls going, it was just a matter of rounding up the funds from everyone. Which isn't something I exactly enjoy doing.
This was in September and our Wine Tasting Adventure was set for Saturday, November 5th, 2011. I had plenty of time to gather up all my wine loving friends and some of their friends.
Being the extremely detail oriented person I am, went so far as to plan a nice breakfast for our group so that everyone could mingle and enjoy some food and drinks before while we waited for everyone to arrive and for our party bus to get here. Our bus was leaving at 9:30am sharp, so I also wanted to make sure everyone had something in their stomachs before we started drinking any wine around 11am! 😉
 ITS WINE TIME!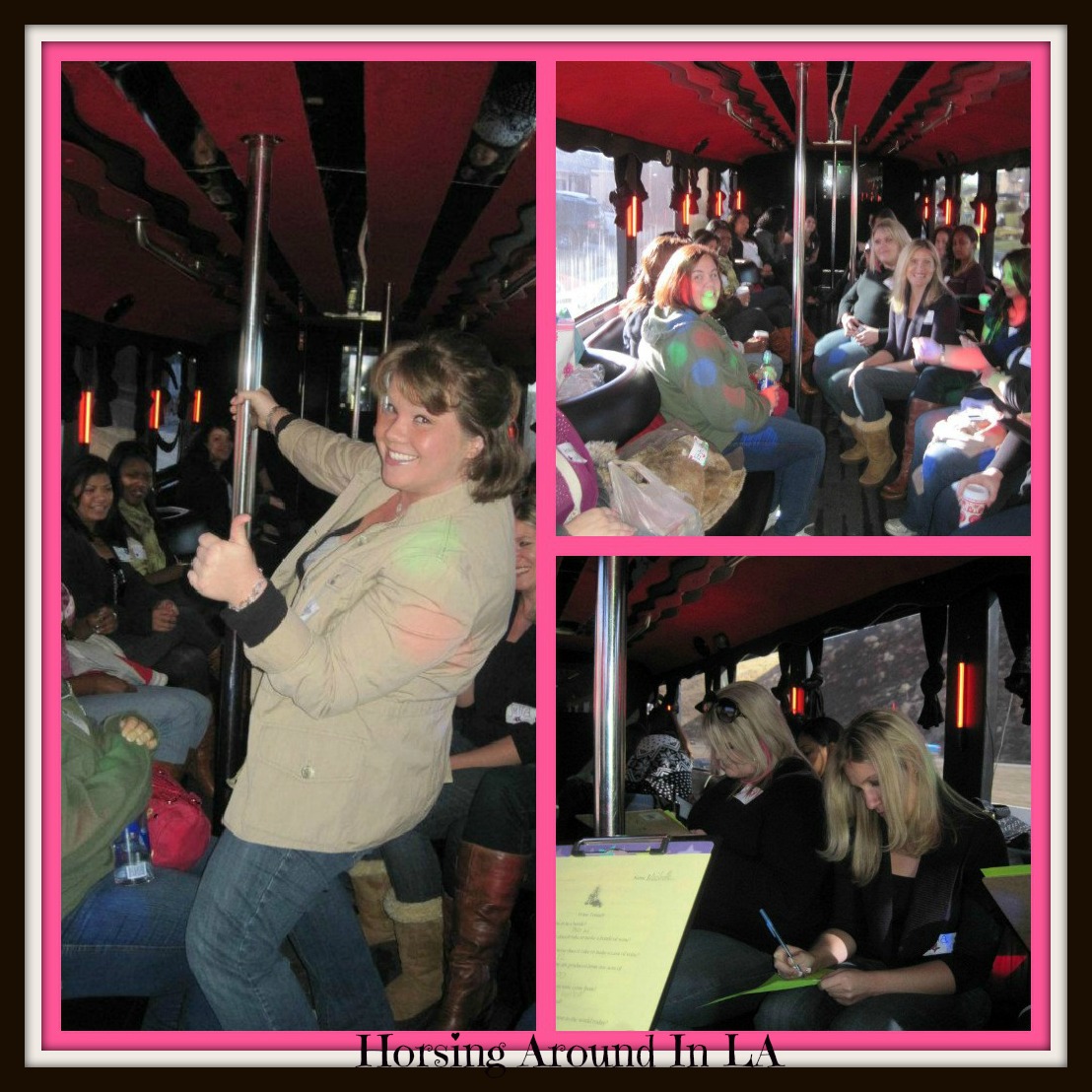 After a nice little breakfast, we all loaded up on our party bus! As you can tell from the pictures above, we had a blast on our 90 minute roadtrip to Temecula! I created a fun "Wine Trivia" for the girls to answer so we could see who the Wine Connoisseurs were in our group (Or who could just come up with the silliest answers…) Wine themed prizes were given out to those with the top 3 scores. Very creative or funny answers were given bonus points. 😉  The wonderful Candace, pictured above with the thumbs up! created a fun playlist of music for us to listen to on our Wine Tasting Adventures. Soon we arrived at our first winery of the day, Monte De Oro!
This winery had been recommended by one of  my lovely friends on this trip with us as she and her friend had some wine tasting coupons to use here. I'm so glad they did, because this winery did not disappoint! The wines were amazing and the winery itself was absolutely gorgeous! We had the winery all to ourselves pretty much when we first got there. It doesn't get better than that! I love the sweeter white wines, so it's no surprise that my favorite wines here were the Muscat Canelli and their Synergy 65 Rose wines! We sampled about 7 different wines here. We also learned all about the correct way to taste wine, how to swirl your wine, pucker you lips, and what to do to get the best tastes from the different wines. It was pretty hilarious and we all had a total blast.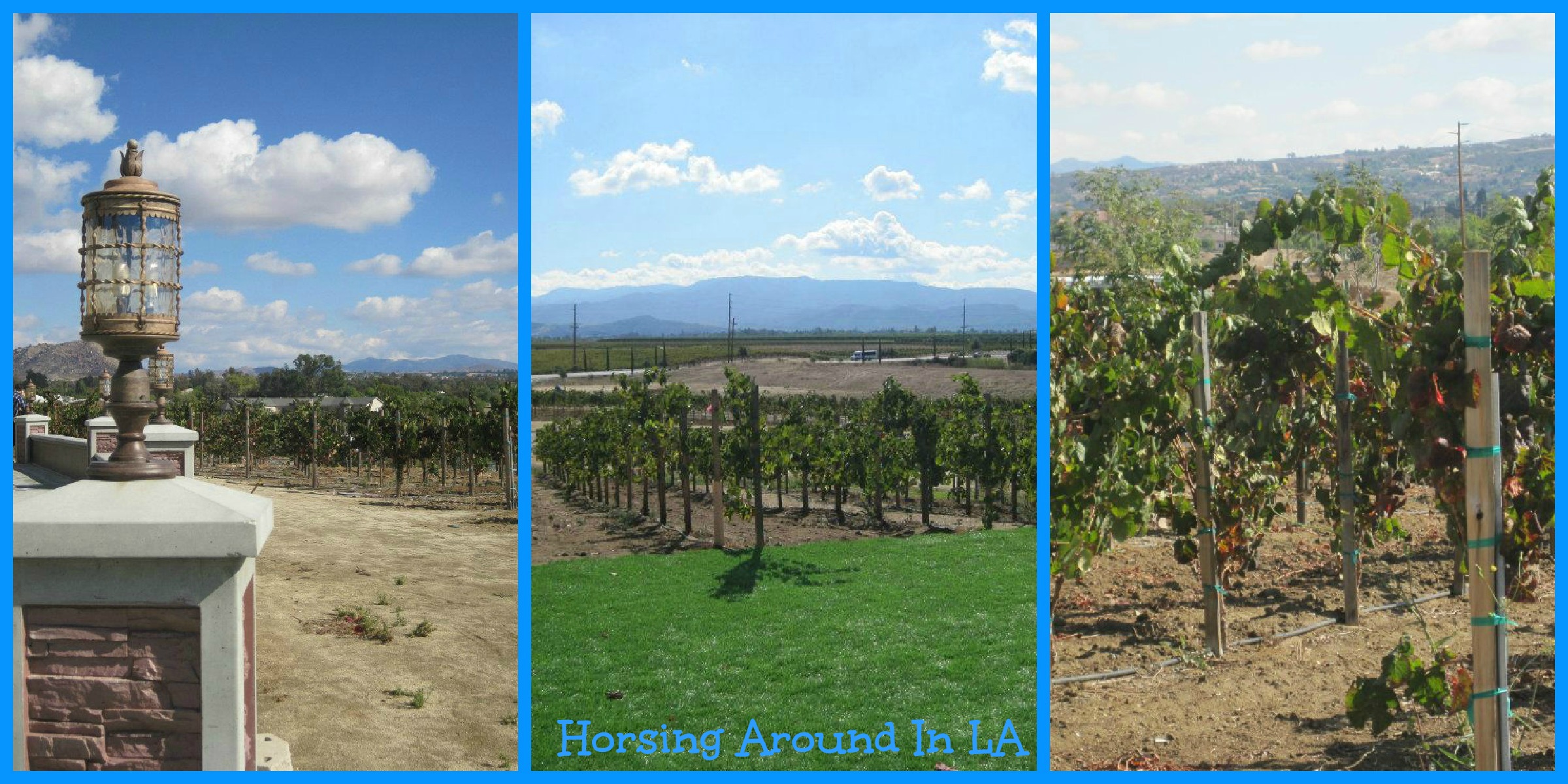 The beautiful grounds at Monte De Oro. We could NOT have asked for better weather this day (It RAINED both the day BEFORE and AFTER our trip…).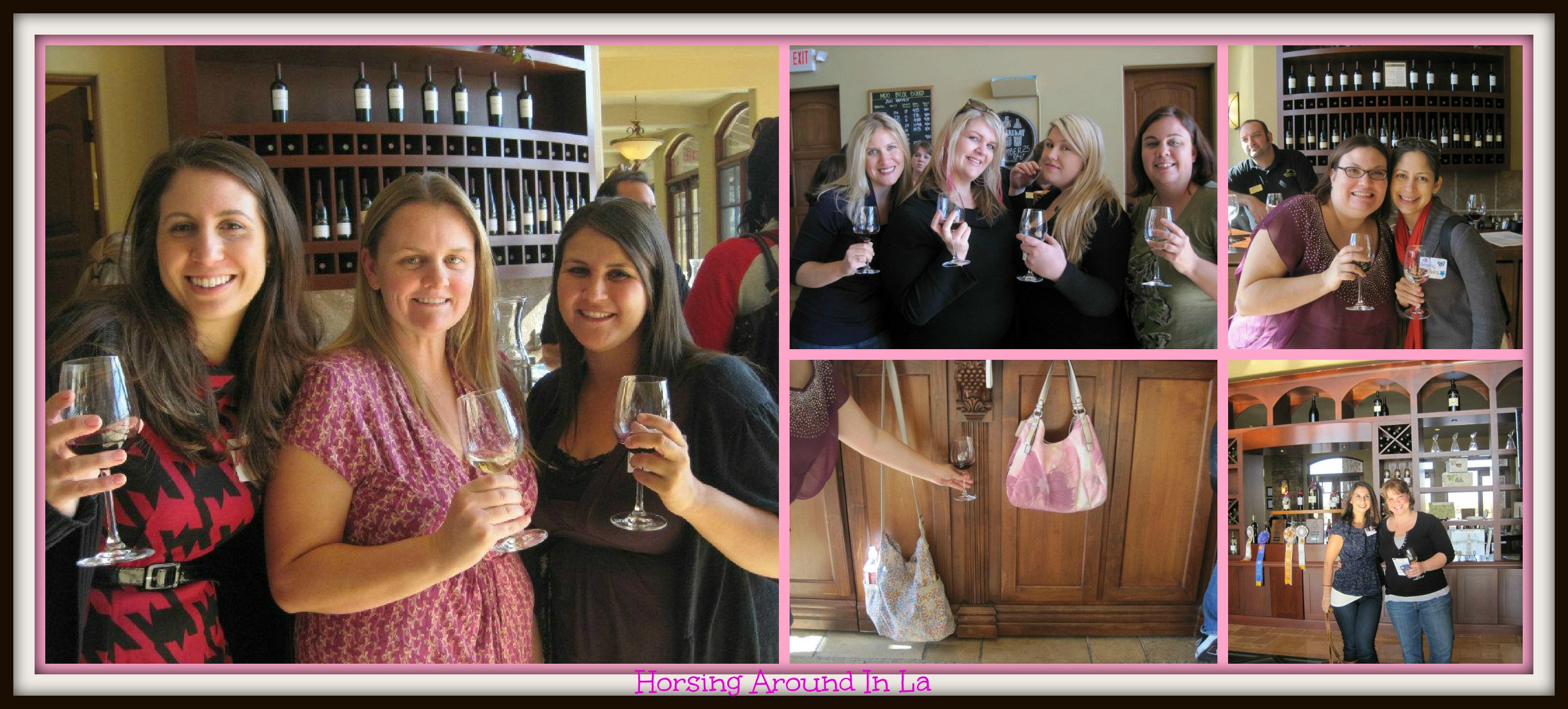 There's me with my White Wine! 😉 Enjoying Good Times at Monte De Oro! Also notice the very convenient purse hooks (complete with wine glass) they have here for the ladies out there so you can truly enjoy your wine tasting experience!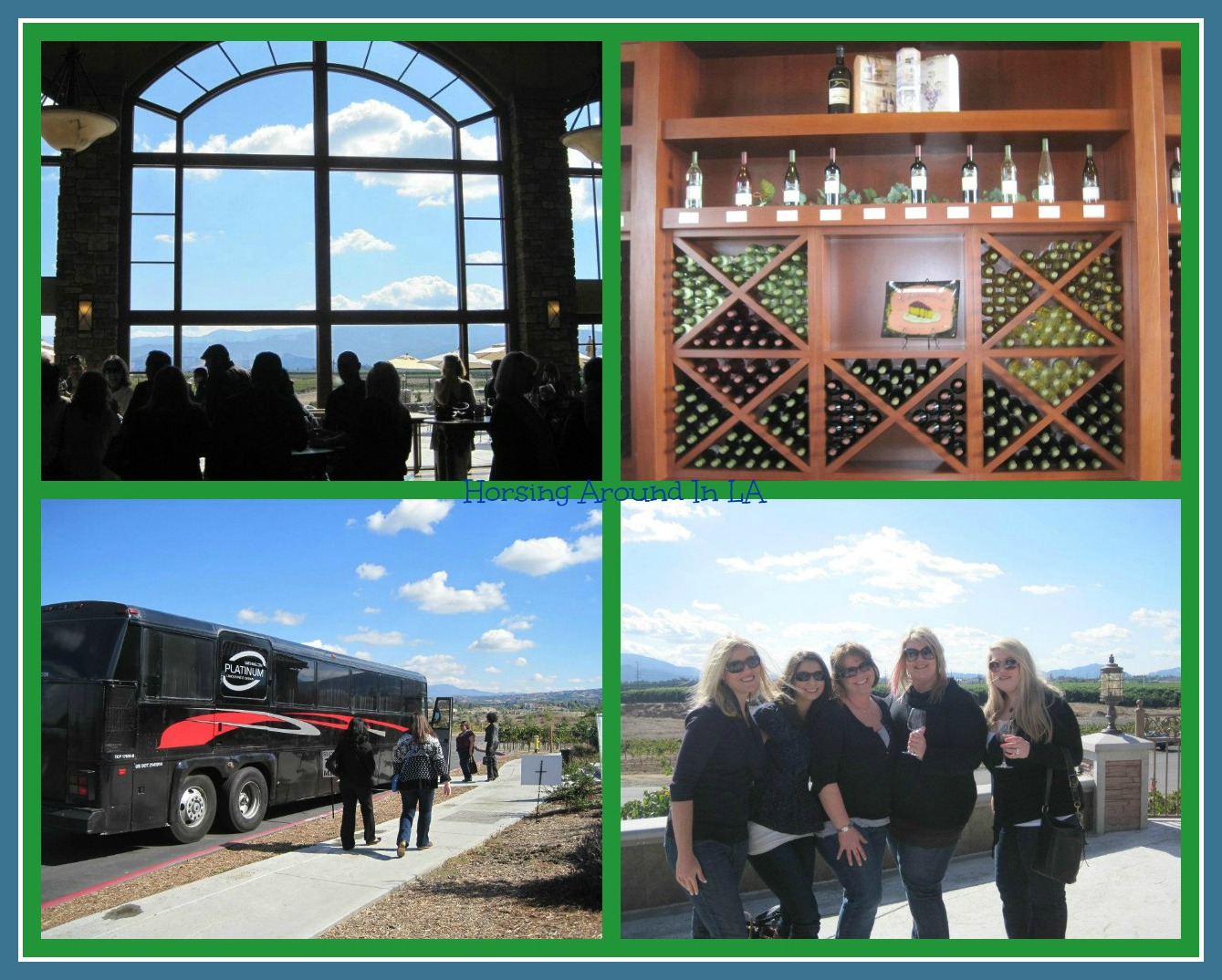 Monte De Oro, Our "Party Bus", and some fabulous group pics of our group.

After taking enough group pictures, it was off to our second winery of the day, South Coast Winery! This place was also group dead gorgeous! It was much busier now though that it was a little bit later in the day. South Coast is a state-of-the-art winery surrounded by 38 lush acres of carefully tended vines. Their talented winemakers are masters of their craft and create blends and varietal selections that offer intense flavors and soft, supple structure.


One super nice thing about South Coast is their AMAZING selection of wines to choose from. I had white wines, sparkling wines, some rose wines, and even a couple of red wines! Below it looks like I had one of the rose wines in my glass! Somehow I ended up with TWO glasses when we were at South Coast! That is also the fun part about coming here! You get to take home your glasses, which is a fun souvenir to take home. I have a nice pair of wine glasses from South Coast Winery now, that I just love to use.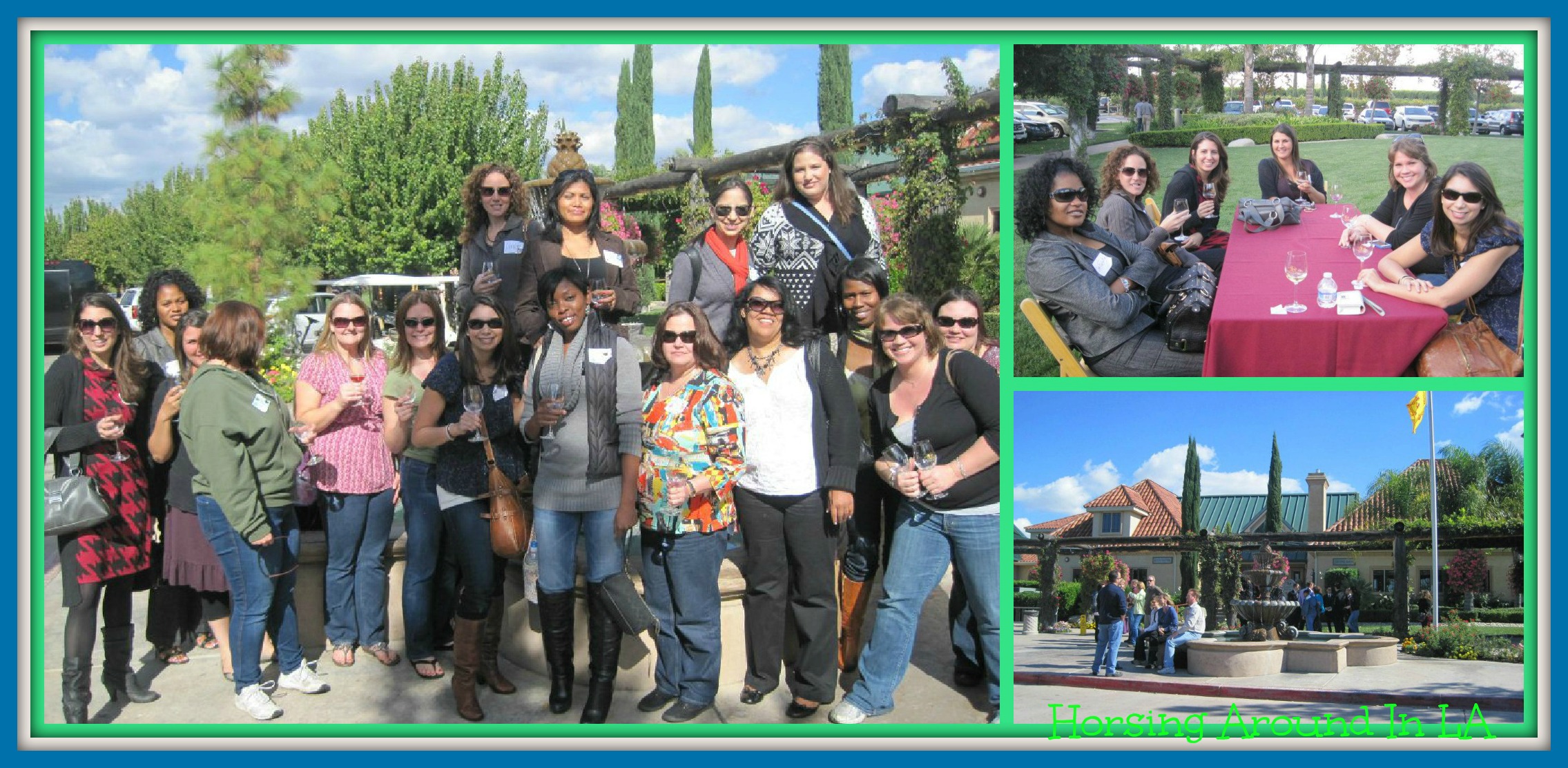 After our time up at the South Coast Winery was over, we headed over to Old Town Temecula for lunch and even had time to squeeze in one last wine tasting at one of the wine tasting rooms in Old Town!
Then it was back on the bus for the long (quiet) ride back home! Everyone dozed off and took a nap we were so full of all the good food and wine! 😉
Friends were asking while we were still on the trip when the next wine tasting trip was going to be, and NOW over a year later as I was writing this, one of my friends messaged me on Facebook asking me if I was going to be planning another trip since this one was so much fun. Signs of a GREAT trip, I'd say? 🙂
Now it is time to start planning for the next Wine Tasting Adventure! A little smarter and wiser as what to expect, the next trip will only be BIGGER and BETTER!  <3
::CHEERS::