Picnicking Around LA
By: Erin
It's a holiday weekend. I live in California. We've been having the most GORGEOUS weather ever this past week. What better way to take advantage of this amazing weather and holiday weekend than by spending as much time as I could outdoors and have a picnic!? A new picnic set was waiting to be used as well, another reason a picnic sounded like a great time. I've been itching to use this set! Now, where should I have this picnic though I thought? There are so many places to choose from, a park, the beach, my own backyard? Those are all such typical places to have a picnic though… I wanted something a little different. Then the light-bulb went on! The barn! Everything is so green and beautiful at the barn right now, it would be the perfect setting for a picnic and there is a picnic table there, so why not use it? I could combine two things I truly have a deep passion for: horses and food! What could be better? Now I just needed to get started on my menu and shopping list of items that I would need to purchase to have this wonderful picnic! For decor I thought it would be fun to use a Saint Patrick's Day theme since that's just around the corner, and I love the color green.
Saturday Night Shopping
On Saturday evening after spending a day out in the sun at a beautiful private barn in Bradbury, I went to my local Smart & Final to pick up all the goodies I'd need to orchestrate my picnic adventure.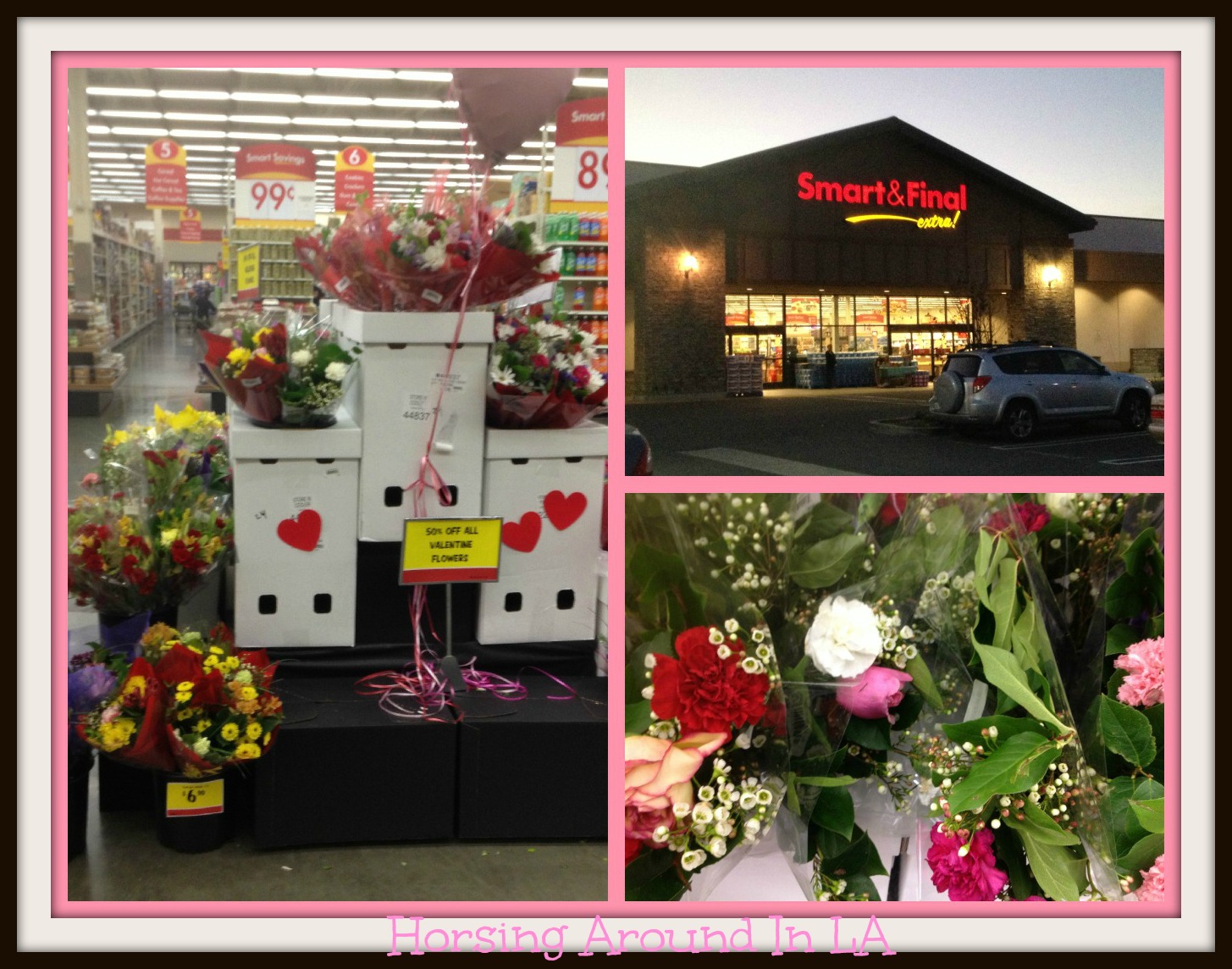 Here is a little peek into my stroll through Smart & Final. The first thing that caught my eye walking into the store were these beautiful flowers! Valentine's Day flowers and they happened to be 50% off!!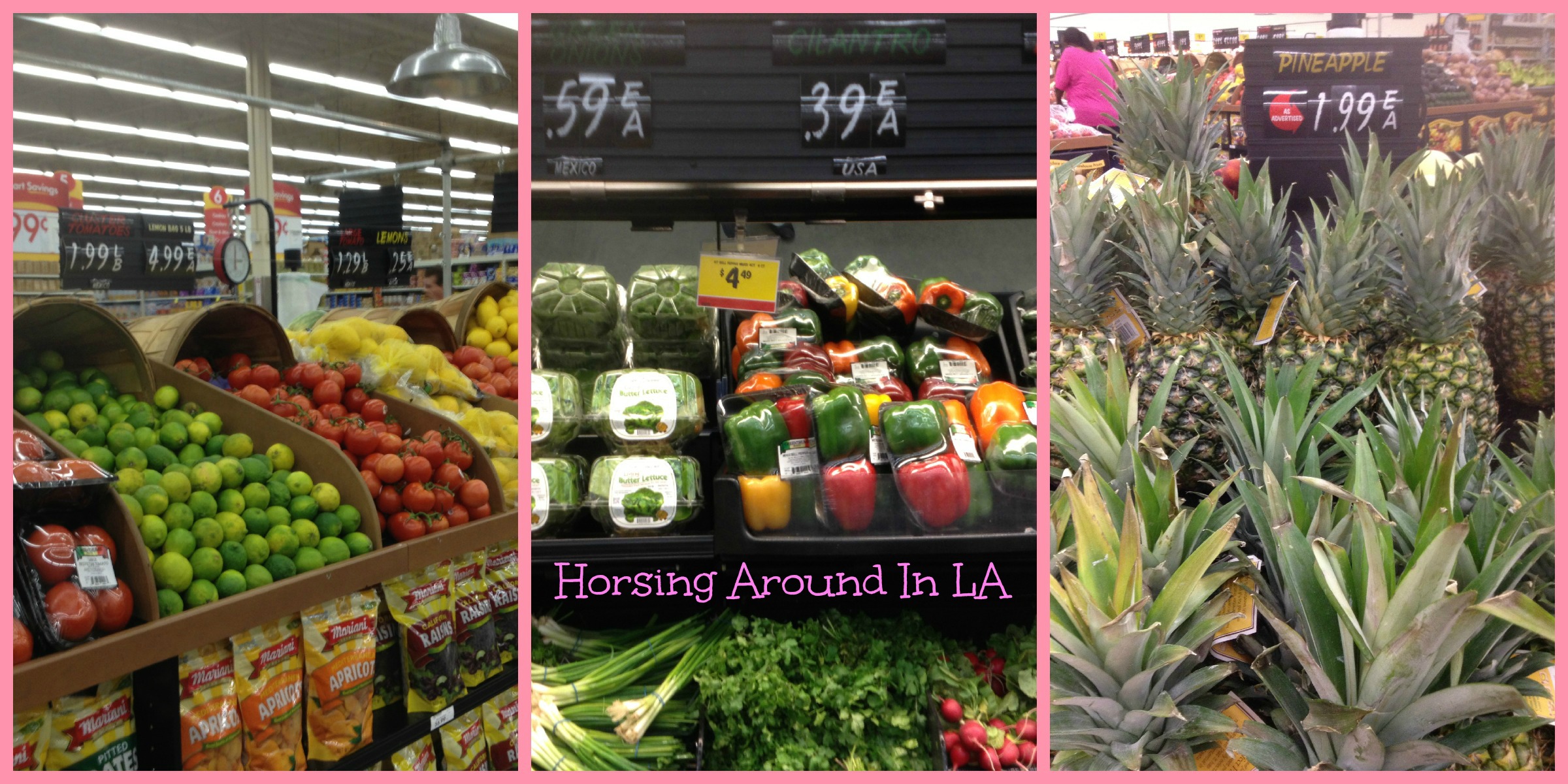 Look at all the amazing produce they have! It truly amazed me, the wide selection of fresh produce that was available. Then there were all the Kraft products, that I just had to stock up with some of my favorites to make some tasty salads with.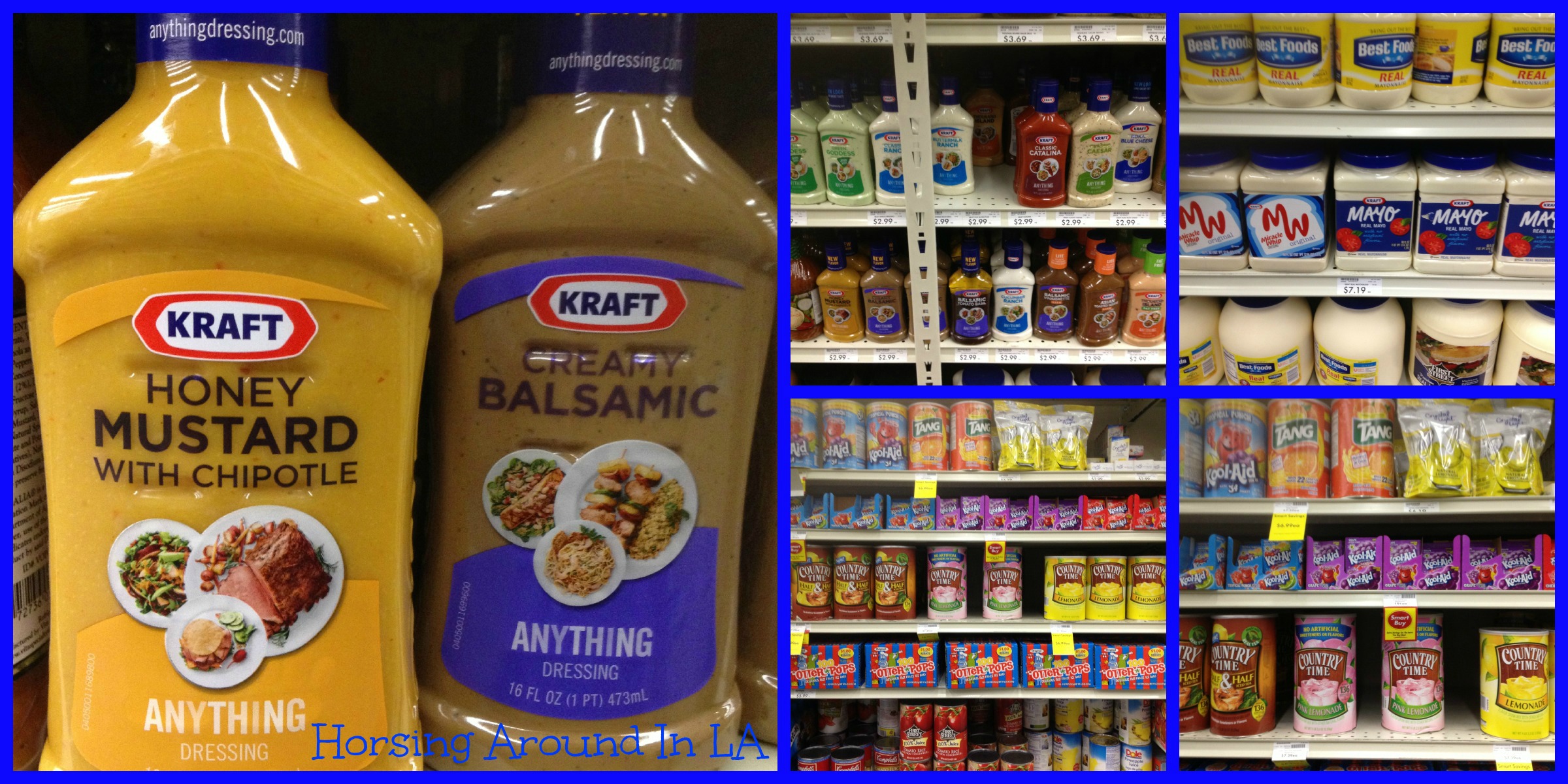 After arriving back home, and everything was put away I called it a night as I was exhausted from a long hot day out in the sun! I would make my salad creations on Sunday for our special picnic on Monday. All of the goodies I purchased is pictured below. 😉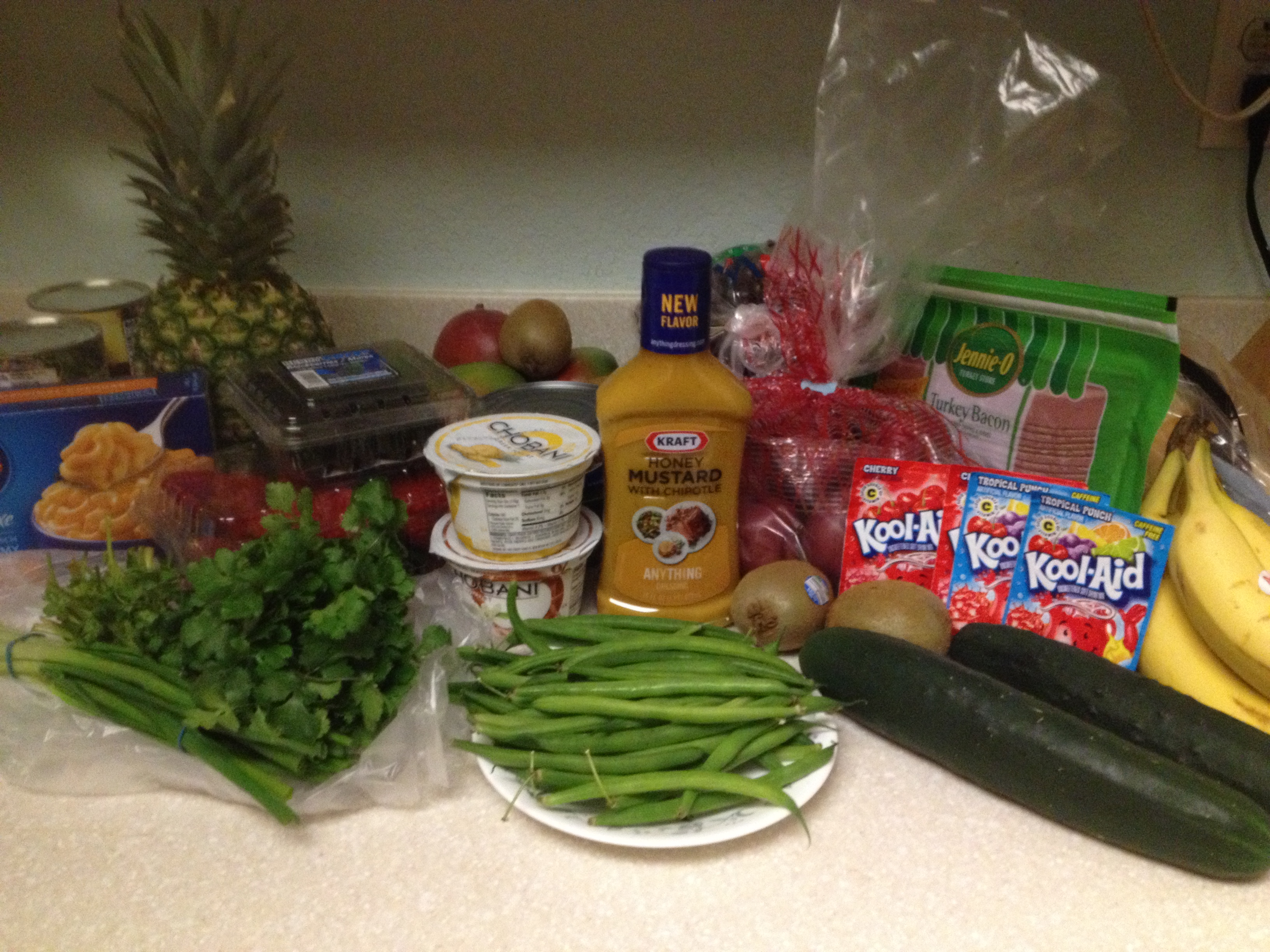 Sunday Afternoon Cooking
The first salad I wished to create, combined two of my favorites: macaroni salad and potato salad.
Macaroni & Potato Salad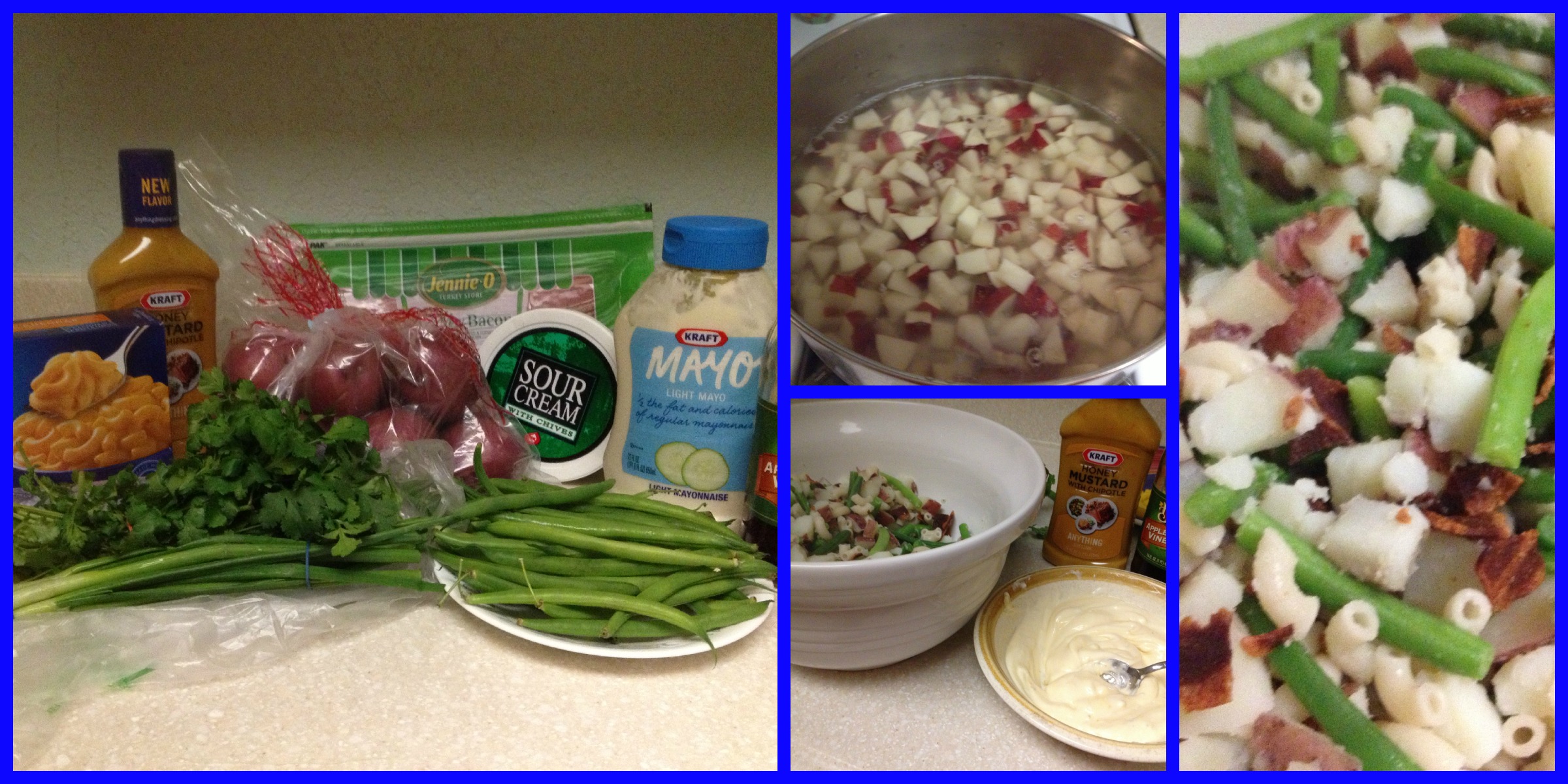 Ingredients
*6 small red potatoes cut into cubes
*fresh green beans
*1 cup macaroni
*8 slices turkey bacon
*silantro
*green onions
*1/2 cup Mayonnaise
*3 tablespoons sour cream
* 2 tablespoons apple cider vinegar
*2 tablespoons Kraft Honey Mustard With Chipotle Dressing
*Salt and Pepper to taste (also salt for cooking water)
Directions:
1.  Bring cubed potatoes to a boil in a pot of salted water. Reduce heat to medium heat and boil until potatoes are nice and tender (about 6-10 minutes). Drain and set aside in a large bowl.
2. In another pot of salted water, bring water to boil. Then add the green beans and cook for about 5 minutes. Drain and place into the large bowl of potatoes.
3. Bring water to boil to make your macaroni. Cook macaroni until it is al dente (approximately 8-10 minutes). Drain and place macaroni into the bowl with potatoes and green beans.
4. Cook the 8 pieces of bacon until they are very crisp, so that you can crumble it into the salad. Crumble 4 pieces into the large bowl, and set aside the other 4 pieces to sprinkle on the top once its finished.
5. In another medium sized bowl, make the dressing. Wisk the mayo, sour cream, Kraft Honey Mustard Dressing, and apple cider vinegar. Mix dressing into the potato, green bean, macaroni, and bacon mixture. Place into serving dish and top with cilantro and green onions to your liking. Also add any salt and pepper to taste. Crumble the last 4 pieces of bacon onto the very top of your beautiful salad.
The next dish I prepared was a delectable tropical fruit salad. I love my fruit, and what better dish to have for a fun outdoor picnic than a light, refreshing fruit salad?
Tropical Fruit Salad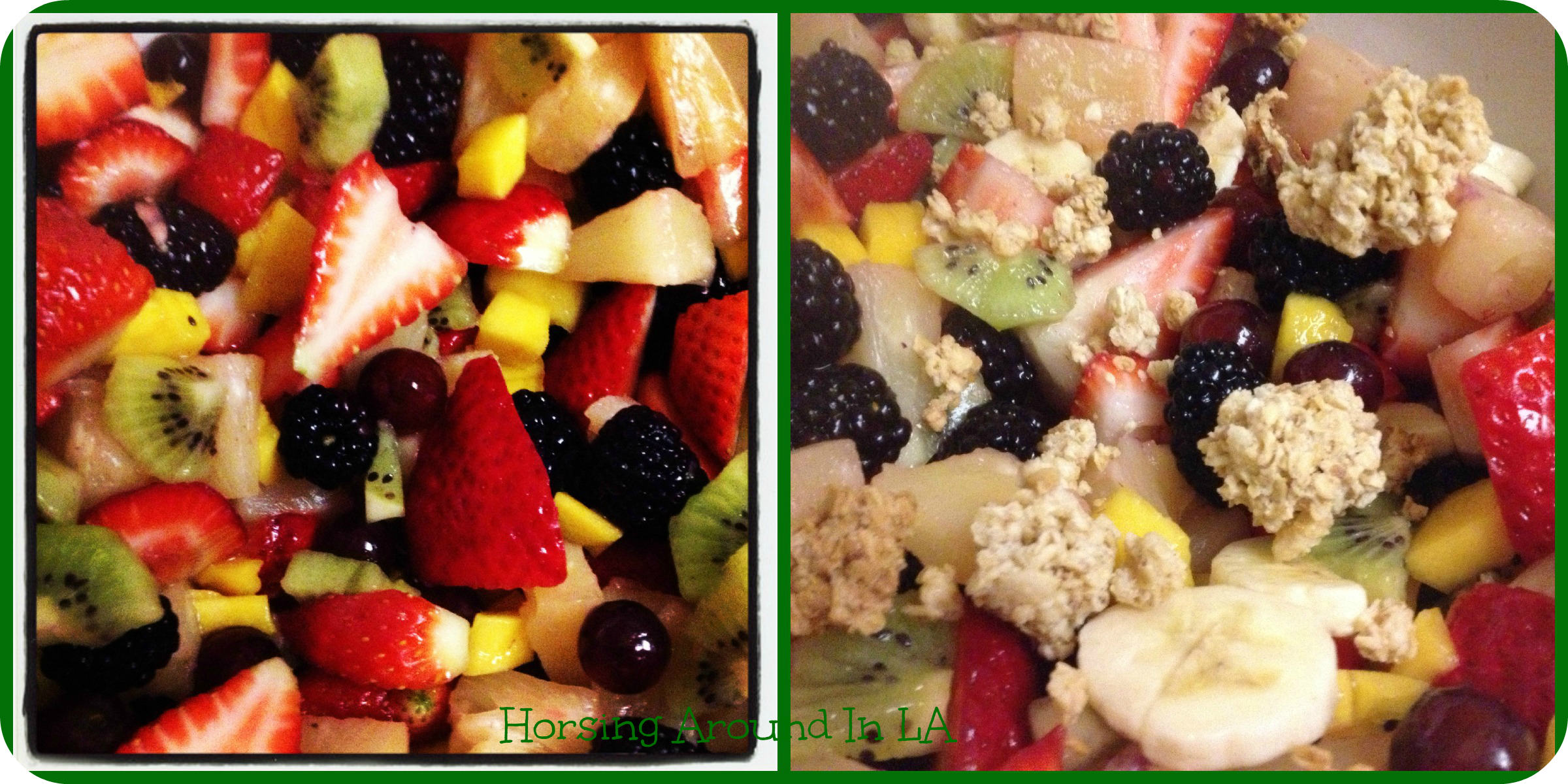 Ingredients
*1 pound fresh strawberries
*2 bananas
*3 cups red grapes
*1 6 0z package of blackberries
*4 cups fresh pineapple chunks
*2 mangoes cut into cubes
*2 kiwis
*2 cups Greek Yogurt
* 1 tablespoon brown sugar
*1 cup granola
*1 tablespoon honey
Directions:
1. Cut up and toss all fruit ingredients into a large bowl.
2. In another medium sized bowl, mix the greek yogurt, brown sugar and honey.
3. Mix yogurt mixture in with fruit.
4. Top with granola and serve immediately (If not serving immediately then hold off on the granola and place into refrigerator. Top with granola when ready to serve so it does not get soggy).
The last salad I was creating for this picnic adventure was a delicious Tropical Mango Chicken Salad Sandwich, can you say YUM? The best thing I like about this is that it is pretty impossible to mess up, and is super easy to make! You can add or take out whatever you wish. You really cannot go wrong with this very simple, but amazingly delicious salad that is perfect for a spring or summer day!
Mango Chicken Salad Sandwich

Ingredients:
*1 lb cooked & diced chicken
*1 mango cut into cubes
*grapes cut into halves (however many you wish to have in your salad)
*green onions
*silantro
*1/2 cup mayo
*1 tablespoon brown sugar
*1 tablespoon honey
*2 tablespoons Kraft Honey Mustard With Chipotle
Directions:
1. Mix all ingredients together into a large bowl.
2. Serve on a croissant bun, wrap, other choice bread, or just as a salad on its own! I told you this one was simple! 😉
Monday: Horsing Around & Picnic Time!
Oh how I love holiday weekends and being able to sleep in and enjoy a morning out with the horses. An added bonus is when the weather is as gorgeous as it has been. Beautiful sunny blue skies, and not too hot! Perfect weather to be at the barn enjoying some horse time! It was now time to pack up and hit the road with all the picnic goodies. Wish you all could have joined us. Oh,  and did you notice the *bling* on the headstall of Allie's bridle? You can even tell from the picture below how the sun was glinting off of it, as the sun was extremely bright outside! Also pictured below is Phoebe (the chestnut horse) my friend Melody, her friend Chris and her oh so adorable daughter Chey.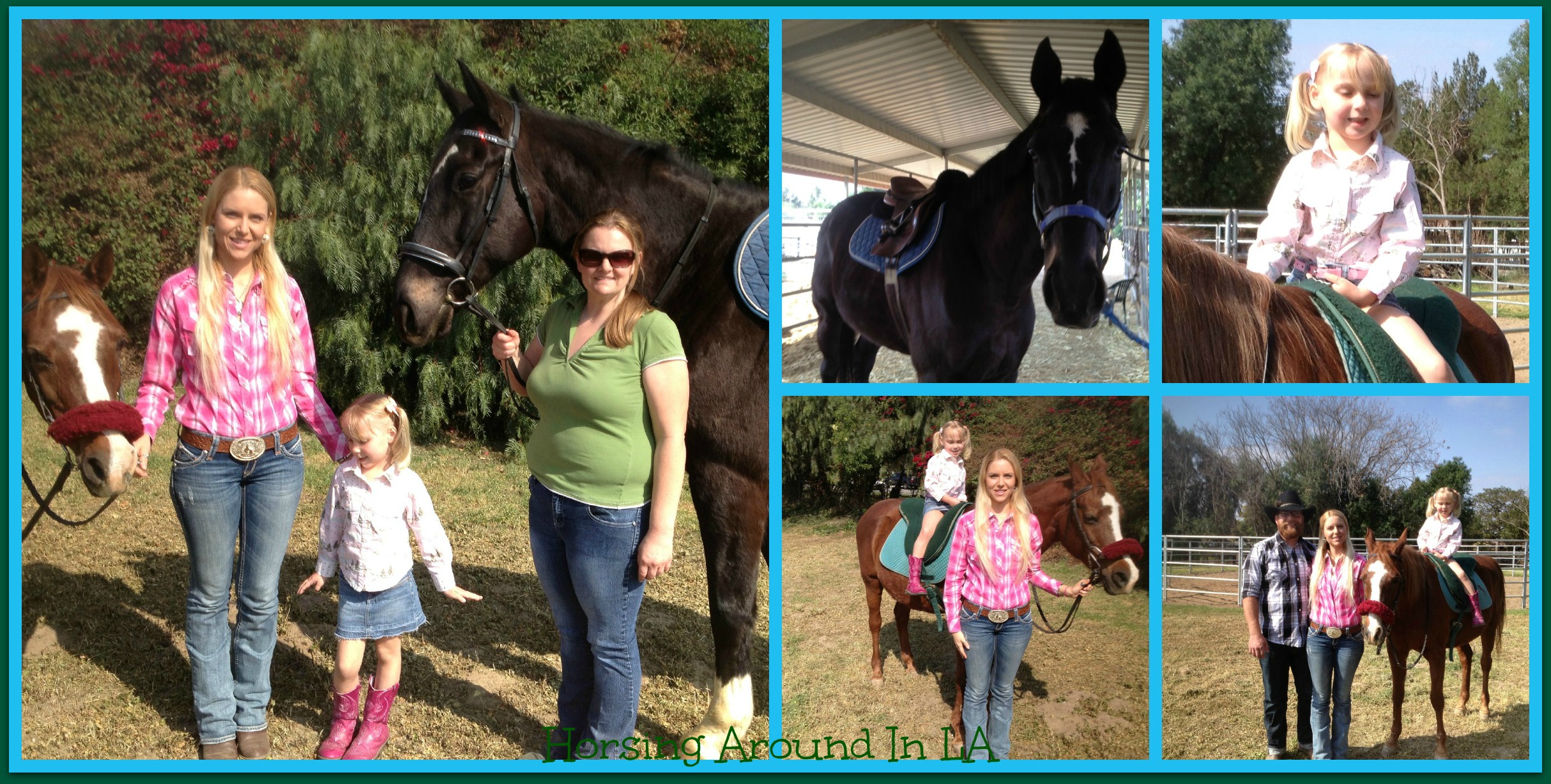 After some fun horse time, it was time to eat and enjoy a delicious meal with friends. You can also see the picnic set here that I was so excited to finally get a chance to use! Everyone enjoyed the fruity flavors in the chicken salad, and how very light and refreshing the other two salads were along with the Cherry Kool-Aid to wash it all down with. To top it all off, for dessert we had some very yummy Red Velvet Cupcakes.

After a fun day out enjoying President's Day in the nice California weather, it was time to clean up and get ready for the next adventure that awaits. Until then, you can check out and connect with Smart and Final here:
I am a member of the Collective Bias™ Social Fabric® Community.  This shop has been compensated as part of a social shopper insights study for Collective Bias™ and Smart & Final #CBias #ChooseSmart #SocialFabric All thoughts and opinions are my own.