Living in Southern California and riding at a lot of show barns, horse fashion is a huge thing. Even if you just ride for fun, making your horse (as well as yourself) look fashionable to reflect your personality is an enjoyable experience. From blinging up belts, saddle pads and stirrups; to vibrant, colorful polo wraps, halters, fly masks, and blankets, there is always some new fashionable item out there to entice riders and horse owners with. Here's a  blinged up saddle pad I'd love to have as it kind of goes with my color scheme for Horsing Around In LA. Diamond Saddle Pad If anyone wants to get that for me for Christmas, I wouldn't complain. 😉
Image source:  Equestrian Clearance
As long as I can remember, all I've wanted was a horse of my own. Ever since I was a young child in elementary school I remember saving up every penny I earned so I could afford to buy all the supplies to take care of my imaginary horse with. I would spend HOURS upon HOURS looking through the catalogs that the online tack stores would mail out figuring out which items I would like to purchase. I cut out all of the items in the catalog that were on my wish list. Then I dug out of the garage an old Vans shoe box and glued on all my horsey dreams onto the outside of said box. Any extra money I earned from chores, good grades from my report card, birthdays, Christmas, went into this box to go towards my purchase of the items now plastered all over this box.
Fast forward about 21 years and here we are. I've always thought to myself, WOW! I could start my own pony camp with all the stuff I've managed to accumulate over the years. AND It's all SUPER NICE stuff, so I'd have the most fashionable pony camp out there by far for sure. Only problem is… I don't have the horses or ponies to do that with! OOPS… only one small minor detail right? 😉 Since I cannot afford to collect horses, it appears that I've been collecting everything but the horse instead. At least the horses I am lucky enough to take care of and ride will look super cute???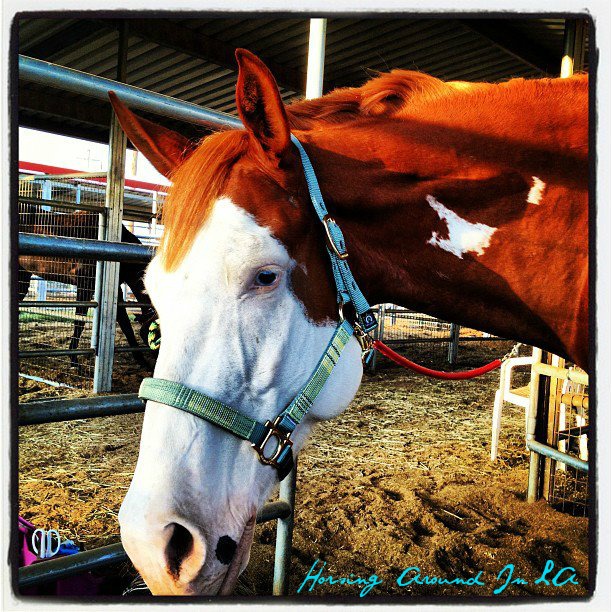 Pictured above is Dakota. He is modeling one of the newest additions to my growing collection of halters. Although I have to say this was the first one I have bought in YEARS, and that was ONLY because I had a gift card to use  and I had already gotten everything else that I actually needed with it, so why not use the extra amount on another halter and lead rope?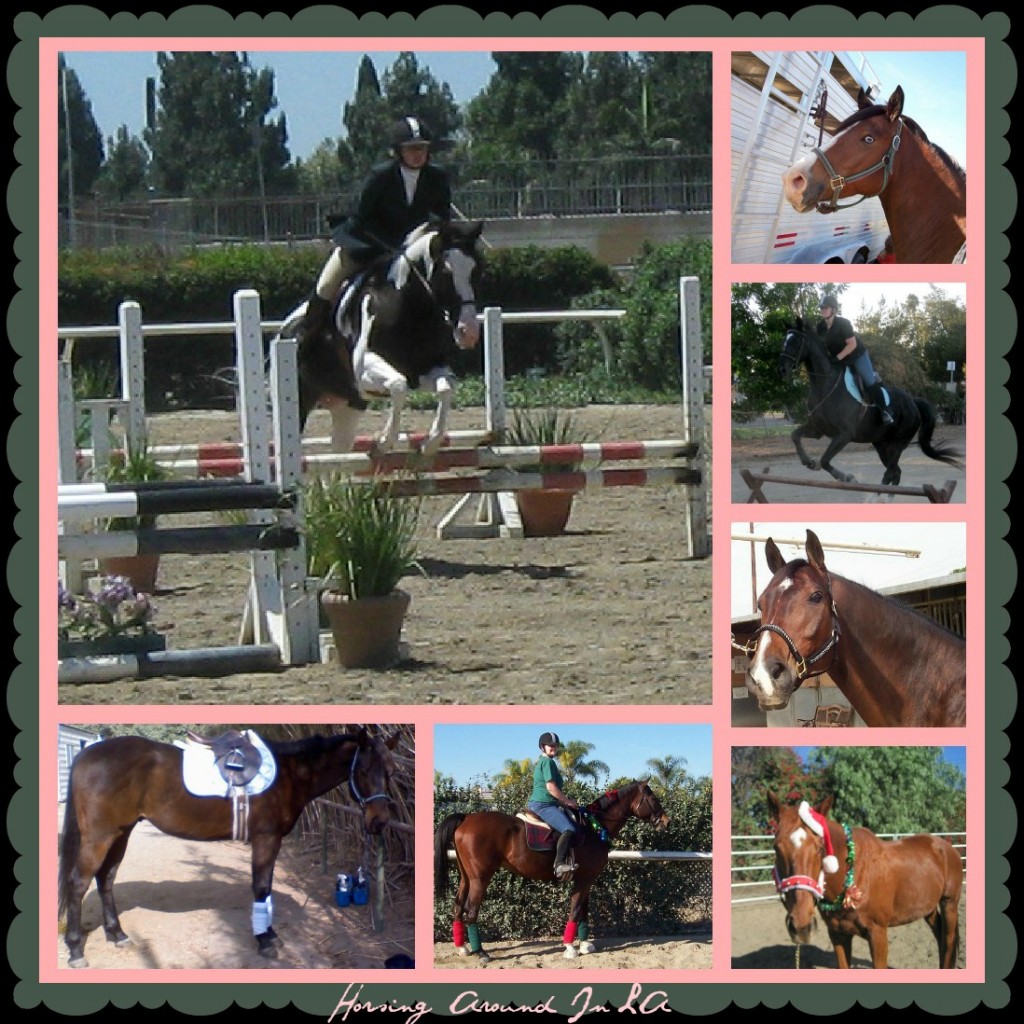 Speaking of halters, take a look at this lovely find! I think this one would look great on Allie (he's the tall black horse I am riding below). It is very unique. Check it out.  Union Jack Halter So what do you think of it?  Above are some more fun horse fashions. Festive in holiday greens and reds, even a super cute Santa Hat! How adorable is that? Shadow, the jumping black and white horse is looking elegant in our show gear.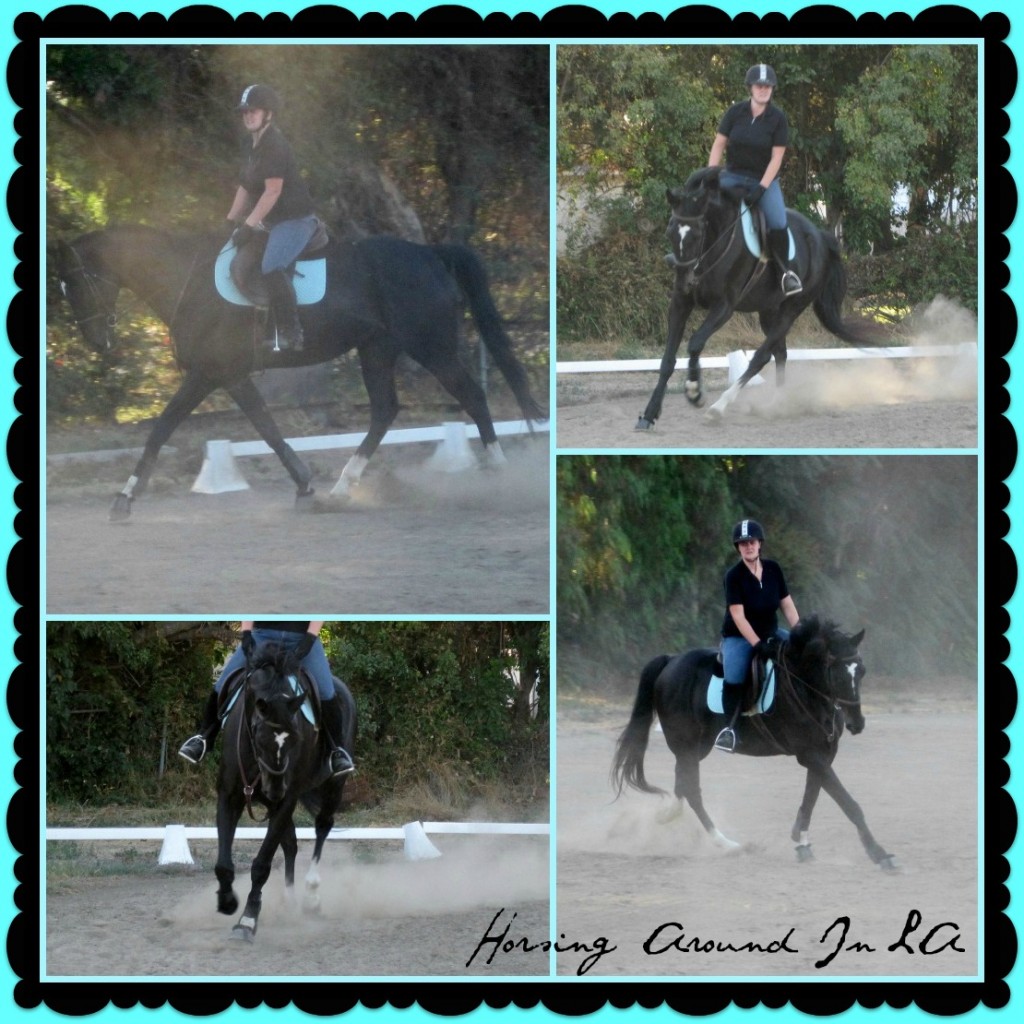 Allie, above is looking just as handsome as ever in his matching baby blue and black saddle pads and boots! I also found a matching Union Jack Saddle Pad to go with the above halter. That would look striking against Allie's shiny black coat, don't you think?
Whether you have your own horse, just take lessons, ride for fun on friends or family horses every once and awhile, or even just on guided rides once in a blue moon; it's fun to show some horsey fashion love to stand out from the crowd. When both you and your horse are turned out well, it just some how makes your ride that more enjoyable.
Happy Trails!!! 🙂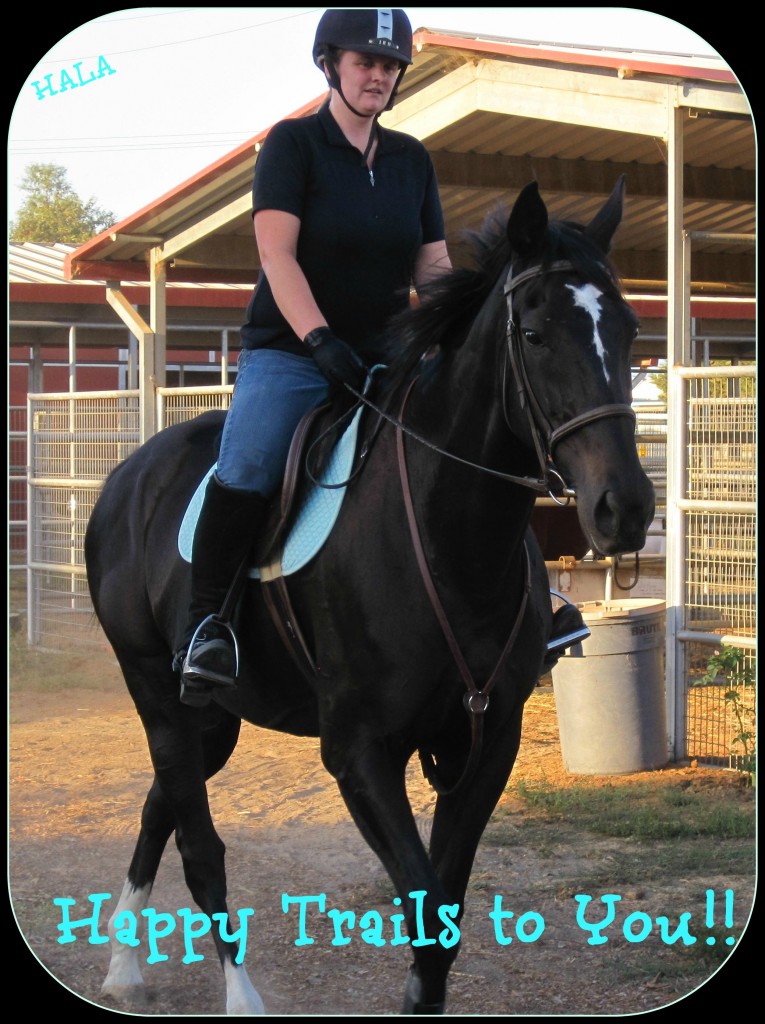 *Disclosure:  This is a sponsored post. However all thoughts, ideas, and opinions are my own.*