Star Wars: The Force Awakens!
By Erin
*I was invited as press by Disney to the Global Press Day for Star Wars: The Force Awakens for purposes of this post.*
The wait is almost over. The most anticipated film of the year; Star Wars: The Force Awakens is about to blast into theaters everywhere. Die-hard fans have been camping out for days in the cold and the rain, awaiting the arrival of the next installment of Star Wars. Everything for this film has been kept top-secret, in order to keep it fresh and new for everyone to enjoy without any spoilers. This included the press junket for Star Wars and its location. I've done a lot of press junkets now, and this was by far the most secretive and under wraps one yet! We were even instructed not to Geo-tag any of our posts, or we would be asked to leave. Usually there are signs once we get to the location telling us which way to go to get to the correct room for the junket, but not this one! Everything was secret. In the email it said to go upstairs and look for a white curtain. No signs anywhere, nothing. Just this white curtain, so unless you knew what to look for, you'd never know by just walking by, what was behind this very magic curtain.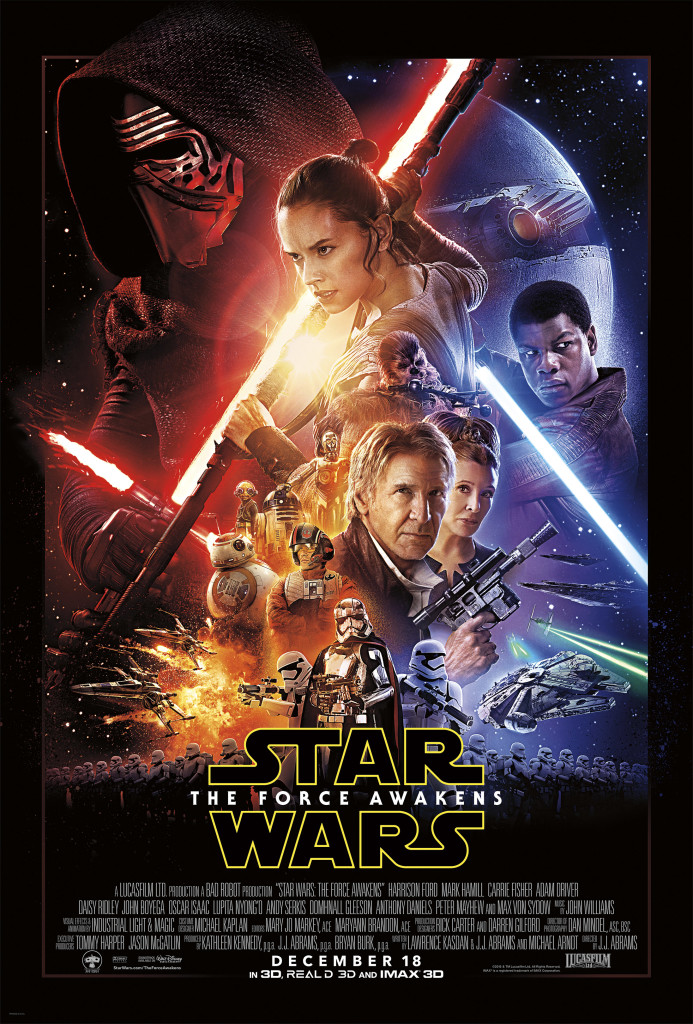 This junket was very different from the rest, as usually we are able to see the movie before the junket. This one we didn't. We didn't get to see it until just yesterday. Everything was top secret! So I will be giving you a little different perspective on the Star Wars: The Force Awakens than in other junket posts. This is more what my experience was and some information and thoughts from the cast on creating this masterpiece. So don't worry, no spoilers here about the actual film! 😉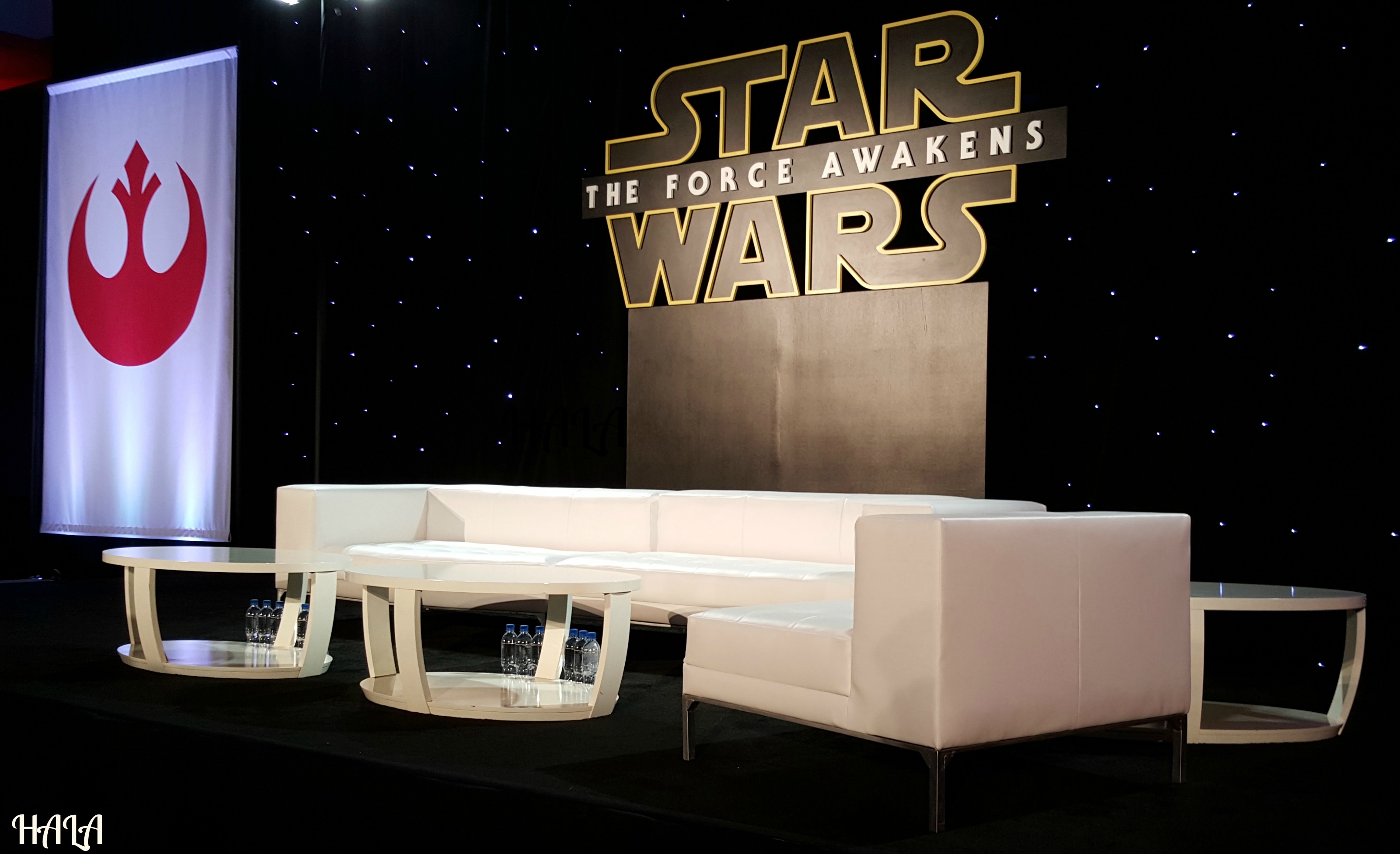 The set for the Star Wars: The Force Awakens Global Press Day! We wait in anticipation for the cast to walk out!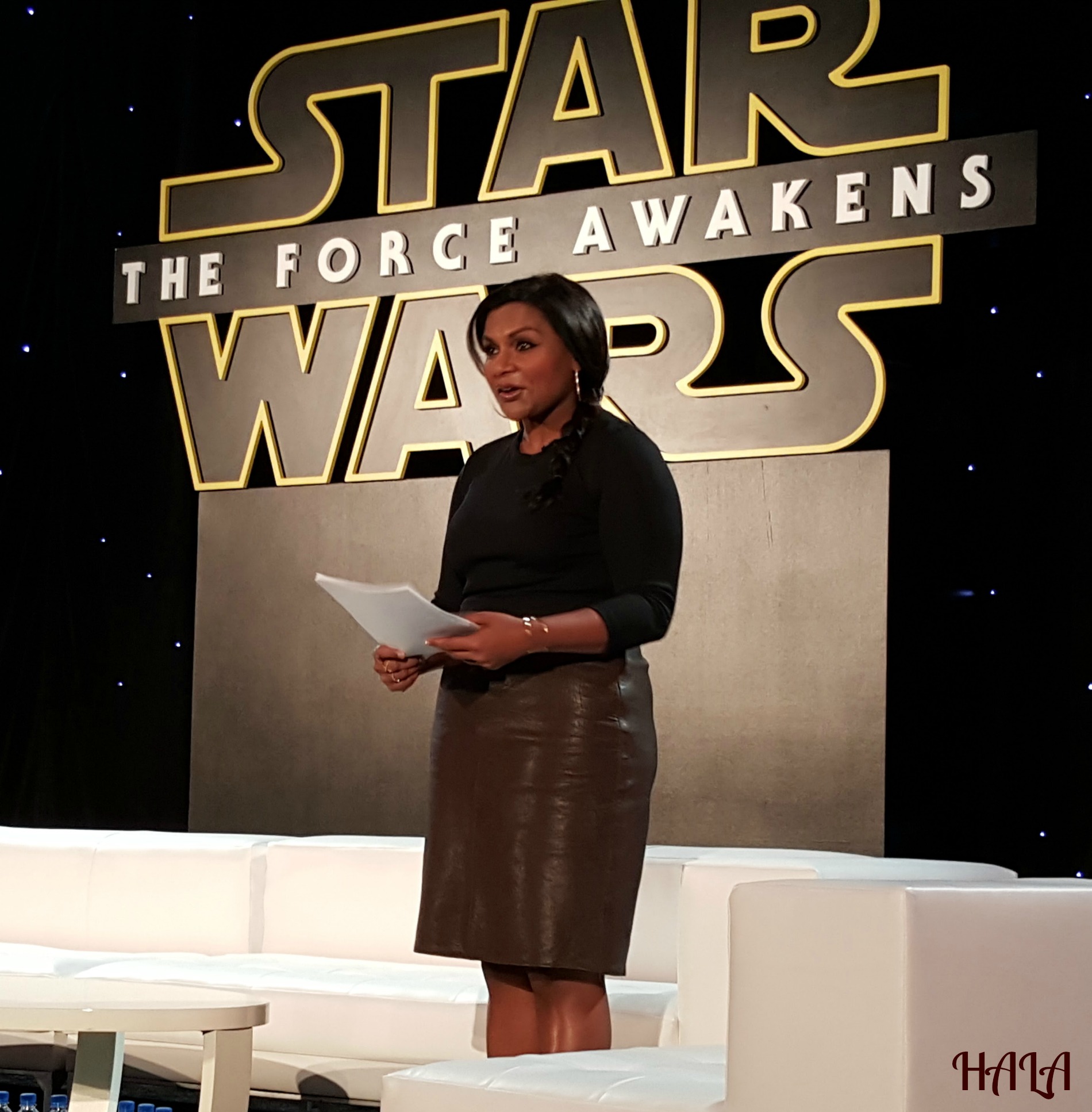 Eeek! Mindy Kaling (From The Office & Inside Out) was the moderator for the press conference! The conference was in two groups. The first group she introduced us to interview was: Carrie Fisher ("Leia"), JJAbrams (Director/Producer), Daisy Ridley ("Rey"), Adam Driver ("Kylo Ren"), Lupita Nyong'o ("Maz Kanata"), Lawrence Kasdan (Screenplay By).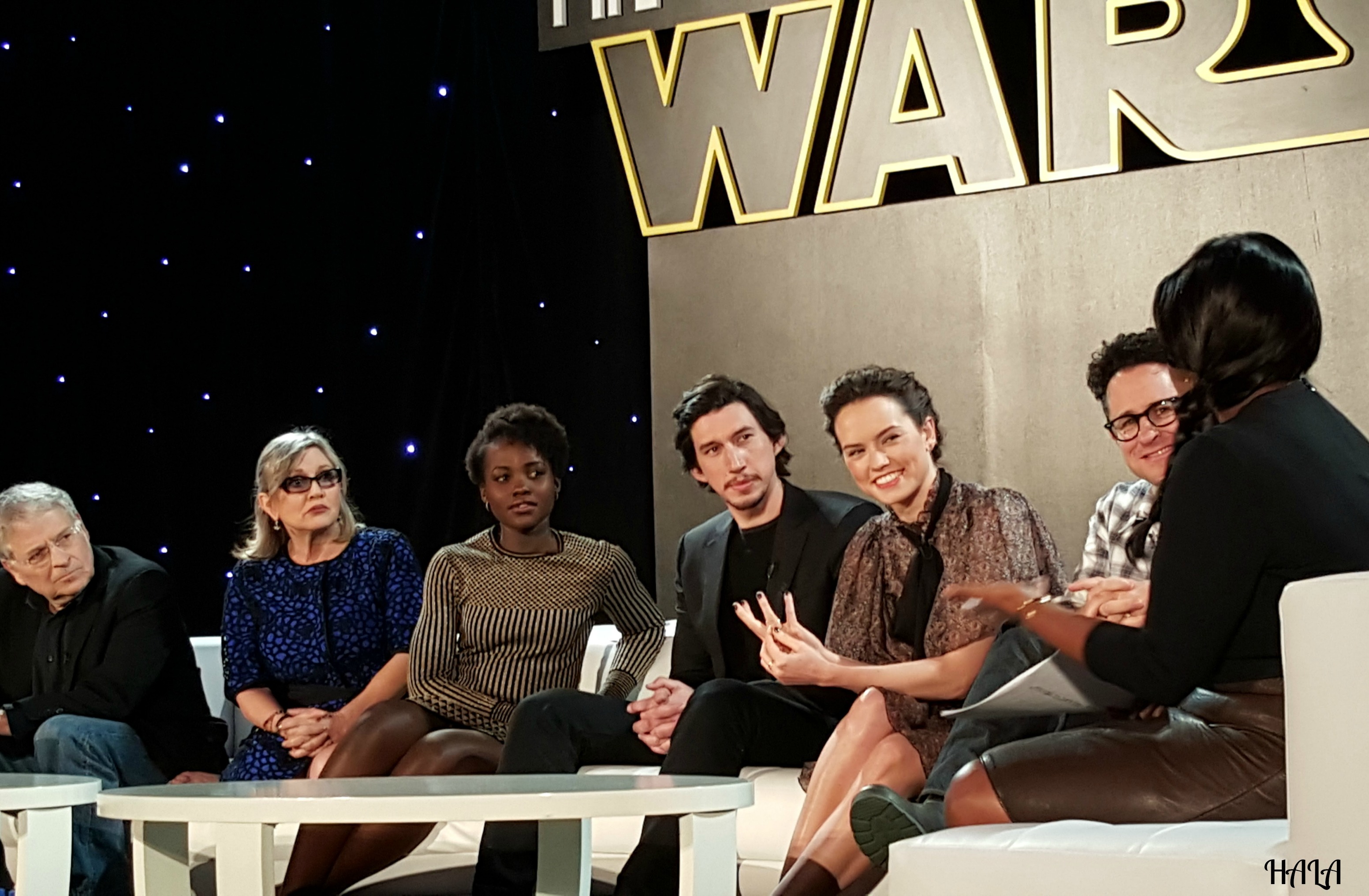 Since we did not talk about the film directly (as no one had seen it), one of the things we did discuss that really caught my interest was about the costumes. We asked the cast how long it took them to get into costume.
Daily Ridley (Rey): "Twenty minutes. Does that seem long or short? Cause putting the arm things on and everything takes a while, and the wraps and everything. Had a wonderful woman called Callie helping me."
Adam Driver (Kylo Ren): "The first time took like an hour and a half. Then we got it down to like 20 minutes, I think."
Lupita Nyong'o (Maz Kanata): "For me it took about – well, I didn't have a costume because I was a motion capture character, but to get suited up it took about – in the beginning it took like two and half hours, maybe three. And then by the end we had it down to about an hour or an hour 15."
Lawrence Kasdan (Screenplay): "I was ready like that. Show up ready to go."
Carrie Fisher (Leia): "How long did it take to get into costume? About 10 minutes for the 20. I'm older and I do it faster. No, really, 20 minutes. I have a kind of classy gas station attendant look. So that doesn't take long to put on."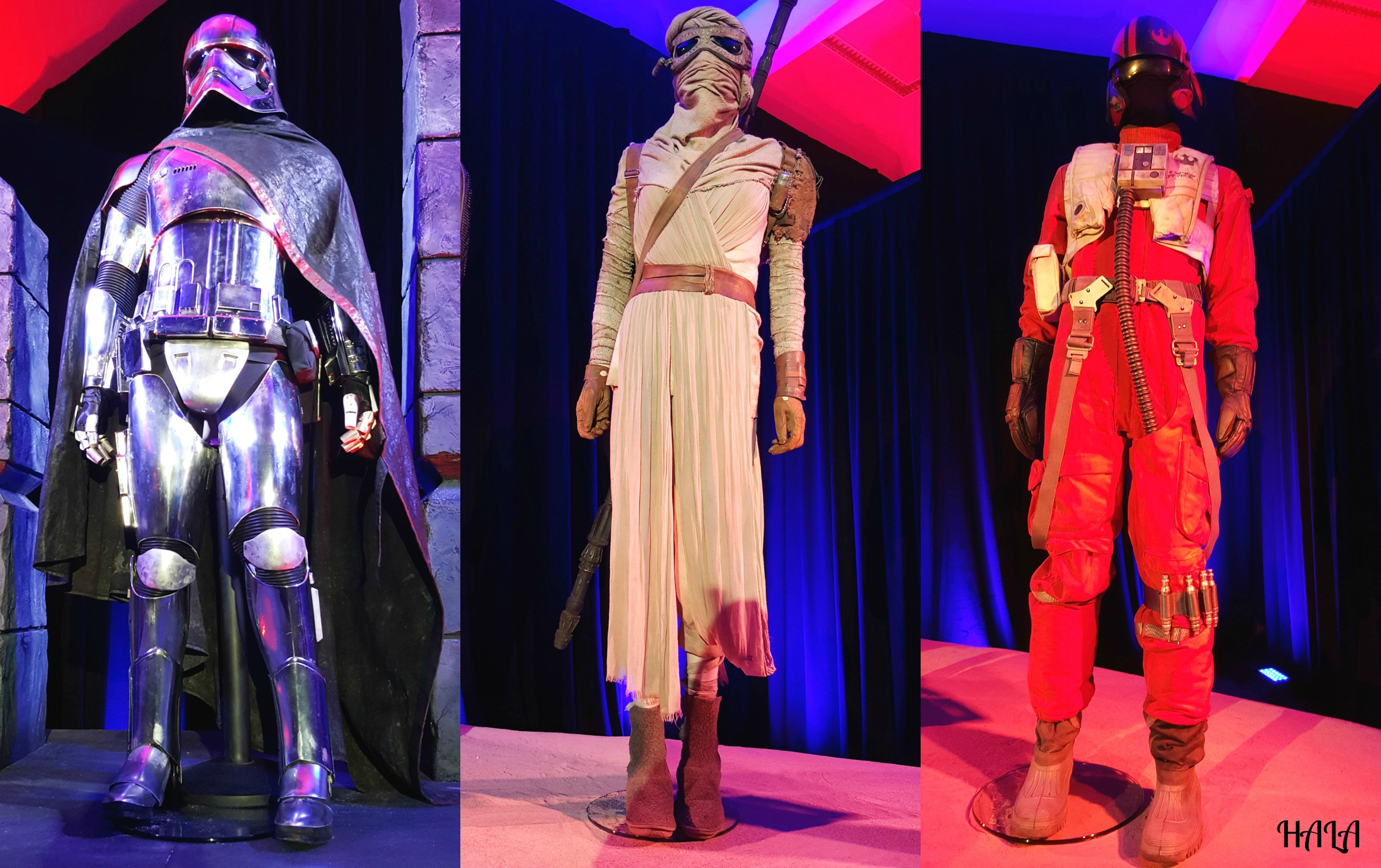 They had many of the costumes on display for us to see just how detailed and intricate each one was. From left to right you have: Captain Phasma, Rey, and Poe. What does each character have to put on to complete their costume?
Captain Phasma
Helmet – Chrome vacuum-plated 3D printed nylon
Cape – Cotton canvas and painted with binder
Armor – Chrome vacuum-plated molded polyurethane
Undersuit – Cotton lycra
Gussets – Molded rubber and cotton lycra
Collar – Neoprene and rubber
Belt – Rubber
Gloves – Chrome painted 3D printed fingers over leather
Boots – Chrome vacuum-plated polyurethane armor over leather
Rey
Wrap Dress-viscose
Head Wrap-cotton
Top-hemp and cotton jersey
Trousers- silk
Backpack-leather
Wrist Cuff and Belt- leather
Pouch-canvas
Arm Wraps-cotton
Gloves-leather
Boots-wool and leather
Staff-3D print
Poe
Flight Suit-Orange Nylon Canvas
Boots-Rubber Nylon
Gloves-Leather Gauntlet with padded detail
Belt-Grey webbing with nylon and metal
Vest-Off white life vest with plastic clip fastenings and alliance detail on the left shoulder
Helmet-Molded Polyurethane Helmet