Top 10 Food Picks You Won't Want to Miss at the L.A. County Fair
By Erin
*I was invited to attend the L.A. County Fair's Media Food Preview to facilitate this post. This is not a sponsored post. All thoughts and opinions are my own.* 
It's every foodies favorite time of year again! It's fair time, and you know what that means! All the tasty and delicious fair food is back, and it won't disappoint! I grew up coming to the L.A. County Fair and I always love and adore coming back to enjoy all of the sights, sounds, and smells that the fair brings along with it. This year the Los Angeles County Fair is back here in Pomona and is here through September 27th. A few days ago, I went to check out some of the best food items that the fair has to offer at the fair food preview for media. Here's a list of my top 10 picks!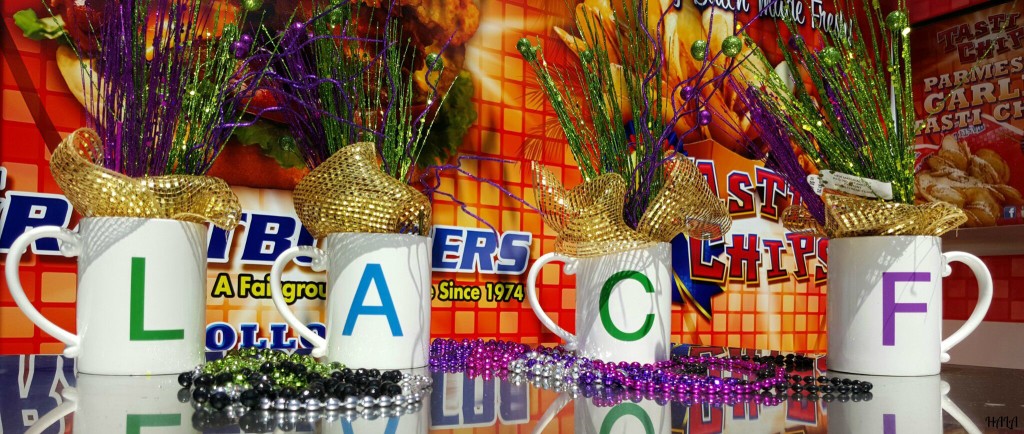 10) Deep-Fried Peanut-Butter Pickle at Chicken Charlie's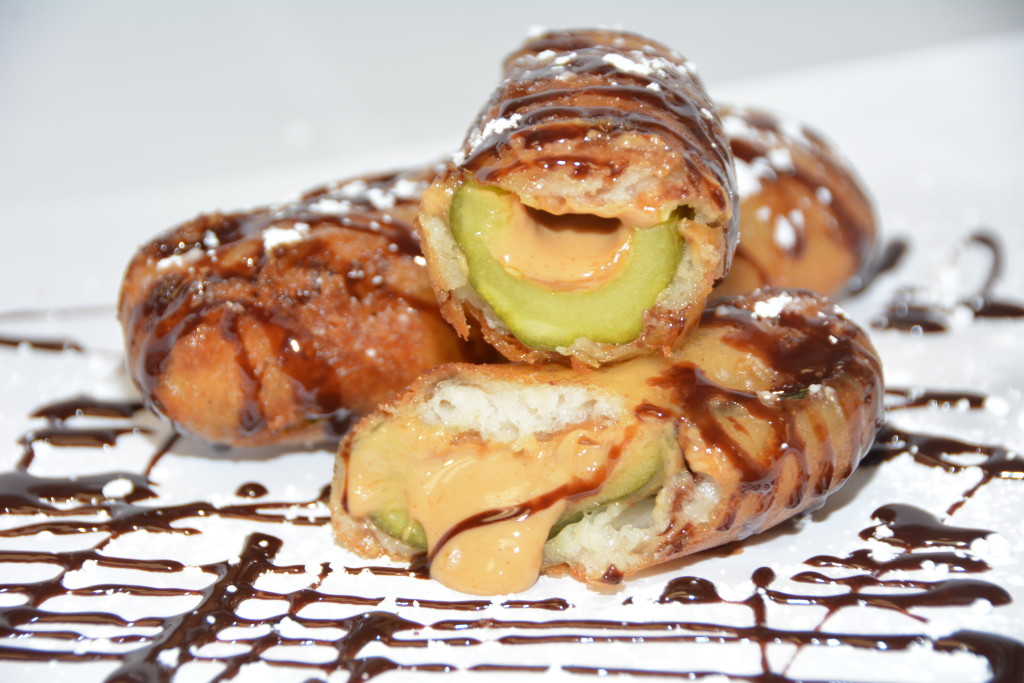 This one is a bit unusual, and probably something you'd never think of to combine together, (I know I wouldn't have!) but Charlie does it again! By mixing a savory pickle with the creamy natural sweetness of peanut butter and chocolate sauce, Charlie comes up with another brilliant idea that works. It's a BIG pickle, so it's perfect for sharing; especially if you plan on sampling a lot of the fair food. 😉
9) Blooming Onion at the Fresh Frys Stand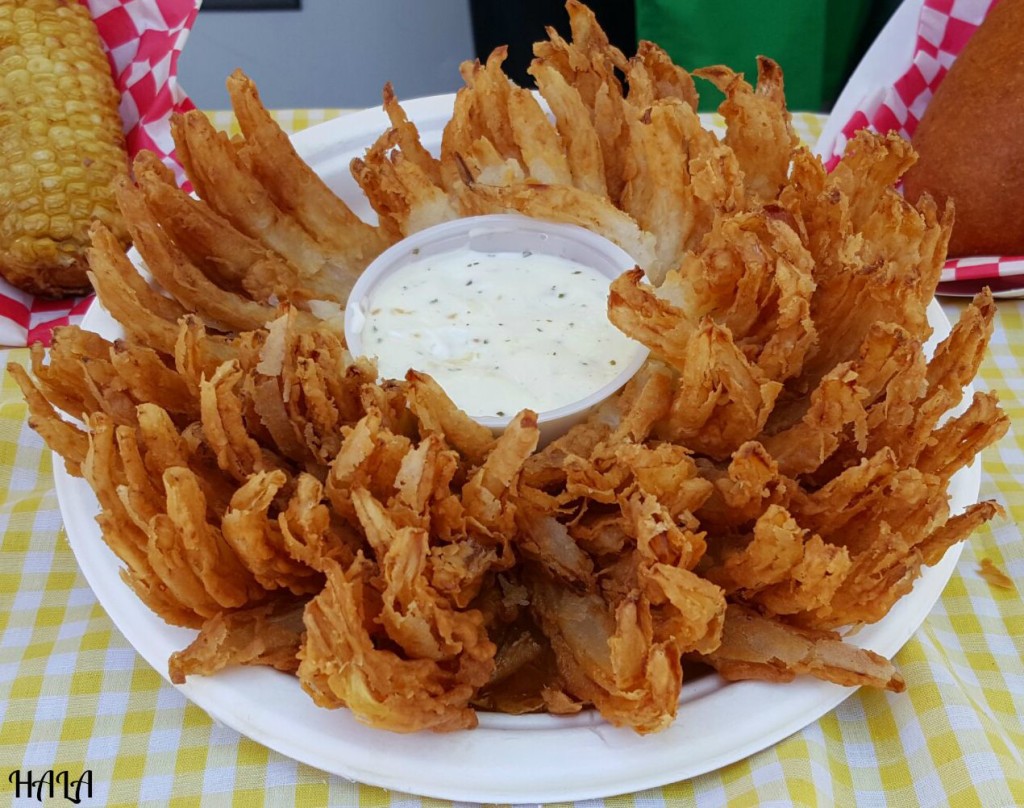 You can't go wrong with this old fair favorite! A crispy, battered and deep-fried onion with a cool ranch dip that is also great to share.
8) BBQ Beef Sundae at Chuckwagon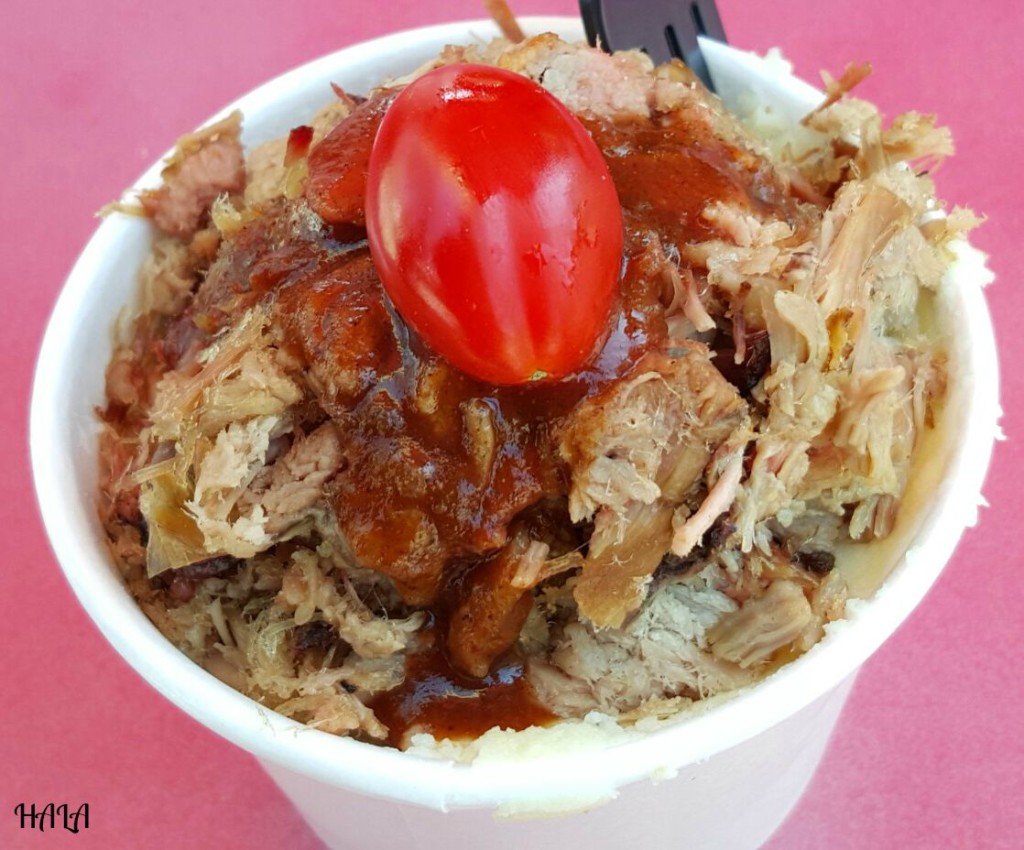 The BBQ Beef Sundae from Chuckwagon starts with mashed potatoes instead of ice cream, then layered with a generous portion of barbecued brisket slices, and is topped with a cherry — a cherry tomato, that is. This is probably one of the healthier food options this year, as at least it is not deep fried!
7) Chicken & Waffles in a Cone at Cornucopia Foods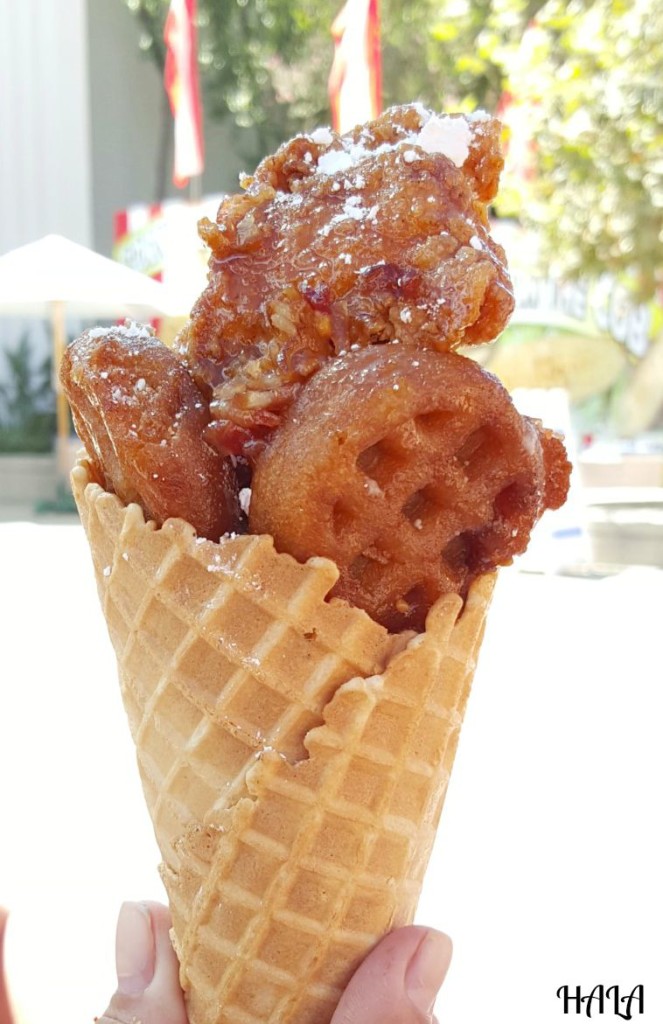 A new twist on Chicken and Waffles! It's served in a Waffle Cone, making it easy to carry around the fair. This tasty number is loaded up with chicken nuggets and mini waffles that are doused in maple syrup and is then topped with bacon bits and powdered sugar. Can you say YUM???? You will get super sticky after eating this one, so be prepared to get sticky. You might want to have some wipes on hand if you don't want to be making an extra trip to the restroom to wash them off. Another one to share if you plan on trying everything at the fair.
6) Deep-Fried Corn at Chuckwagon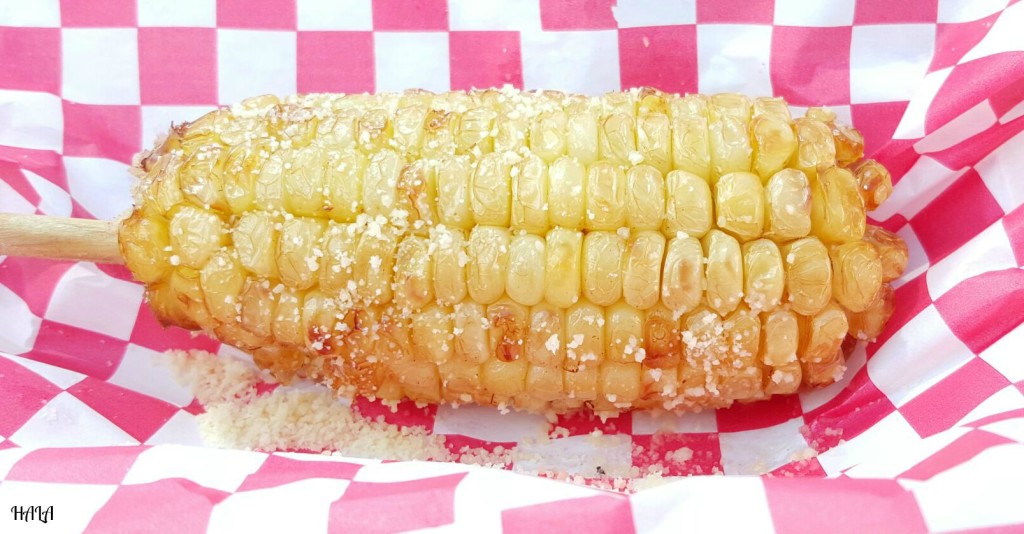 A much healthier item at the fair by far, and one of my personal fair favorites since I was a kid. It may be simple, but adding some toppings to it makes it an extra special treat.
5) Deep-Fried Bacon Wrapped Chicken & Waffles at Chicken Charlie's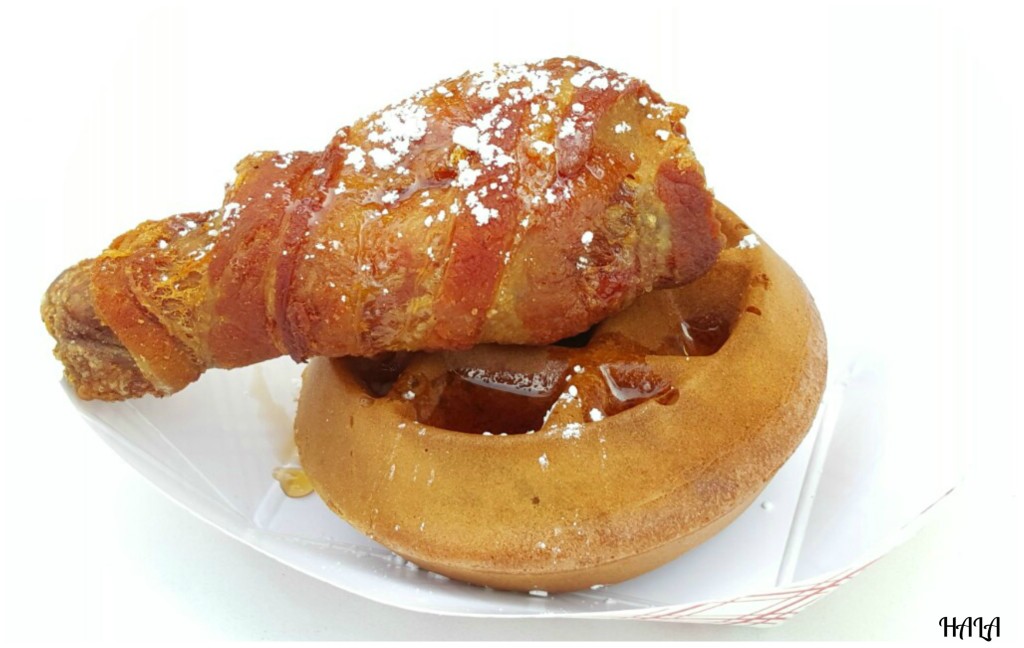 You can never have too many versions of chicken and waffles right? I am a total sucker for all things sweet and savory so I love this version of it from Chicken Charlie's!
4) Deep-Fried Guacamole at Chicken-Charlie's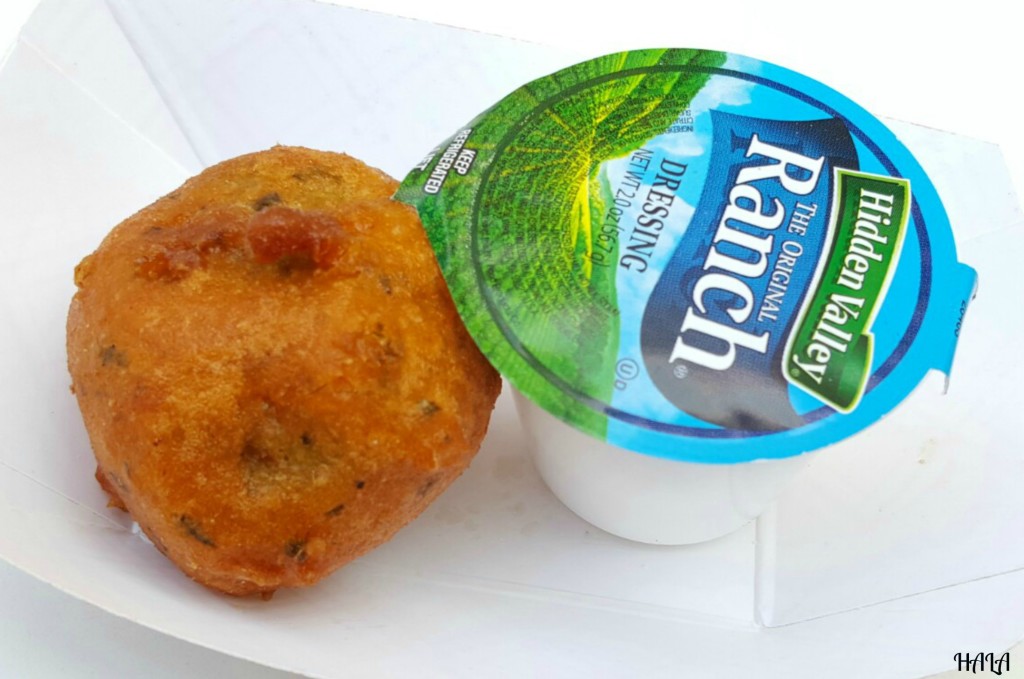 I love all things made with avocado, so it is no surprise that this one is towards the top of my list of "must haves" at the fair this year! Take the crispy goodness of the deep-fried crust with the gooey inside of the soft guacamole and you get one delicious, tangy and flavorful treat. Dip it with just enough ranch dressing to make it the perfect fair snack.
3) Mango Michelagua at Ricco's Michelaguas
This one is a super refreshing treat! I could seriously drink these all day at the fair and be perfectly happy and this isn't even an alcoholic drink! You will want one (or two) of these to cool off with on a hot day at the fair. This one shown is Mango but there are other varieties like Pineapple-Spinach and Lemonade-Cucumber. Filled with fresh fruit and topped with cherimoya and chili around the rim, makes it the most refreshing treat to cool down with and quench your thirst.
2)  Teriyaki Chicken Pineapple Bowl at Pineapple Express/Chicken Charlie's
This has to be my most favorite healthier option at the fair. Take some tender teriyaki chicken in Charlie's secret sauce and put it over rice and pineapple chunks in a real pineapple  bowl and you get one sweet and delicious tropical meal.
1) Deep-Fried Cinnamon Apple Rings at Chuckwagon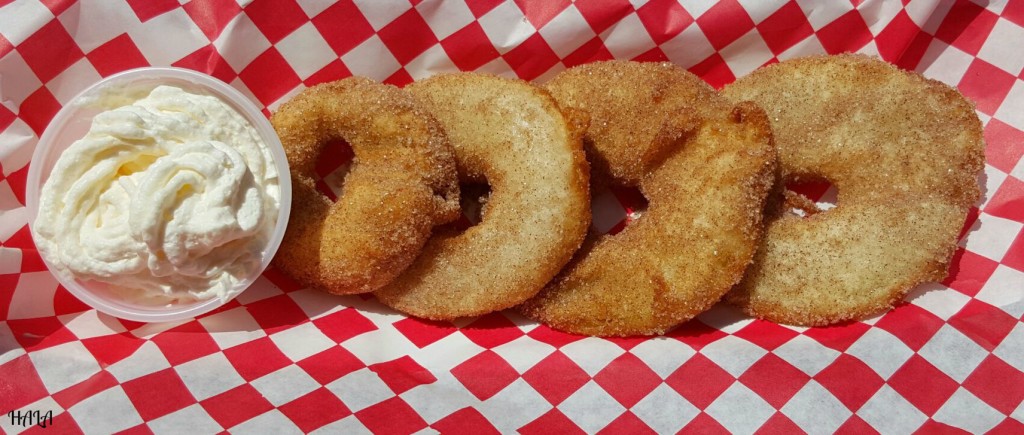 If you only try one thing at the fair this year, make sure it's THIS! New to the L.A. County Fair, these Apple Rings have been deep-fried and lightly coated and sprinkled with cinnamon-sugar. Dip them into the whipped cream and you have the most sweet and delectable treat one can imagine. Now this may be one you DON'T want to share! 😉
So there you have it! My top 10 food picks for the fair. My advice: if you plan on attending this year's fair, prepare yourself and pace yourself! Share everything with a buddy so you have more room to enjoy all of the deep-fried goodness that the fair has to offer. Wear comfortable pants that aren't too tight. If your eyes are like mine, they are bigger than your stomach. So even if you don't want to, SHARE. Otherwise, half-way in you will already be stuffed like a Thanksgiving Turkey! 😛 Trust.Me. On this! Also, this way, instead of gaining a gazillion pounds, it will probably be more like 2.
P.S. Don't forget to check out the awesome lights at night at Luminasia! It is sadly in its final year at the fair so you won't want to miss out on that. Don't forget to say hello to all of the cute animals either, and to play some games and go on a ride or two once all of that food settles a bit…. and  The Steam Punkers at Grinding Gears! They are returning again this year and they are pretty awesome. 🙂
What are you looking forward to pigging out on at the fair this year? 😉
LA County Fair 2015
Dates: Sept. 4 – Sept. 27, 2015
CLOSED Mondays (except for Monday 9/7) & Tuesdays
Fairplex Exposition Complex
1101 West McKinley Ave.
Pomona, CA 
(909) 623-3111