Meet the Inspirational Cast of Moana!
By Erin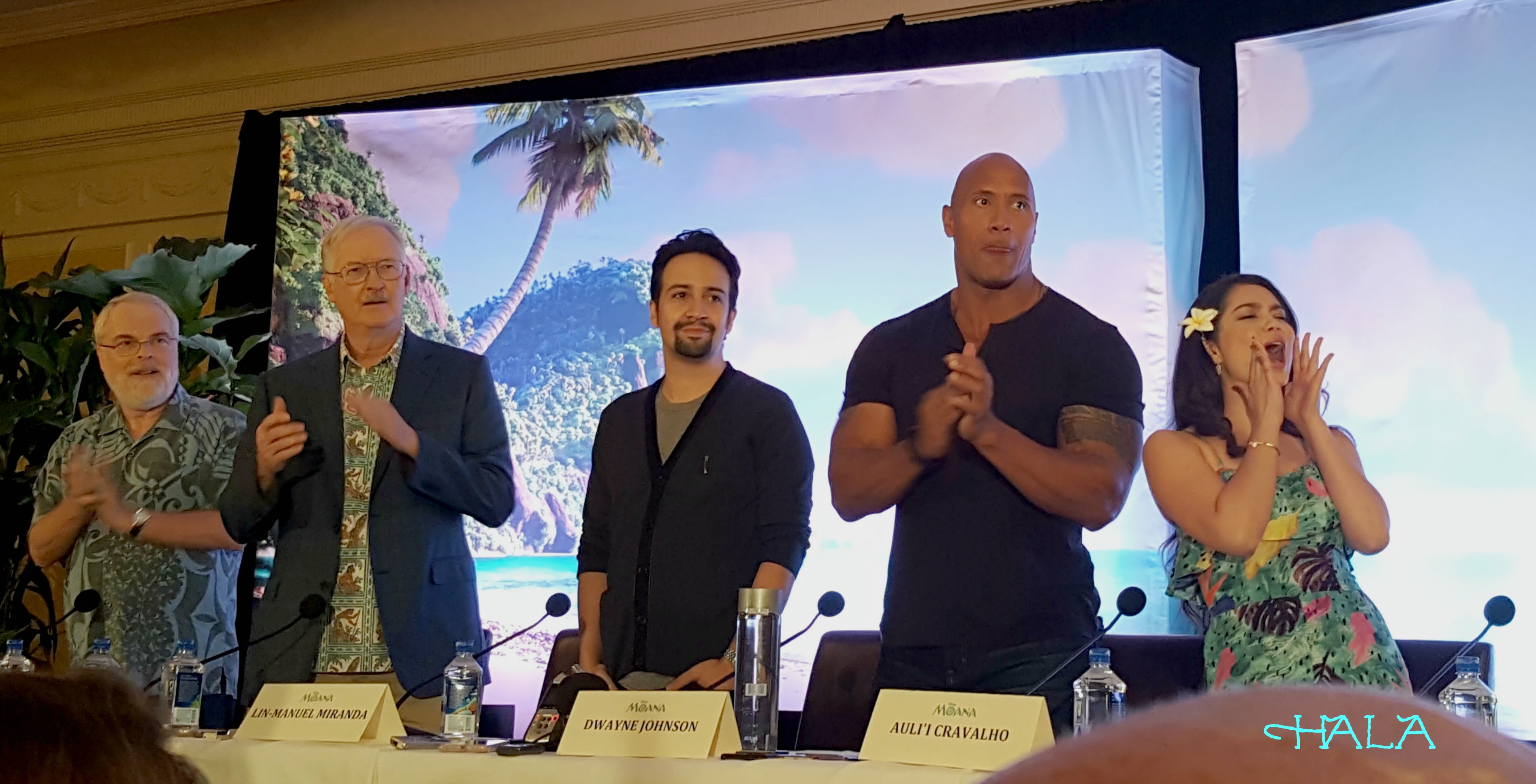 If you're a Disney movie lover like me, then you're probably anticipating the release of Moana later this week. If you don't know yet, Walt Disney Animation Studios brings us "Moana," a sweeping, CG-animated feature film about an adventurous teenager who sails out on a daring mission to save her people. Moana is the 16-year-old daughter of the chief of Motunui, she's brave, determined, compassionate and incredibly smart. She has a never-say-die attitude and a profound connection to the ocean. It is very troubling to her,  that her people don't go beyond the reef surrounding their island. They stay within the confines of that reef and Moana doesn't really understand why, especially since she's felt drawn to the ocean her whole life.
The story of Moana was inspired by the oral histories of the people and cultures of Oceania. For centuries, the greatest voyagers, who were well-known to be the greatest navigators in the world, masterfully navigated the vast Pacific, discovering the many islands of Oceania. Navigation—or wayfinding—is such a big part of Pacific culture. Ancient Polynesians found their way across the seas, wayfinding island-to-island without the use of modern instruments, using their knowledge of nature, the stars, the waves and the currents. But then, and seemingly out-of-nowhere their voyages across the ocean came to a complete stop and no one knows why they stopped or why they started back up again. Though there are lots of theories about it, no one knows exactly why. Moana, our heroine,  means "ocean" and she is at the heart of the rebirth of wayfinding in the story.
 I attended the Moana Press Junket the other week which was held at Santa Monica's gorgeous Fairmont Miramont Hotel and Bungalows. In attendance were:
Dwayne Johnson (voice of "Maui")
Auli'i Cravalho (voice of "Moana")
Lin-Manuel Miranda (Music by)
Opetaia Foa'i (Music by)
Directors Ron Clements & John Musker
Producer Osnat Shurer
Ron Clements was the first to answer, what inspired this movie? It actually started five years ago, and the idea belonged to John Musker. "He wanted to do a movie based on the world of the Pacific Islands and the mythology. That led to about five years ago we took a trip to Fiji, Samoa and Tahiti, which really was the basis of the movie in terms of the connection to navigation, to people's connection to their ancestry, respect for nature, a lot of those ideas came from that first research trip and the movie was heavily inspired by that and people that we met have stayed involved with the movie throughout its production process to try to capture as much as we could of all the wondrous things we learned and the wonderful people that we met."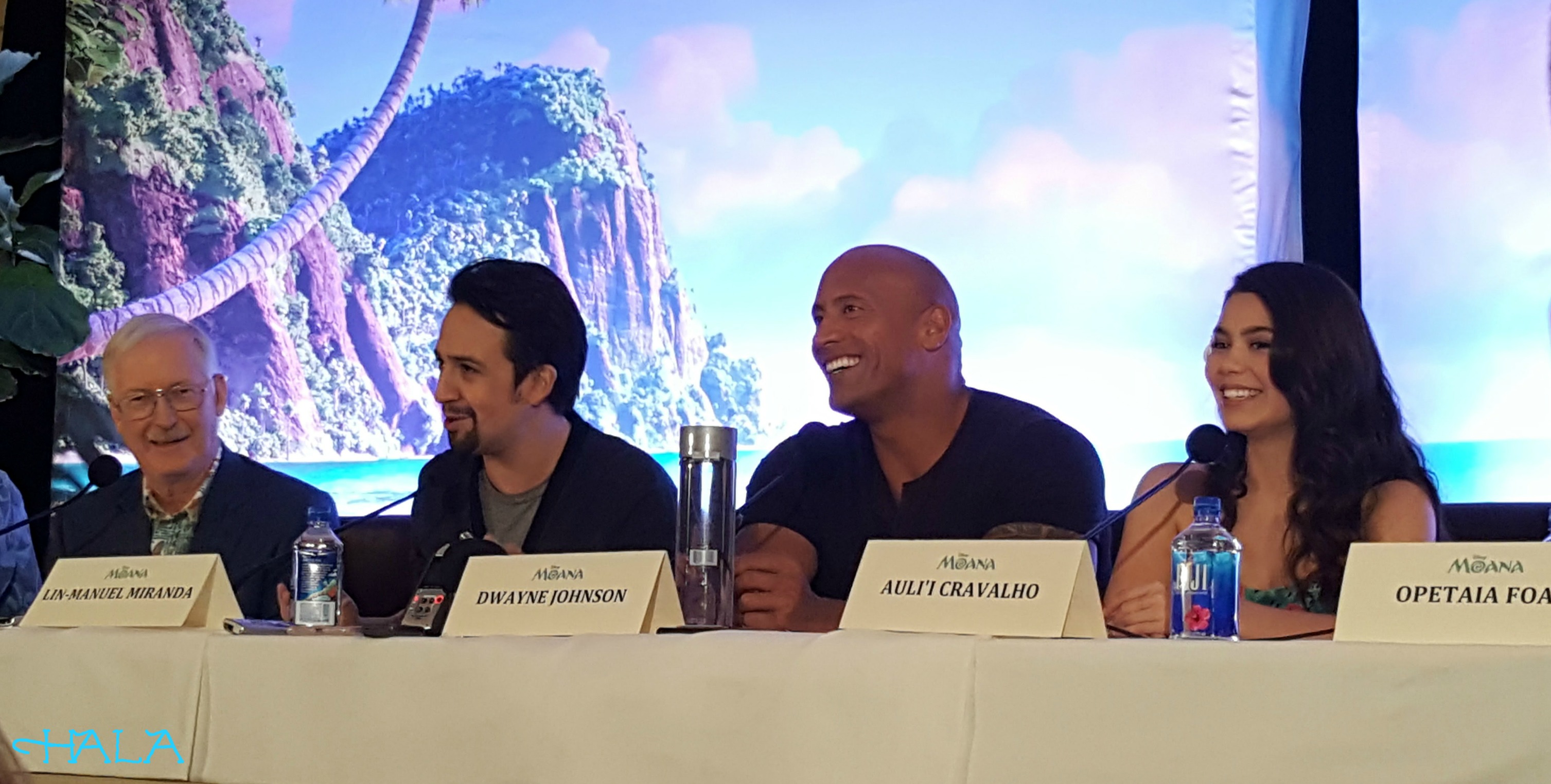 John Musker added that they took a second trip to the Pacific with the musical team, including Lin-Manuel, who had just taken the job. That trip to the Pacifica Music Festival in Auckland, New Zealand, allowed them the opportunity to learn, then get into the studio and bang on the drums to experiment with the unique musical heritage and beats offered by the Pacific Islands. Lin also ended up winning a dance contest! Puerto Ricans can shake their hips, too!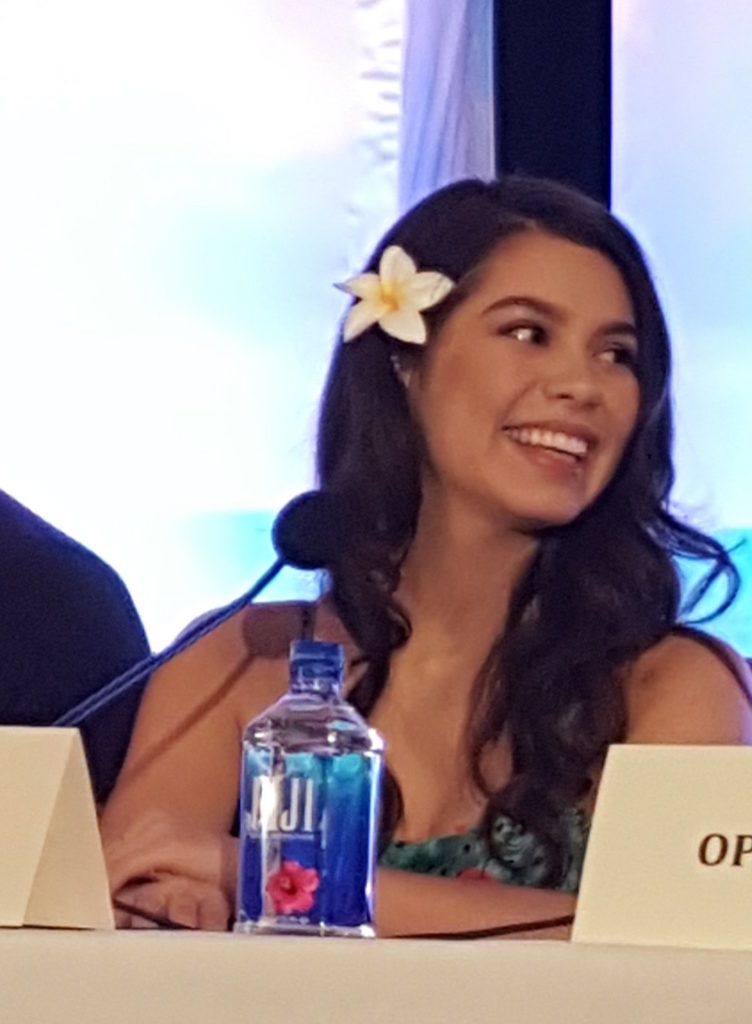 Auli'i Cravalho shared with us about life growing up in Hawaii and her culture. "I've grown up in Hawaii all my life.  I grew up in a small town in Kwahala on the Big Island of Hawaii, where I literally grew up with pigs and chickens.  I am deeply rooted to my culture.  I actually go to an all-Hawaiian school where the mythology and the folklore of Maui is in our curriculum and I've listened to his stories as bedtime stories and I've grown up with the Aloha spirit just around me and I'm sure Dwayne can second that."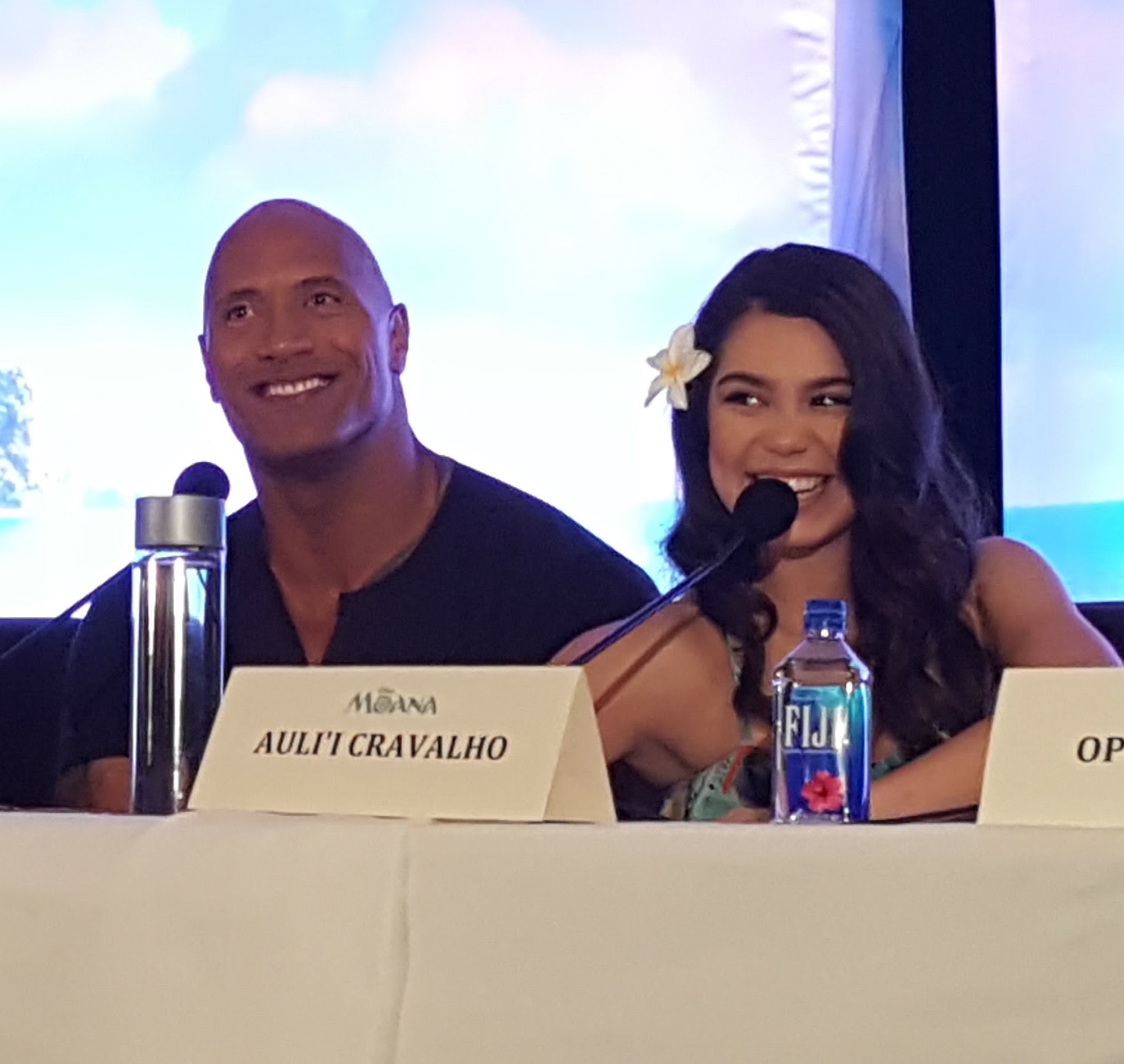 Dwayne Johnson then shared with us a little more about what the "Aloha Spirit" means to him. "The 'Aloha Spirit,' it's something that is very special, it's very meaningful to us and our Polynesian culture and so for example, those of you who have had the opportunity to visit Hawaii or any of the Polynesian islands, it's a very special thing.  It's an intangible, that when you get off the plane and you have your feet on the ground there, energetically it takes you to a different place.  That's Aloha Spirit. The opportunity that we had, just as Polynesians to be part of a story and to bring to life a story of our Polynesian culture in this capacity with our great partners at Disney, musically with these masters, was just a really, really special opportunity for us."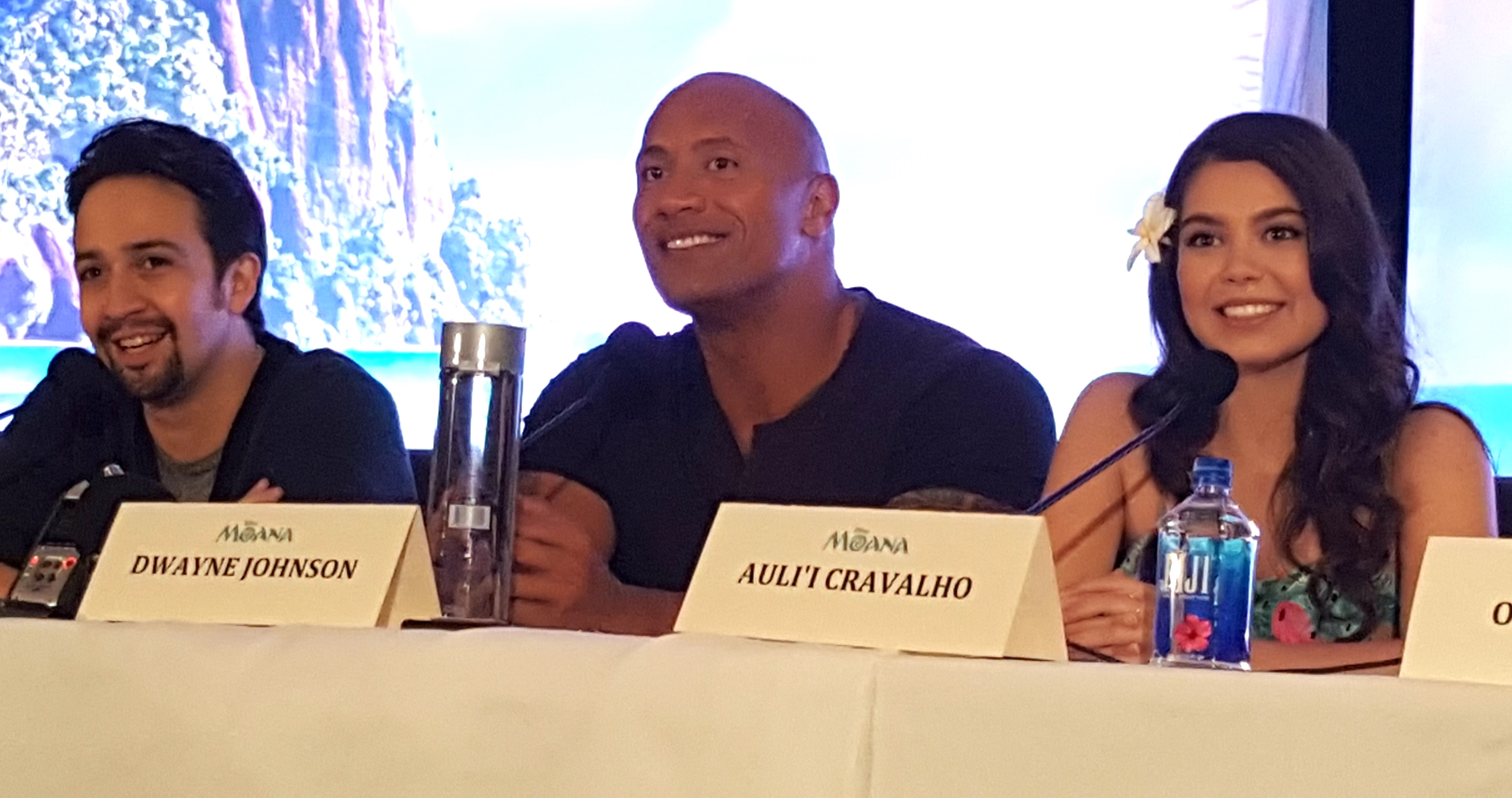 There is a special song in the film called 'You're Welcome' (make sure to watch the clip below!). Everyone wanted to know how Lin got The ROCK to sing!
Lin: "When Dwayne accepted the role he said, "So what are you giving me to sing?" He was really excited for this. I went to YouTube where the answers always lie and you know, I'm a big fan of his wrestling days and there was a time during his heel turn era where he would pull out a guitar and taunt whatever town he was in. I'd be like, can't wait to get out of Chicago. I can't do the eyebrow. I got a really good sense of his vocal range from that 10-minute super cut and then the rest of it was just writing lyrics that embody the spirit of Maui, who is this amazing demi-god, trickster god and once I had the title, You're Welcome, which only Dwayne can pull off.
Dwayne shared his thoughts about getting to sing in a Disney film too.
Dwayne: " It was an opportunity to challenge myself and yes, as Lin was saying, he did his research and by the time I got the song, it was in my comfortable range as well and then also parts of the song which pushed me a little bit, which I appreciate because that's what I needed vocally as well and I honestly had such a great time, one of the best times I've ever had in my career was actually working on this project and certainly working on that song because also like we all love challenges and this was a challenge that the bar is set so incredibly high in a Disney film to sing.
As the press junket came to an end, we stepped outside and in true Disney fashion, this magical sunset awaited us outside!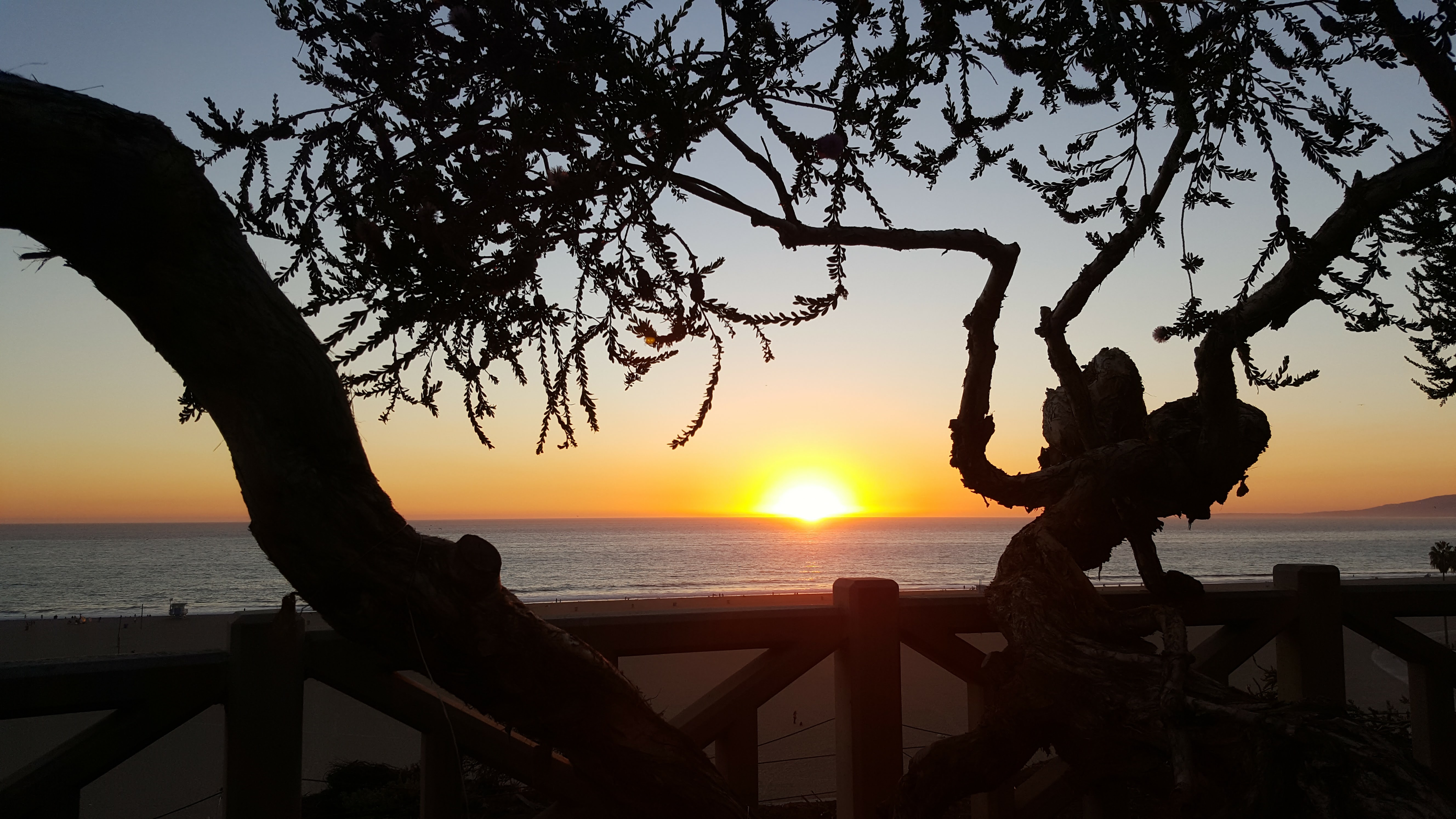 What a way to end the day! Moana's an amazing movie with an amazing cast. So check out the cool clip below and visit the Moana sites to learn more until November 23rd when you can go out and see it!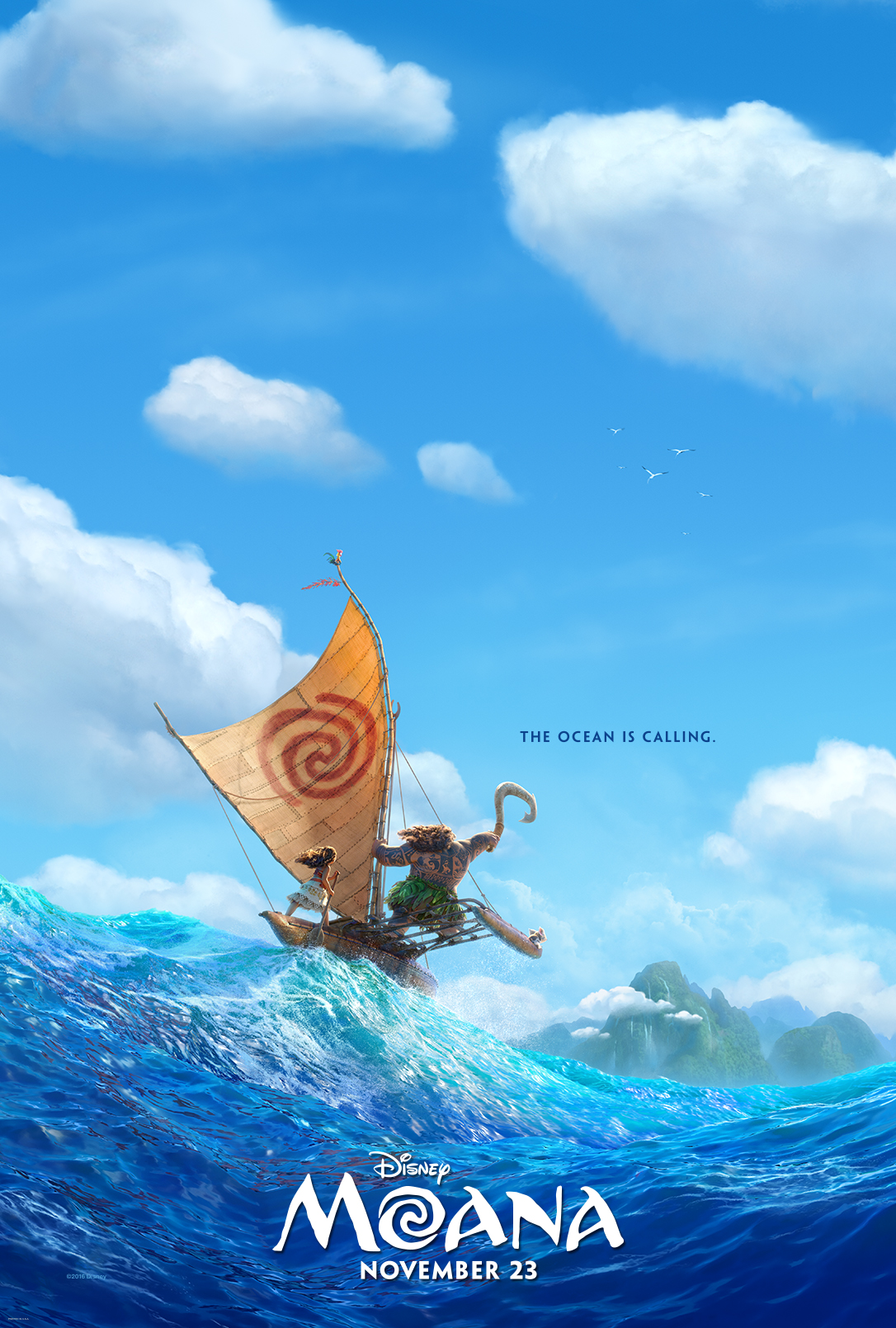 Movie review coming on Wednesday, but for now, I will leave you with this clip of Moana. You're Welcome!! 😉 Then go see it on Wednesday when it's out in theaters. Oh you will want to purchase the sound track for this one too! It is amazing and will have you dreaming of being on the islands.
Marvel's Doctor Strange
By Erin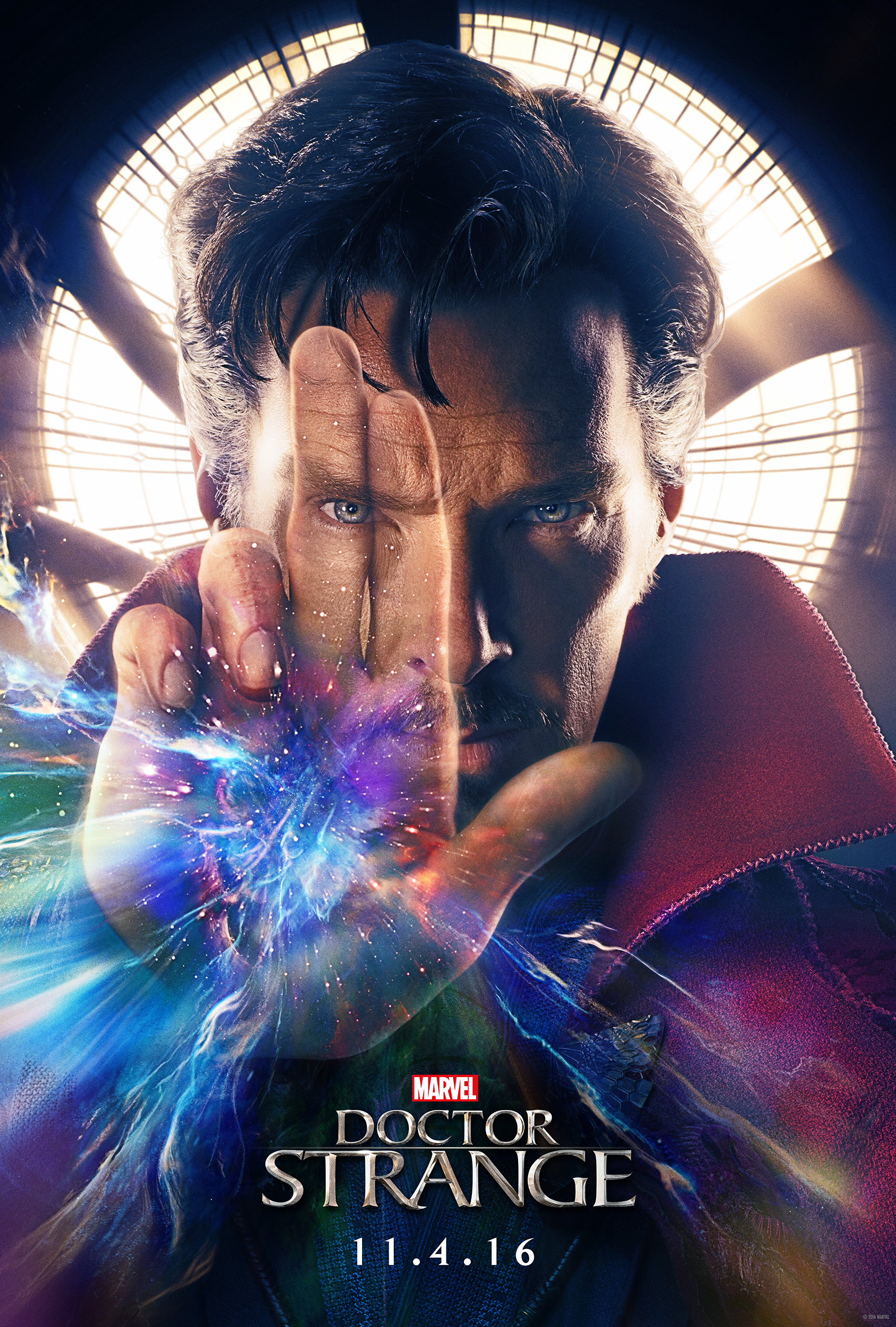 Marvel Studios brings us the 14th installment in theMarvel Cinematic Universe, "Doctor Strange," the story of world-famous neurosurgeon Dr. Stephen Strange whose life changes forever after a horrific car accident robs him of the use of his hands. We join Strange on his dangerous, mystifying, and totally mind-bending journey. The movie has all the usual action and explosions that you can expect as it shares the same look, feel, and fancy corporate sheen as the rest, but it also has a lot of originality and freshness to it. The main character is a little different, where a flawed hero's personal search for purpose leads him to the New Age realm of magic and sorcery where he ultimately finds his calling in life. He discovers powerful magic in a mysterious place known as Kamar-Taj—the front line of a battle against unseen dark forces bent on destroying our reality. It's thrilling to see Strange embrace his inner spirit, finding power by going with the current, instead of against it. Staring Benedict Cumberbatch as the superhero Doctor Strange and Tilda Swinton as "The Ancient One."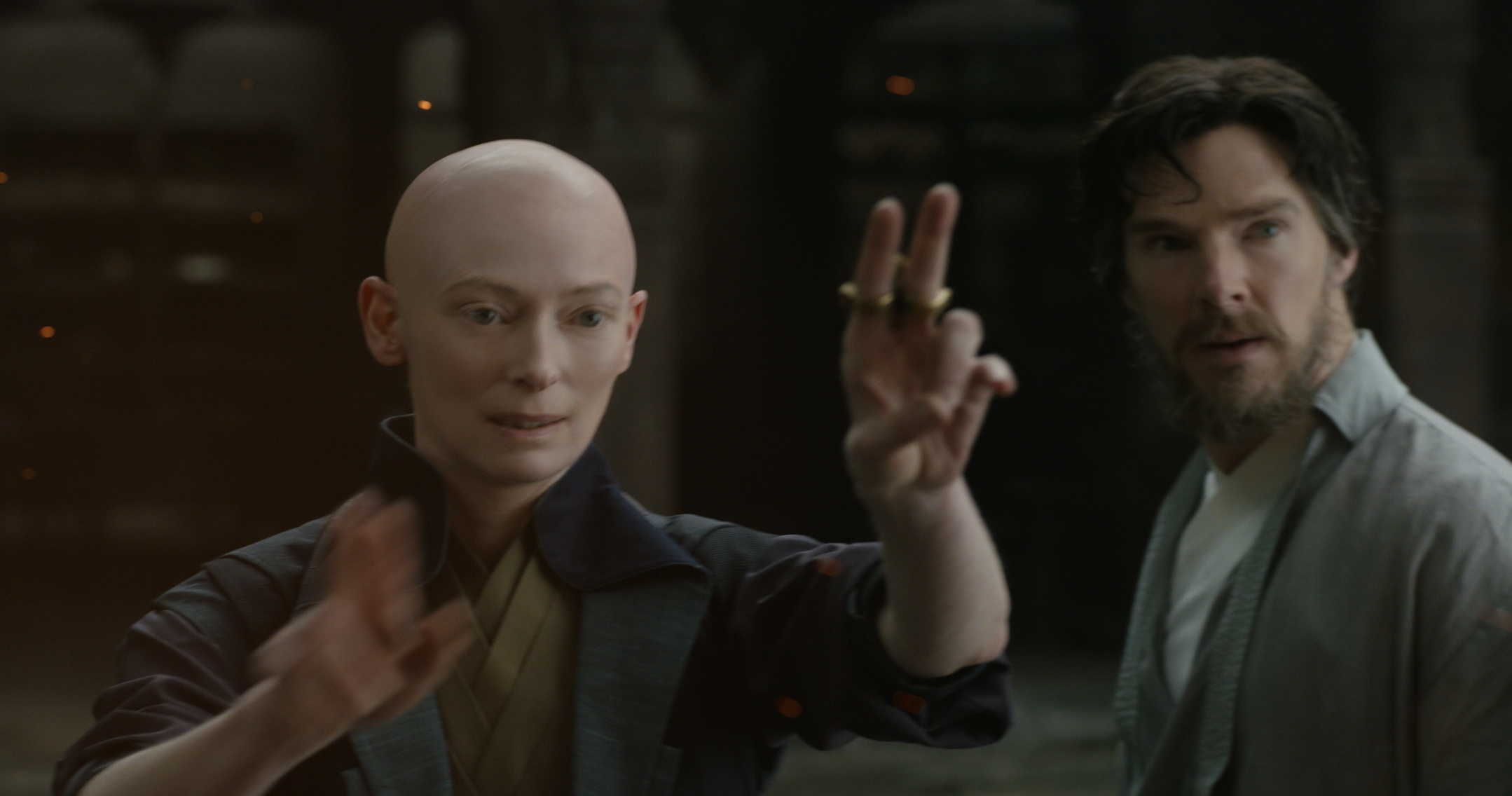 Dr. Stephen Strange is completely arrogant, he senses himself as the greatest neurosurgeon in New York, if not the world.  He is also a bit of a different kind of superhero being that he is a sorcerer. At the start, his arrogant and selfish ways shine through, but he slowly learns humility: to better himself and to think of others. This film is filled with comic book-style action, violence includes large-scale destruction, a brutal car crash as the result of distracted driving as he was texting and driving and not paying attention to the road, bloody wounds and scenes on operating tables, a lot of crashing through glass and falls from large heights. There's also  tons of martial arts fighting, fighting with magical and supernatural weapons, and other rather dark and scary stuff. For those with kids, this might be one you don't want your  really young ones to see with all of the blood, gore and dark moments. It just depends on what your child can handle and what they've already been exposed to.
The doctor is an unusual, but very entertaining, member of the superhero club, and the movie's mystical elements provide food for thought as well as fun.
Before you go out and see the film (but even if you have seen it these are still some fun facts to know!) check out these fun facts about Doctor Strange!
*Marvel's "Doctor Strange" was shot in London, New York, Kathmandu (Nepal) and Hong Kong.
* Steve Ditko's comic book art influenced the environments that were created for the film.
Dreamworks Trolls
By Erin

 Dreamworks Trolls is on it's way to theaters this Friday and I had the opportunity to screen the movie a little early and attend a special press junket held at DreamWorks Animation and 20th Century Fox a couple of weekends ago. We chatted with Justin Timberlake and Anna Kendrick and got a preview of the many things from the Trolls world that we can now experience for ourselves like some yummy frozen yogurt, their awesome songs, and some cool wigs so you can actually BE a troll yourself!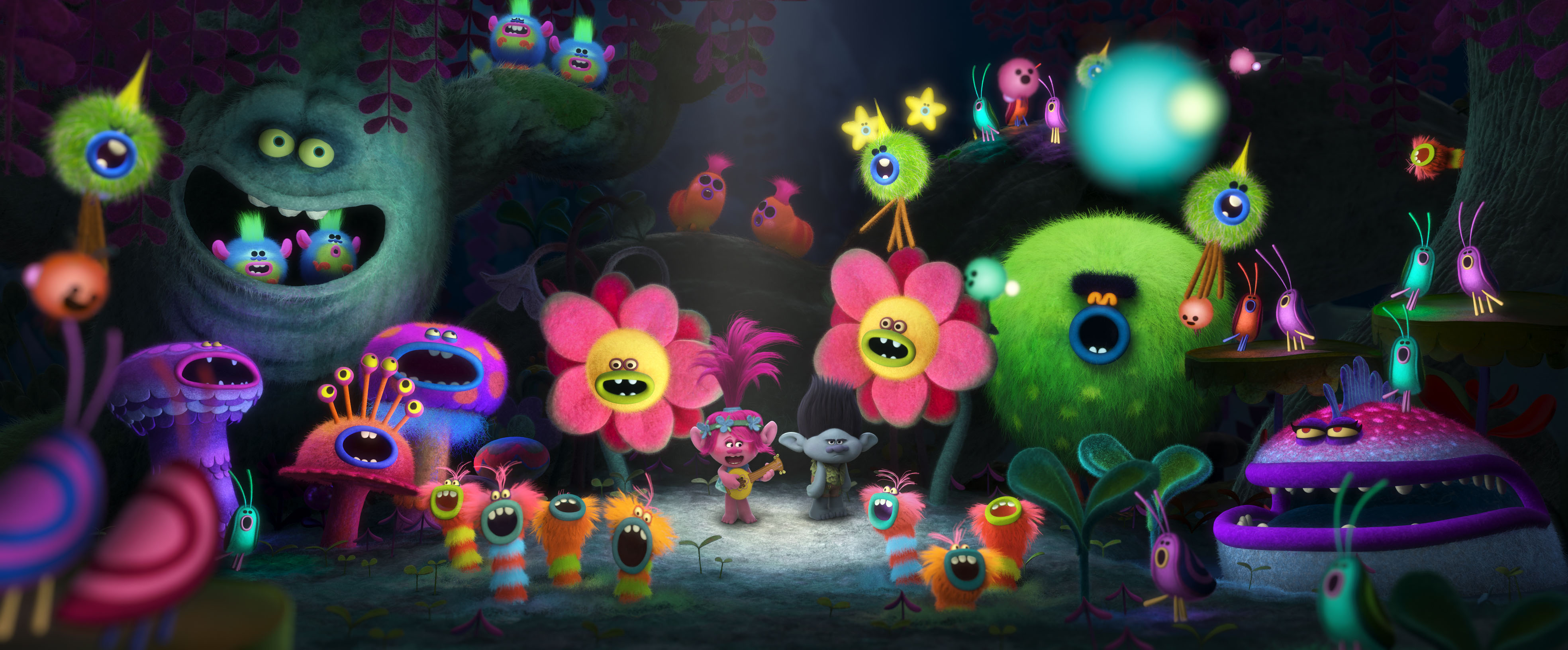 So what did I think of the movie? Trolls is a cute, colorful adventure inspired by the tall-haired troll dolls that first became popular in the 1960s. I remember having a lot of these as a kid, which was a big factor that drew me to this movie (besides Justin Timberlake lol).  Princess Poppy (Anna Kendrick) partners up with grumpy pessimist Branch (Justin Timberlake) to rescue her friends from the crazy troll-hungry Bergens. There are lessons they learn about inner happiness, never giving up, and being proud of who you are. The film has a very fuzzy, felted look to it, that filmmakers took a lot of time to create which softens some of the danger, but little kids are still likely to be scared by the greedy, hungry giant Bergens. Glitter farts of Poppy's sparkly friend, Guy Diamond are sure to make viewers of all ages laugh, along with all of the catchy songs, the strong themes of friendship and empathy, and the fun characters. The messages are positive and easy to understand. Happiness is inside everyone, if you know where and how to find it. You shouldn't have to change who you are to get someone to like you. Musical numbers are used to move the story along and have a lot of meaning to the storyline. Classics like "The Sound of Silence" enter at just the right moments and often at just the right time to make you chuckle. With all the colors, music, action, and glitter; there's so much to look at and listen to all at once. This is a movie the whole family can enjoy.
Meet the Cast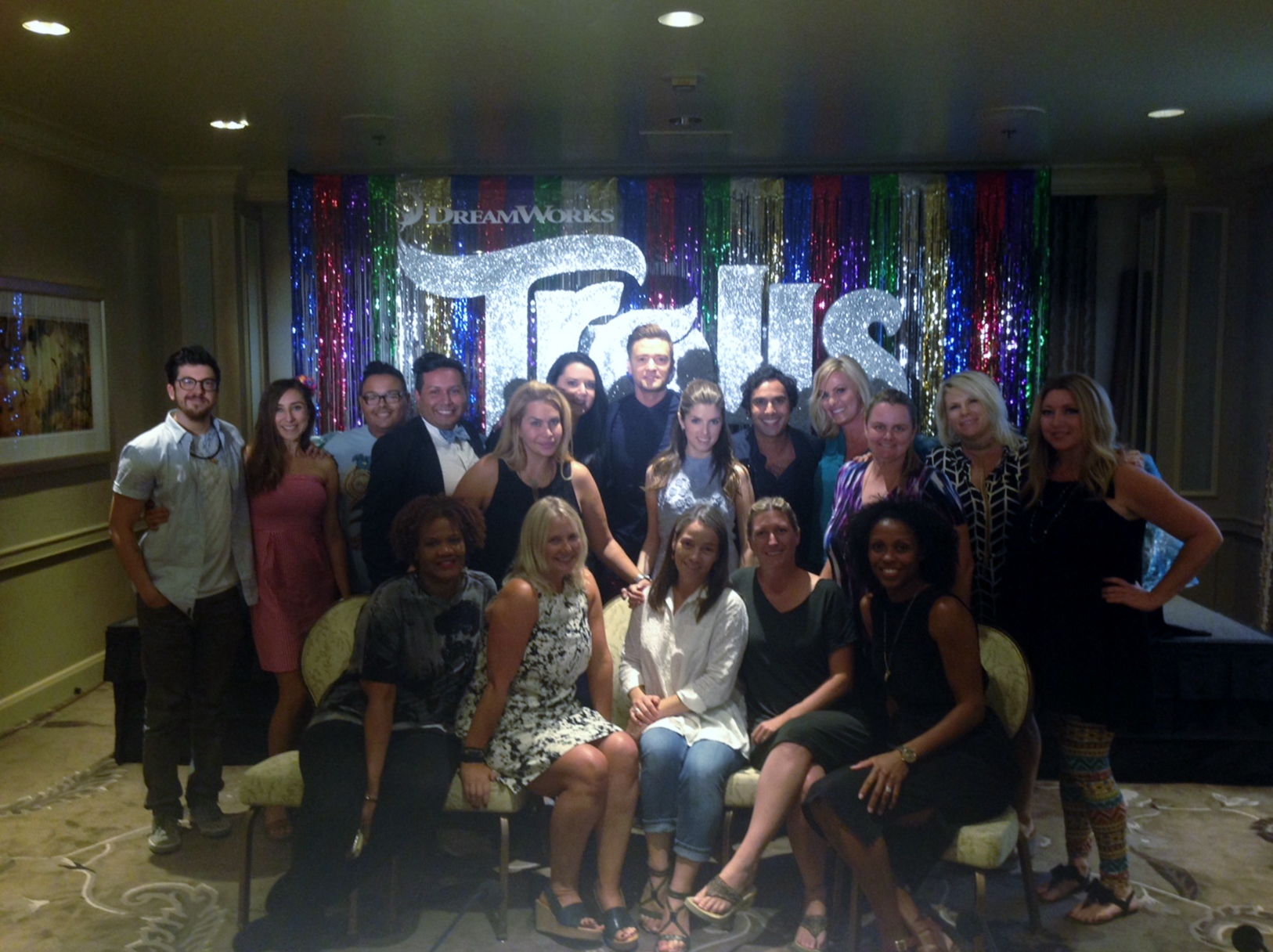 After a very fun day full of good food, crafts, and previewing the Trolls items you will see below, we got to meet the cast and directors of the Movie Trolls. Here is a little bit of what they shared with us about the movie and the music.
We all wanted to know from Justin what were some of the unique challenges between doing the songs that are covers versus his own songs.
Justin Timberlake:  Well, every song was pretty situational, whether it be for a comedic purpose or dramatic purpose. So I think you really just kind of break down each moment and you know, at the end of the day it's theatrical as well.  For instance, there were some great opportunities to write songs to use almost like you're writing your own source music. The roller-skating scene to write the song for Ariana Grande, that worked out. I saw the scene and they had something else tempted in there and went back and sort of rethought that. But when you're using a song like 'The Sound of Silence', as soon as you hear those two opening, it's so recognizable that immediately all the adults in the room laugh.  And then with something like 'True Colors', I can't imagine actually having to write a song after hearing that in that scene and just it literally is like it worked so well. I'll shut up now.
What attracted Anna to this particular project and was it different than any other musical element?
Anna Kendrick:  Well, I think music and animation, I grew up in an era when all animated films were musicals, so that made perfect sense to me. And I didn't know that, when I signed on I didn't know how much of it was going to be covers and that just made it even more fun. Because I already knew the words and stuff.  But, when I was recording 'Sounds of Silence' I was like, "Oh my God, my dad is going to be so excited," because we listened to this in the car when I was growing up. Singing these songs is just so cool. Like I can't believe I get to do it.  So, I mean, I would say that because if Justin had been a part of it before I signed on that would have obviously been a huge factor. And so the fact that he came on after that I was like, "This is like getting better and better. Like is someone going to give me a Ferrari next? This is the best job I've ever had."