Discovering New Worlds at the 2014 LA County Fair
By Erin
*Disclosure: I was invited out to attend the media night for purposes of this post. All thoughts and opinions remain my own as I've had a lifelong love for the LA County Fair!*

It's that time again everyone! Time for Southern California's biggest end-of-summer bash, the L.A. County Fair, which starts TODAY! This year the fair is back, with so much to explore from Aug. 29-Sept. 28, the fair is bigger and better than ever! Besides all the yummy food I will show you in a bit, the fair lights up the night with Luminasia A larger-than-life Chinese lantern display, that takes the ancient art form of lantern making to a whole new level. Luminasia takes fair-goers through a whole new world filled with colorful replicas of iconic landmarks such as the Great Wall of China, the Hollywood Sign, and the Eiffel Tower. Giant dragons, flowers and a pagoda also roam the land. These lanterns were handmade by nearly 50 artisans who traveled more than 7,000 miles from Zigong, China to transform the hillside into an evening attraction that is bound to take your breath away. This is Luminasia's first-ever appearance in California and is the jewel of the evening attractions at the fair this year. (*There is an extra charge to enter into the world of Luminasia*)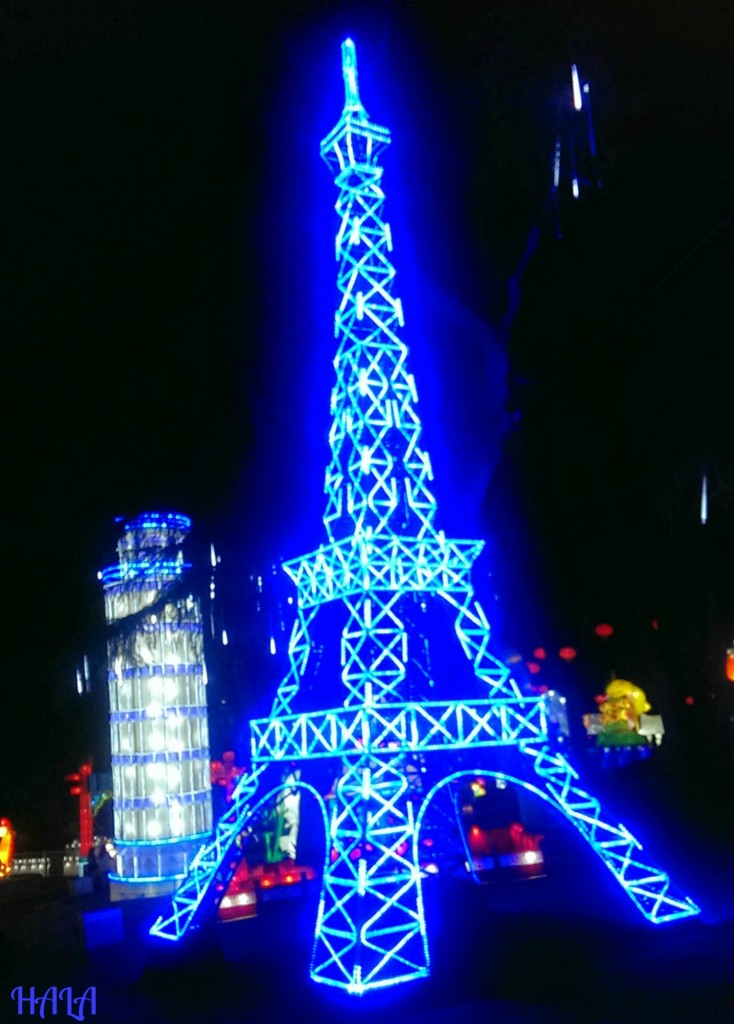 The Eiffel Tower at Luminasia
What Else is New at LACF?
There are so many new and wonderful additions to the fair this year, visitors will be delighted with their new discoveries and treasure their tried and true traditional fair favorites. Kicking off its 92nd anniversary by opening its doors to new worlds of discovery, lighting up the night with oversized custom-built lanterns; where zonkeys and kangaroos roam the land, award-winning beer and wine can be sampled, and world-class entertainment takes the stage again.
Hall of HEROES
See your favorite Super Heroes at the Hall of Heroes in the Cityscape, a thriving metropolis of skyscrapers and super heroes. Celebrate the science behind beloved superheroes of comic books and real-life heroes. Enter the Metropolis and come face to face with Spiderman and Superman or meet one of our local home-town heroes: law enforcement officers who risk their lives every day to protect and serve us to keep us safe.
Mojo's Wild & Crazy Lagoon
The animals are one of my favorite things about the fair, and you will see many special critters roaming about. I'm most looking forward to the zonkeys, being that they are a part of the equine family. 😉 Then mosey on over to Mojo's Wild & Crazy Lagoon where you will meet Mojo, a Weeper Capuchin monkey and her friends. They have a new home on the water and are sure to be involved in some monkey business. Other animal friends reside at the Peacock Paradise, Fiona's Perch, Kangaroo Cove and the Enchanted Village. Take a peak at the sea lions at Beneath the Sea and then read your way through an adventure in America's Kids, where we are celebrating the exciting worlds of children's literature.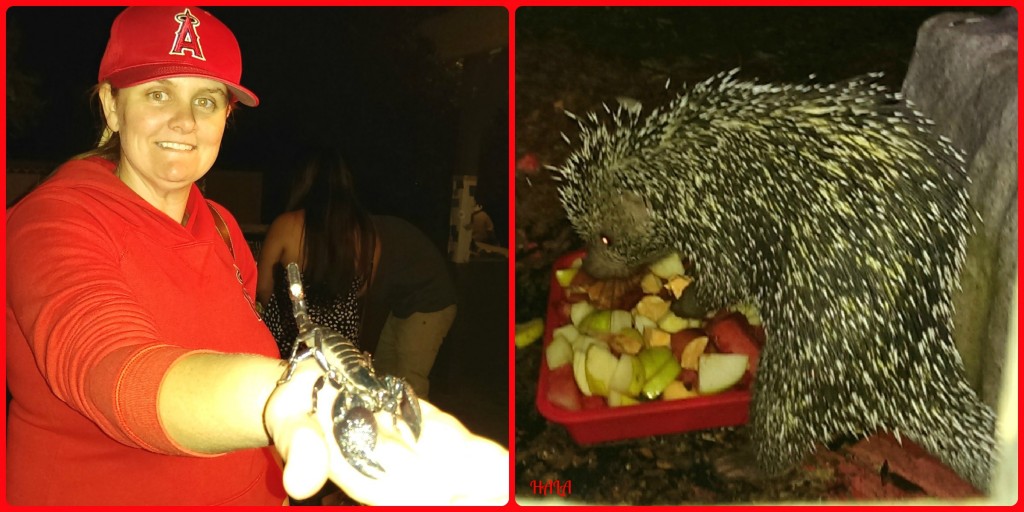 Just a couple of the interesting and unique critters I met at last years fair. 😉
The FOOD!
My most favorite part of the fair though, has to be the FOOD! 😉 You will be able to satisfy all your favorite food cravings here at the fair – deep-fried, on-a-stick, BBQ, dipped in chocolate and anything else you care to imagine. You could eat here for days at the fair and not once eat the same thing twice. With over 300 choices (including Mexican, Italian, Asian and Greek flavors, along with L.A.'s best food trucks) you will need to come back more than once to try everything! What's new this year? New this year is: Ramen burgers, Sriracha corndogs, funnel cake corndogs, Tequila-infused pickle poppers, and a complete gluten-free menu.
Chicken Charlie's New at Chicken Charlie's this year is the Triple-decker Krispy Kreme Cheeseburger and the Bacon-wrapped Zucchini!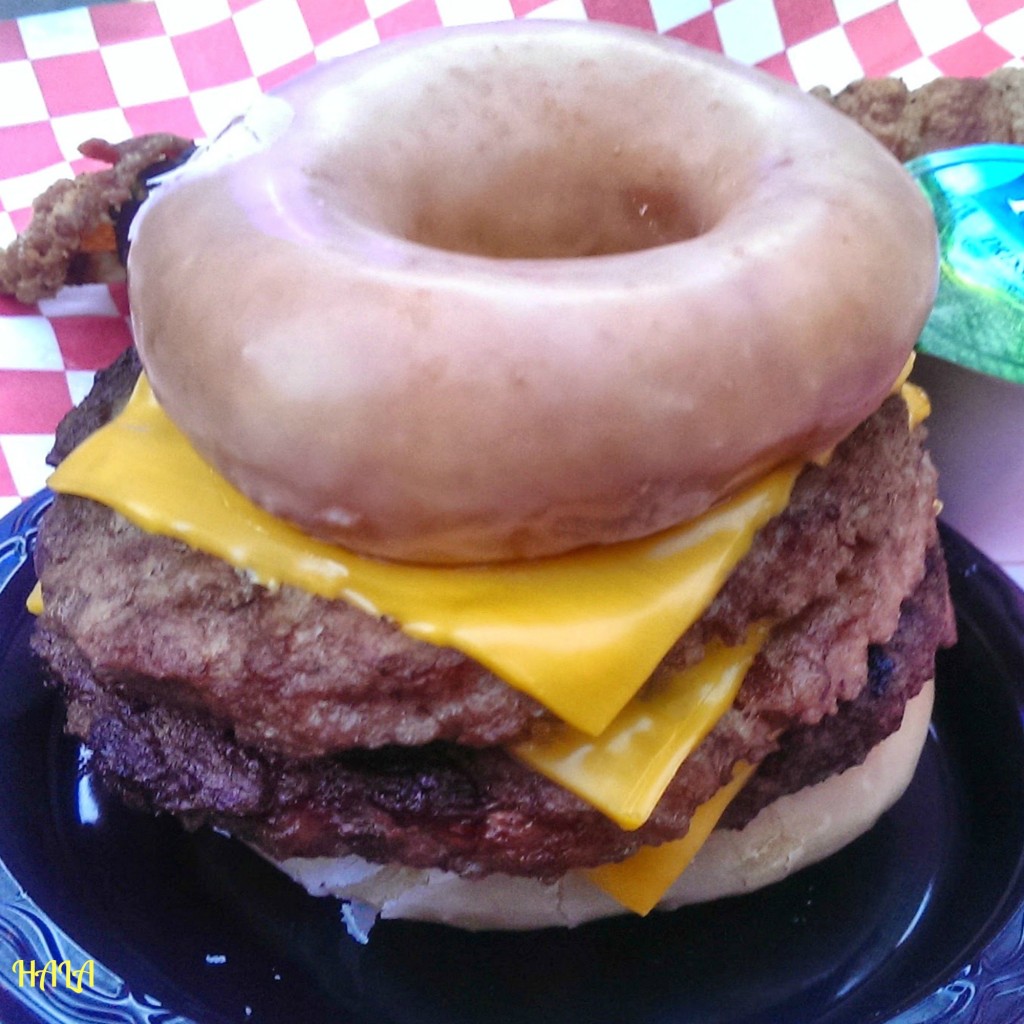 The Krispy Kreme Triple Decker Cheeseburger! Yikes!!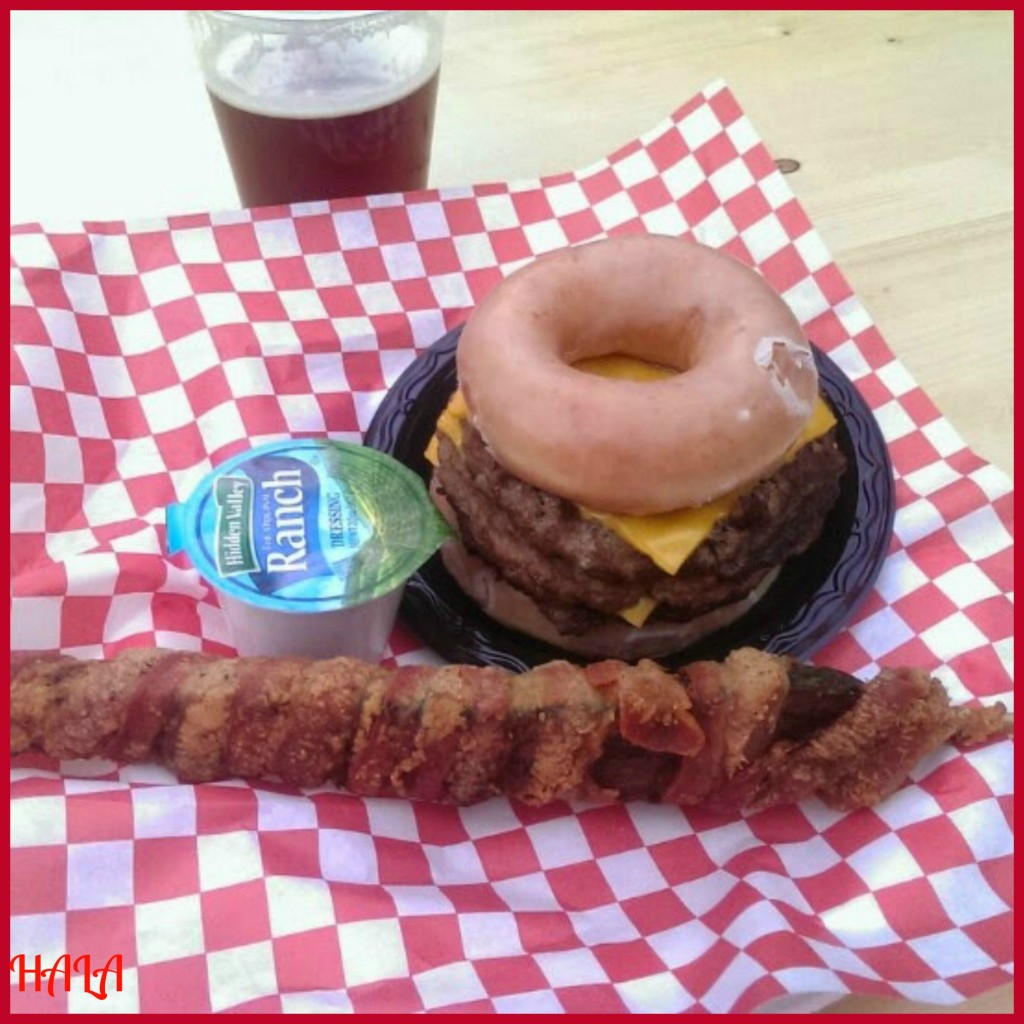 Bacon Wrapped Zucchini