*I've teamed up with the Baby & Kids Experience Event and MrsKathyKing.com to bring you an awesome giveaway.*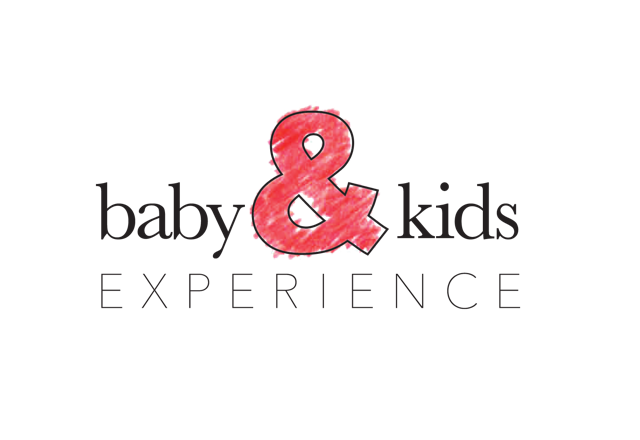 About The Baby & Kids Experience
The Baby & Kids Experience is an influential, educational, and entertaining event held in California, Colorado, Texas, Arizona. Every year they bring families and businesses throughout America together. (Click Here For Ticket Information)
Enchanted Celebrations offers top quality entertainment for all your party needs. They specialize in singing princess parties with a variety of custom package options to make each party a unique and magical experience to family throughout the Southern California Area.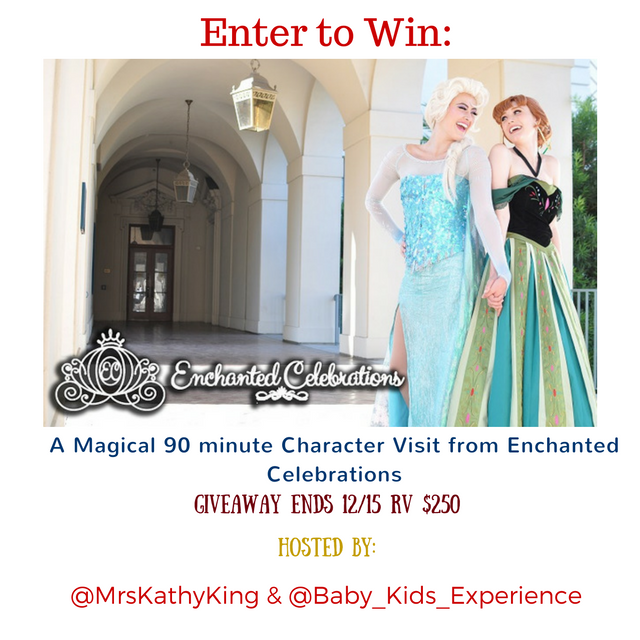 A Magical 90 minute Character Visit from Enchanted Celebrations
(Retail Value: $250)
How to Enter?
Just Fill out the giveaway form below.
Giveaway Ends on: 12/15/2016
*Disclaimer: The giveaway Prize is being provided by Enchanted Celebrations and is in no way sponsored, endorsed, or associated with Facebook. Giveaway will end on 12/15/2016 at 11:59 pm PST. You will be contacted via email via a congratulation letter and have 24 hours to claim your prize. This Giveaway is open to USA . Please allow 6 to 8 weeks for prize shipment. click the link to subscribe to the giveaway lounge newsletter http://goo.gl/9ytMC*
____________________________________________________
nuNAAT Brazilian Keratin Products Review
By Erin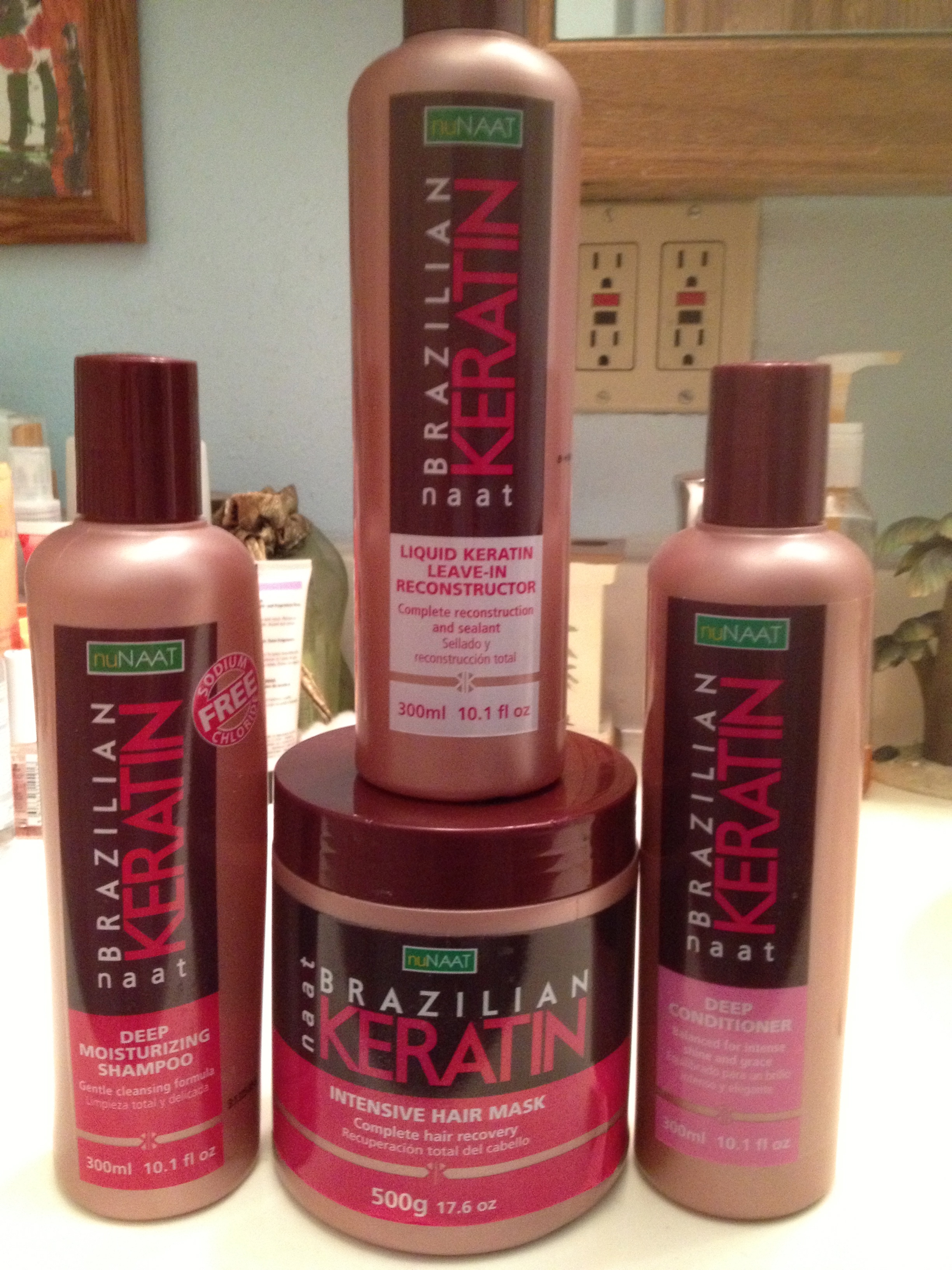 My hair can be a major pain. It's fine and thin, yet there's a lot of it, so it appears to be somewhat thick. It won't hold a curl if my life depended on it. It takes some major heavy duty salon strength getup to hold any kind of curl, and that's just for a few hours at most.  One thing that is undeniable is that my hair is somewhat damaged.   It probably doesn't help that I insist on coloring my hair so that it can attain an acceptable hue that is a bit lighter than my natural hair color.
As long as I can remember I've been an Herbal Essence girl as it has left my hair very soft, but I've been curious to try out a Brazilian product that had Keratin in it. After hearing so many mixed reviews about getting an actual Brazilian Blowout, I have been too chicken to get a Brazilian blowout, so this product seemed like a happy medium to be able to try it out.
These are the products that I was able to try out:
nuNAAT Brazilian Keratin Deep Moisturizing Shampoo
nuNAAT Brazilian Keratin Deep Conditioner
nuNAAT Brazilian Keratin Liquid Keratin Leave-In Reconstructor
nuNAAT Brazilian Keratin Intensive Hair Mask
nuNAAT Brazilian Keratin Serum Ultra Shine
One thing I can certainly say  is that the color of my hair is completely intact after several shampoos with the Brazilian Keratin line.   Based on my experience thus far, it would appear that this line is a-okay for color-treated hair..
Before: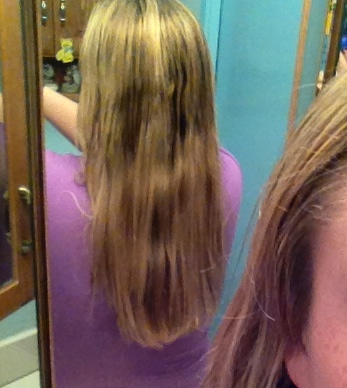 After: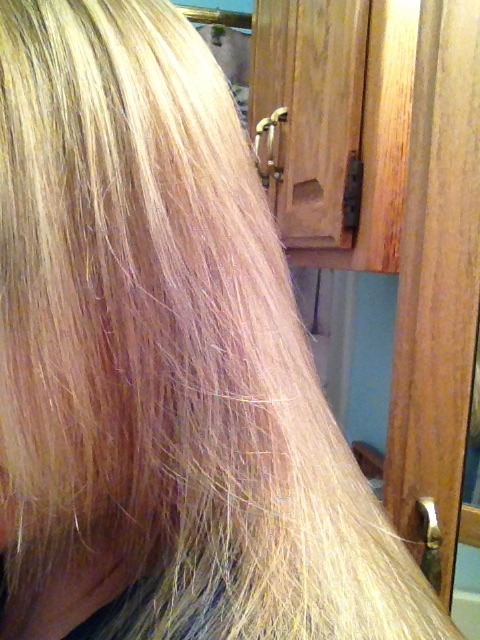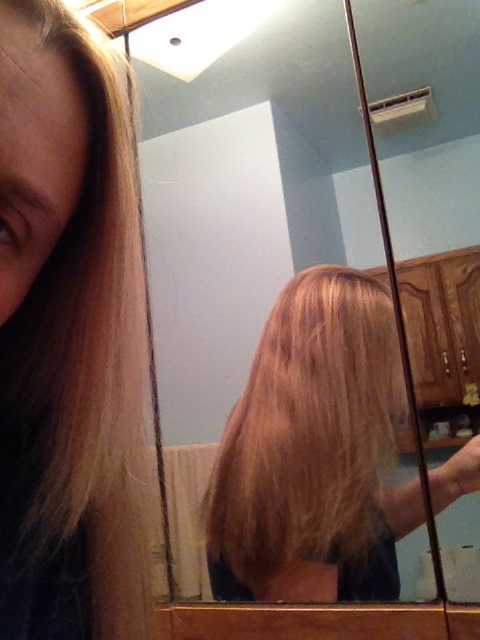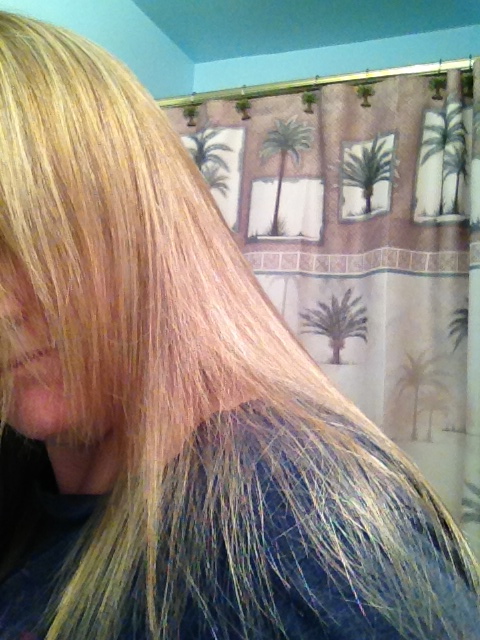 nuNAAT Shampoo & Conditioner
The first products I tried were the deep moisturizing shampoo and the deep conditioner and I was totally amazed with the results. I'm usually in a hurry in the morning and don't have time to dry or style my hair. My hair still came out shiny and had some volume. I have been using the shampoo and conditioner almost daily and haven't found there to be any build up on my hair.  I discovered quickly that this shampoo didn't require much to use to get a great lather in your hair. Having long hair like I do, this is very important. That means it will last me longer, which means I'll be spending less money in the long run on shampoo.  It also feels really luxurious without the expensive cost associated with some other shampoos.  The conditioner comes out really thick. The nuNAAT deep conditioner left  my hair feeling clean, super soft, and silky. These two products worked wonders together so I started to wonder how the rest of the products would work on my hair.
The nuNAAT Intensive Hair Mask
This provides vegetable-based protein to the hair, and also keeps your hair soft, smooth and shiny. I loved this mask and how it made my hair feel so wonderfully fantastic. I used this once per week and was really happy with how my hair reacted to this mask.
The nuNAAT Leave-In Reconstructor
This Leave-In Reconstructor does not contain formaldehyde (which is one reason why I always shied away from getting a Brazilian blowout)  and will not fade your color (their semi-perm version has the potential to alter color). It's remarkably really easy to use. After you shampoo and condition, you just massage this clear liquid into your hair, from root to tip. You DO NOT, I REPEAT, DO NOT rinse this product out. It uses the green keratin formula (soy, wheat and corn proteins), so it sticks with the hair longer, giving you a gentle smoothing effect. After you apply the Reconstructor to your hair, you will need to blow dry and then flat-iron your hair, using an iron at approximately 350 degrees Fahrenheit.  Then give your hair about ten minutes to cool and you are all set to go with your new beautiful hair! I use this then when I have more time to spare as I don't usually have time to do stuff like this in the morning before work!
nuNAAT's NAAT Brazilian Keratin Serum Ultra Shine
This is a product that you only need to apply a VERY SMALL amount of to your hair (thus why it comes in a small bottle compared to the others I'm guessing). You will want to use this when you blow dry and/or use hot styling tools. I could instantly see the shine appear as I ran the blow dryer through my hair. I was thoroughly impressed with the results of all of the NuNAAT products that I tried out.
I will definitely be using more of this product in the future! 🙂
Website: http://www.nunaat.com
Facebook: https://www.facebook.com/nunaat
Twitter: https://twitter.com/nunaat
youTube: http://www.youtube.com/user/NunaatBeauty
I received one or more of the products mentioned above for free using Tomoson.com. Regardless, I only recommend products or services I use personally and believe will be good for my readers.