Category Archives:
Uncategorized
Here are a few pictures of my grandpa that I was talking about the other week that had the brain bleed. Even when he was in the ICU he wanted nothing more than to come home, although he never lost his sense of humor. Joking (I think?? lol) about ways to get out of there, stories of the crazy people at the hospital and how they wouldn't leave him alone, and asking for the check at the end of his meal so he could tip the waitress and finally leave this restaurant that he was in. I am very lucky to still have all four of my grandparents, but he is the oldest of the four.  He will be 93 next January! I am happy to say he is doing well, and is getting better everyday.  🙂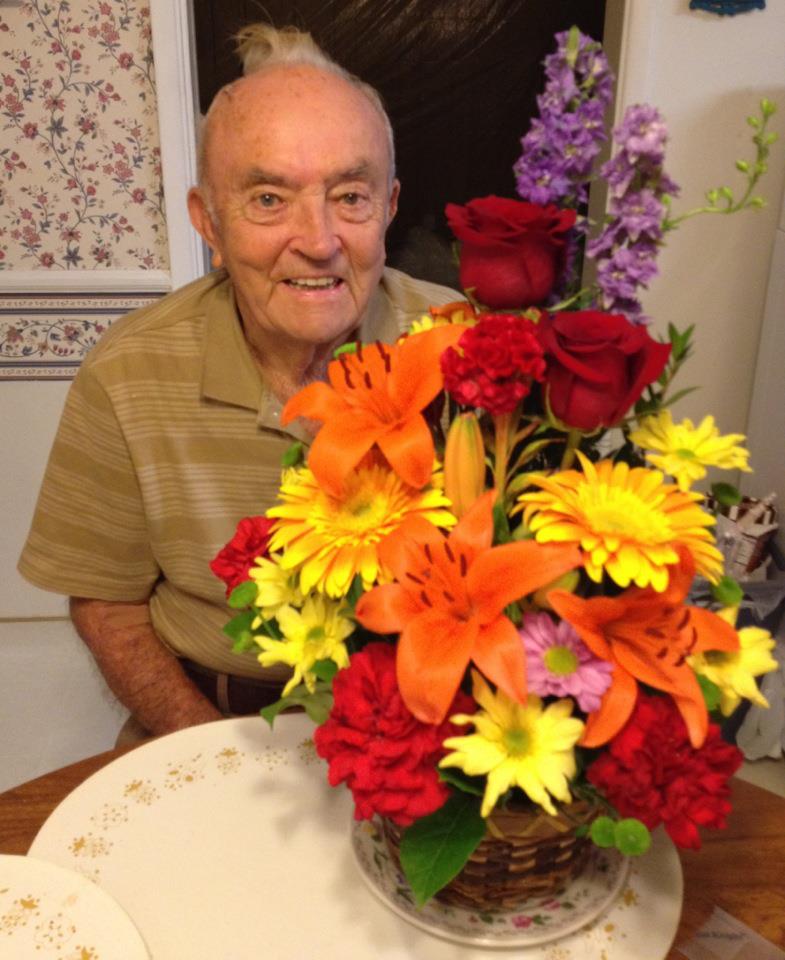 Grandpa's first evening back at home from the hospital! He was VERY happy to be back home if you couldn't already tell from his smile. 🙂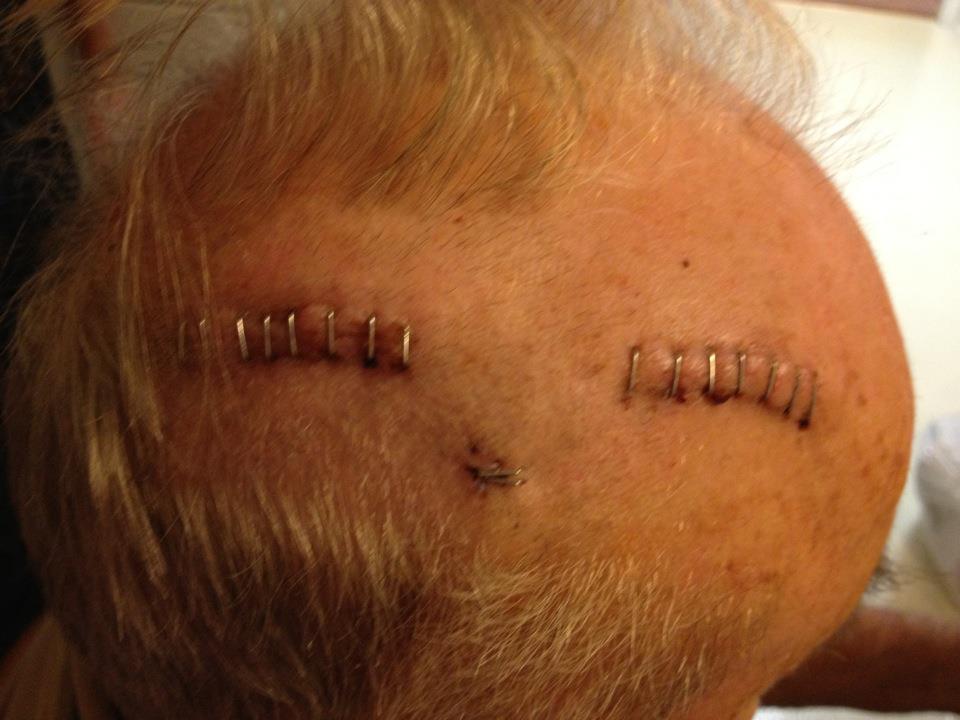 This is his souvenir from the hospital. Grandma and Grandpa were joking that it looked like two eyebrows and a tiny nose. Grandpa was also joking that he was already for Halloween as Frankenstein. He has already gotten his staples out though, so he will have to find something else to be this Halloween. 😉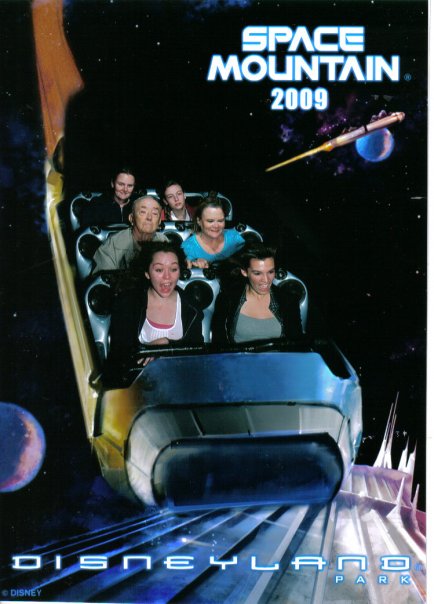 This is an older one of him, but one of my favorites that I'll cherish forever. Here he is celebrating his 90th birthday a few days early back in December of 2009. You can tell by the look on his face that this roller coaster is a piece of cake for him. He's ready to go on California Sceamin' next. 😉
Who knows how much longer I will have my grandparents for, so I hope I can make the best of the time I have left with them. What are some of your favorite memories with your grandparents that you will treasure forever?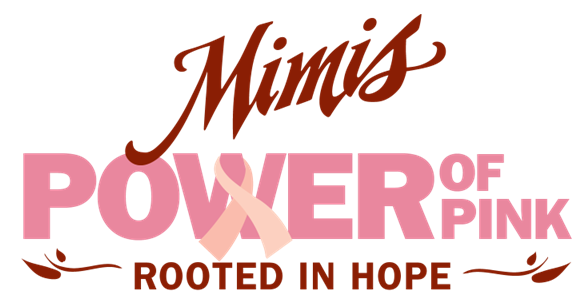 As I am sure everyone is well aware of by now, that October is National Breast Cancer Awareness Month. Mimi's Cafe and the National Breast Cancer Foundation (NBCF) are teaming up this month to create and spread awareness for breast cancer. This past Monday, on October 1st, I was honored to partake in the kickoff of this years campaign at a pink ribbon tying ceremony at Mimi's Cafe. Most of us know someone who has been affected by this terrible disease: whether it be a mother, sister, wife, cousin, aunt, friend, or perhaps you yourself are a survivor or are currently fighting breast cancer. I am teaming up with Mimi's Cafe to help kickoff and support their Power of Pink campaign.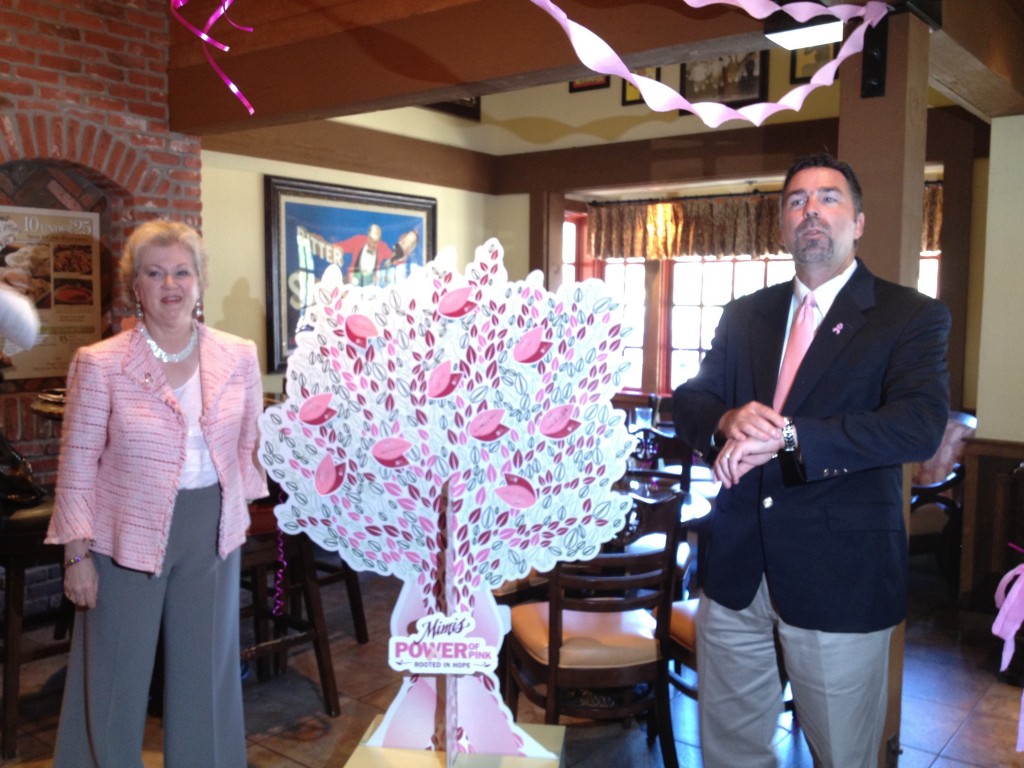 Every Mimi's Cafe across the nation had their pink ribbon tying ceremony at the exact same time.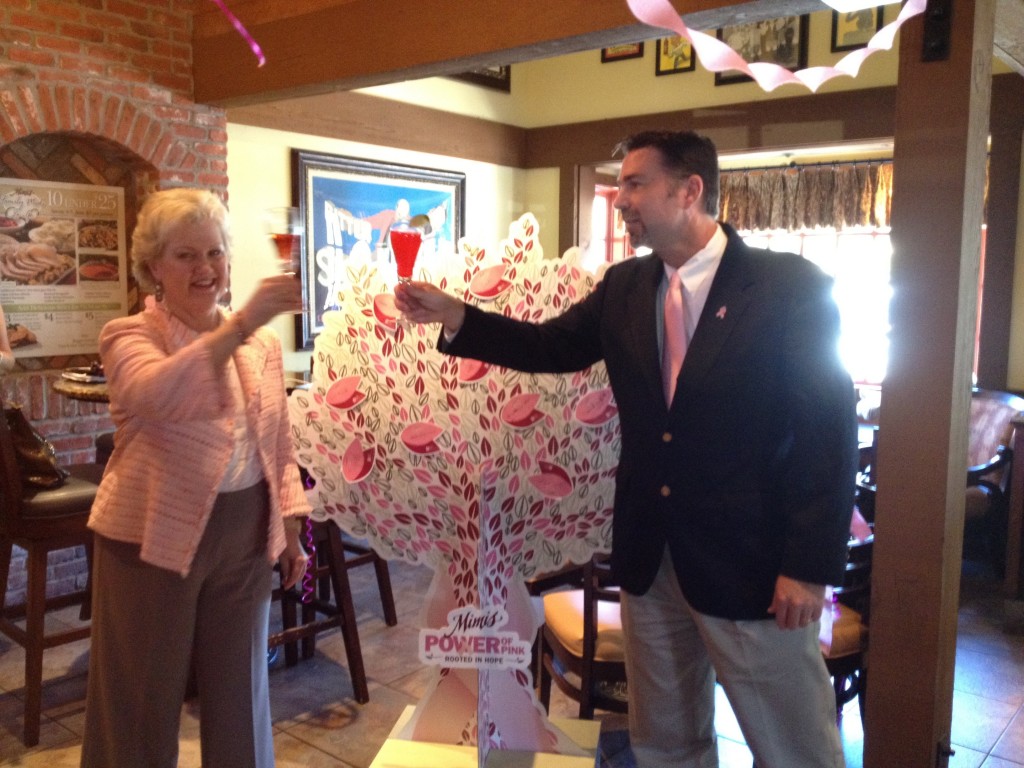 Toast to Mimi's Power of Pink campaign.
Mimi's introduces two new drinks during the month of October – Sparkling Pink Passion Mimosa and Pink Passion Sparkler. I got to try these out, and boy are they delicious! I love anything with passion fruit in it, so these drinks did not dissapoint. It also makes me feel good knowing that a portion of the proceeds from these drinks will be donated to the National Breast Cancer Foundation.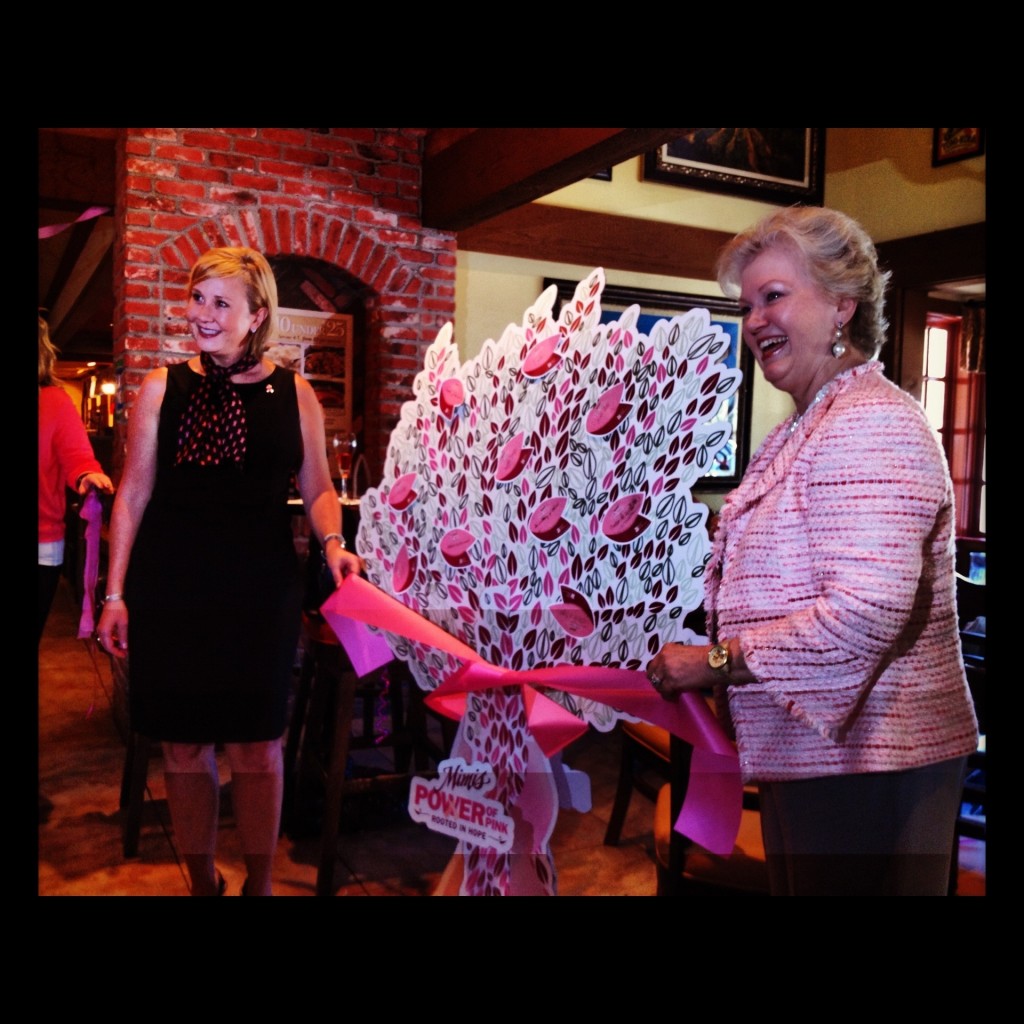 Ribbon Tying of the PINK ribbon on the Giving Tree of Life.
Here's what's happening at Mimi's Cafe during the month of October and what YOU can do to help:
Each Mimi's Cafe will have a Giving Tree like the one seen above. Guests who donate $1 dollar will get to place a leaf on the tree with their name and recieve coupons to use on their next visit. There are some awesome deals with these coupons, such as buy one lunch or dinner entree and get one free and a $10 off $30 coupon. That's a pretty nice deal if you ask me! Guests who donate $5 will also receive a pink ribbon pin (see below as I could not resist donanting to such an amazing organization). Guests not able to visit a Mimi's Cafe can donate via an online donation and will be able to place a digital leaf on the digital Giving Tree. Guests can also purchase the two drinks mentioned above as a portion of the proceeds from those drinks will also be donated to the National Breast Cancer Foundation.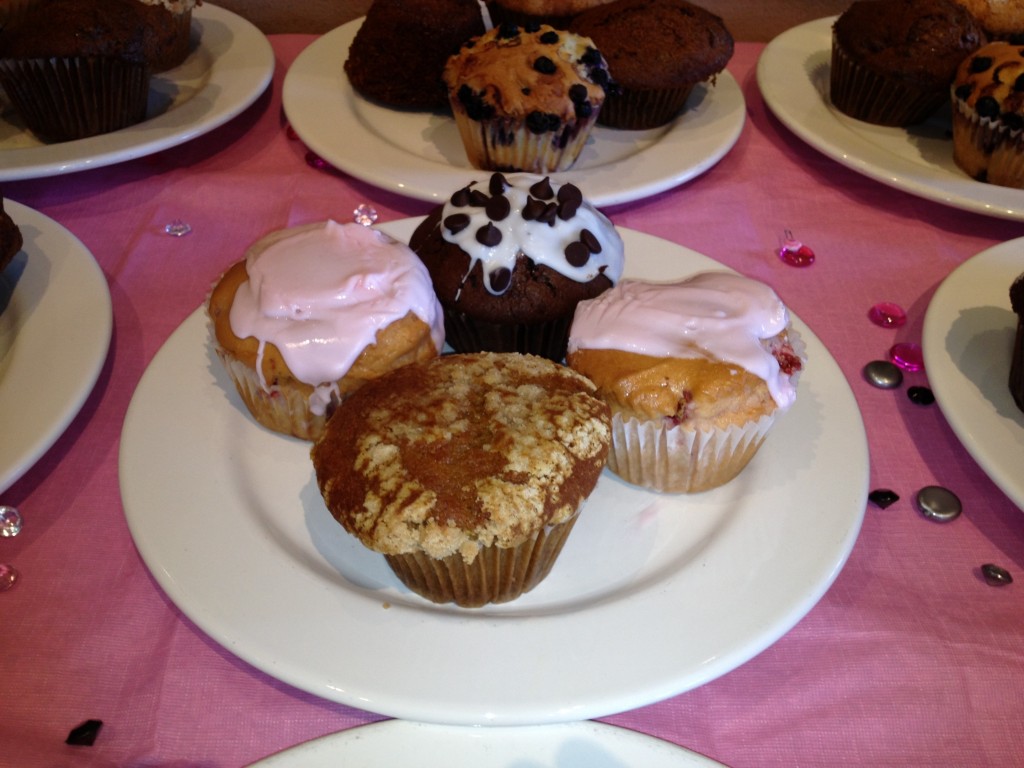 Loving all the PINK!!!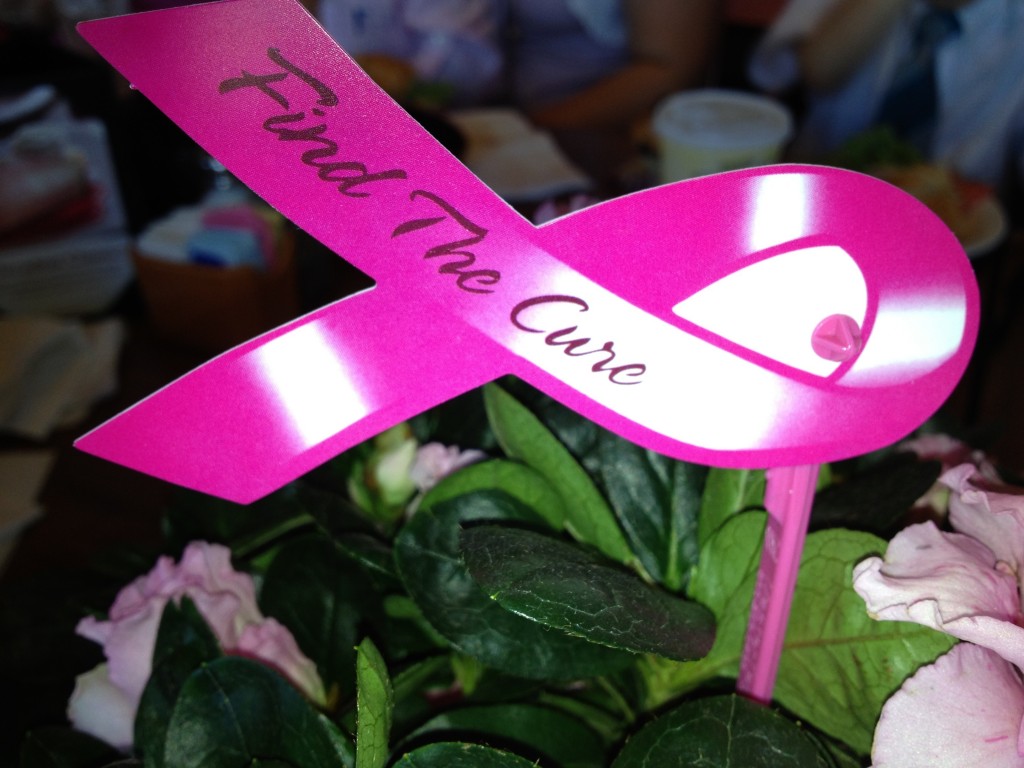 ;
;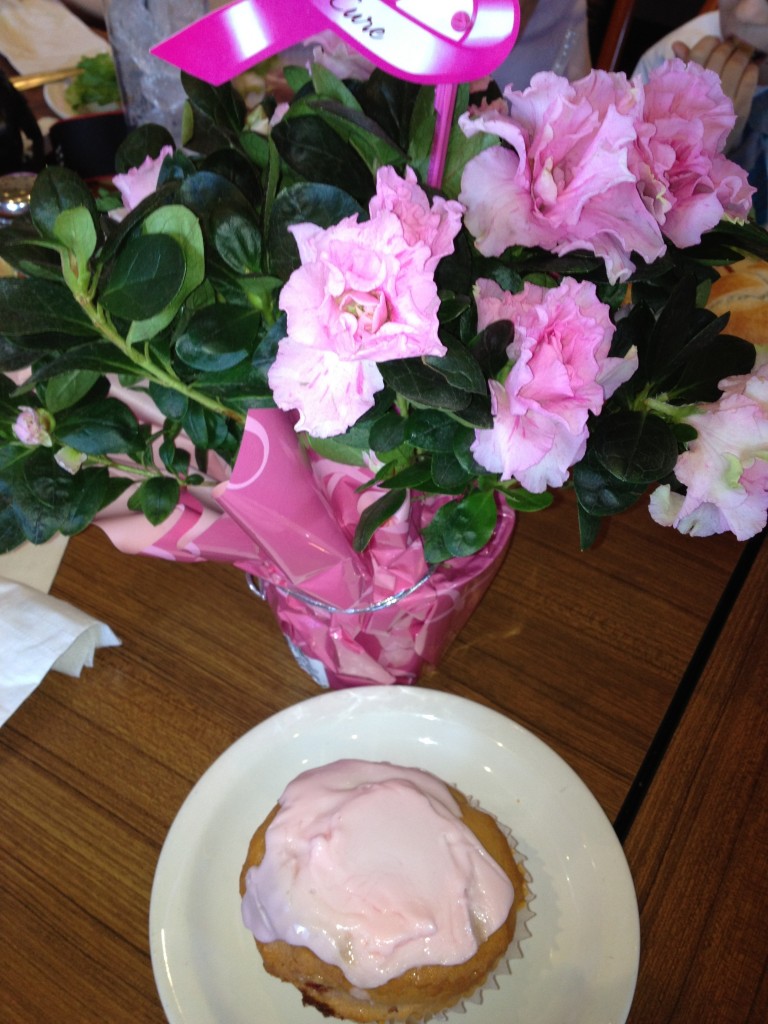 Pink Strawberry Muffins!! YUM! 🙂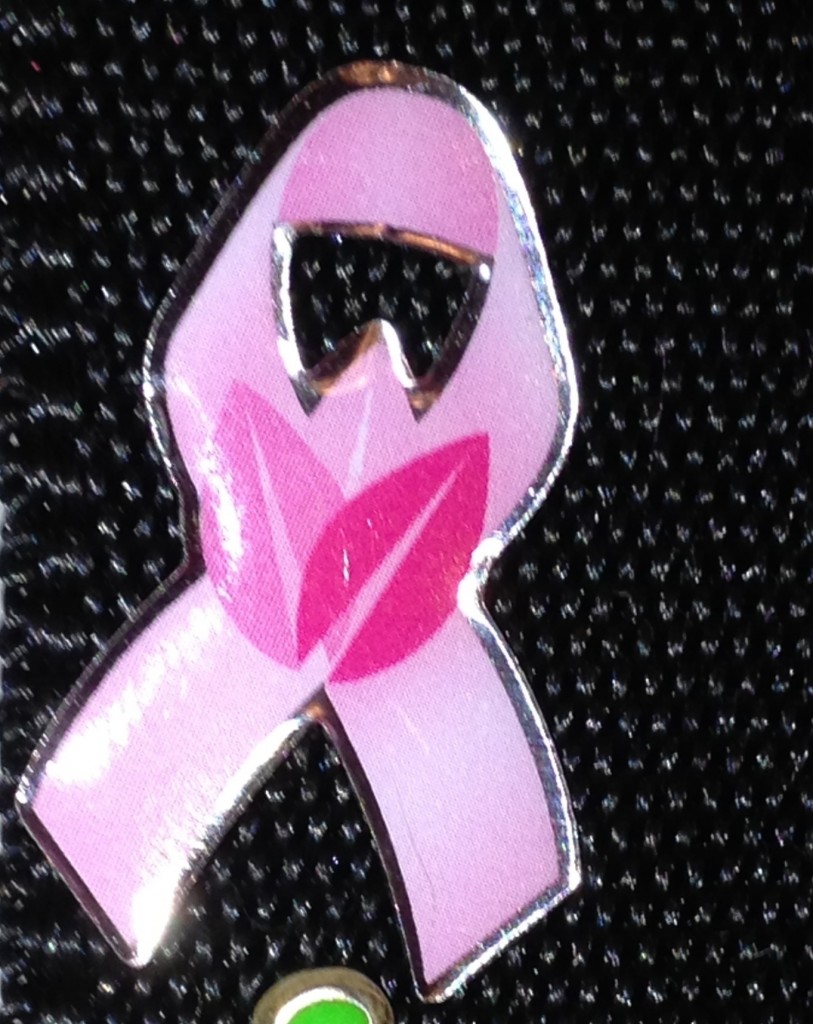 Guests who donate $5 will also receive this pink ribbon pin.
Giveaway Time
There are many ways to support breast cancer research when you visit Mimi's Cafe during the month of October. To get you excited to go visit Mimi's,

t

wo
Horsing Around In LA

readers will win a $25 Mimi's Cafe gift card. Enter using the Rafflecopter form below. Giveaway is open until October 16, 2012 at 12:01 AM, EST. Good luck! Enter Here!! Good Luck! 😉

Disclosure: I was invited by Mimi's Cafe to attend the Power of Pink ceremony and was provided with lunch and a $25 gift certificate. All thoughts and opinions are my own.