Good Eats at Who Song & Larry's in the OC
By Erin
There's a hot new restaurant in town that you won't want to miss. Located at the Stadium Promenade in Orange County, an unexpected party-crasher is here; Who Song & Larry's – a Real Mex Restaurant. It is conveniently located right near the Honda Center and Angel Stadium, so it's the perfect spot to stop at before or after a game, concert, movie, show, or whatever else happens to bring you to the area. Personally, I would just come here to come here to Who Song and Larry's as I had such a great time here and the food, drinks, and service are top-notch! I was invited to come out and try the menu at Who Song and Larry's and I am so glad that I did!

I love the open floor plan and all of the outdoor space. It will make you feel like you're leaving the city and embarking on a little mini vacay, even if it is only for a few hours! 😉  Which was the whole concept of Who Song and Larry, to feel as if you have traveled the world with them. An array of 12 unique chandeliers shine over the restaurant's separate dining areas. The cantina includes tall communal tables, and in the heart of the restaurant, the custom-built indoor-outdoor bar connects the cantina with the patio. With two beach palapas  and a 10-foot fire pit, the outdoor patio is the ideal setting to enjoy a sunny afternoon happy hour, a weekend brunch with family or late night drinks with friends.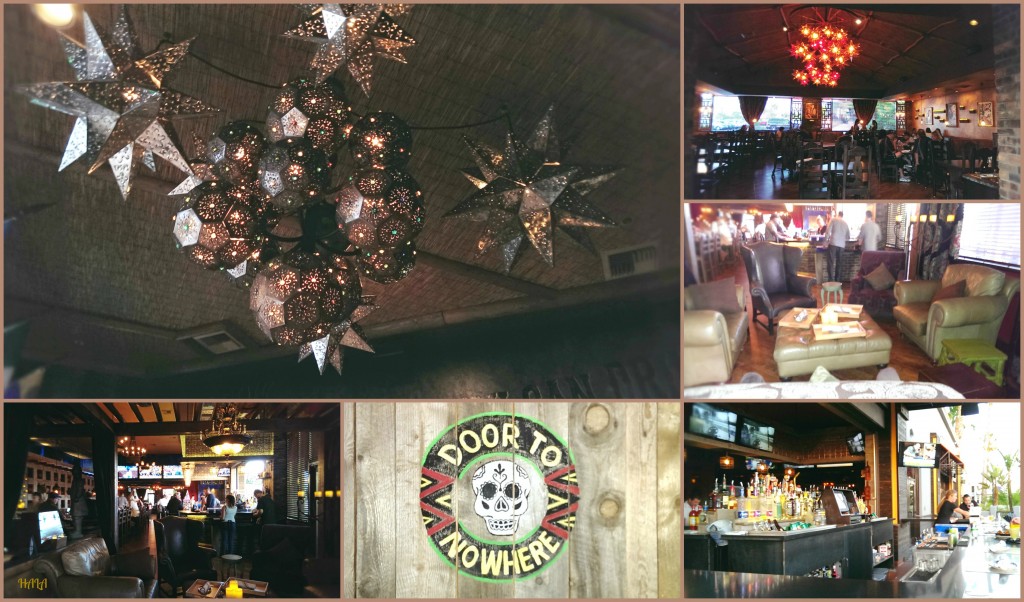 Who Song & Larry's is a unique new restaurant concept that combines the fun and flair of Mexican culture with handcrafted cocktails and a fusion of foods from around the world. With an emphasis on "social eats," Who Song & Larry's offers food, drinks and an ambience that are sharable, unexpected and eclectic.
The restaurant concept originates from the fictional story of two best friends – Who Song and Larry – who traveled around the world meeting good people, eating great food and sharing many drinks. The two friends then decided to open a restaurant filled with their favorite food, mementos and friends. Upon your visit you will experience the spirit of the duo and their adventures through the restaurant's eclectic décor and unexpected menu.
To complement the wonderful food, Who Song & Larry's cocktail list will make you dizzy just looking at it and making it hard to choose. Libations  include hand-crafted cocktails, specialty margaritas, flaming Mai Tai's, sharable drinks served in wooden buckets and an extensive selection of tequila and mescal brands. Pick your poison. You want it, you can bet they probably have it!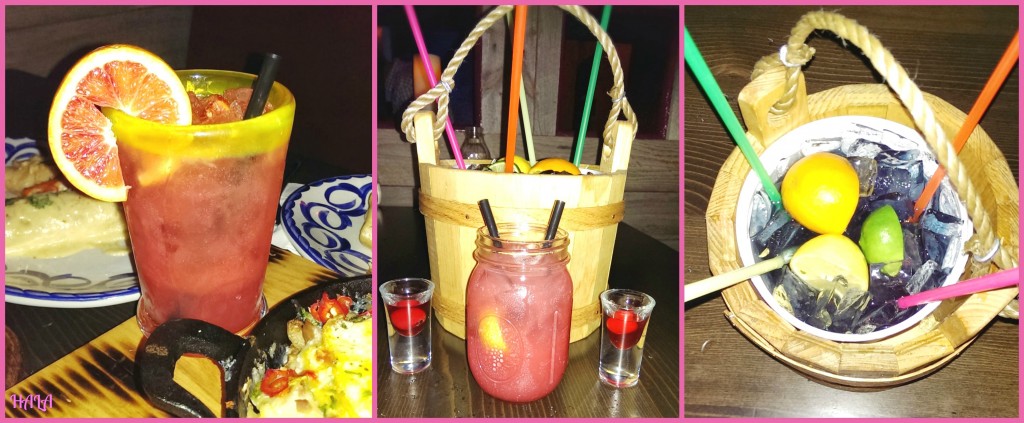 My favorite drink that I tried, the Blood O Margarita, on the left, the Strawberry Moon in the Middle and Jack & Jill on the right.
The Blood O consists of Cazadores Blanco, Blood Orange, Agave Nectar, Handmade Sour, Muddled Blood Orange & Chile Pequin and is very light and refreshing. I love anything that has Blood Oranges in it, so it's no surprise that I loved this drink! The Strawberry Moon was my second favorite drink of the night, Strawberry Moonshine, White Lightnin' Moonshine,Strawberry and Lemonade. If you are looking for something to share with a group, then the Jack & Jill is an excellent choice. 3 Olives Berry, 3 Olives Grape, 3 Olives Orange 3 Olives Dude, Blue Curacao, Handmade Sour,Blueberry Red Bull, Served in a Wooden Pail (no water).
The Who Song & Larry's menu was created by Executive Chef Johannes Bernau and his team and consists of a very eclectic mix of favorite flavors from around the world. With his Japanese, Dutch and Indonesian background, Chef Johannes' menu includes everything from quintessential SoCal Mexican favorites to fresh seafood, specialty salads, sharable starters and a unique Cal-Mex sushi menu.
Let's take a look at the food now shall we?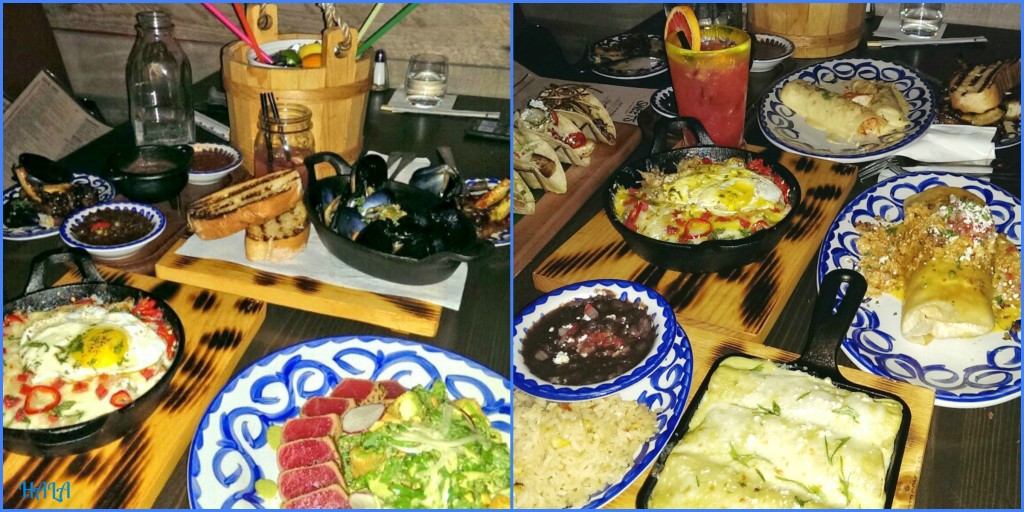 A feast fit for a king I think! Where to start?