Dreamworks Trolls
By Erin

 Dreamworks Trolls is on it's way to theaters this Friday and I had the opportunity to screen the movie a little early and attend a special press junket held at DreamWorks Animation and 20th Century Fox a couple of weekends ago. We chatted with Justin Timberlake and Anna Kendrick and got a preview of the many things from the Trolls world that we can now experience for ourselves like some yummy frozen yogurt, their awesome songs, and some cool wigs so you can actually BE a troll yourself!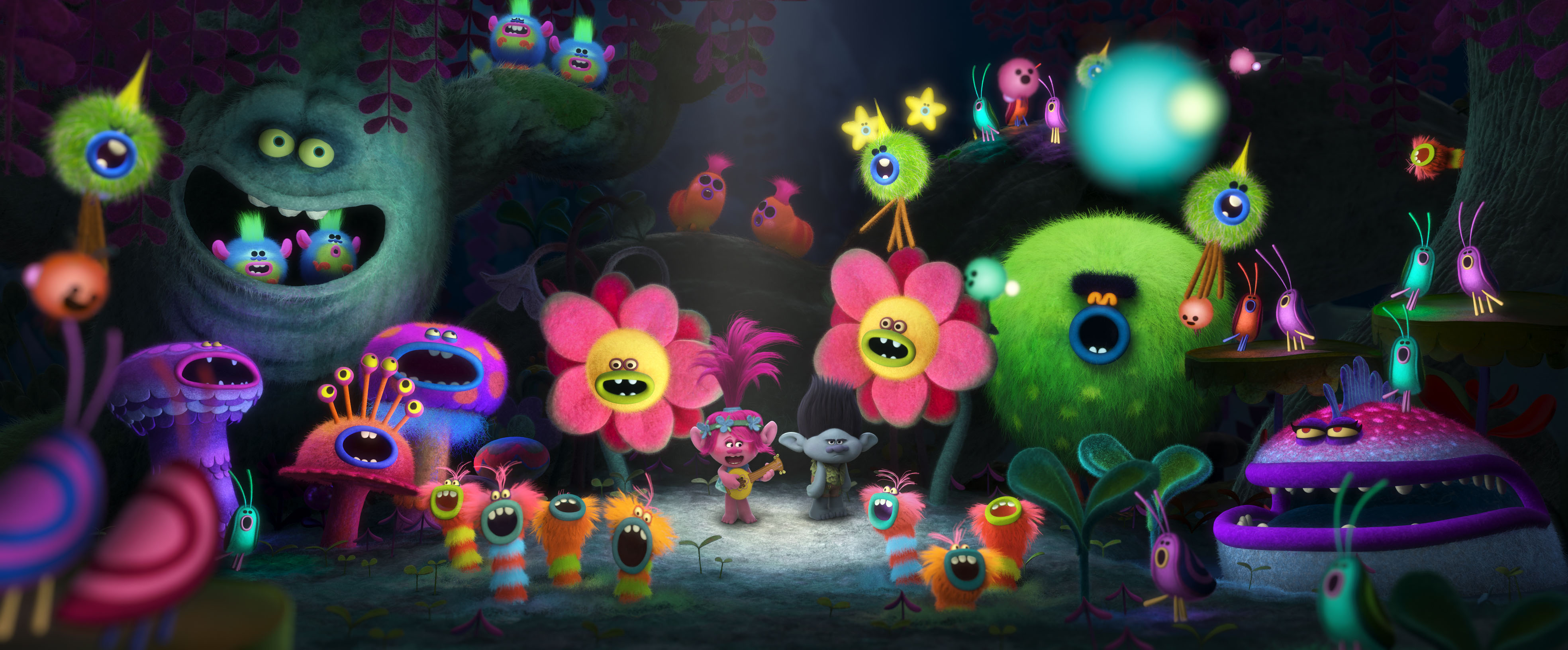 So what did I think of the movie? Trolls is a cute, colorful adventure inspired by the tall-haired troll dolls that first became popular in the 1960s. I remember having a lot of these as a kid, which was a big factor that drew me to this movie (besides Justin Timberlake lol).  Princess Poppy (Anna Kendrick) partners up with grumpy pessimist Branch (Justin Timberlake) to rescue her friends from the crazy troll-hungry Bergens. There are lessons they learn about inner happiness, never giving up, and being proud of who you are. The film has a very fuzzy, felted look to it, that filmmakers took a lot of time to create which softens some of the danger, but little kids are still likely to be scared by the greedy, hungry giant Bergens. Glitter farts of Poppy's sparkly friend, Guy Diamond are sure to make viewers of all ages laugh, along with all of the catchy songs, the strong themes of friendship and empathy, and the fun characters. The messages are positive and easy to understand. Happiness is inside everyone, if you know where and how to find it. You shouldn't have to change who you are to get someone to like you. Musical numbers are used to move the story along and have a lot of meaning to the storyline. Classics like "The Sound of Silence" enter at just the right moments and often at just the right time to make you chuckle. With all the colors, music, action, and glitter; there's so much to look at and listen to all at once. This is a movie the whole family can enjoy.
Meet the Cast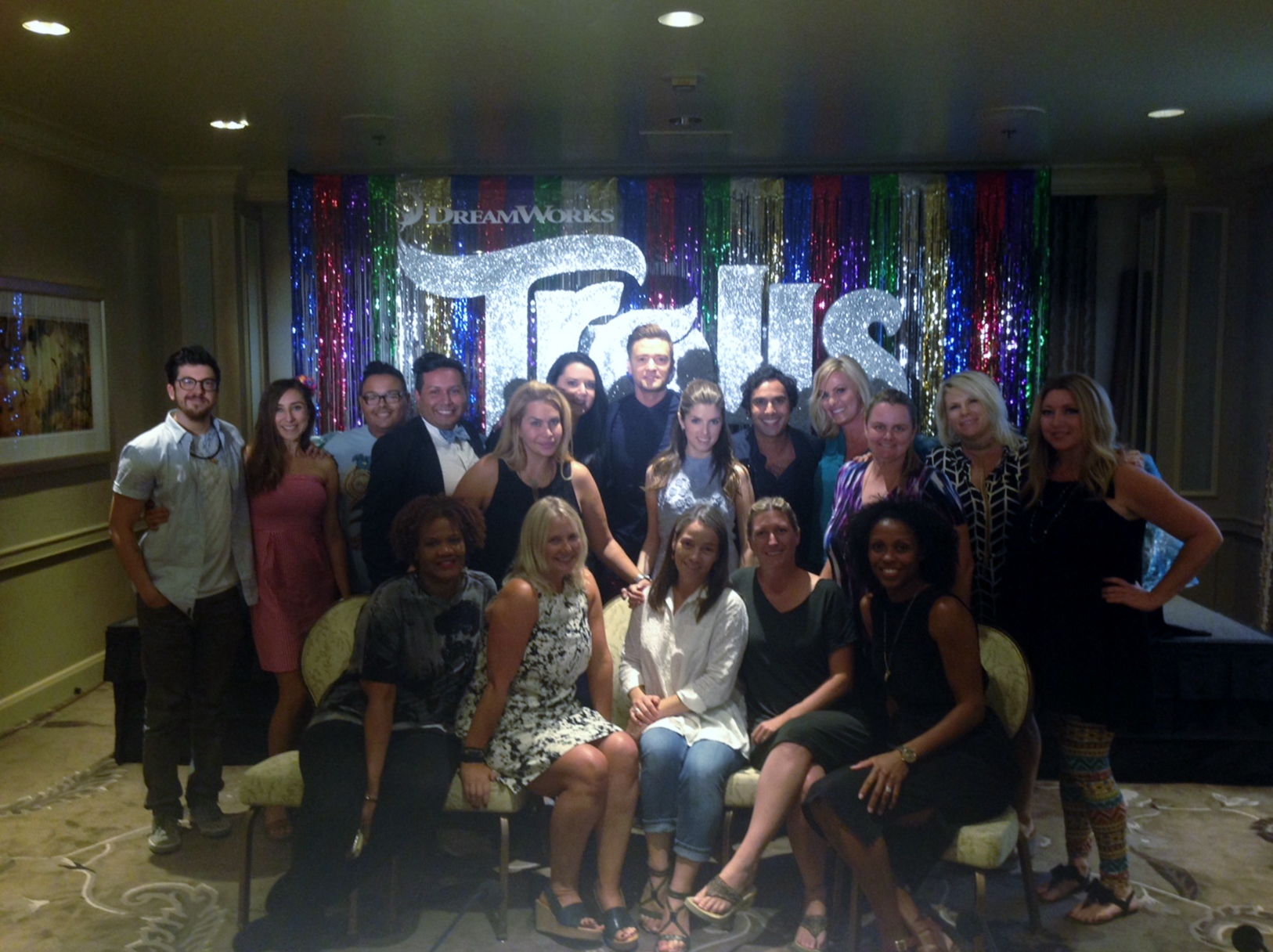 After a very fun day full of good food, crafts, and previewing the Trolls items you will see below, we got to meet the cast and directors of the Movie Trolls. Here is a little bit of what they shared with us about the movie and the music.
We all wanted to know from Justin what were some of the unique challenges between doing the songs that are covers versus his own songs.
Justin Timberlake:  Well, every song was pretty situational, whether it be for a comedic purpose or dramatic purpose. So I think you really just kind of break down each moment and you know, at the end of the day it's theatrical as well.  For instance, there were some great opportunities to write songs to use almost like you're writing your own source music. The roller-skating scene to write the song for Ariana Grande, that worked out. I saw the scene and they had something else tempted in there and went back and sort of rethought that. But when you're using a song like 'The Sound of Silence', as soon as you hear those two opening, it's so recognizable that immediately all the adults in the room laugh.  And then with something like 'True Colors', I can't imagine actually having to write a song after hearing that in that scene and just it literally is like it worked so well. I'll shut up now.
What attracted Anna to this particular project and was it different than any other musical element?
Anna Kendrick:  Well, I think music and animation, I grew up in an era when all animated films were musicals, so that made perfect sense to me. And I didn't know that, when I signed on I didn't know how much of it was going to be covers and that just made it even more fun. Because I already knew the words and stuff.  But, when I was recording 'Sounds of Silence' I was like, "Oh my God, my dad is going to be so excited," because we listened to this in the car when I was growing up. Singing these songs is just so cool. Like I can't believe I get to do it.  So, I mean, I would say that because if Justin had been a part of it before I signed on that would have obviously been a huge factor. And so the fact that he came on after that I was like, "This is like getting better and better. Like is someone going to give me a Ferrari next? This is the best job I've ever had."