Marvel's Doctor Strange
By Erin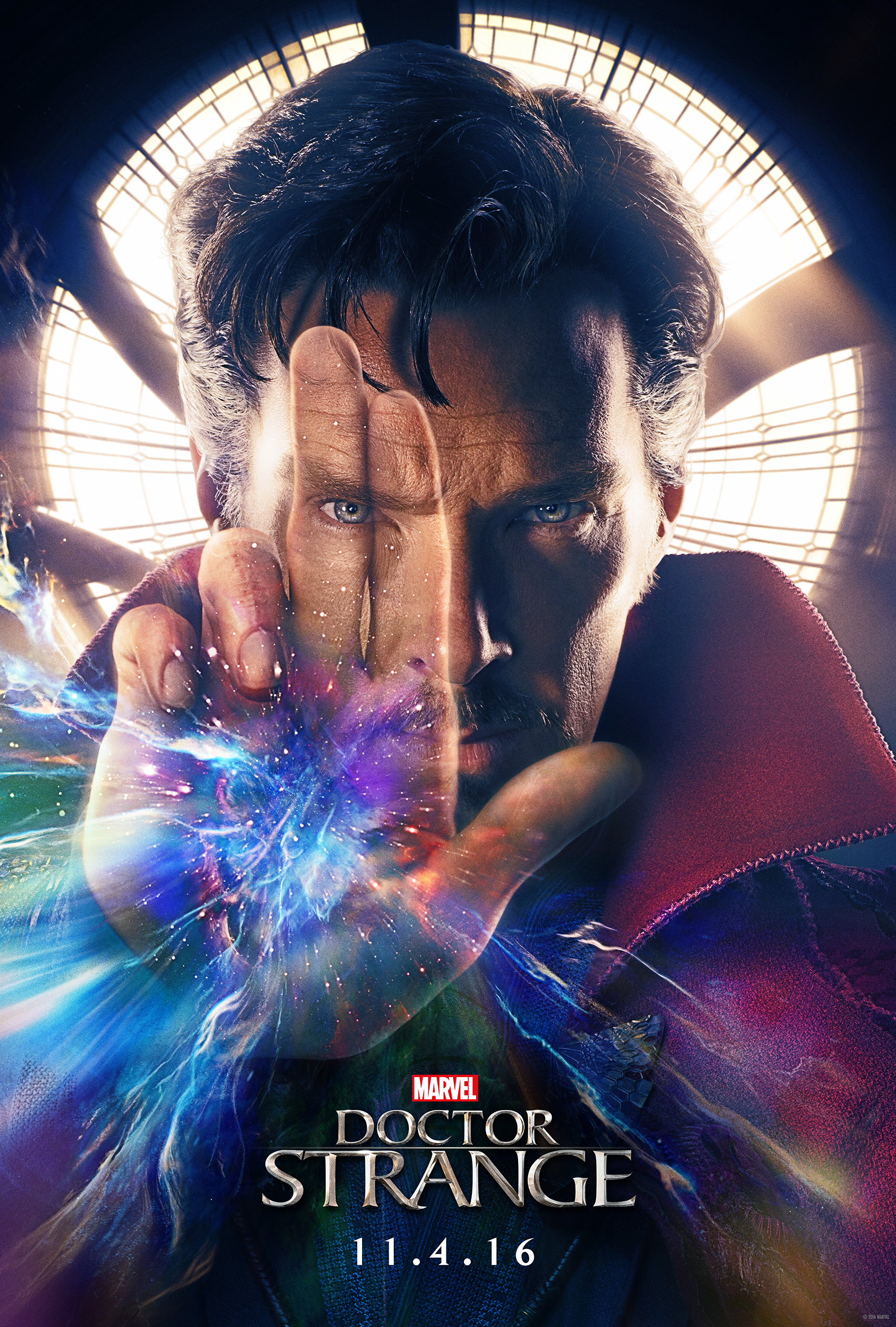 Marvel Studios brings us the 14th installment in theMarvel Cinematic Universe, "Doctor Strange," the story of world-famous neurosurgeon Dr. Stephen Strange whose life changes forever after a horrific car accident robs him of the use of his hands. We join Strange on his dangerous, mystifying, and totally mind-bending journey. The movie has all the usual action and explosions that you can expect as it shares the same look, feel, and fancy corporate sheen as the rest, but it also has a lot of originality and freshness to it. The main character is a little different, where a flawed hero's personal search for purpose leads him to the New Age realm of magic and sorcery where he ultimately finds his calling in life. He discovers powerful magic in a mysterious place known as Kamar-Taj—the front line of a battle against unseen dark forces bent on destroying our reality. It's thrilling to see Strange embrace his inner spirit, finding power by going with the current, instead of against it. Staring Benedict Cumberbatch as the superhero Doctor Strange and Tilda Swinton as "The Ancient One."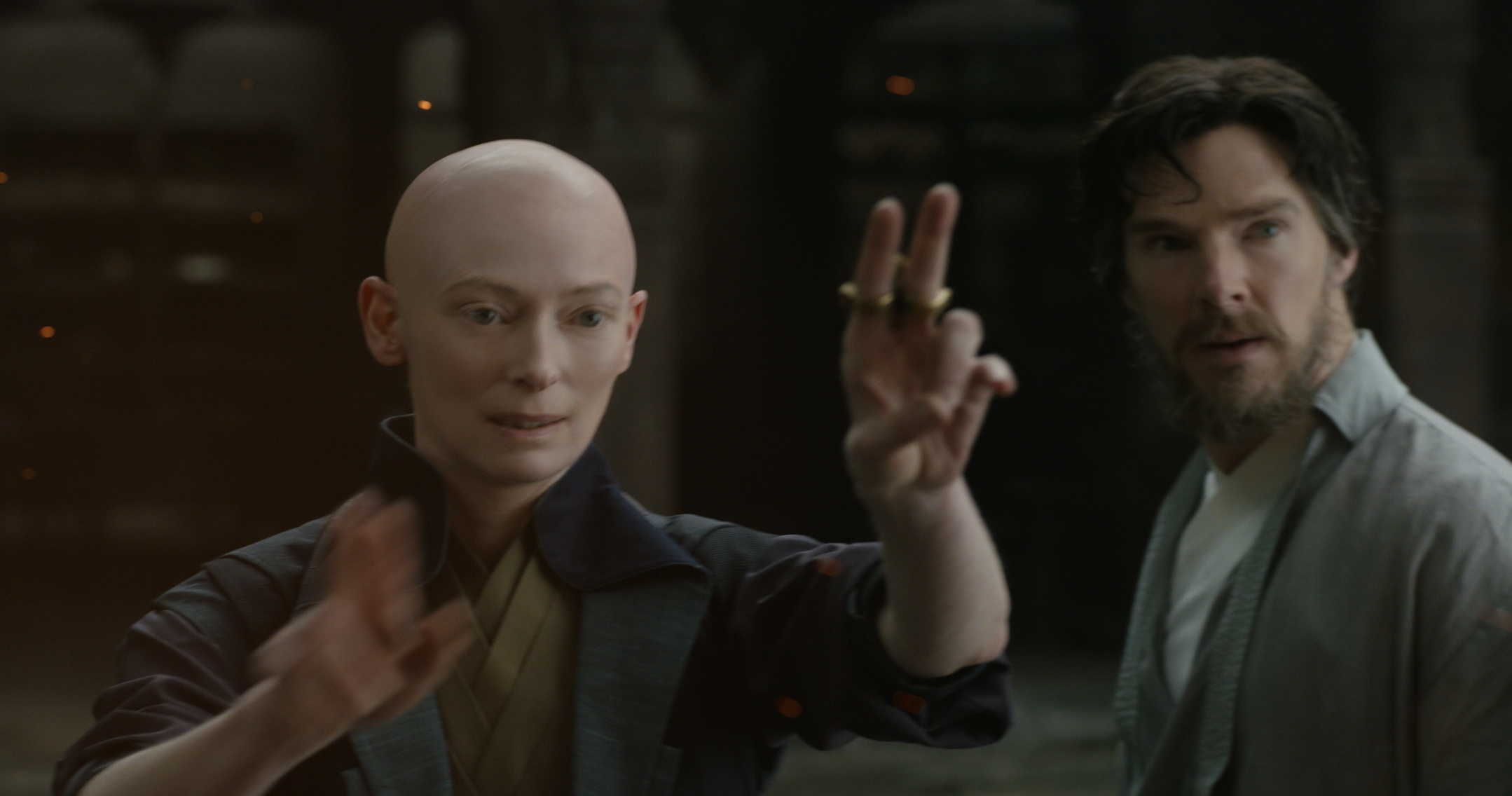 Dr. Stephen Strange is completely arrogant, he senses himself as the greatest neurosurgeon in New York, if not the world.  He is also a bit of a different kind of superhero being that he is a sorcerer. At the start, his arrogant and selfish ways shine through, but he slowly learns humility: to better himself and to think of others. This film is filled with comic book-style action, violence includes large-scale destruction, a brutal car crash as the result of distracted driving as he was texting and driving and not paying attention to the road, bloody wounds and scenes on operating tables, a lot of crashing through glass and falls from large heights. There's also  tons of martial arts fighting, fighting with magical and supernatural weapons, and other rather dark and scary stuff. For those with kids, this might be one you don't want your  really young ones to see with all of the blood, gore and dark moments. It just depends on what your child can handle and what they've already been exposed to.
The doctor is an unusual, but very entertaining, member of the superhero club, and the movie's mystical elements provide food for thought as well as fun.
Before you go out and see the film (but even if you have seen it these are still some fun facts to know!) check out these fun facts about Doctor Strange!
*Marvel's "Doctor Strange" was shot in London, New York, Kathmandu (Nepal) and Hong Kong.
* Steve Ditko's comic book art influenced the environments that were created for the film.
* When you watch the movie, you will notice that geometric patterns are present within the majority of sets.  21 sets were built for the shoot. There were many impressive, practical sets, including the largest set, The Kamar-Taj courtyard and street, which measured 160 ft. by 80 ft.
*Doctor Strange's car in the film is a Lamborghini, which he drives when he is a surgeon. Six Lamborghinis were required for filming.
* To research his character, Dr. Stephen Strange, Benedict Cumberbatch spent time with neurosurgeons, and the director, DP and production designer all visited New York City 2 operating rooms and emergency rooms to guide them towards the lighting and textures they would need to create a realistic hospital environment onscreen.
* In the movie, the Sanctum Sanctorum's address, 177A Bleecker Street, is a fictitious address and a nod to the comic books. It took roughly 10 months to finalize the design and details of the Sanctum Sanctorum foyer.
*The silhouette of the Cloak of Levitation is very important in the Marvel comic book world and the creation of the cloak was the biggest undertaking for Alexandra Byrne's costume department, utilizing the skills of 20 people to do the task. Because of the different uses during filming, 18 cloaks had to be made.
* While filming in New York City, Benedict Cumberbatch, in full costume, went for an afternoon cup of tea between setups with his wife and some friends in a cafe in Greenwich Village. Even the usually nonplussed New Yorkers were surprised to have a Super Hero in their midst.
*On a New York City street, just before production wrapped on the last scene of the film, Cumberbatch entered a comic book shop to say hello and quickly the moment was captured with selfies that went viral around the world.
* The Hong Kong street scenes, one of the most challenging action sequences ever undertaken by Marvel Studios, were shot in several stages of destruction, commencing with clean and gradually becoming destroyed. This is the opposite of how it will be shown on screen, as it goes from destroyed to clean. This meant everything had to be aged down, from shop signs to vehicles. To help create the destruction, 350 tons of real rubble was used.
Check out some of the action here:
Like DOCTOR STRANGE on Facebook: https://www.facebook.com/DoctorStrangeMovie
Follow DOCTOR STRANGE on Twitter: https://twitter.com/DrStrange
Follow Marvel on Instagram: https://www.instagram.com/marvel/  
Visit the official DOCTOR STRANGE website here: https://marvel.com/doctorstrange
DOCTOR STRANGE is in theatres everywhere now!