Exploring the Islands and Legend of Moana
By Erin
*I attended an early press day as a guest of Disney for purposes of this post. All thoughts and opinions remain my own.*
Not too long ago, I introduced you to the Characters of Moana. We had learned all about the creative process of creating the characters for Moana. We met the  members of the team who brought Disney's adventurous heroine to life, from the initial sketches to costume design to animation – and how a lot of research helped to bring Moana to life and inspired the artists. Moana is set to be the 56th film from the Walt Disney Animation Studios and will set audiences on a magical voyage across the tropical pacific. Inspired by the deep-rooted sense of community in the South Pacific, Moana will prove to be one of the best Walt Disney Animation Studio films to date. Now I want to share with you a bit about the intense research that was done to create this magical film and the history behind it.
Oral histories of the people and cultures of Oceania was a huge inspiration for the story.  Filmmakers traveled to learn as much as possible. For centuries, the greatest navigators in the world masterfully navigated the vast Pacific, discovering the many islands of Oceania. But then, around 3,000 years ago, their voyages stopped for a millennium – and though there are theories, no one knows exactly why. "Navigation— wayfinding—is such a big part of Pacific culture," says Musker. "Ancient Polynesians found their way across the seas, wayfinding island-to-island without the use of modern instruments, using their knowledge of nature, the stars, the waves and the currents." The Pacific Ocean is home to thousands of islands and island nations, known to generations as Polynesia, Micronesia and Melanesia. Many Pacific Islanders consider the entire region not in sections, but as the whole of Oceania. The islands themselves may range in size, but inhabitants of these islands consider the ocean between them very much a part of their world. A world many times bigger than the United States. Filmmakers were deeply inspired by the people who live there, the cultures they celebrate, and the history and traditions passed down from generation to generation.
"We came away from these trips not only with ideas, images and inspirations for our story, but with an even stronger resolve that we wanted to make something that the people we met would enjoy," says Musker. "We aren't making a documentary, of course, it's an animated feature. But our experiences infused our imaginations in a way we hadn't anticipated." Clements, Musker and several members of the production team ventured first to Fiji, Samoa and Tahiti, and later to New Zealand. "We wanted to, as much as possible, avoid the 'touristy' things, to go deeper," says Clements. "We wanted to meet people who grew up on islands; we wanted to listen and learn what makes these Pacific Island cultures so remarkable." The filmmakers were invited to take to the seas, coming as close as possible to voyaging like the early explorers who inspired them. "We sailed with a Fijian navigator aboard a camakau, which is a traditional Fijian sailing vessel," says Musker.
Filmmakers saw a 2,000-year-old camakau in the Fiji Museum and the design has changed very little in all those years. They were invited to explore Fiji's Sigatoka Sand Dunes National Park with local archeologists, and visited the Fiji Musuem, where experts showed them incredible artifacts, including boats and tools. They met with master tattooists, expert fisherman, and shared the local cuisine with the generous people they met. In Samoa, they saw black lava fields and met with local chiefs. On Savai'i they were doused by the famous Alofaaga blowholes, and on Manono island they were invited to participate in a traditional kava ceremony. They canoed along the famous surf break of Teahupo'o in Tahiti, and swam and hiked in areas that would later influence the look of the film. Filmmakers witnessed how tapa cloth is made and experienced performances of traditional dances.
Taking to the seas with talking chief and expert seafarer Jiujiua "Angel" Bera, they were taught about Fijians' relationship with the sea. "He told us that we must 'speak gently to the ocean,'" says Clements. "The ocean is viewed as a living, breathing, powerful entity. There is immense respect and admiration for the ocean in this part of the world. We sailed aboard a camakau, which is a traditional Fijian sailing vessel." The team was invited to explore Fiji's Sigatoka Sand Dunes National Park with local archeologists, where they saw shards of Lapita pottery scattered across the beaches. Many of the artifacts uncovered at Sigatoka are housed in the Fiji Museum.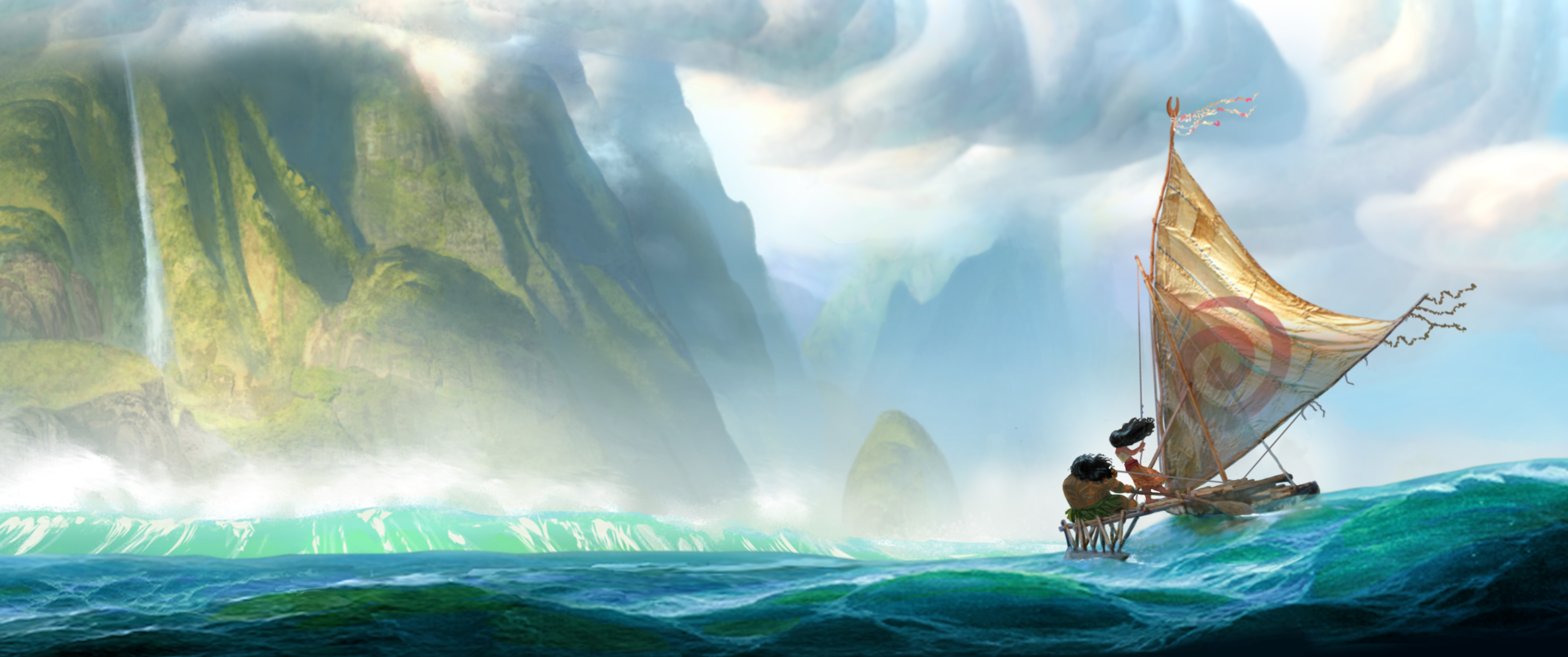 In Samoa, they learned about Samoan culture, including local legends, music and traditional cooking techniques. They were welcomed with an 'ava ceremony—which was in many ways similar to the ceremonies they'd experienced in Fiji, though in Samoa, they are reserved for special occasions. They observed the deep black, star-covered sky by night and the warm, turquoise water by day.
A tattooist Su'a Peter Sulu'ape, taught them that tattoos are a right of passage in Samoa: Samoans have to earn the right to be tattooed traditionally. The skill of giving a tattoo is passed down through generations and the symbols themselves typically have very specific meanings, including powerful qualities like strength, unity, family and spirituality. Sometimes they simply embrace nature.
THE OCEAN WATER
What about all that ocean water? How could filmmakers get just the right look and feel for the water of the majestic and powerful ocean? The Pacific Island setting meant filmmakers would be challenged with creating water—a lot of it. While 40 to 50 percent of a typical movie from Walt Disney Animation Studios features effects shots, the presence of water in "Moana" takes its effects up to more than 80 percent.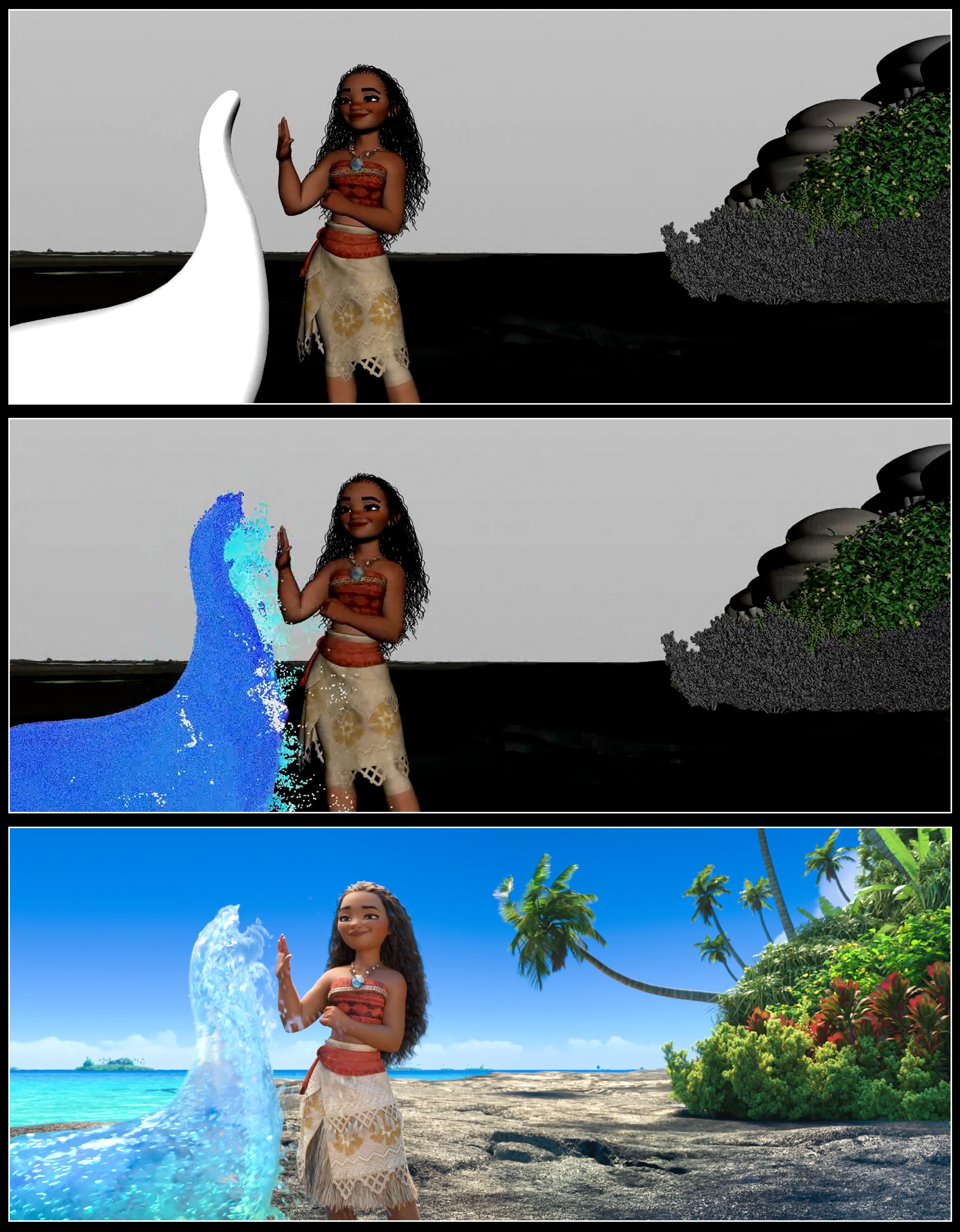 The ocean, as they learned, is very special to the people of Oceania, whose wayfinding roots have endeared them to the sea for generations. The sentiment is reflected in Moana's relationship with the ocean. To achieve the overall look of the sea, the team had to conquer different types of water for the film, ranging from the wide-open sea to shorelines to the ocean personality that has Moana's back. A water task force was assembled while the story was still in development. Filmmakers decided early on to render fully volumetric water to ensure proper refraction. According to technical supervisor Hank Driskill, proprietary software called Splash was created to create a softer, believable look to water. What an amazing job they did too! It is so mesmerizing to watch clips of Moana with the Ocean and I cannot wait to see the entire film when it comes out later this month!
To learn more about the film and these lovable characters, make sure to check these out!
Like MOANA on Facebook: https://www.facebook.com/disneymoana
Follow MOANA on Twitter: https://twitter.com/disneymoana
Visit the official MOANA website here: http://movies.disney.com/moana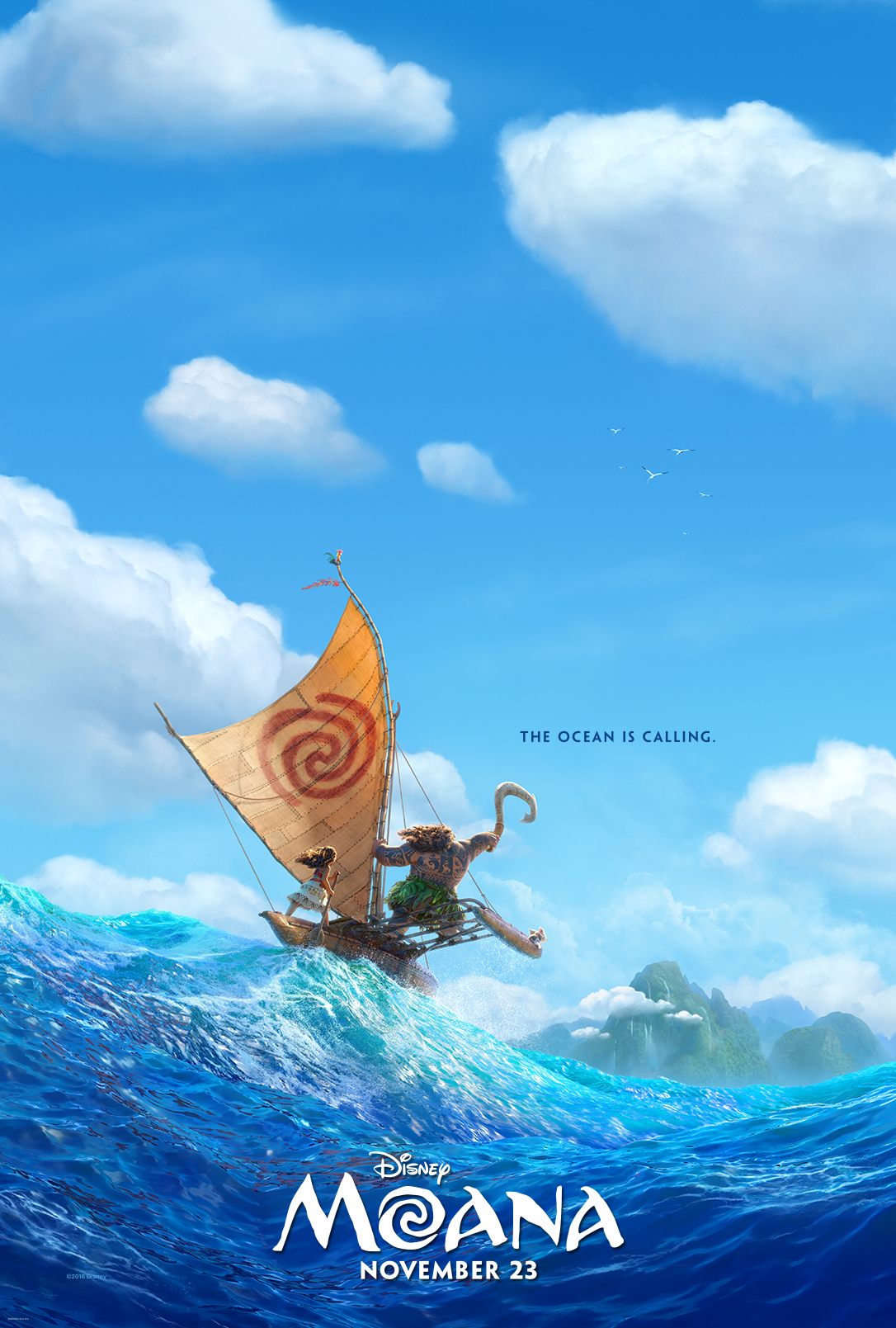 Sailing into a theater near you on Wednesday, November 23rd!