Helping to Choose the New Johnny Rockets Vegetarian Menu & Giveaway!
By Erin
The other week I had the opportunity to participate in a unique focus group with other local foodies and bloggers for Johnny Rockets to taste test the entries in contention to become the next vegetarian burger for Johnny Rockets. Johnny Rockets  is famous for their delicious original hamburgers and fountain drinks and now they are working hard to create additional vegetarian burger options to add to their menu to redefine the burger experience. Johnny Rockets operates more than 350 franchise and corporate locations in 28 countries around the world. In one year, Johnny Rockets serves up 17 million burgers, 11.3 million soda pops, 8.3 million Shakes and Malts, 8 million pounds of Fries and 815,000 gallons of ice cream. That's a lot of food and drinks!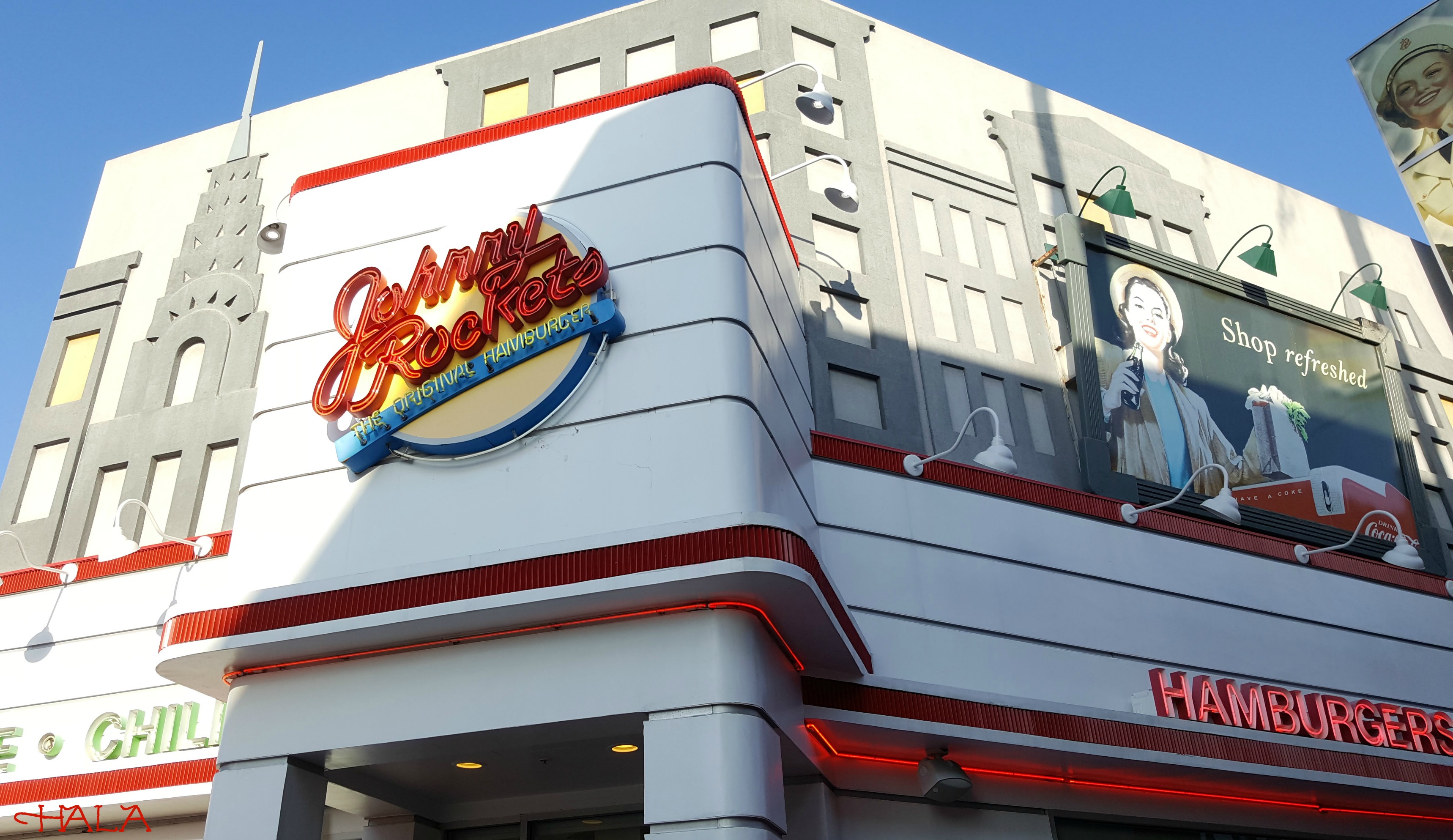 Johnny Rockets prides itself on bringing people together around hand-crafted burgers. Offering guests a classic, yet modern dining experience with a chef-inspired menu that showcases a passion for food with their burgers and sandwiches, fries, and hand-spun shakes made with premium ice cream. Cooking up made-to-order burgers with 4 protein options available: fresh, never frozen 100% domestic farm-raised beef, farm-fresh chicken, ground turkey, and Boca Burger. So, which one of these new vegetarian options is going to make the cut?
Each participant was given a score sheet to mark down the ratings and crackers to cleanse the palate. Each patty was so different, it wasn't as easy at it may look!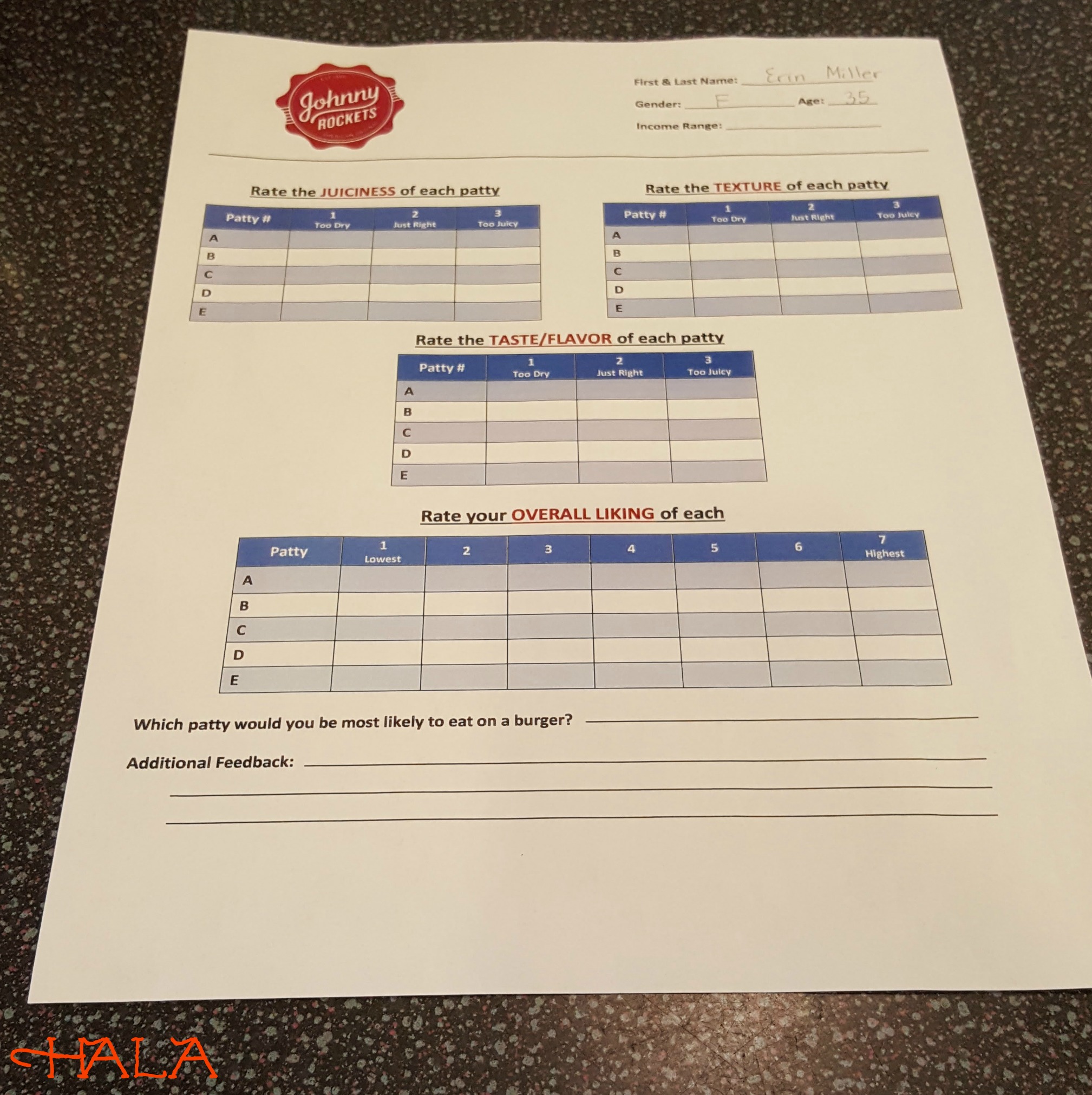 It was a very festive atmosphere with balloons all around and music filled the air. We were all anxious to see how this was going to work and what these new options would taste like. Johnny Rockets really wanted to know our honest opinions on the food we were testing, so each patty was only given a letter to refer it to. We were not given any other information about any of them.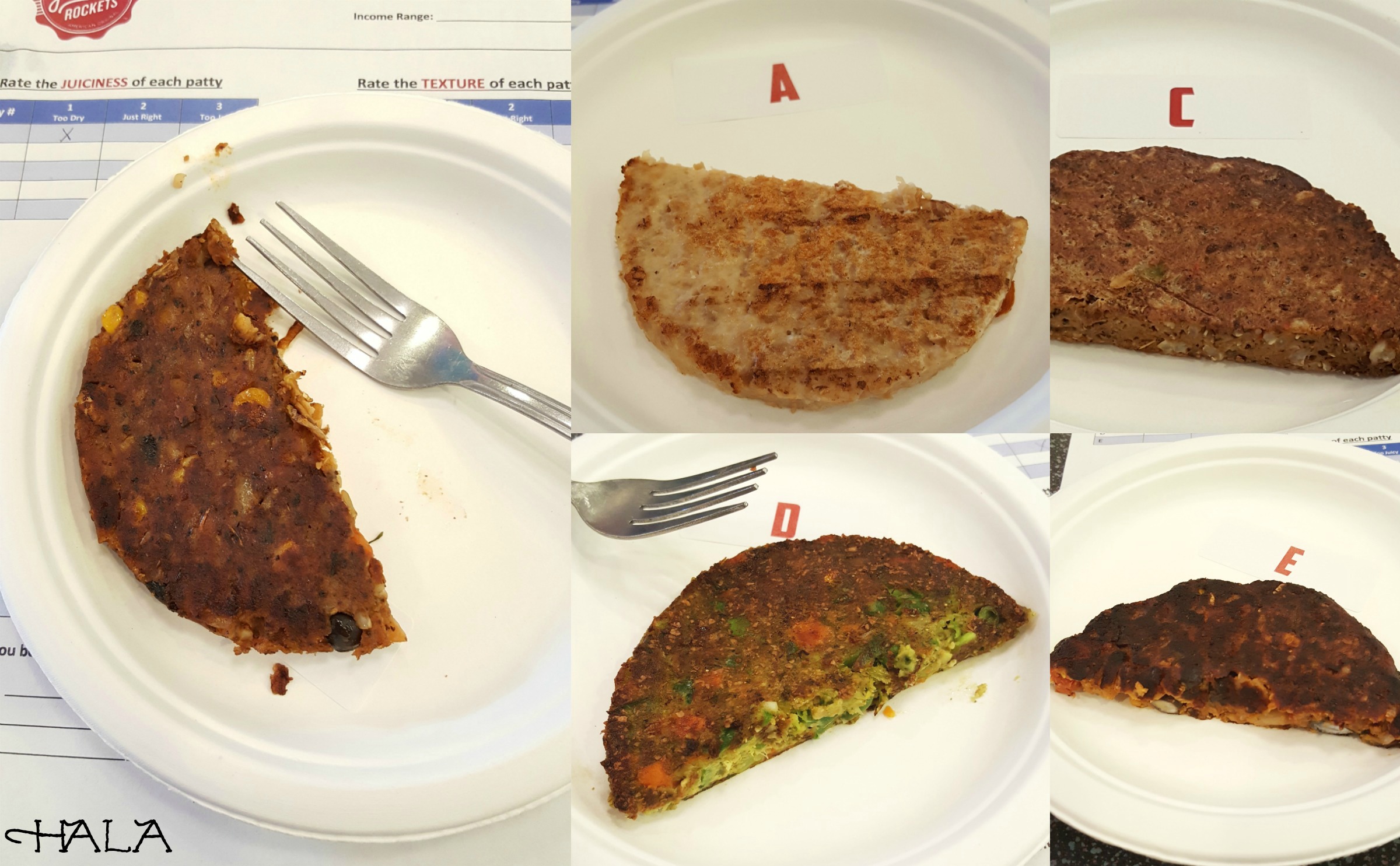 To not interfere with the flavors of each option, we were only given water while sampling  each burger.  No condiments or toppings were given at all to ensure that our focus was only on the patty itself. Each style of vegetarian burger was passed out one at a time, starting with A, until we got through E. We were not told what was in them, but you could kind of guess by the flavors what was in each patty. We filled out our score sheets and turned them in before we left at the end of the night. Each burger tasted completely different from one another. It was fun comparing the flavors of each burger and discussing them with fellow foodie friends. My favorite was choice B. I hope it wins! 🙂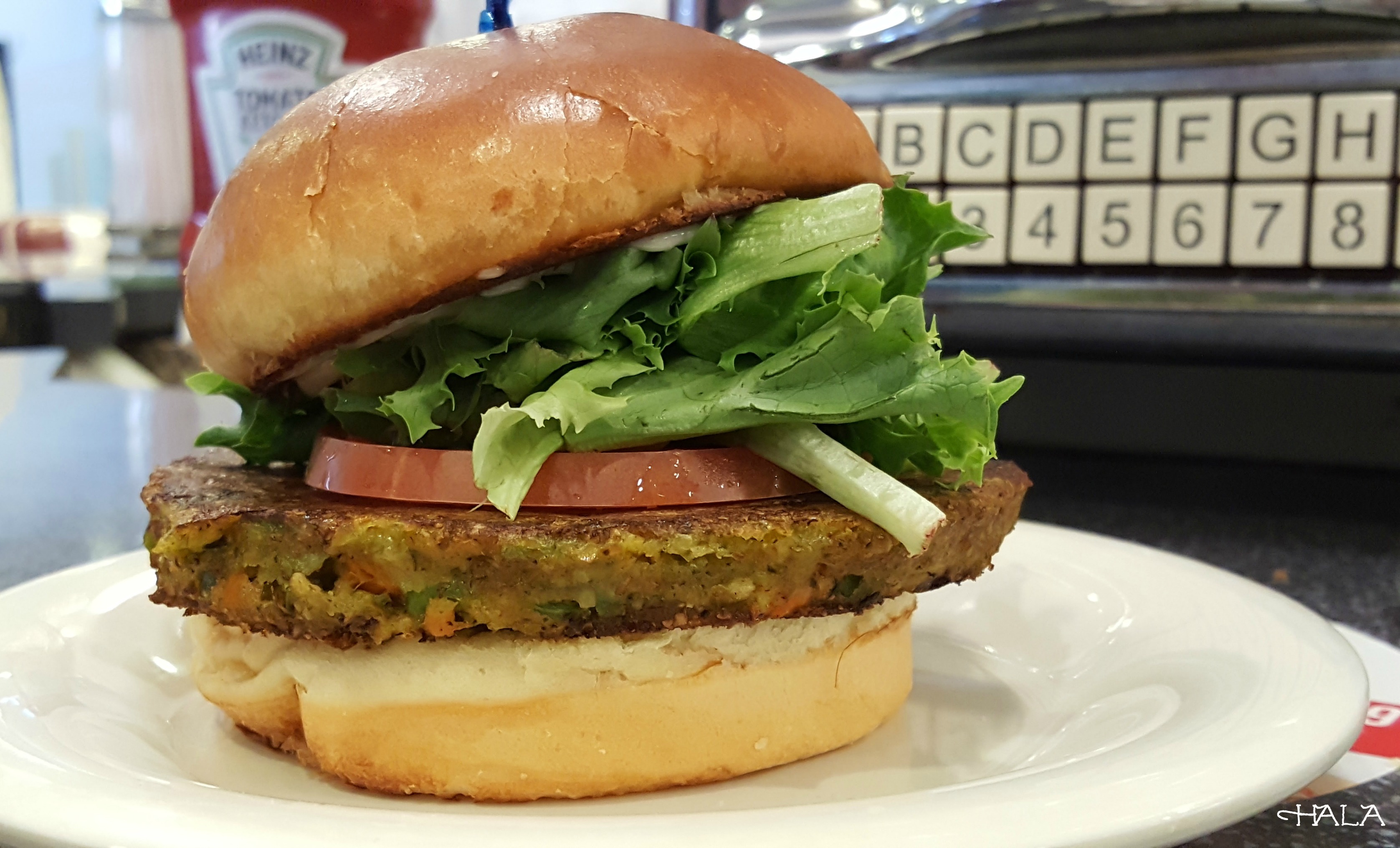 It was a super exciting experience and I am looking forward to seeing which option(s) end up on their new and improved menu. Once the winner is announced, I will be sure to let all of you know! 😉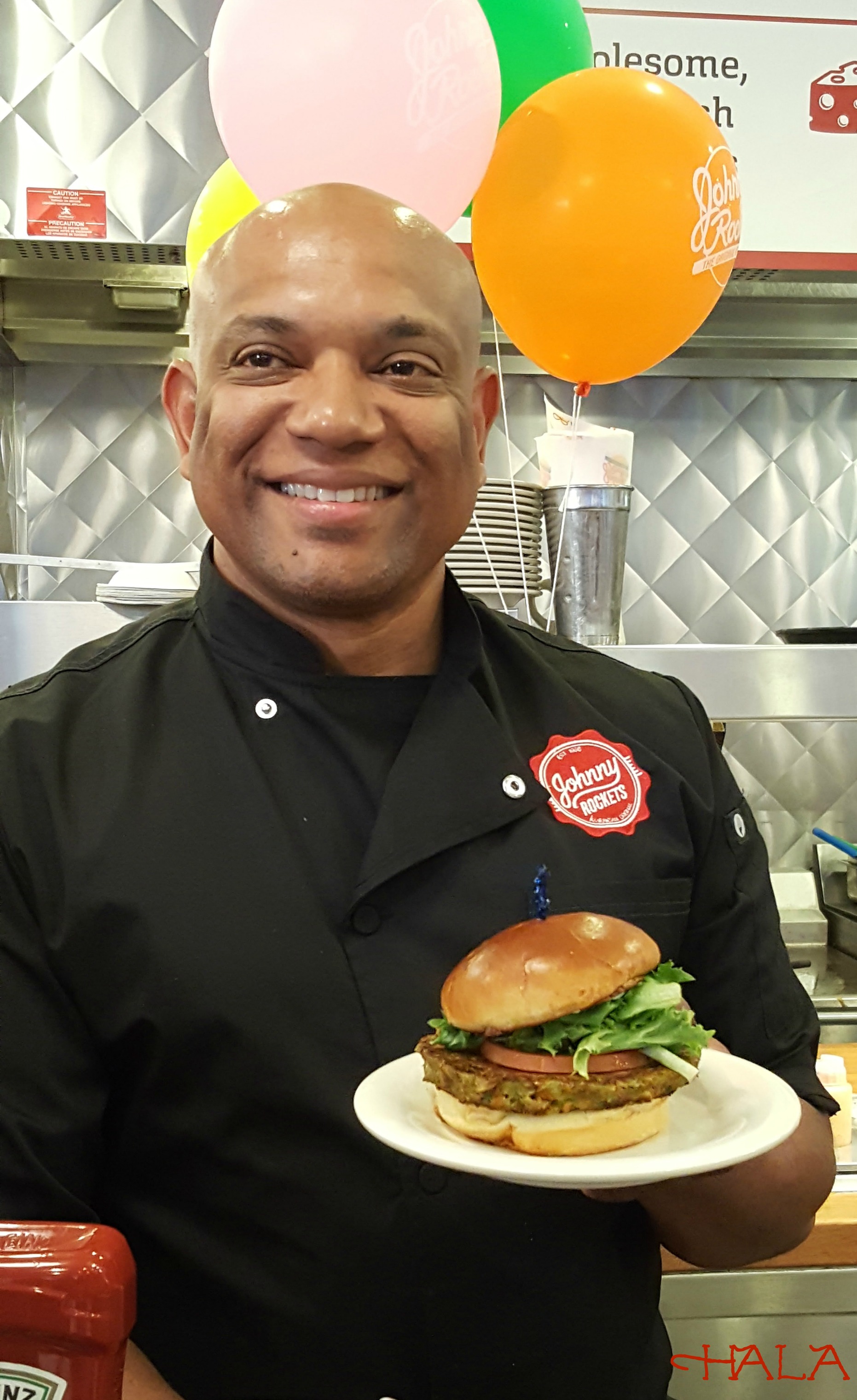 But wait! There's more! 🙂 The kind folks at Johnny Rockets and Gigasavvy have provided me with a fun  giveaway just in time for summer for one lucky reader to enjoy! Enter for the chance to win two free Johnny Rocket hamburger meals and one pair of Johnny Rockets sunglasses. Giveaway is open to US residents 18 and over. Giveaway ends at 12:00 AM PST on June 30, 2016. To enter, click the rafflecopter link below! Good-Luck!