The Good Dinosaur
By Erin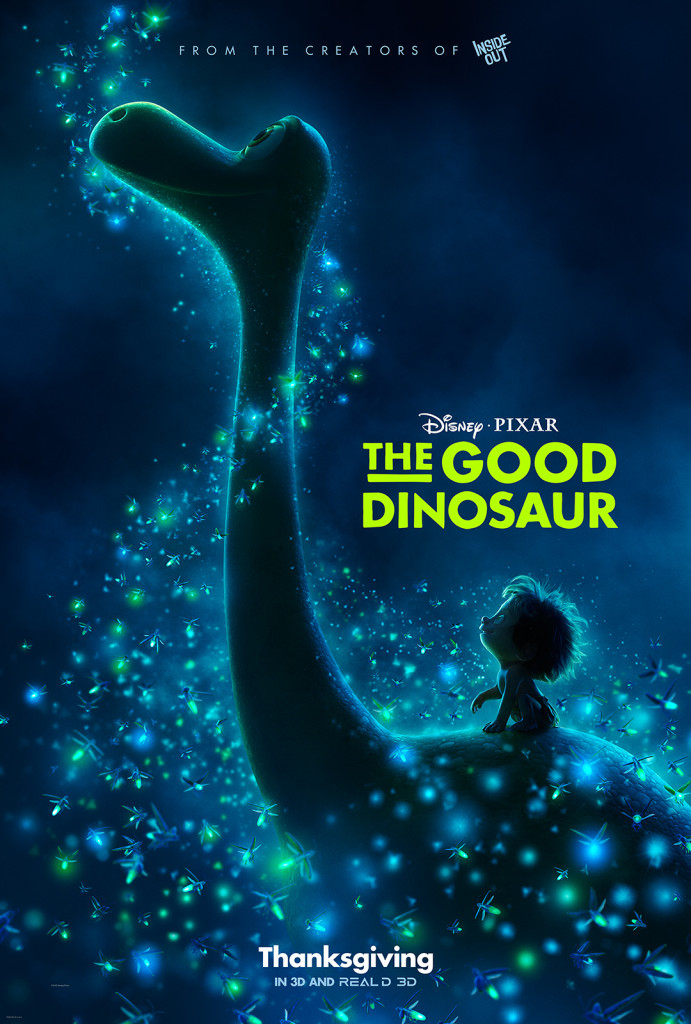 Just in time for Thanksgiving, comes an unlikely tale about a dinosaur named Arlo and his human companion, Spot. Disney*Pixar takes us on another emotional roller coaster with this one, so be sure to have some tissue on hand because you will need it. This movie will bring up all the emotions from Pixar's previous hit, "Inside Out" as we watch and feel for Arlo as he goes through events bringing up feelings of Fear, Sadness, Anger, Joy and Disgust. Messages of family, friendship, facing your fears and making your mark on the world in your own way can be taken away from seeing this heartfelt film that is bound to steal your heart.
Inspired by the American Northwest, filmmakers found that even towering dinosaurs could feel small in the right surroundings, which worked to intensify Arlo's fears. According to producer Denise Ream, the stunning and often overwhelming landscape that artists created ultimately played an important role in the story that is set in a beautiful world untouched by a meteor and extinction. The graphics are beyond stunning and do a fabulous job of bringing the dinosaur landscape to life. Jackson Hole, Wyoming was used as the inspiration for all of the landscaping in "The Good Dinosaur".
As we begin this epic journey into the world of dinosaurs, we meet an Apatosaurus couple who are awaiting the arrival of their little ones. We see the cracking of three eggs, one of them being significantly smaller despite hatching out of the largest egg. Arlo is born the runt of the litter. A bit different from his other two siblings, he needs to learn to get over fears that keep getting in the way of living life as he needs to in order to survive. Dad tries so hard to help him out, but tragedy strikes and Arlo has to find his own way home. While traveling through a harsh and mysterious landscape, Arlo learns the power of confronting his fears and discovers what he is truly capable of as he learns to forgive and find it in his heart to make friends with a creature that he feels has caused him so much pain in order to be able to survive in this great big world.
On his journey Arlo encounters a variety of unique personalities who all contribute to his evolution. But the friendship he builds with Spot has the biggest impact. Although Spot cannot speak, he gives Arlo the kind of loyalty and unconditional love that fuels his self-discovery, even in the beginning when he wants nothing to do with Spot. His father always knew what he was capable of achieving, but it'll take this emotional journey for Arlo to realize it. Funny and clever and filled with a lot of deep emotions. You will fall in love with Spot right along with Arlo. Their bond is interesting and unique. It's a very special movie.
This one may be a bit too scary and sad for the really young ones out there, but only you know if they are able to handle it or not. It's a very real world movie, with events that happen in real life. So it has lots of life lessons for us all about the circle of life. The message that family isn't just who you are born with or who you create a family with, but it's who you make it with that is important and is something I can completely relate to, not really having a family of my own (ie: husband/children of my own, that I'd so love to have). Friends are largely who I consider my family and who are the ones that are there for me the most when I need someone. Spot and Arlo's relationship doesn't start out on the greatest of terms but, Arlo ultimately realizes that he needs Spot to survive. Arlo's fearfulness also shows us all that we can get over our fears and that being a little bit different is ok. Being different isn't wrong and should be embraced. Arlo made his mark in his own time. It took a lot longer than the rest, but he kept preserving and he was successful. Success comes at different times for each one of us, and that's ok. Hard work does pay off.
Also, as a special treat, Pixar has placed an amazing short that shows right before the film, called "Sanjay's Super Team." The very accomplished artist, Sanjay Patel uses his own experience to tell the story of a young, first-generation Indian-American boy whose love for western pop culture comes into conflict with his father's traditions. We watch as Sanjay is completely absorbed in the world of cartoons and comics like many children do, while his father tries desperately to draw him into the traditions of his Hindu practice. Reluctantly Sanjay gives into his father, then we quickly turn into an awe-inspiring adventure as the boy embarks on a journey he never imagined, returning with a new perspective that they can both embrace. Directed by Sanjay Patel and produced by Nicole Paradis Grindle, "Sanjay's Super Team" opens in theaters on November 25, 2015, in front of Disney•Pixar's "The Good Dinosaur."
The Good Dinosaur is out in Theaters now, so be sure to go see it with the ones you love this Thanksgiving! 🙂
Happy Thanksgiving!