Hard Hat Tour at the Great Wolf Lodge near Disneyland!
By Erin
Get ready SoCal! Great Wolf Lodge Southern California is a first-class, full service, indoor water park resort that is in the works to open its doors in early 2016. The other week I was invited to participate in the Hard Hat Tour at the Great Wolf Lodge as it is currently under construction. We even had a very special tour guide… 😉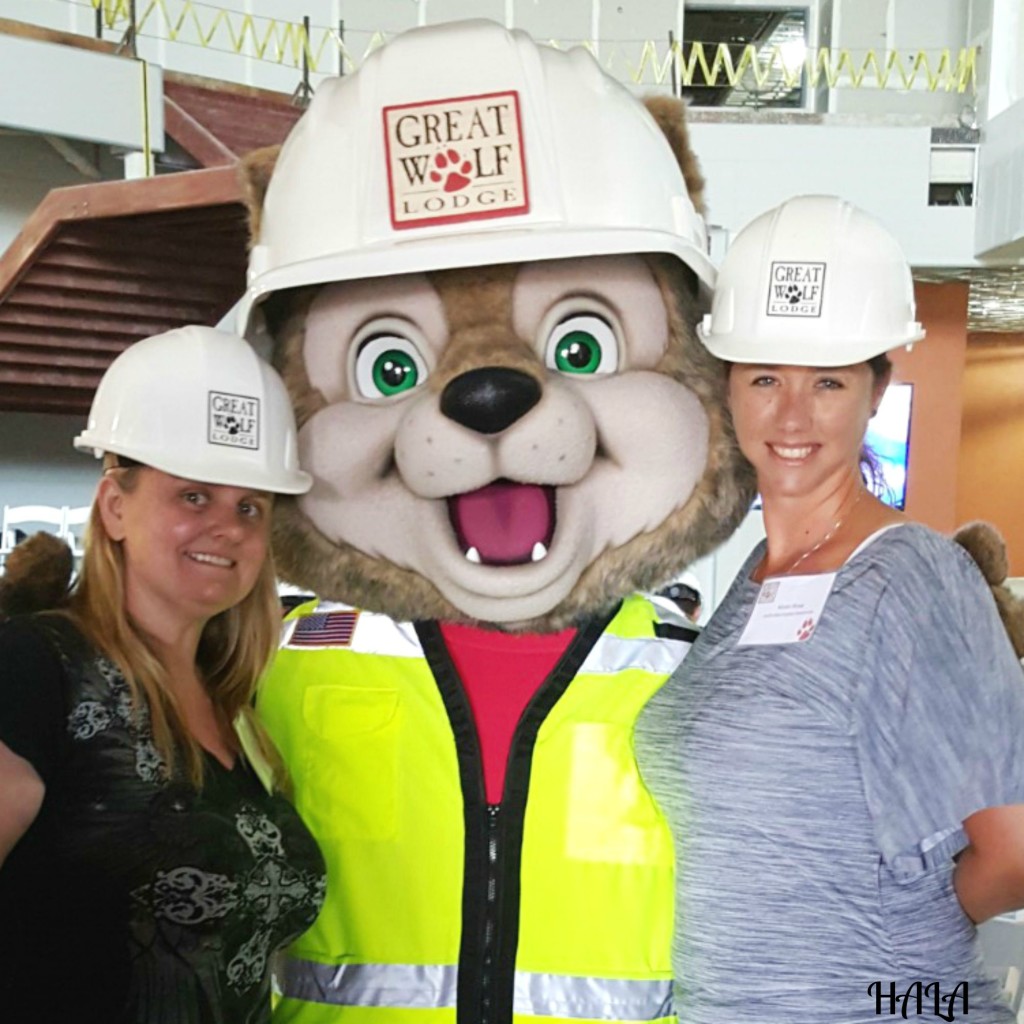 Located on Harbor Boulevard in Garden Grove, it's just down the road from Disneyland. I am very happy to report that it is on schedule to open in February 2016. The first indoor water park resort in Southern California, it is designed to impress with a 105,000 square f00t water park including over 4,000 feet of water slides exclusive to resort guests in woodsy-themed rooms (some with bunk beds) sleeping anywhere from 4 to 8 guests.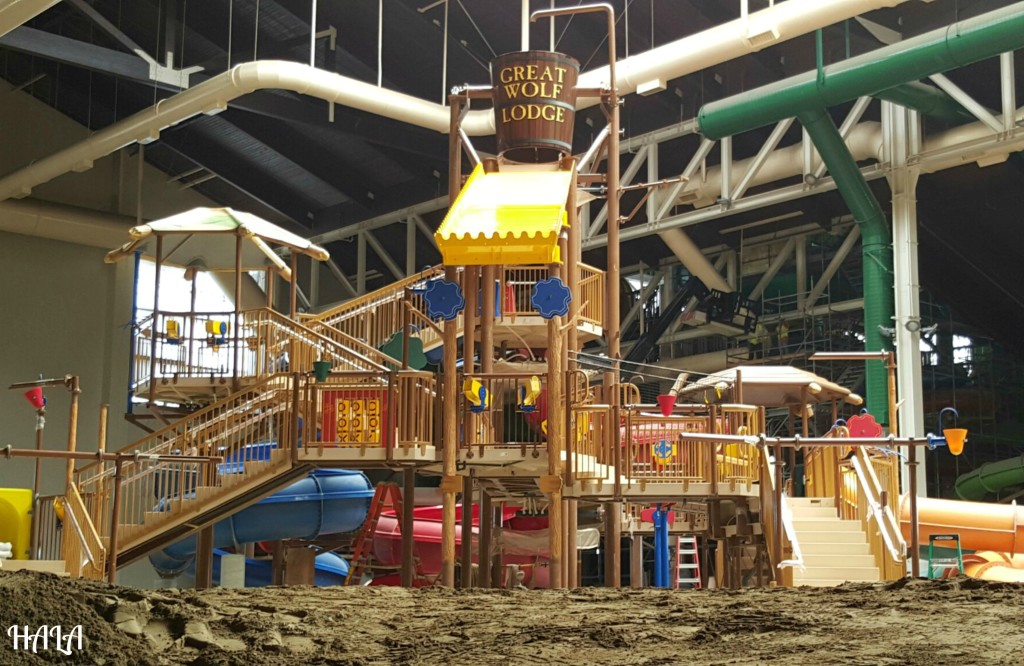 What can you expect during a stay at the Great Wolf Lodge?
Accommodations:
Family Suite – Sleeps up to 6 guests. The Family Suite features two queen beds and a full sofa sleeper.
Double Queen Suite – Sleeps up to 4 guests. The Double Queen Suite features two queen beds.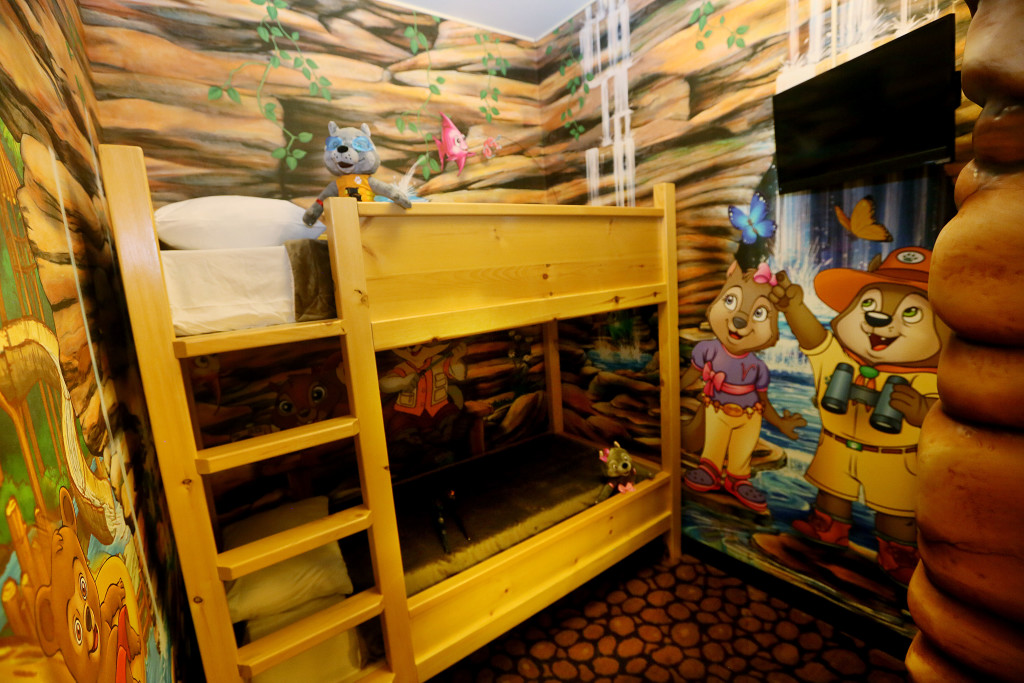 Wolf Den Suite® – Sleeps up to 6 guests. The Wolf Den features a queen bed, full sofa sleeper and a themed Wolf Den, complete with a set of bunk beds.
KidCabin® Suite – Sleeps up to 7 guests. The KidCabin suite features a queen bed, full sofa sleeper and a Great Wolf Kids-themed KidCabin complete with bunk beds and a twin bed.

Grizzly Bear Suite – Sleeps up to 8 guests. The Grizzly Bear Suite features two private bedrooms, one with a private master bedroom with a king bed and full bathroom and a second bedroom with two queen beds.The main area includes a full sleeper sofa and a second bathroom.
Grand Bear Suit-Sleeps up to 8 guests. The Grand Bear Suite features a private master bedroom with a king bed and a full bathroom. The main area includes two queen beds, a full sofa sleeper and a second bathroom.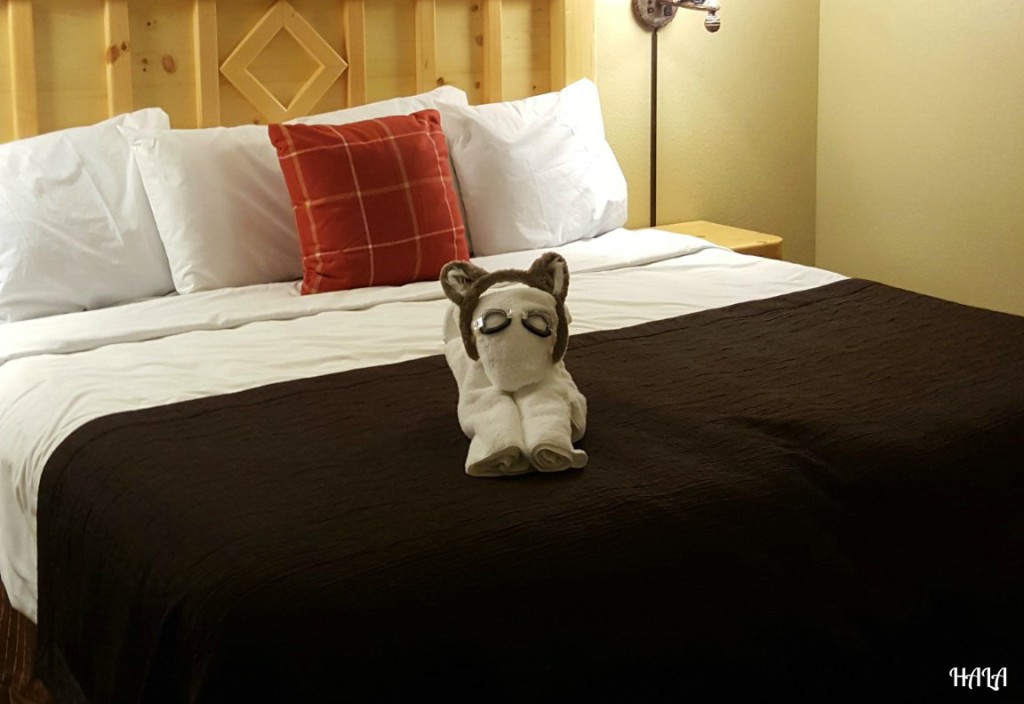 Great Bear Suit- Sleeps up to 6 guests. The Great Bear Suite features two queen beds and a semi-private living room complete with a private master bedroom with queen bed.
Great Bear King- Sleeps up to 6 guests. The Great Bear King Suite features two queen beds and a semi-private living room complete with a private master bedroom with king bed.
Indoor Waterpark
*Great Wolf Lodge Southern Califormia's 105,000 square foot indoor water park is exclusive to resort guests.*
Fort Mackenzie® – Multi-level tree house water fort that combines suspension bridges, treetop slides, swinging cargo nets and spray stations. The park's signature tipping bucket dumps one thousand gallons of water every four minutes.
Totem Towers – Five three-story body slides attached to Fort Mackenzie.
Wolf Tail™ – 360-degree thrill ride with a vertical plunge through a trapdoor into an enclosed tunnel.
Howlin' Tornado™ – Six-story funnel slide.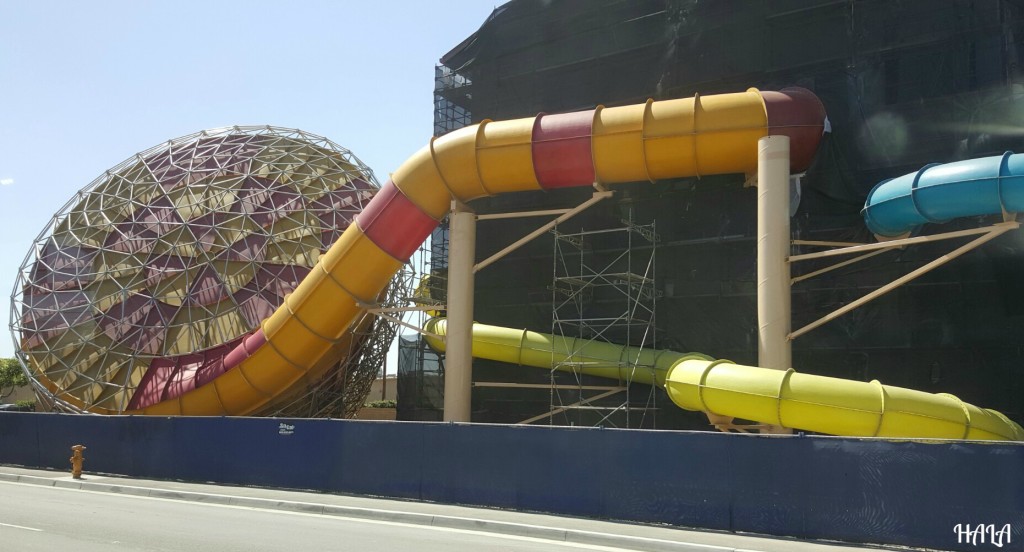 River Canyon Run™ – A 476 foot long family raft ride.
Alberta Falls® – Two four-story enclosed tube slides.
Coyote Cannon – Pipe-style spiral flume ride with a 40' drop.
Mountain Edge Raceway® – Four-story water slide with body surfing mat allows riders to race one another as they slide down the hills.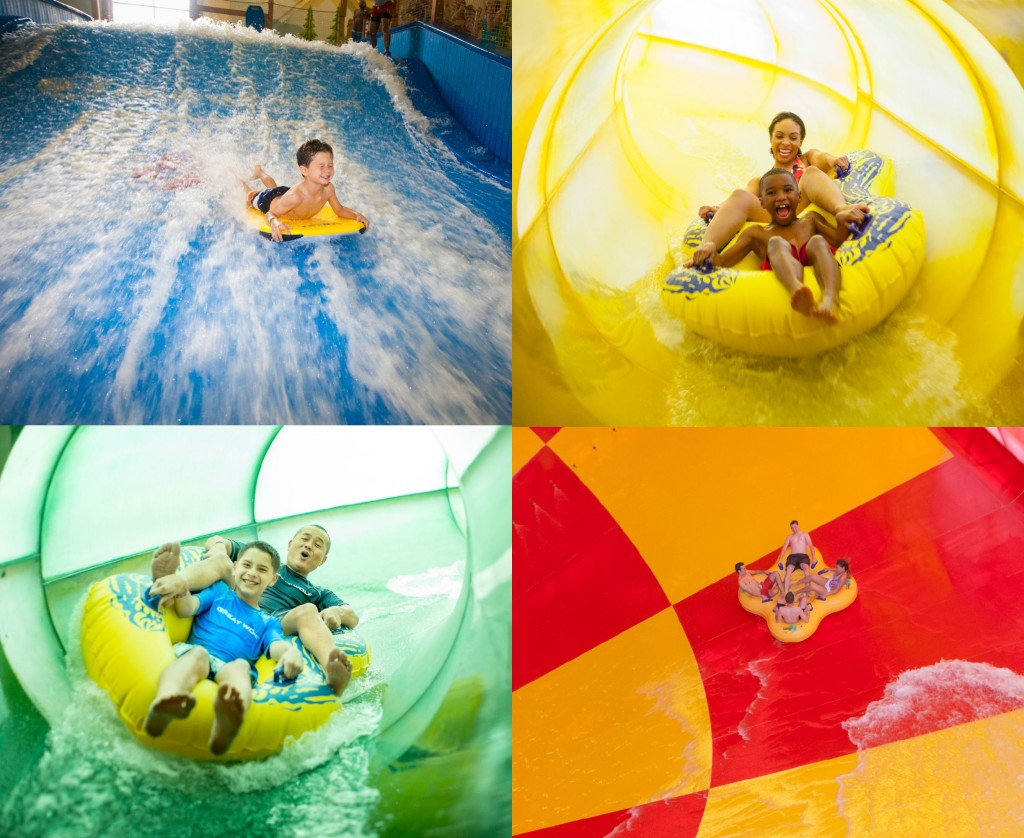 Whooping Hollow – Kiddie slides exclusively for guests under 48" tall.
Slap Tail Pond® – Gigantic wave pool complete with waves reaching up to three feet in height as they roll through every five minutes.
Chinook Cove – Water playground for children of all ages featuring basketball and floating obstacles.
Big Foot Pass – Unique water obstacle challenges kids and adults alike to balance on floating logs and lily pads and hold on to hanging nets as they try to get across the pool.
Crooked Creek – Winding lazy river.
Cub Paw Pool – Zero-depth entry children's pool with water fountain features and spray-and-play adventures.
Raccoon Lagoon® – Zero-depth entry pool extends the water park fun outdoors.
Wolf Rider Wipeout – Double indoor surf simulator with ocean-like waves that reach five feet; perfect for knee-boarding and surfing.
Dining
It's no secret that I enjoy checking out new places to dine at! I can't wait to try all of these!
Lodge Wood Fired Grill® – Full service a la carte restaurant open for lunch and dinner with delectable shareables and unique signature items to create the perfect place to eat.
Hungry as a Wolf® – Family meals on the go for lunch and dinner featuring fresh made pizza, sandwiches, salads and pasta.
Bear Paw Sweets & Eats™ – Confectionary that offers a variety of treats, such as fresh-baked pastries, ice cream, lodge-made fudge and more.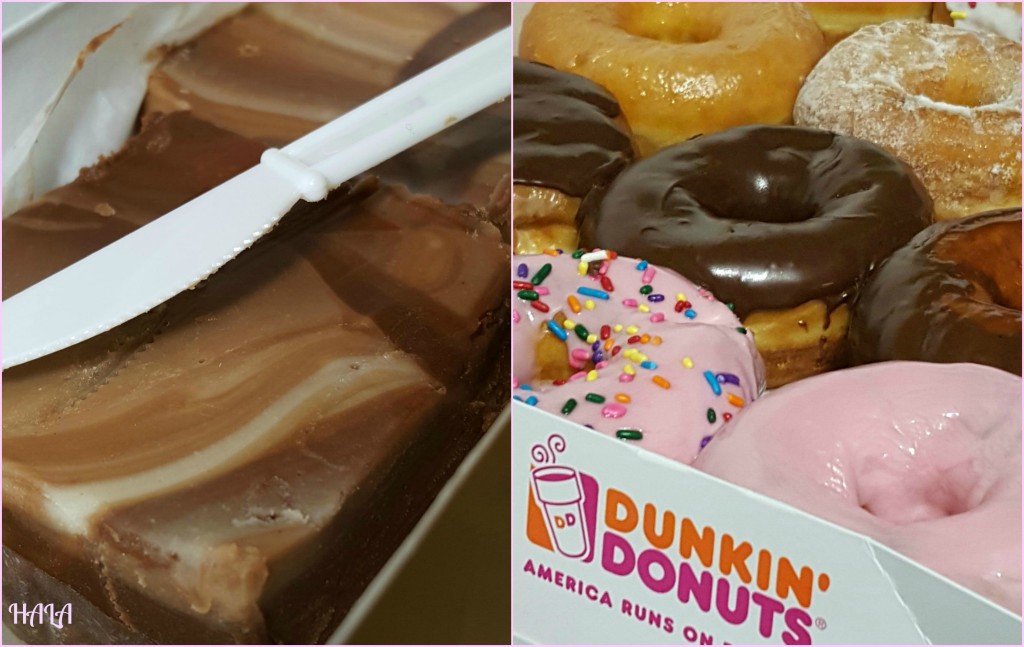 *Fresh made fudge from Bear Paw Sweets & Eats and Donuts from Dunkin Donuts. Yum!*
Buckets Incredible Craveables® – Located inside the water park, the casual menu offers burgers, hot dogs, French fries, cold beverages, ice cream and more.
Loose Moose Family Kitchen – Open for breakfast and dinner, this buffet style restaurant has options for the entire family.
Grizzly Jack's Bar and Grill – Located by the outdoor water park and with a variety of food and drinks to choose from, this is the place to refuel for more fun in the sun.
Dunkin' Donuts® – America's favorite all-day stop for coffee and baked goods, right in the resort.
Attractions and Entertainment
Character Appearances – Daily appearances with Wiley® the Wolf and Violet® the Wolf.
Story Time – The entire family gathers in the Grand Lobby each evening to hear a story about the Great Wolf Kids characters before bedtime.
Wolf Walk™ – Learn about the many animals and wildlife living in the Northwoods, and make an origami wolf to take home.
MagiQuest® – Battle dragons, befriend a pixie and wave a magic wand in this live-action adventure game throughout the resort. The games features three unique chapters, each with their own challenges and quests.
The Great Wolf Kids® Program – Daily activities for kids that take place around the resort, including dance parties, face painting and games such as Wiley bingo, character floor memory and character trivia.
Howly Wood® XD Theater – This motion thrill ride transports riders directly into the movie action with every effect amplified creating an unforgettable experience.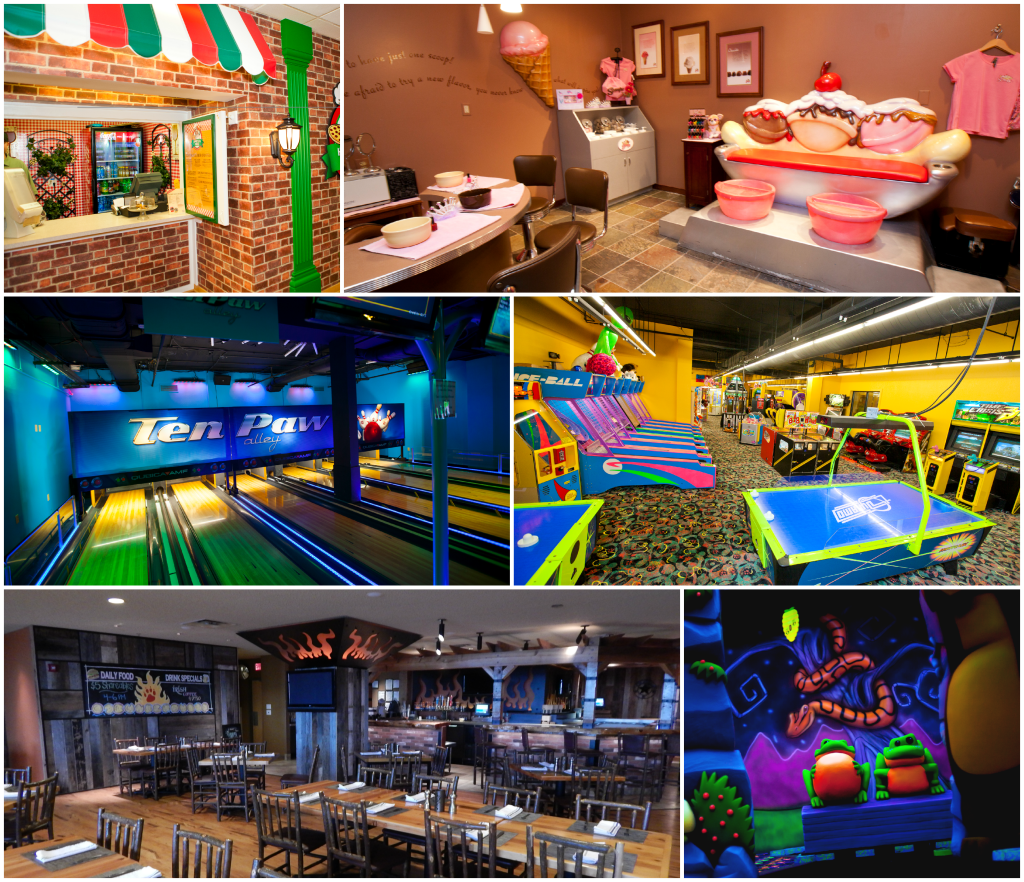 Howl at the Moon™ Mini Golf – 9-hole themed indoor miniature golf course.
Northern Lights™ Arcade – More than 100 interactive video and redemption games that allow guests to redeem points for prizes.
Scooops® Kid Spa – A unique spa created just for kids complete with ice cream-themed manicures, pedicures and more. Each service also includes a real ice cream treat.
Ten Paw Alley™ – Family-style bowling with pint-sized bowling balls.
Clubhouse Crew – Interactive scavenger hunt through the resort starring the Great Wolf Kids characters.  Perfect experience for the resort's youngest guests.
Lazer Frenzy – Exciting arcade-style game with the latest in touch and LED technology. Players can see who is fastest as they dart between the "laser beams."
Shopping
Buckhorn Exchange™ Gift Shop – Remember a Great Wolf Lodge adventure by taking home the perfect souvenir.
Bear Essentials™ Swim Shop – From flip flops to swimwear, Bear Essentials has it all and is conveniently located in the water park.
Great Wolf Kids® Store – Find a Great Wolf Kids character on an assortment of apparel, toys, drinkware and more.
Conference Center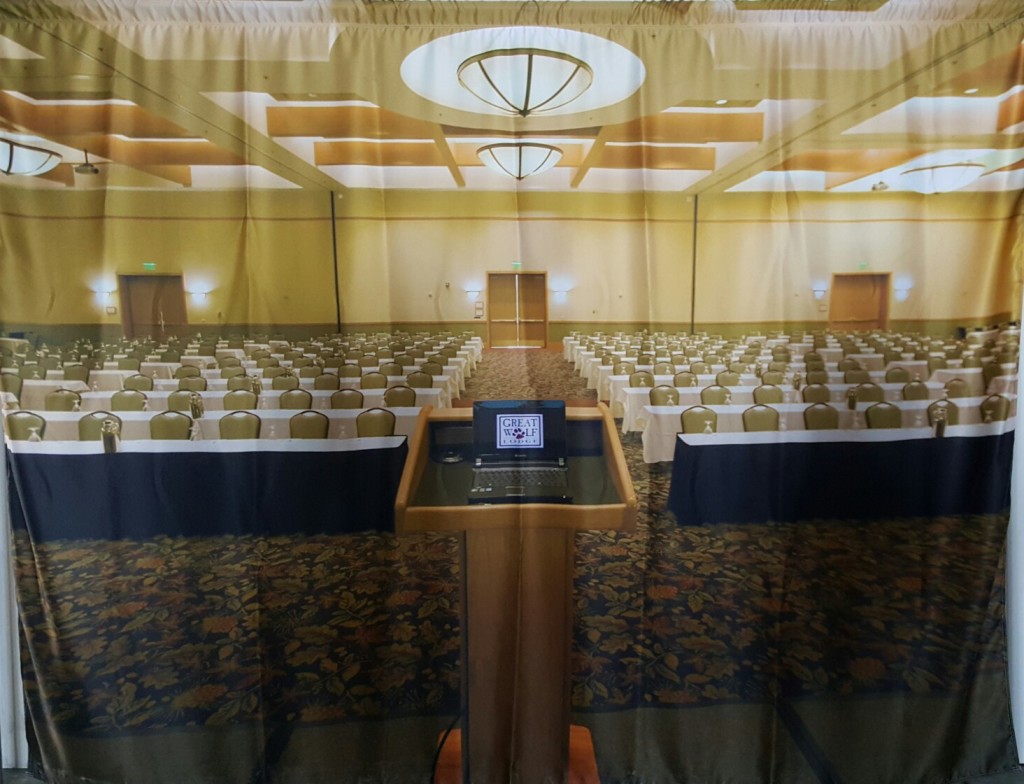 *Featuring over 20,000 sq. feet of meeting and banquet space with 12 separate and configurable meeting rooms.*
Seasonal Events
*Month-Long Seasonal Events*
Howl-O-Ween™ – October
Family-friendly Halloween celebration all month long featuring:
Trick-or-Treat Trail
Spooktacular Story Time
Daily Costume Parade
Monster Bash Dance Party

Snowland® – December
The resort is transformed into a winter wonderland complete with:

Daily snow showers in the Grand Lobby
Special appearances by Santa Claus
Dine in the life-size Gingerbread House
North Pole University
For more info  on Great Wolf Lodge– Garden Grove, CA click here
12681 Harbor Blvd. | Garden Grove, CA 92840
I can't wait until February to check the place out when it opens! The food, the waterpark, the rooms, glow golf, there are so many fun things here to look forward too! 🙂