Discovering New Worlds at the 2014 LA County Fair
By Erin
*Disclosure: I was invited out to attend the media night for purposes of this post. All thoughts and opinions remain my own as I've had a lifelong love for the LA County Fair!*

It's that time again everyone! Time for Southern California's biggest end-of-summer bash, the L.A. County Fair, which starts TODAY! This year the fair is back, with so much to explore from Aug. 29-Sept. 28, the fair is bigger and better than ever! Besides all the yummy food I will show you in a bit, the fair lights up the night with Luminasia A larger-than-life Chinese lantern display, that takes the ancient art form of lantern making to a whole new level. Luminasia takes fair-goers through a whole new world filled with colorful replicas of iconic landmarks such as the Great Wall of China, the Hollywood Sign, and the Eiffel Tower. Giant dragons, flowers and a pagoda also roam the land. These lanterns were handmade by nearly 50 artisans who traveled more than 7,000 miles from Zigong, China to transform the hillside into an evening attraction that is bound to take your breath away. This is Luminasia's first-ever appearance in California and is the jewel of the evening attractions at the fair this year. (*There is an extra charge to enter into the world of Luminasia*)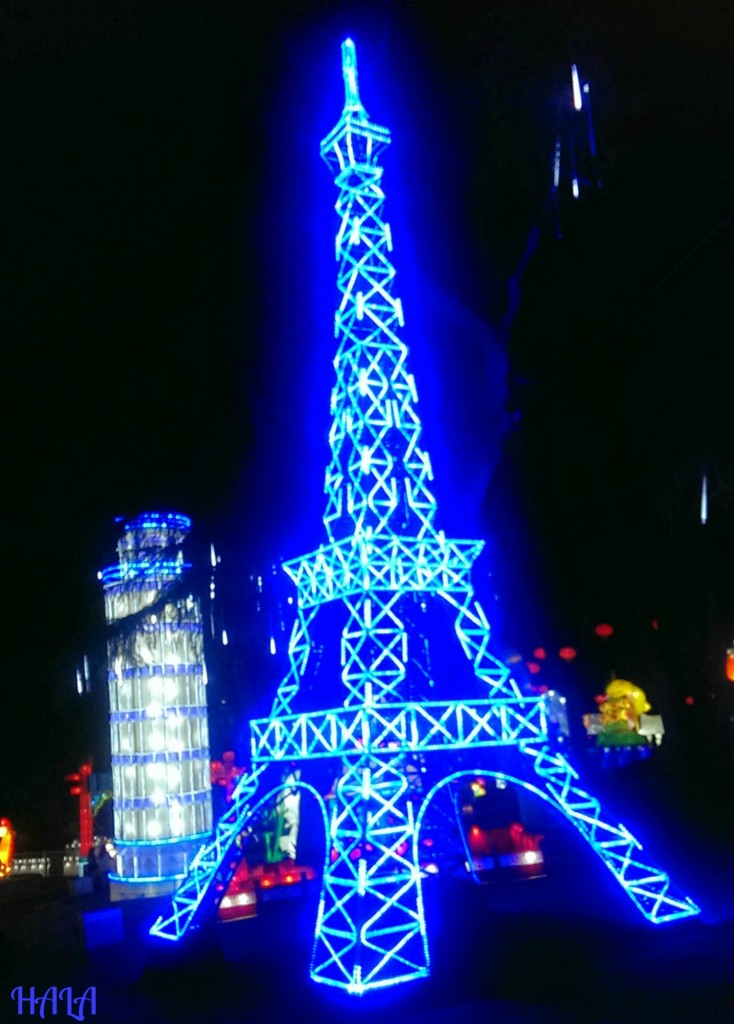 The Eiffel Tower at Luminasia
What Else is New at LACF?
There are so many new and wonderful additions to the fair this year, visitors will be delighted with their new discoveries and treasure their tried and true traditional fair favorites. Kicking off its 92nd anniversary by opening its doors to new worlds of discovery, lighting up the night with oversized custom-built lanterns; where zonkeys and kangaroos roam the land, award-winning beer and wine can be sampled, and world-class entertainment takes the stage again.
Hall of HEROES
See your favorite Super Heroes at the Hall of Heroes in the Cityscape, a thriving metropolis of skyscrapers and super heroes. Celebrate the science behind beloved superheroes of comic books and real-life heroes. Enter the Metropolis and come face to face with Spiderman and Superman or meet one of our local home-town heroes: law enforcement officers who risk their lives every day to protect and serve us to keep us safe.
Mojo's Wild & Crazy Lagoon
The animals are one of my favorite things about the fair, and you will see many special critters roaming about. I'm most looking forward to the zonkeys, being that they are a part of the equine family. 😉 Then mosey on over to Mojo's Wild & Crazy Lagoon where you will meet Mojo, a Weeper Capuchin monkey and her friends. They have a new home on the water and are sure to be involved in some monkey business. Other animal friends reside at the Peacock Paradise, Fiona's Perch, Kangaroo Cove and the Enchanted Village. Take a peak at the sea lions at Beneath the Sea and then read your way through an adventure in America's Kids, where we are celebrating the exciting worlds of children's literature.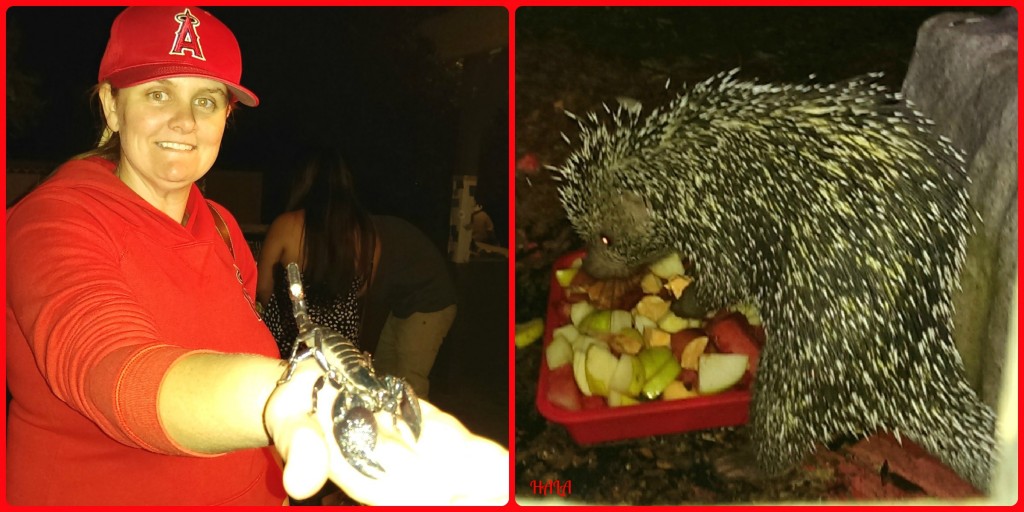 Just a couple of the interesting and unique critters I met at last years fair. 😉
The FOOD!
My most favorite part of the fair though, has to be the FOOD! 😉 You will be able to satisfy all your favorite food cravings here at the fair – deep-fried, on-a-stick, BBQ, dipped in chocolate and anything else you care to imagine. You could eat here for days at the fair and not once eat the same thing twice. With over 300 choices (including Mexican, Italian, Asian and Greek flavors, along with L.A.'s best food trucks) you will need to come back more than once to try everything! What's new this year? New this year is: Ramen burgers, Sriracha corndogs, funnel cake corndogs, Tequila-infused pickle poppers, and a complete gluten-free menu.
Chicken Charlie's New at Chicken Charlie's this year is the Triple-decker Krispy Kreme Cheeseburger and the Bacon-wrapped Zucchini!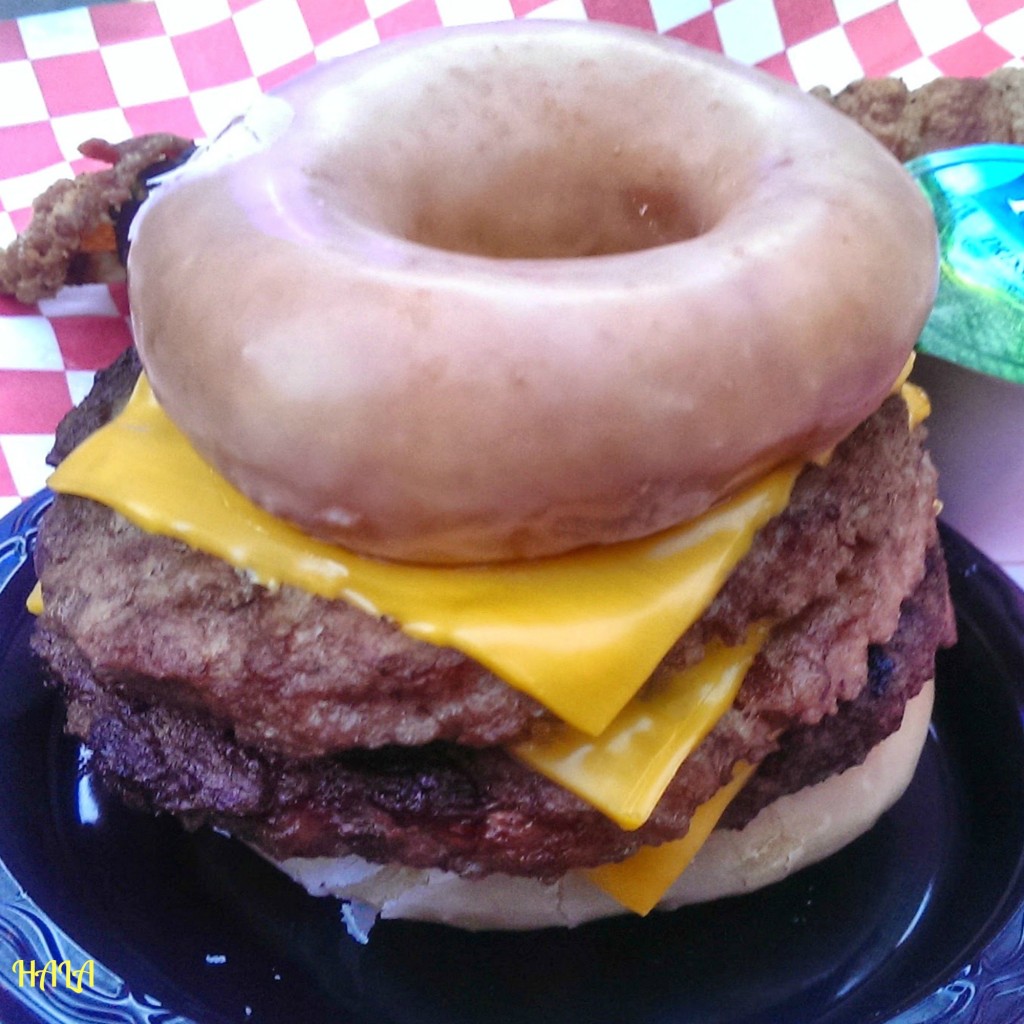 The Krispy Kreme Triple Decker Cheeseburger! Yikes!!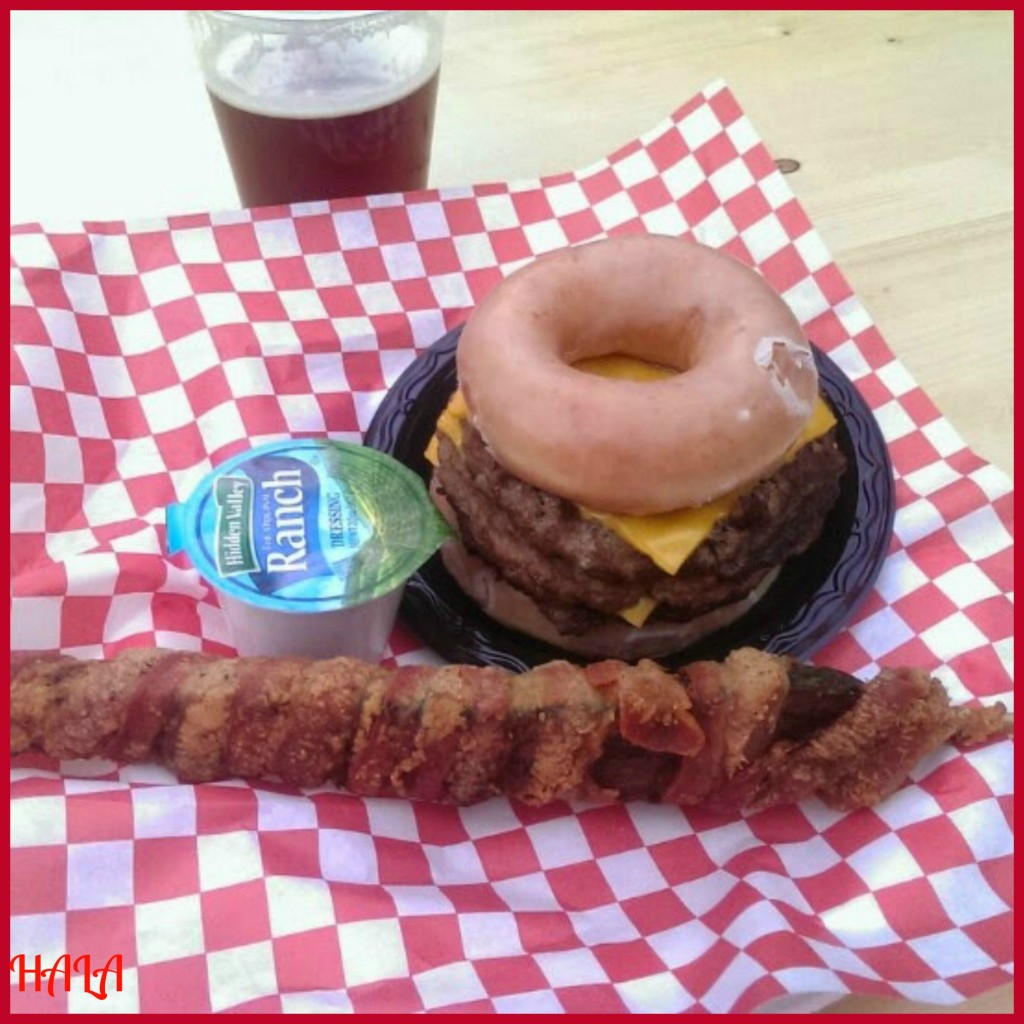 Bacon Wrapped Zucchini
Juicy's LLC
Head on over to Juicy's for the sweet and savory Funnel Cake Sausage Dog! It's a hot dog dipped in funnel cake batter and deep fried. It's like dinner and dessert in one. You can't beat that! 😉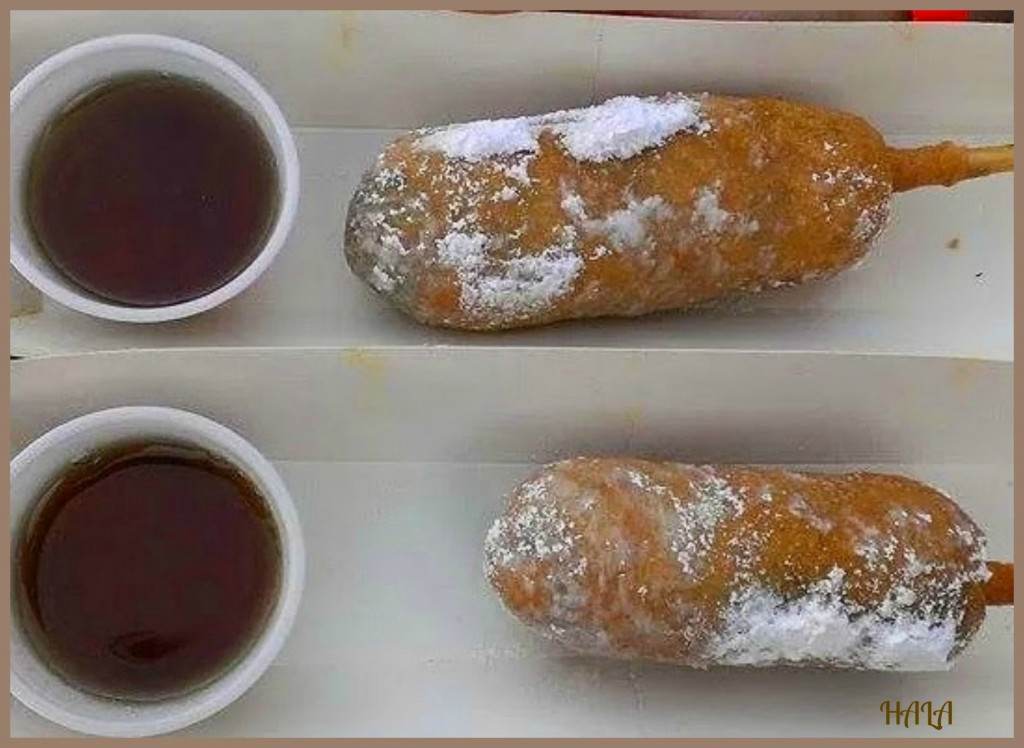 Funnel Cake Sausage Dogs
Glissando Capital LLC
This one is one of my new favorites at the fair! They are serving up Ramen Burgers! Creator Keizo Shimamoto made these tasty babies by using a fresh USDA Prime ground beef chuck patty sandwiched between two craftily formed buns made from freshly cut ramen noodles. Accompanied by a special shoyu glaze and choice market fresh vegetables.
Ramen Burger
Brander Enterprises
Maple Bacon, Cherry Pop Rock & Reese's Texas Donuts! These donuts are HUGE so make sure you have someone to share them with! I had the Maple Bacon one last year and it is amazingly delicious! I tried the Pop Rock one this time around, it leaves a sweet and "popping" flavor in your mouth! You can really feel the pop rocks exploding in your mouth and hear the crackleing. I loved these as a kid, and make for a great treat on a donut!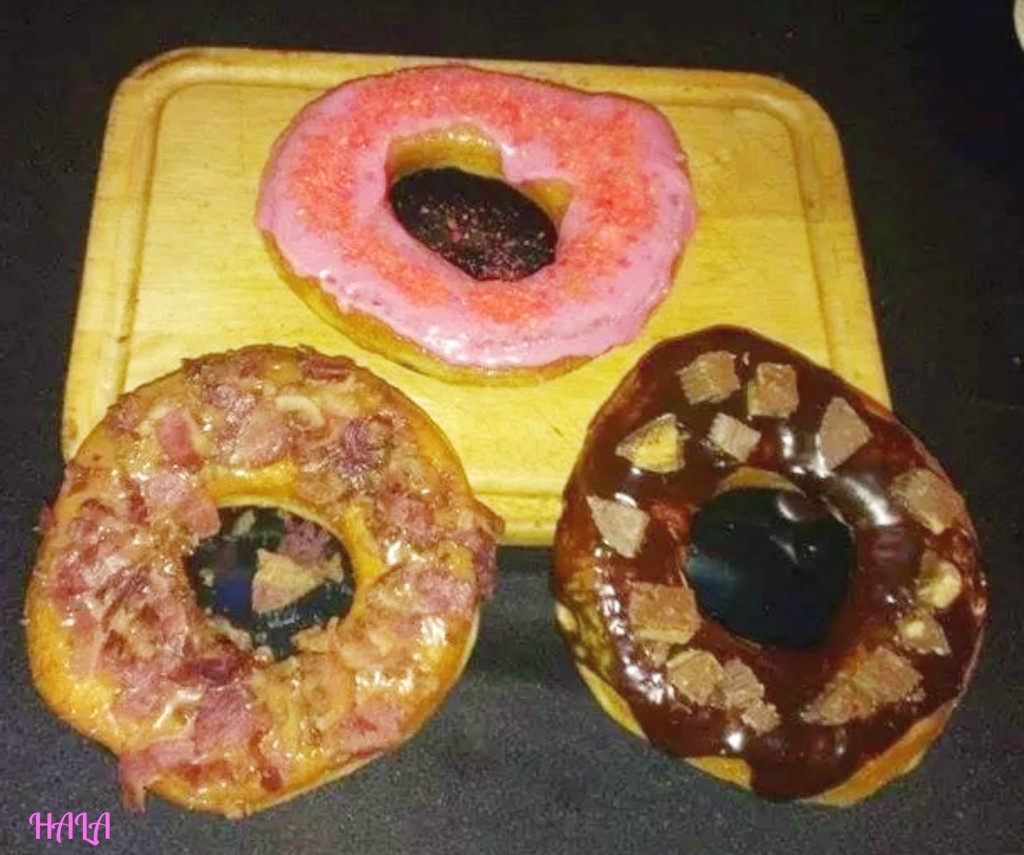 Maple Bacon, Cherry Pop Rocks, and Reeses Pieces Texas Sized Donuts! Yum!
Cornucopia Foods, LLC
Wood-grilled Flatbread topped with toppings from LACF's organic farm and coconut water.
Lori's Concessions
Chile Relleno Pretzel Burger, a spicy chorizo patty, jalapeno jam, avocado, tomato, cheese, and a whole chile relleno in a soft pretzel bun.
Mrs. C's Famous Eggrolls
Egg Rolls and Coconut Shrimp.
Ray Cammack Show
A gluten-free menu with the Big Rib and Biggy Sausage, Biggy Gluten free Burger and Big Chic on a Stick. Deep-fried Pecan Pie, the Pickle Dog – a giant whole dill pickle cored out and filled with a hot dog on a stick, battered and deep fried. Deep-fried pickles and Tequila infused pickle poppers. You will find a lot of really good stuff here! For those looking for sweet, they have you covered as well. Gluten- Free Candy Kettle corn, chocolate covered rice krispy, strawberries, bacon and mini cinnamon rolls await you.
The Concerts
Once you can eat no more, and are filled to the brim with your favorite eats, sit back and relax and enjoy an awesome concert at The End of Summer Concert Series, presented by Toyota, bringing you the best in rock, pop, R&B and Latin music. Artists performing include: Charlie Wilson, Neon Trees, Ramon Ayala y sus Bravos Del Norte, Third Day & MercyMe, R5, Martina McBride, Heart, Earth, Wind & Fire, and Flip Fest: Monster Truck & Motocross Stunt Spectacular. Limited numbers of free general admission concert tickets are offered the day of each concert. Reserved tickets may be purchased at Ticket Master and LA County Fair.
Grinding Gears
As if it doesn't get better than that, after the concert, dance the night away at the all-new Grinding Gears nightclub. Open for all ages, Grinding Gears features a live band, aerial artists and a DJ spinning the latest, greatest tunes each and every night.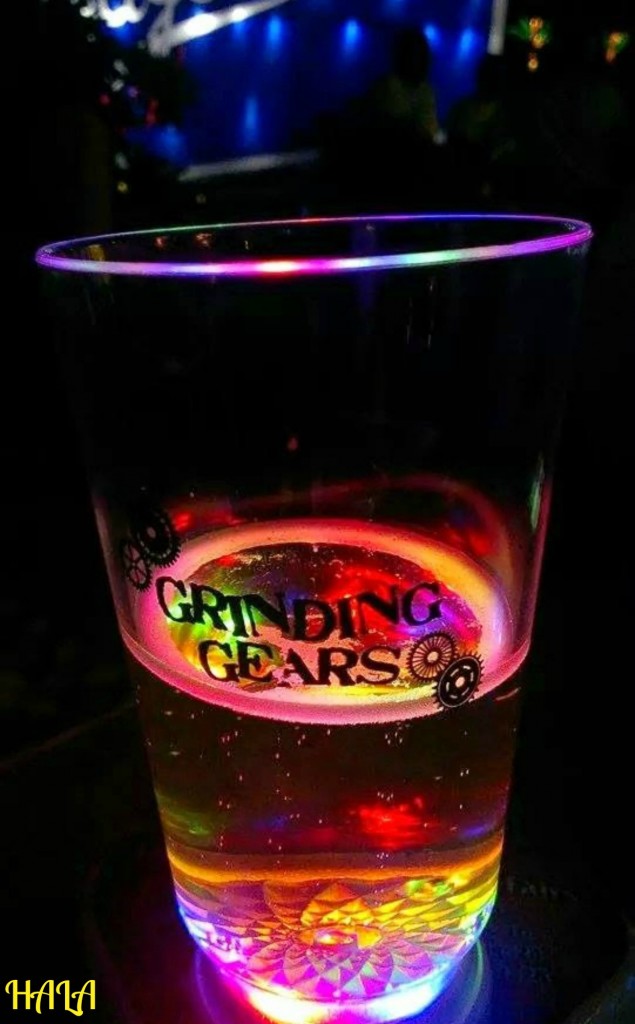 China
The Flower and Garden Pavillon is transforming into a cultural experience of China. Come discover the beauty that China has with its art, poetry and elaborate floral designs. The Atrium has been turned into the tropical rain forests of China with native animals and plants. Mid-Century Modern At the Millard Sheets Art Center there is art, architecture, and revolutionary products that reflect the ingenuity of the spirit of the people from post World War II in America. Of course all of your usual fair favorites that you are used to will be at the fair for your enjoyment. This includes the Carnival with more than 70 exciting rides; Esmeralda's Traveling Circus with trapeze and aerial acts performing death-defying stunts, the Flower & Garden Pavilion highlighting the flora and fauna of China, and tasting classes and sampling at the Wine, Spirits & Beer Marketplace.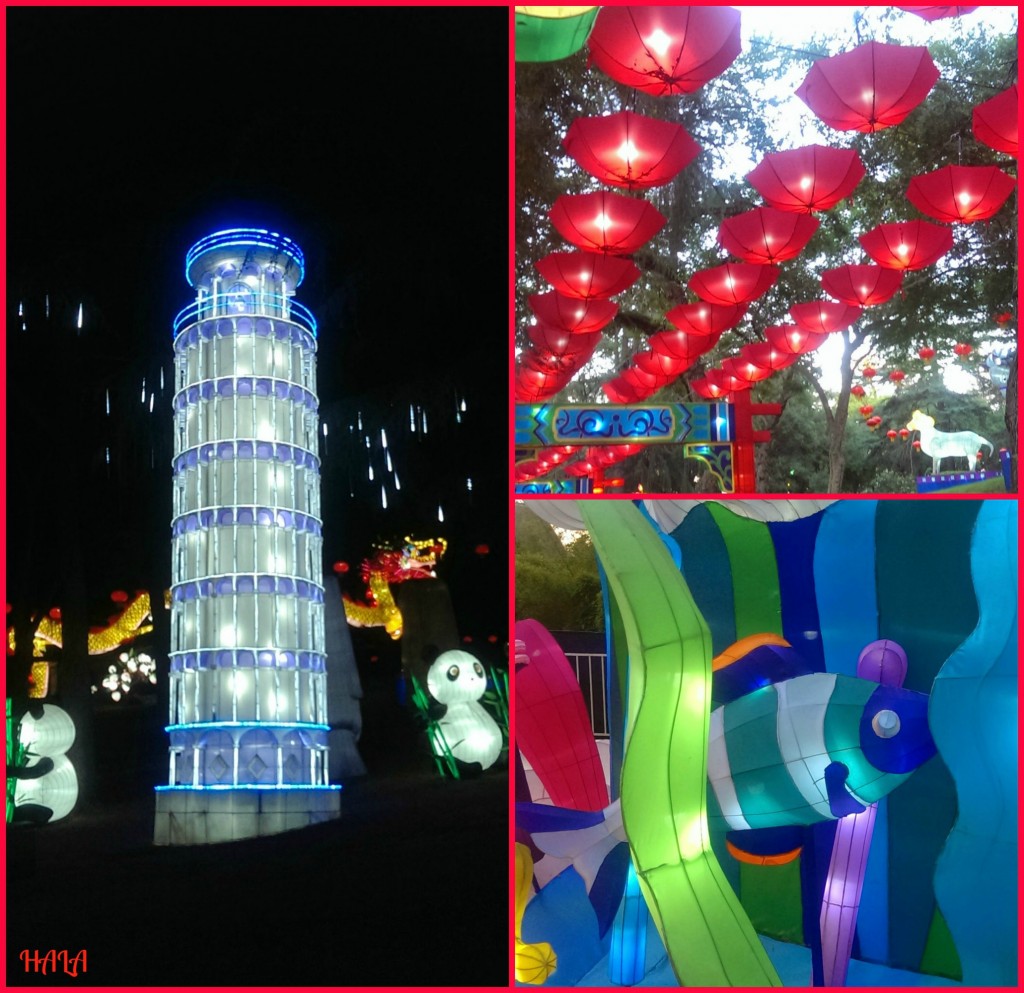 Visit lacountyfair.com, facebook.com/lacountyfair and Twitter @lacountyfair, for more information including promotions and ticket prices. Calendar Listing: Los Angeles County Fair, Aug. 29-Sept. 28, Fairplex, Pomona.  Closed Weds., Sept. 3 and Mondays (except Labor Day) and Tuesdays. Visit www.lacountyfair.com for admission, hours and more information. General information: (909) 623-3111.
 See you at the Fair!!! =)