Gluten Free Fine Dining at Darren's in Manhattan Beach!
By Erin
Only a block from the beach and located in the heart of Manhattan Beach, Darren's features a variety of savory small plates and delicious fine dining options. Set in a posh yet welcoming and relaxed environment, you will feel at home quickly with the extremely friendly staff. Equipped with a full-bar and an extensive wine list, along with seasonal specialty cocktails you are sure to find something to quench your thirst. Darren's also has a nice Happy Hour and Bar Menu that is perfect for watching the big games on their flat screen TV. When I was invited to come over and give Darren's a try, I couldn't resist. The best thing was how accommodating they are at Darren's. My friend is on a very strict Gluten Free diet, and they made sure everything served was gluten free (unless otherwise stated). Why don't we take a look around now?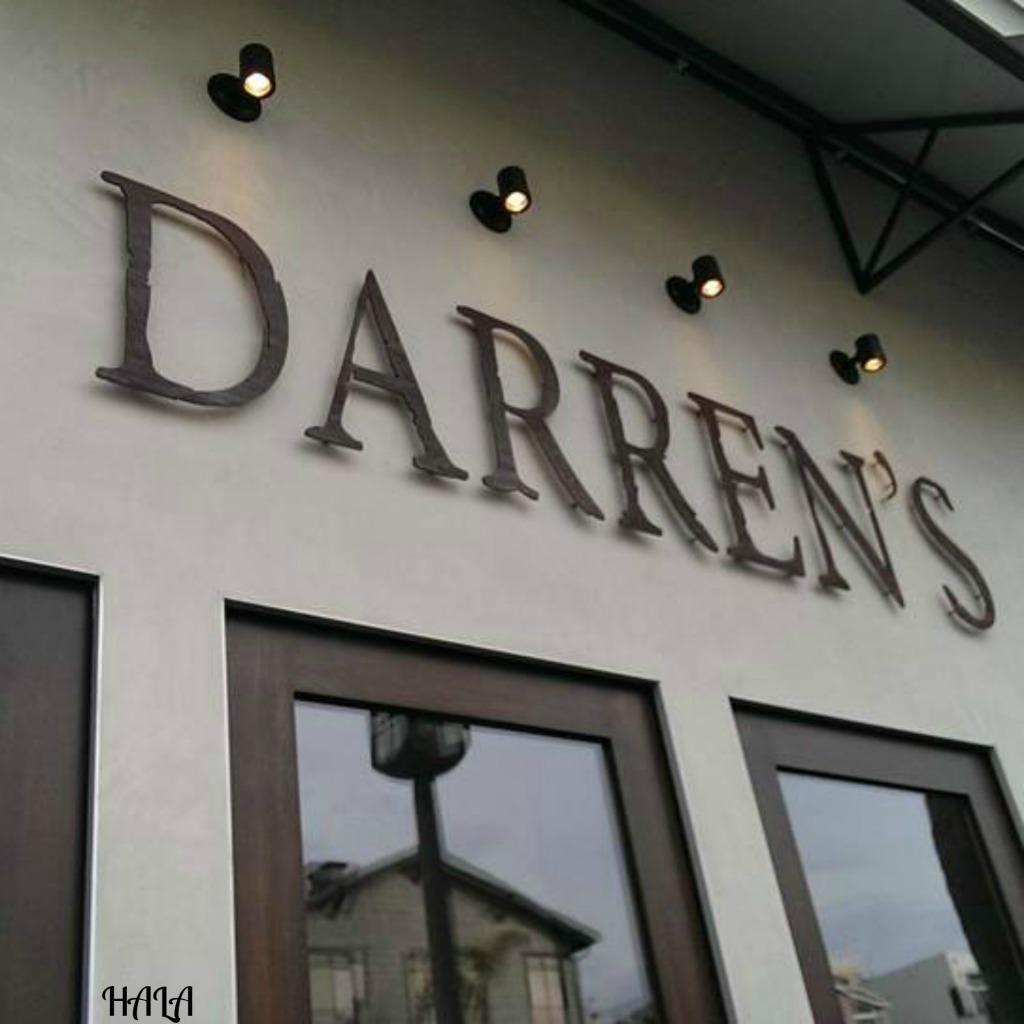 The outside of Darren's. It's clearly marked, making it easy to find,which is always nice! 🙂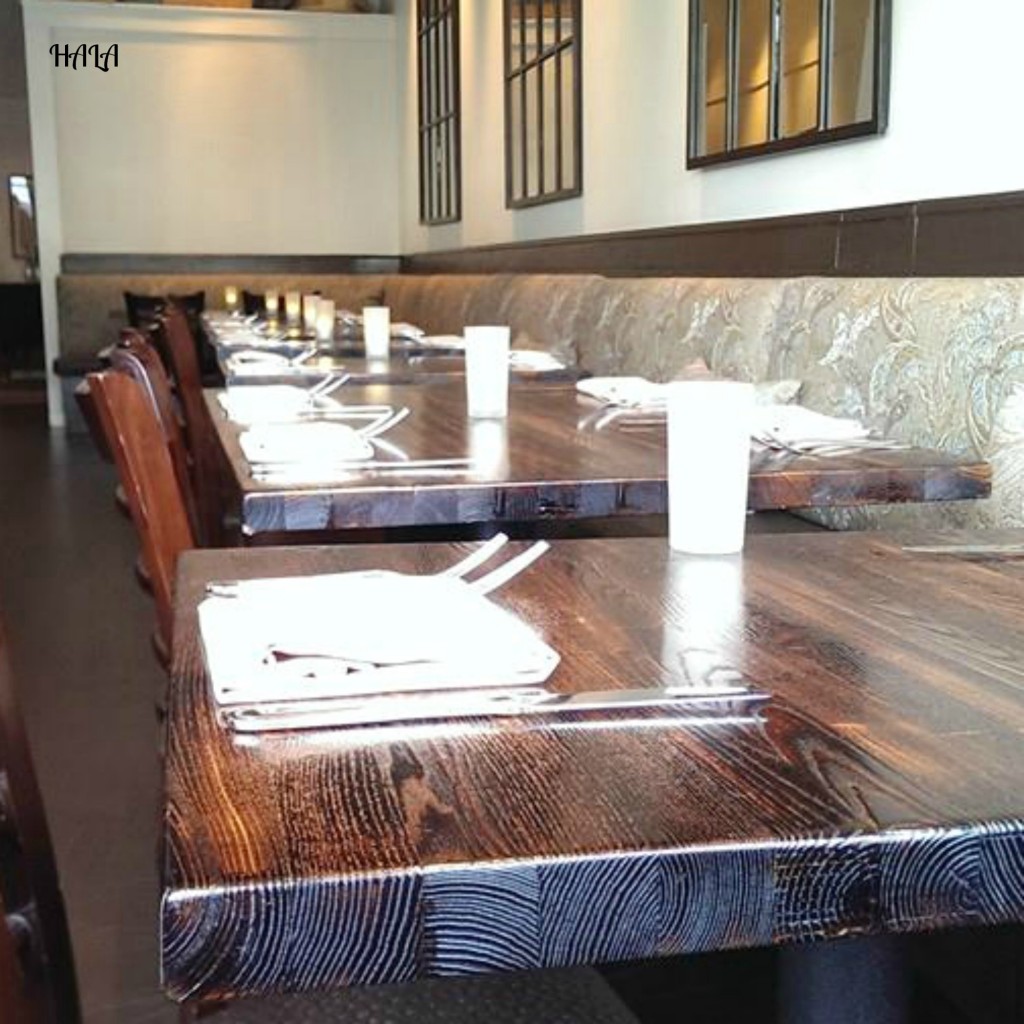 Inside, the tables are very intimate and cozy. I loved how bright and airy it was. Perfect for taking all of my pictures… 😉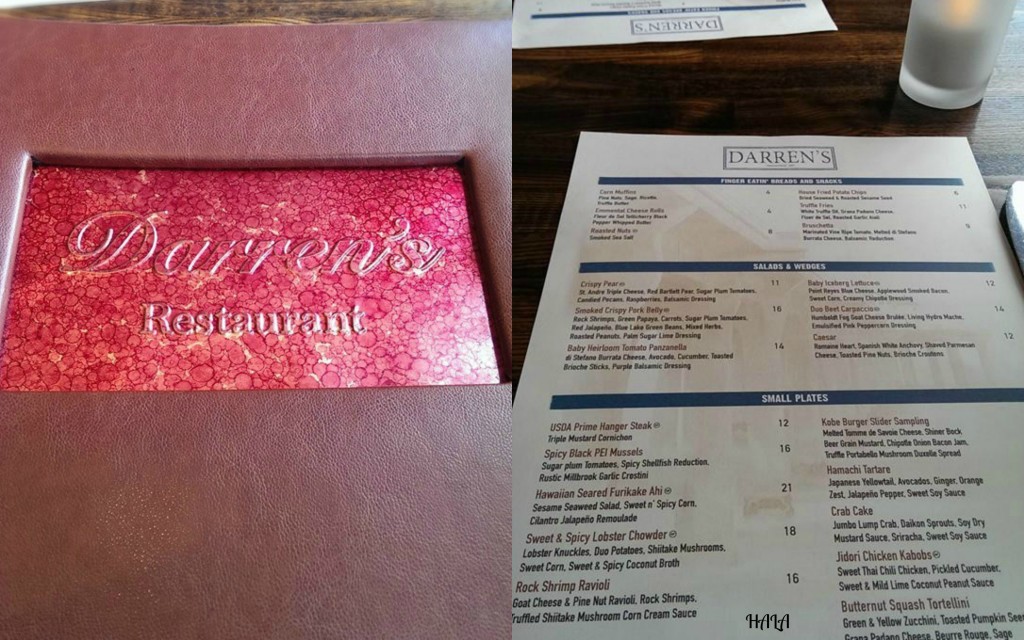 A peek at the menus here at Darren's.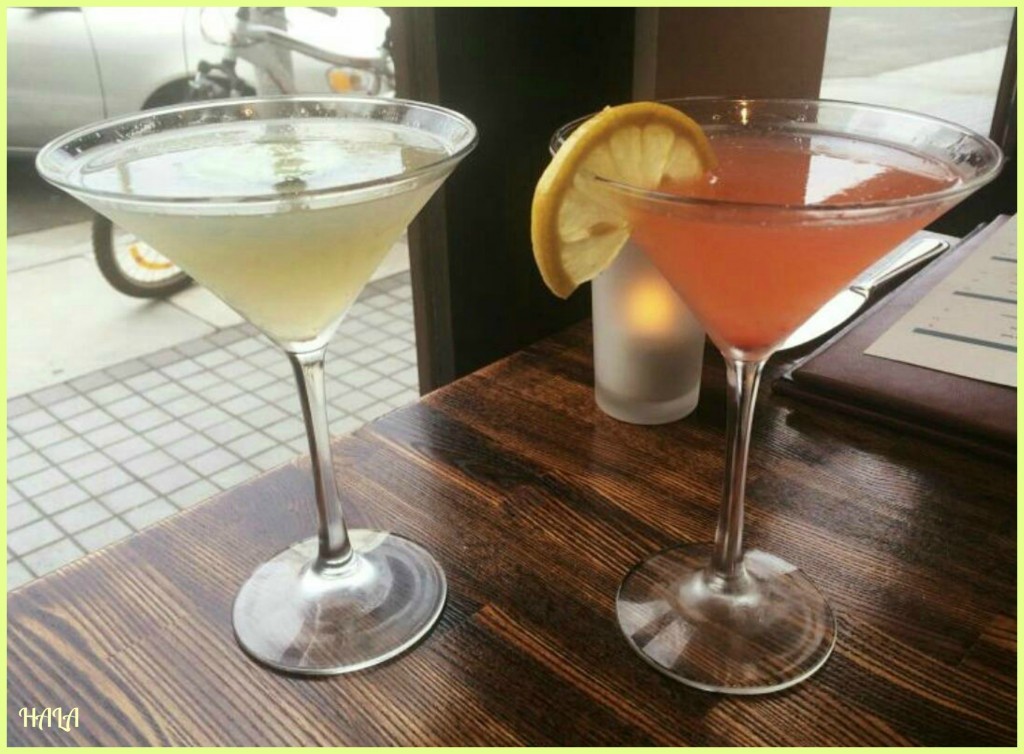 We started out with a couple of drinks to get started with. Pictured here is the Bath Water-American Harvest Vodka, St. Germain, Cucumbers, Fresh Basil and Lemon Juice. On the left is the Strawberry Kiss- Stoli Strawberry Vodka, Fresh Lemon, Fresh Strawberries, and a Kiss of sparkling wine. Both were made very strong.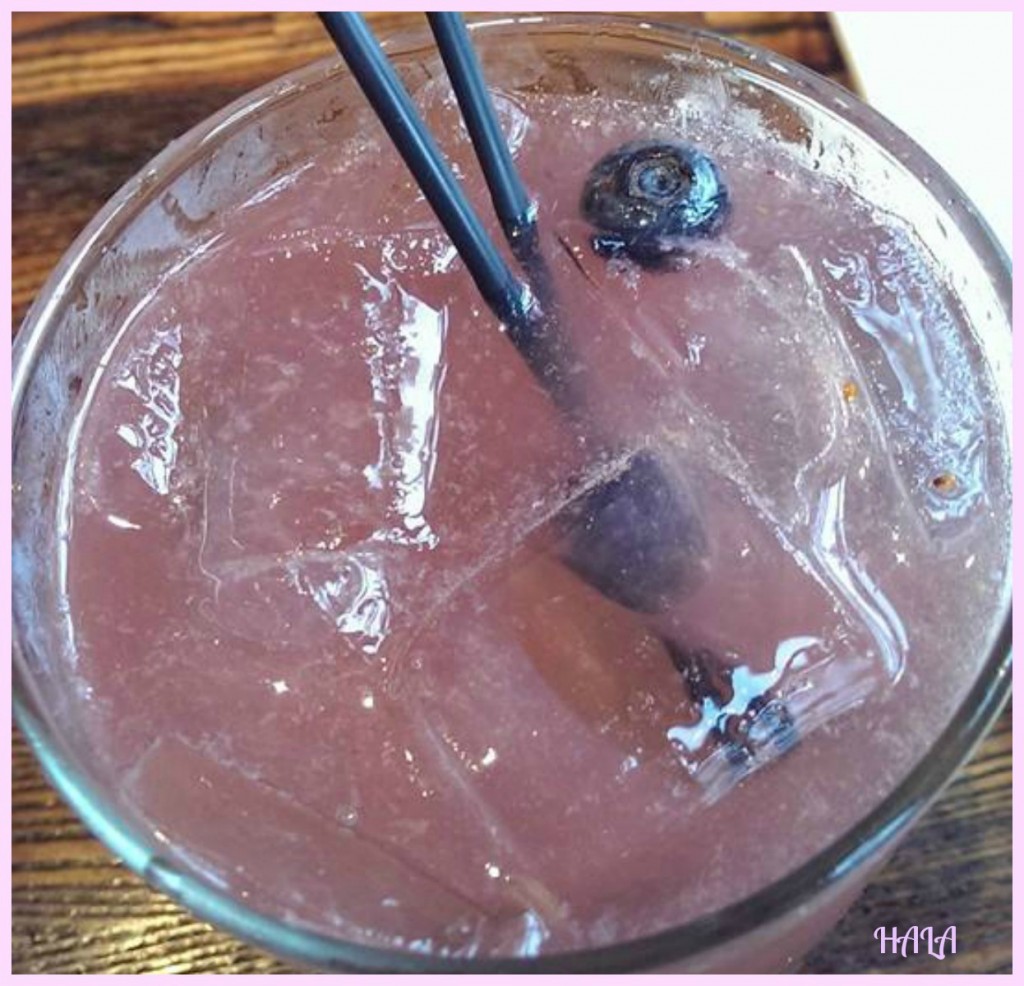 A Little bit later we tried this one, called The Bear-Stoli Blue Berry, Fresh Lemon, Fresh Blue Berries, Basil Press. This was my favorite drink. Not quite as strong, with just enough of a fruity sweet taste from the berries.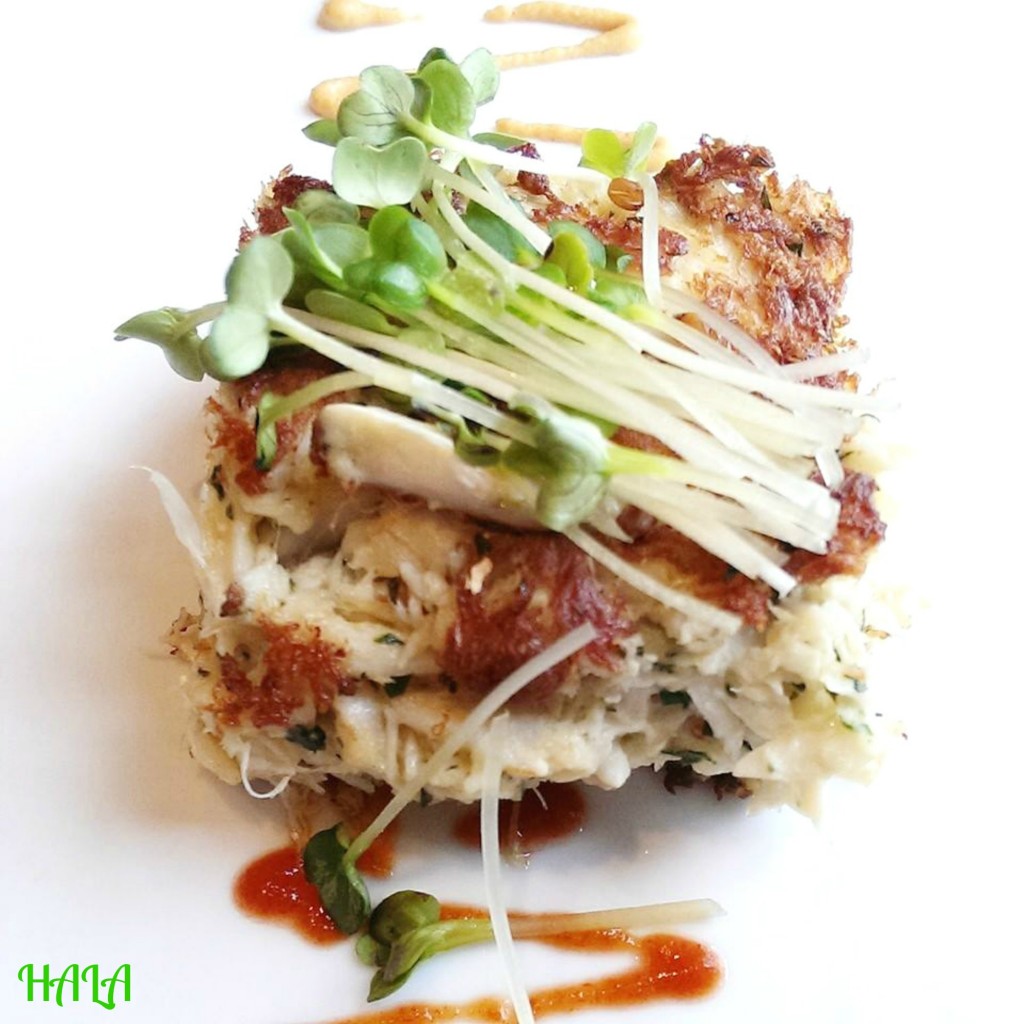 The first dish we tried was the Crab Cake-Jumbo Lump Crab, Daikon Sprouts, Soy Dry Mustard Sauce, Sriracha, Sweet Soy Sauce. The Crab Cake we had was a little bit different than what is stated on the menu as this one was made Gluten Free for us and it was VERY delicious!! We had fun trying to figure out all the different flavors it was that we were tasting.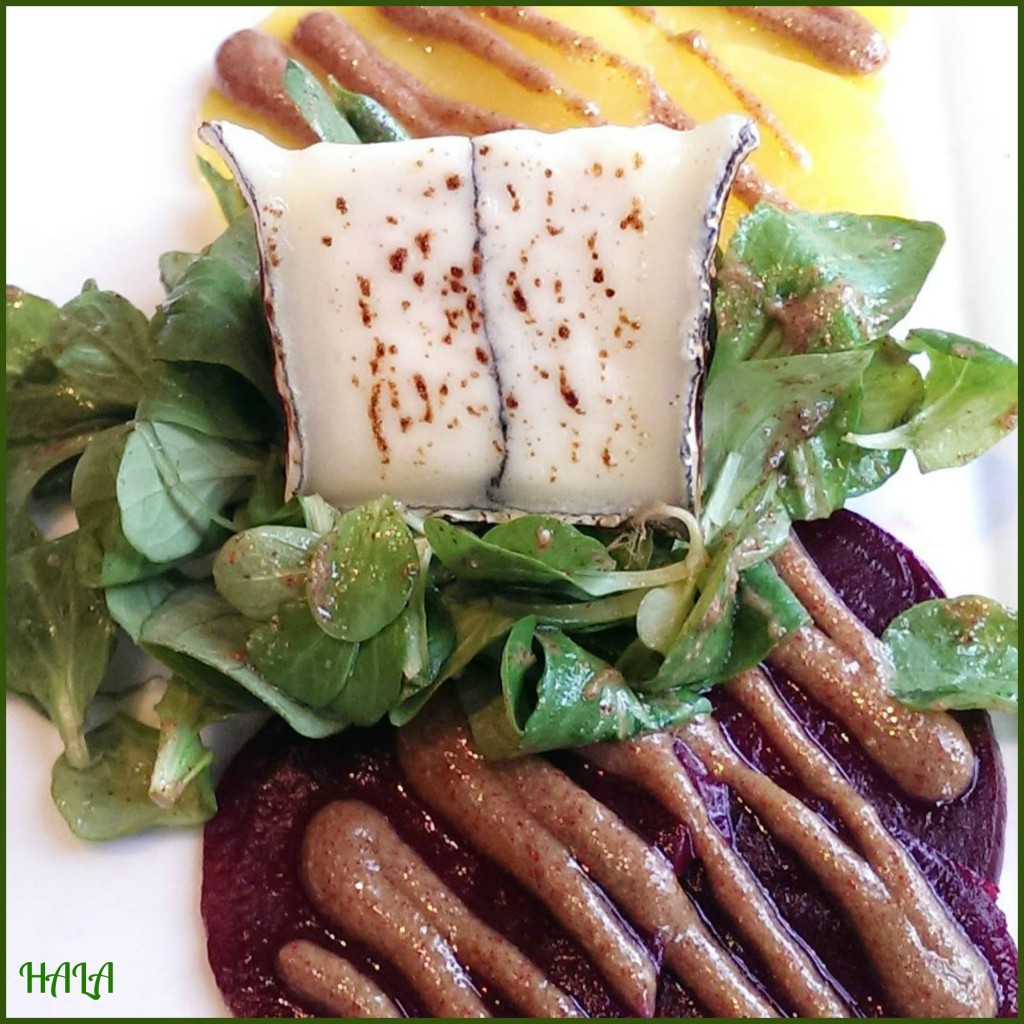 Then came the Duo Beet Carpaccio- Humboldt Fog Goat Cheese Brûlée, Living Hydro Mache, Emulsified Pink Peppercorn Dressing. If you love beets and cheese, then you will love this salad! I happen to love both, so I enjoyed this one very much. Everything was so fresh.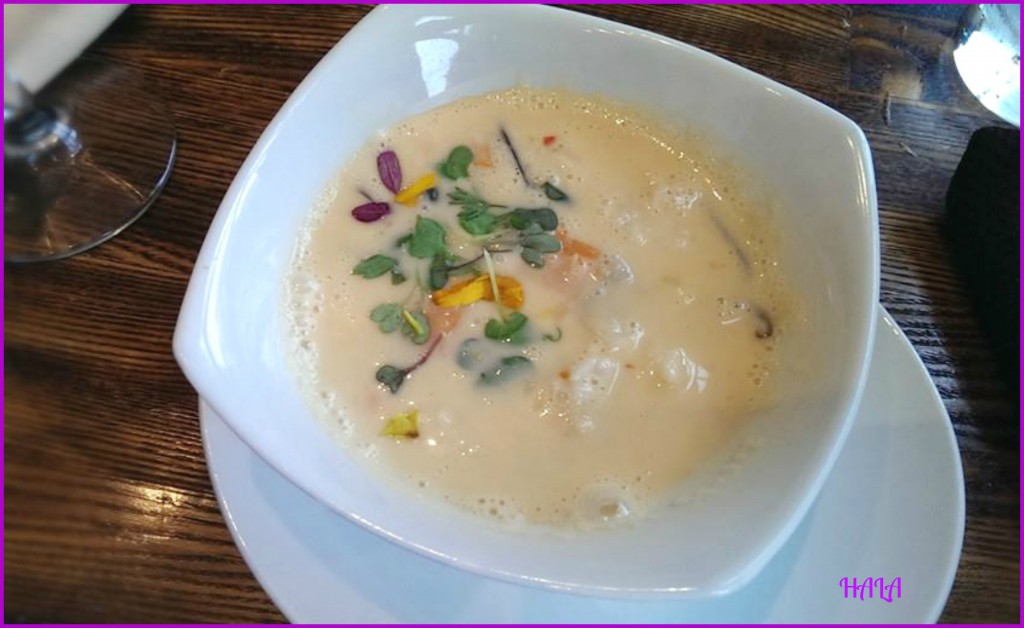 The Sweet & Spicy Lobster Chowder was next on our list of things to try. Filled with luscious lobster knuckles, duo potatoes, Shiitake Mushrooms, Sweet Corn, Sweet & Spicy Coconut Broth, it was a pure delight. I could eat this stuff everyday, even if it is like 100 degrees outside!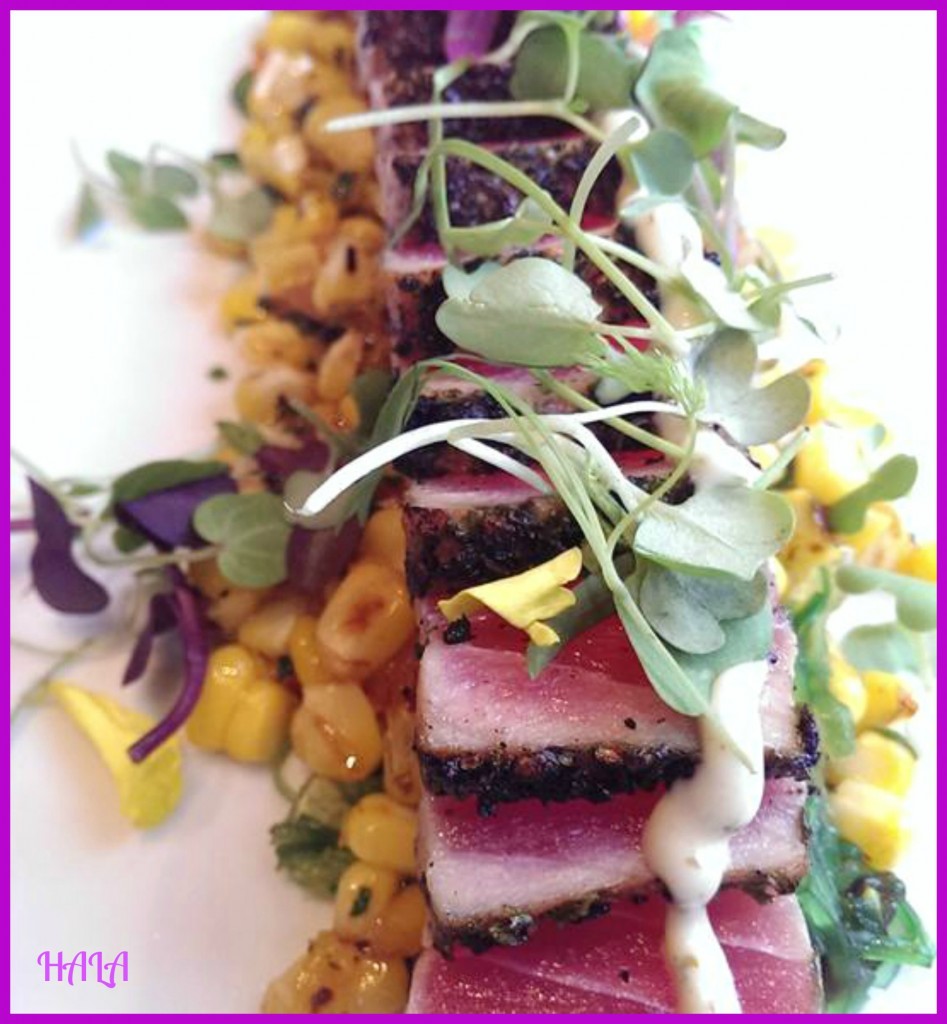 Another very tasty dish I would have everyday if I could! The Hawaiian Seared Furikake Ahi! Sesame Seaweed Salad, Sweet n' Spicy Corn, Cilantro, Jalapeño Remoulade; so tender and delicious! Perfect!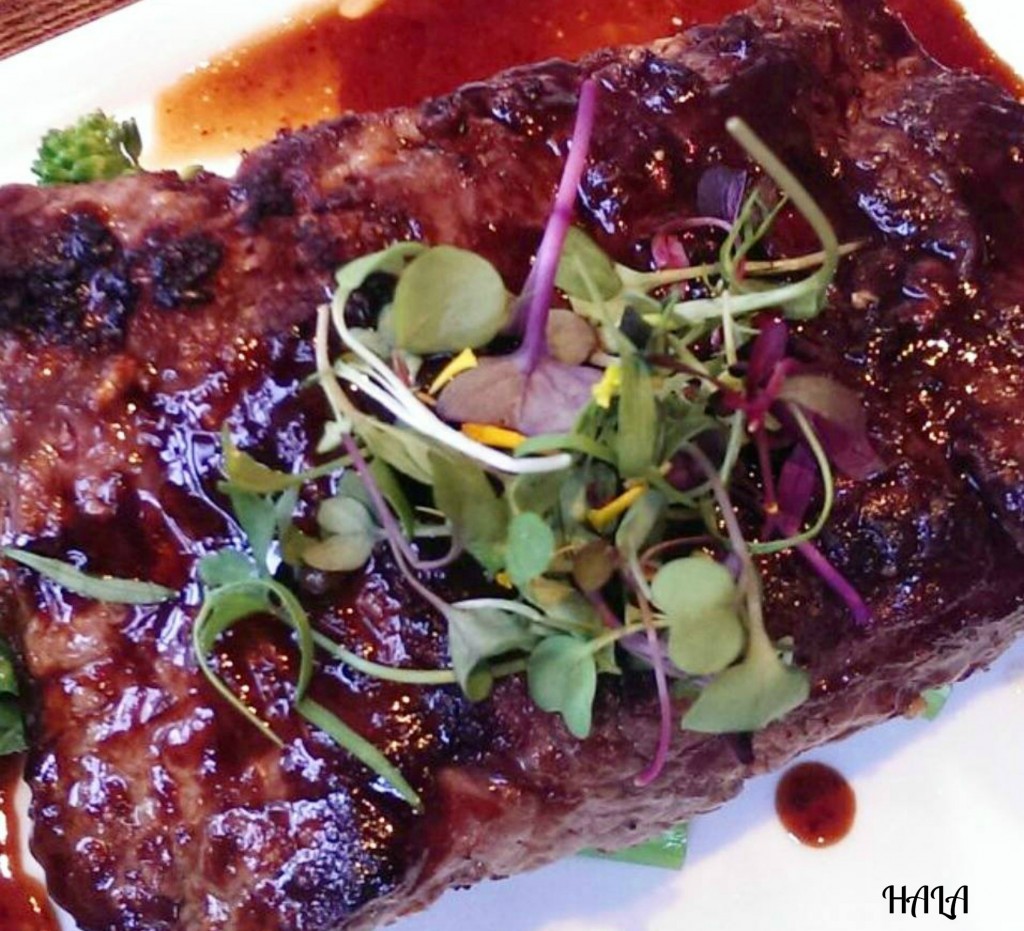 Now onto the main courses! 12oz Boneless USDA Prime Ribeye "Cap" with Brocollini and a green peppercorn sauce. I love a good steak, especially ribeye and this one made me happy.  Very tender, not overcooked and with tons of flavor. I wish I could have had more of this one, but the other dish wasn't made gluten free, so I couldn't have this one all to myself. LOL Next time, right? 🙂
The other main course, Shetland King Salmon— Sweet Thai Chili & Peanut Crust, Asian Pickled Cucumber, Sweet Sake Butter Sauce. This one can be made gluten free, but it wasn't here. It was very delicious though, I must admit! Gluten and all! The Sweet Thai Chili & Peanut Crust gave it a nice, sweet crunchy flavor to go with the flaky delicious fish.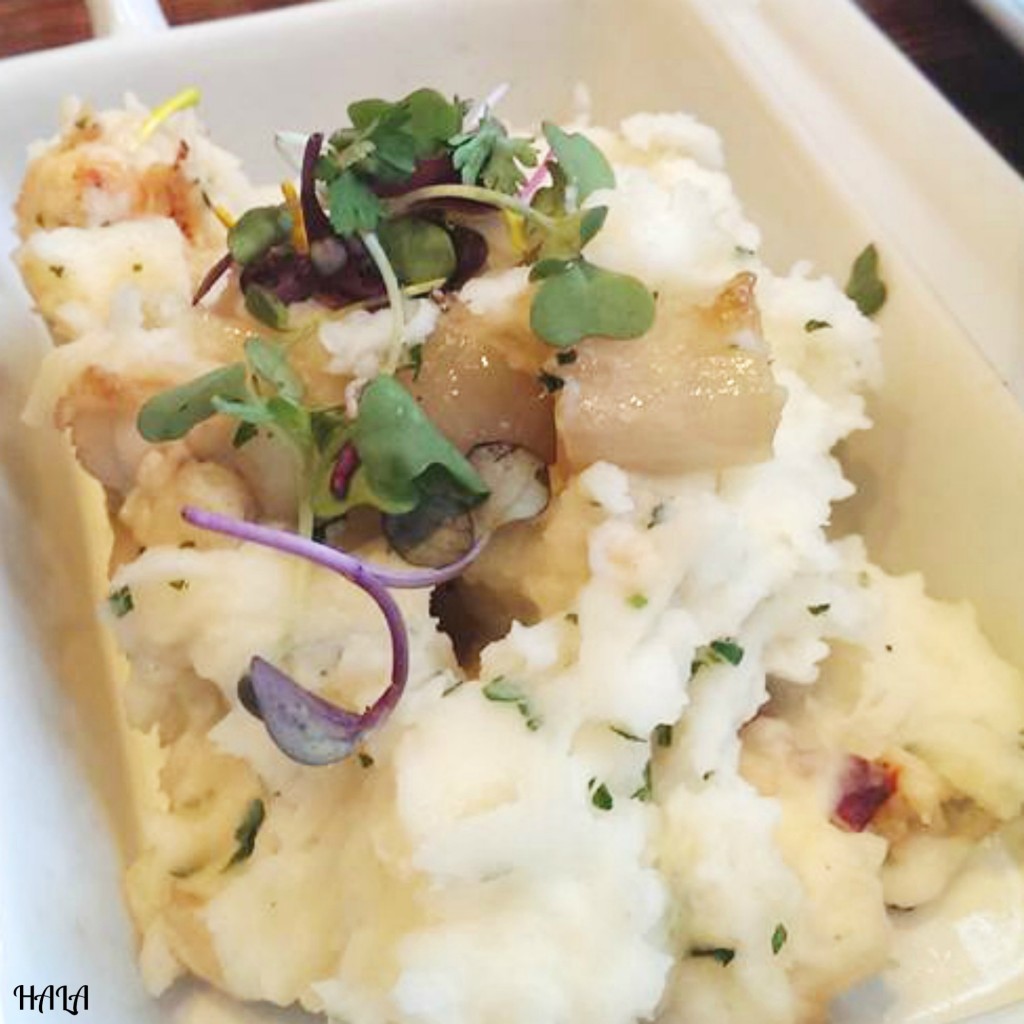 We ordered two sides to go with our meals. The first one was the Lobster Mashed Potatoes— Smashes Russet Potatoes, Lobster Knuckles, Brandy Steeped Shallot, Mixed Herbs. These potatoes are amazing!!! A perfect choice to go with the steak or even the fish! I am a sucker for some good mashed potatoes though… especially if lobster is involved.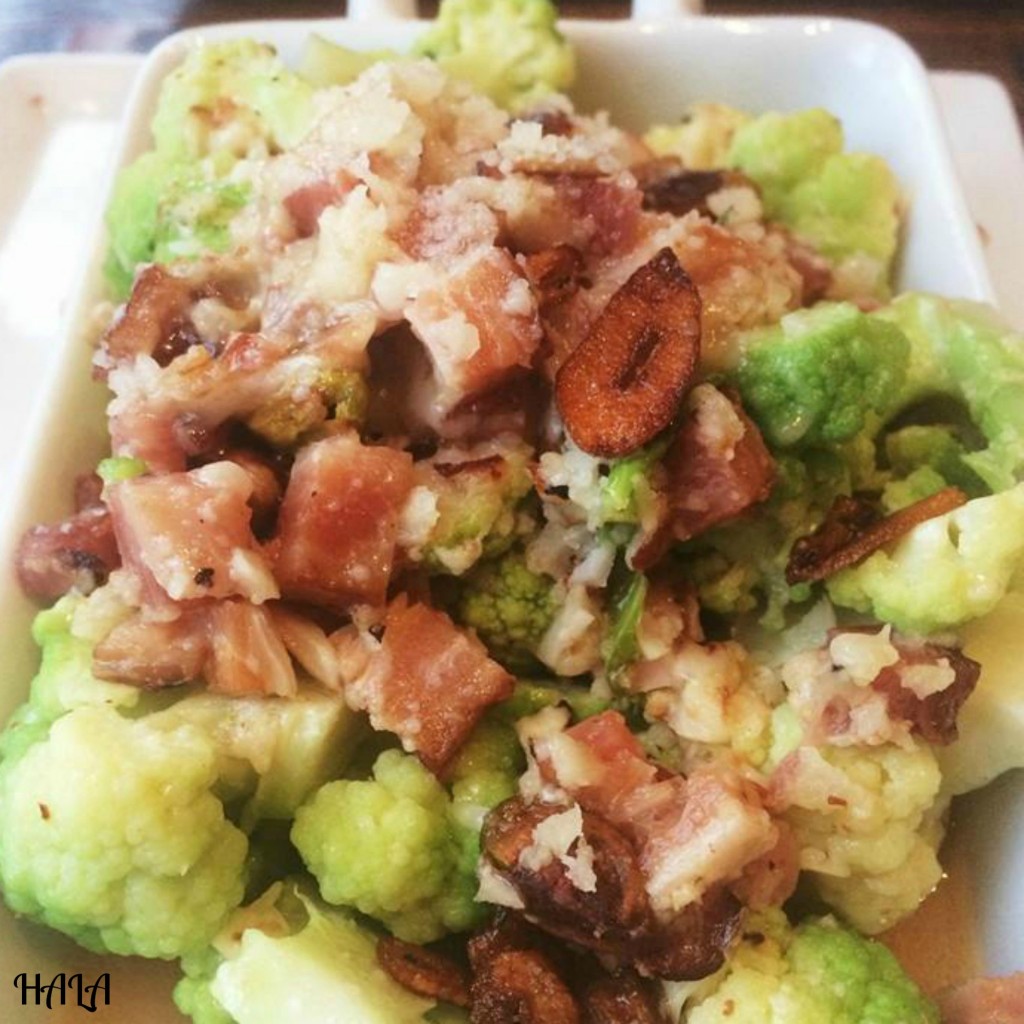 The other side we chose was the Broccoflower with Pork Belly–Garlic Chips, Toasted Pistachio, Hot Peppers, Lemon Mosto Oil, and Parmesan. This dish was very flavorful as well. I love my vegetables; mix it with some pork belly, and you have a lot of happy on one plate.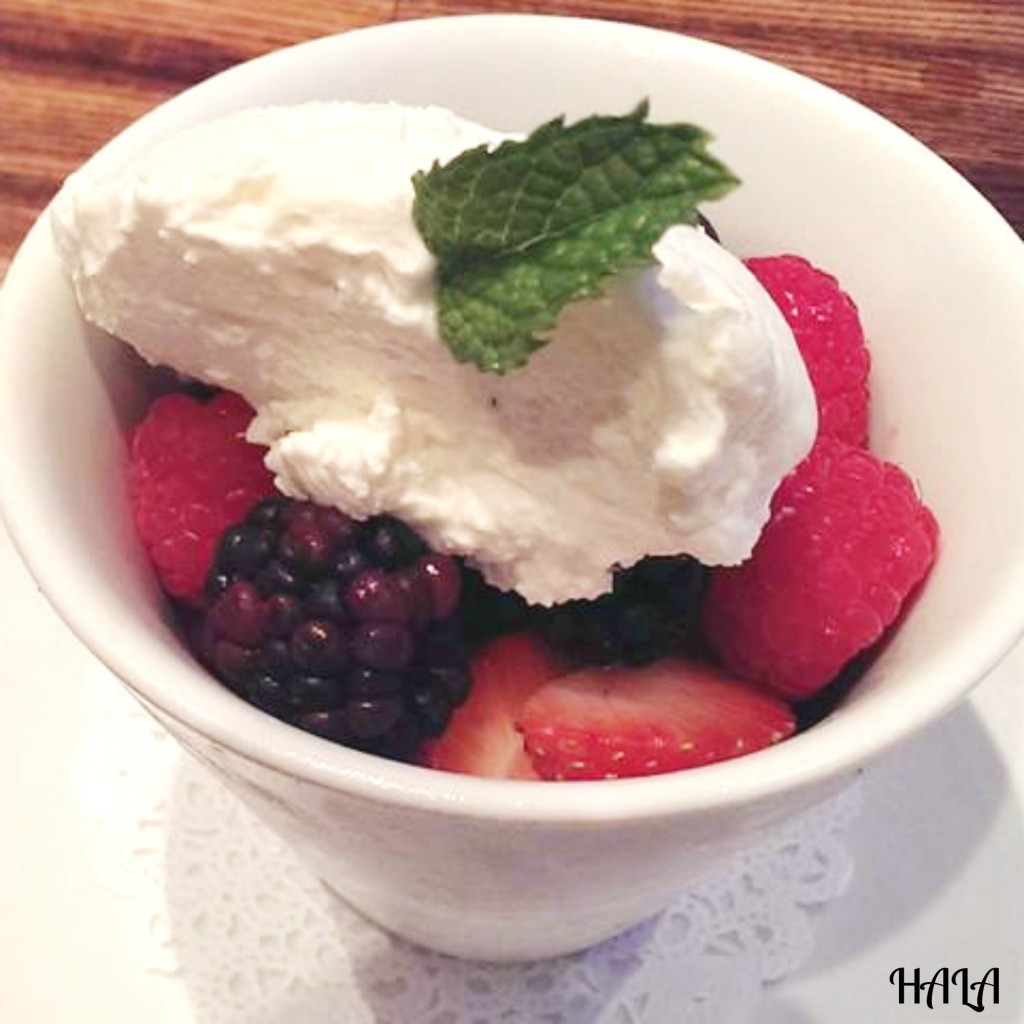 To finish off our meal, we had to have some dessert. I love sweets, so I'm sure you know by now I always make sure to save a little bit of room for that! We had a couple of lighter desserts, but they were both very good. Here we had the Berries and Creme. This one wasn't on the menu, that I saw, but I was glad they had this as it was a nice and refreshing choice to have.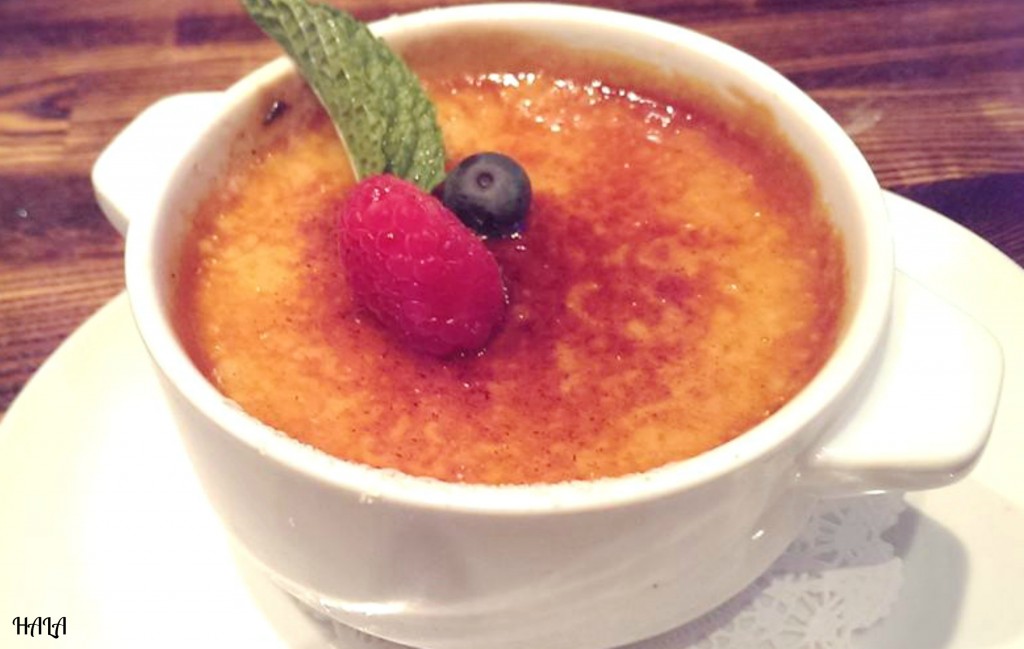 The last one we had was the Classic Creme Brûlée. Candied Ginger-White Chocolate Biscotti. We were able to get ours made gluten free for us. This one was very sweet, smooth and creamy just like it should be. 🙂
What would you like to try at Darren's? Are you hungry yet? 😉
Darren's is open for dinner Monday – Saturday at 5:00 pm—Closed on Sunday
Happy Hour
Monday – All Night!
Tuesday – Saturday 5:00 – 6:30 PM
 Tuesday – Thursday 9 PM until close; Friday and Saturday 9:30PM
The next time you are in Manhattan Beach, head over to Darren's where you are sure to be in for a real treat by enjoying some fabulous food and drinks with family, friends, a loved one or with business associates.