Good Eats at Who Song & Larry's in the OC
By Erin
There's a hot new restaurant in town that you won't want to miss. Located at the Stadium Promenade in Orange County, an unexpected party-crasher is here; Who Song & Larry's – a Real Mex Restaurant. It is conveniently located right near the Honda Center and Angel Stadium, so it's the perfect spot to stop at before or after a game, concert, movie, show, or whatever else happens to bring you to the area. Personally, I would just come here to come here to Who Song and Larry's as I had such a great time here and the food, drinks, and service are top-notch! I was invited to come out and try the menu at Who Song and Larry's and I am so glad that I did!

I love the open floor plan and all of the outdoor space. It will make you feel like you're leaving the city and embarking on a little mini vacay, even if it is only for a few hours! 😉  Which was the whole concept of Who Song and Larry, to feel as if you have traveled the world with them. An array of 12 unique chandeliers shine over the restaurant's separate dining areas. The cantina includes tall communal tables, and in the heart of the restaurant, the custom-built indoor-outdoor bar connects the cantina with the patio. With two beach palapas  and a 10-foot fire pit, the outdoor patio is the ideal setting to enjoy a sunny afternoon happy hour, a weekend brunch with family or late night drinks with friends.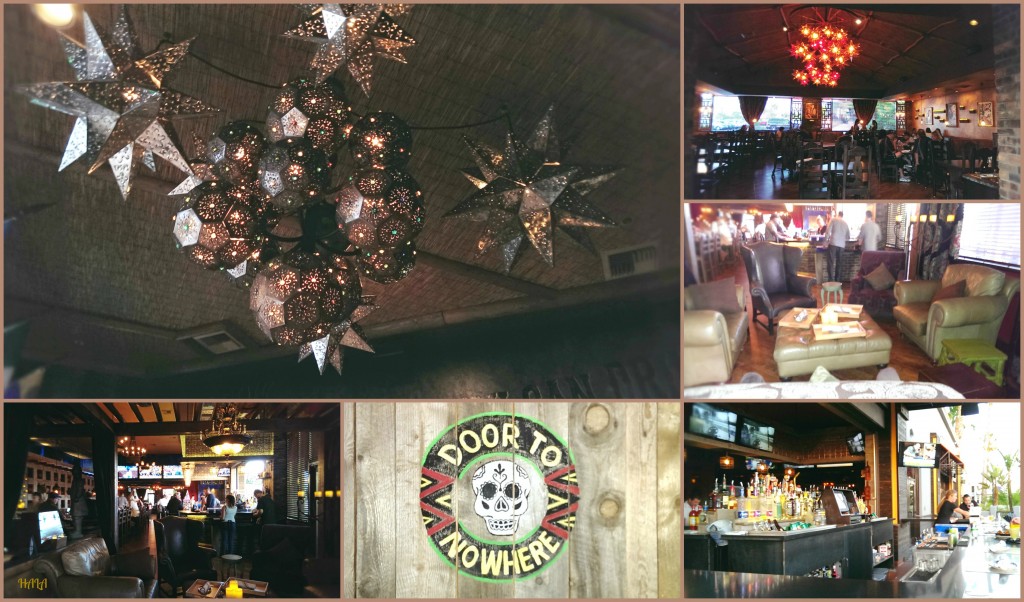 Who Song & Larry's is a unique new restaurant concept that combines the fun and flair of Mexican culture with handcrafted cocktails and a fusion of foods from around the world. With an emphasis on "social eats," Who Song & Larry's offers food, drinks and an ambience that are sharable, unexpected and eclectic.
The restaurant concept originates from the fictional story of two best friends – Who Song and Larry – who traveled around the world meeting good people, eating great food and sharing many drinks. The two friends then decided to open a restaurant filled with their favorite food, mementos and friends. Upon your visit you will experience the spirit of the duo and their adventures through the restaurant's eclectic décor and unexpected menu.
To complement the wonderful food, Who Song & Larry's cocktail list will make you dizzy just looking at it and making it hard to choose. Libations  include hand-crafted cocktails, specialty margaritas, flaming Mai Tai's, sharable drinks served in wooden buckets and an extensive selection of tequila and mescal brands. Pick your poison. You want it, you can bet they probably have it!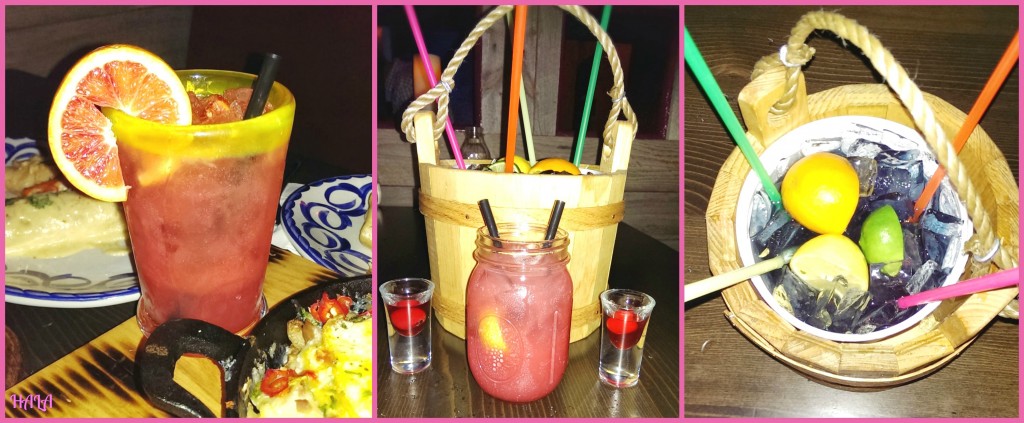 My favorite drink that I tried, the Blood O Margarita, on the left, the Strawberry Moon in the Middle and Jack & Jill on the right.
The Blood O consists of Cazadores Blanco, Blood Orange, Agave Nectar, Handmade Sour, Muddled Blood Orange & Chile Pequin and is very light and refreshing. I love anything that has Blood Oranges in it, so it's no surprise that I loved this drink! The Strawberry Moon was my second favorite drink of the night, Strawberry Moonshine, White Lightnin' Moonshine,Strawberry and Lemonade. If you are looking for something to share with a group, then the Jack & Jill is an excellent choice. 3 Olives Berry, 3 Olives Grape, 3 Olives Orange 3 Olives Dude, Blue Curacao, Handmade Sour,Blueberry Red Bull, Served in a Wooden Pail (no water).
The Who Song & Larry's menu was created by Executive Chef Johannes Bernau and his team and consists of a very eclectic mix of favorite flavors from around the world. With his Japanese, Dutch and Indonesian background, Chef Johannes' menu includes everything from quintessential SoCal Mexican favorites to fresh seafood, specialty salads, sharable starters and a unique Cal-Mex sushi menu.
Let's take a look at the food now shall we?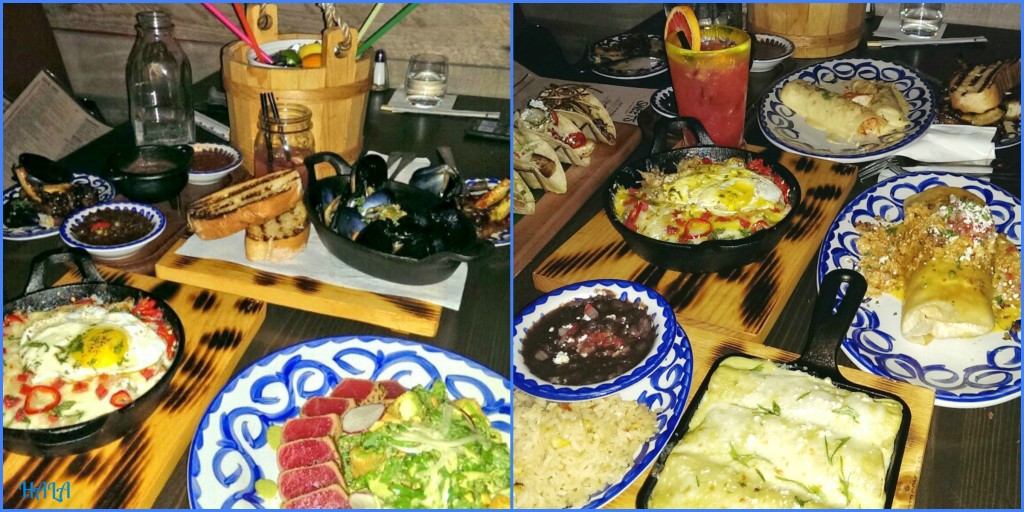 A feast fit for a king I think! Where to start?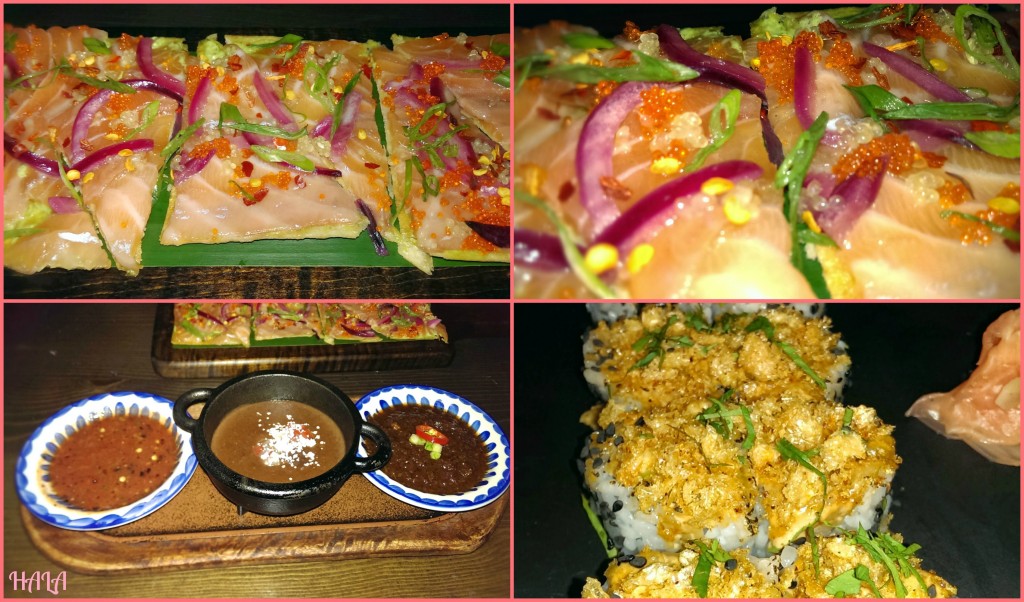 Off of the Social Eats Menu we have the Cold Smoked Salmon Tostada and Dips and Chips (House Salsa, Black Bean Salsa and my favorite one, the Watermelon & Oninon Dip!) and the Mexi-Chrunch from the Sushi Menu.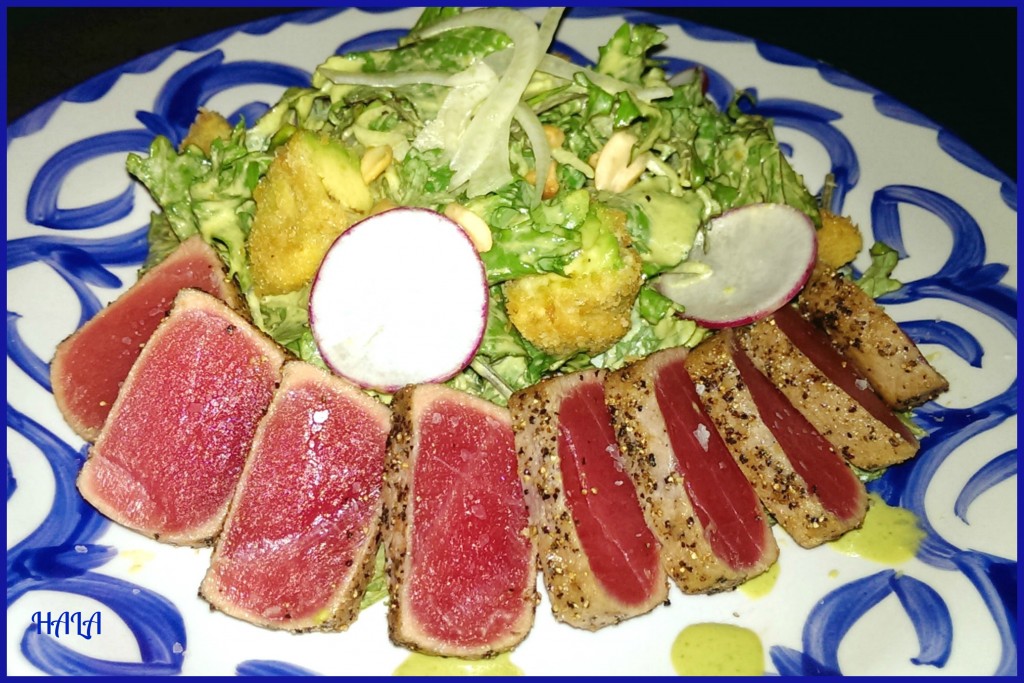 Seared Tuna Salad: Sushi grade tuna, kale, fennel, crispy avocado, cashews,pepita-cilantro dressing
If you love salads, seared tuna and avocado, then you will love this dish! The seared tuna is delightful, I couldn't get enough of it. You are sure to get a kick out of the croutons! They are crispy like a crouton on the outside, but inside? OMG! These are to die for! They are soft on the inside with avocado! The most delicious thing ever and I have never tried or had anything like this before. Ever.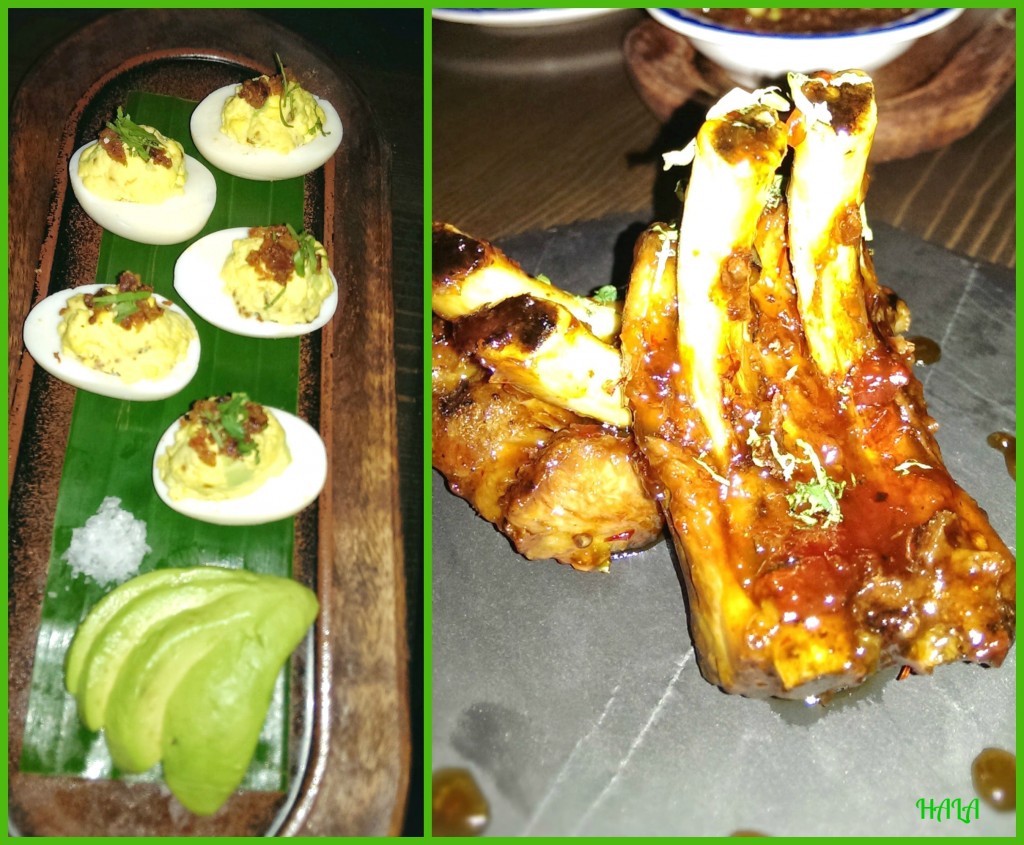 Diablo-ed Eggs & Short Rib Sopes
The deviled eggs were tasty. The bacon and avocado made for a nice touch to them. The Short Ribs were tender and flavorful. I loved the chipotle aioli that it was covered in.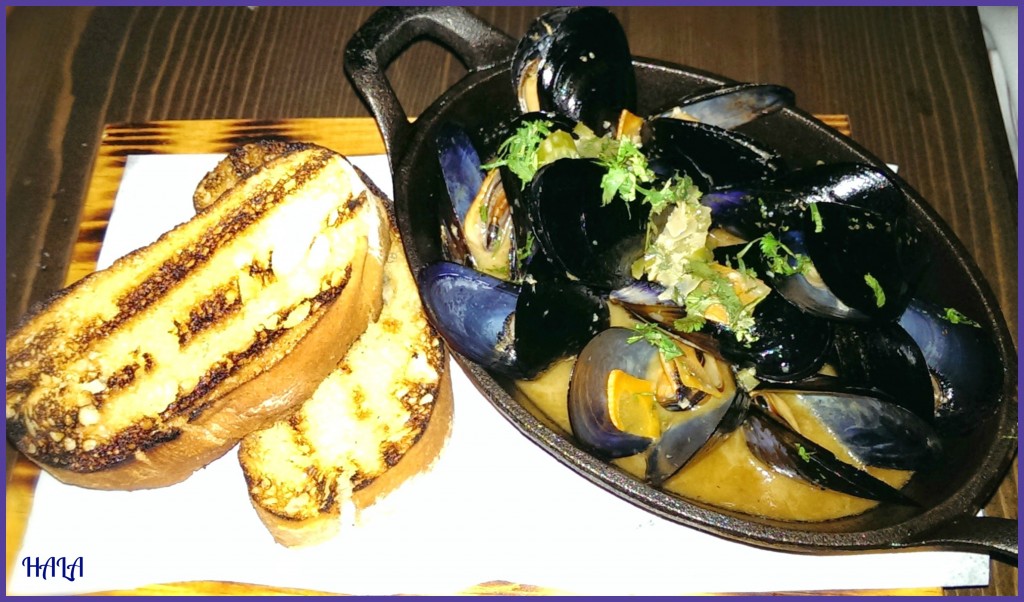 Charred Mussels: Penn Cove mussels, onions, garlic, jalapeños,celery, carrots, wine, butter, grilled bread
Another amazing dish. The mussels were cooked just right. Not overcooked or undercooked. The sauce was just perfect and it really hit the spot to dip the bread in it!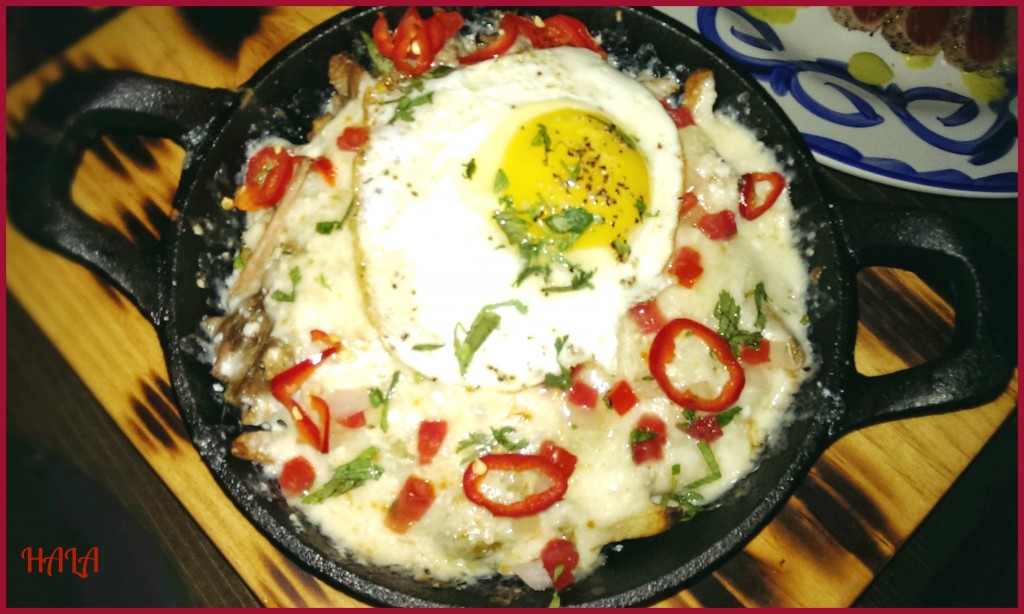 Hangover Fries: Crispy fries smothered with carnitas, bacon, green chili sauce, and melted pepper jack cheese, topped with a fried egg, pico de gallo
I imagine this would be the perfect fix if you had a hangover? Even if you don't have one, it sure does taste good! Make sure to crack the yolk open and mix it in good with the rest of the dish.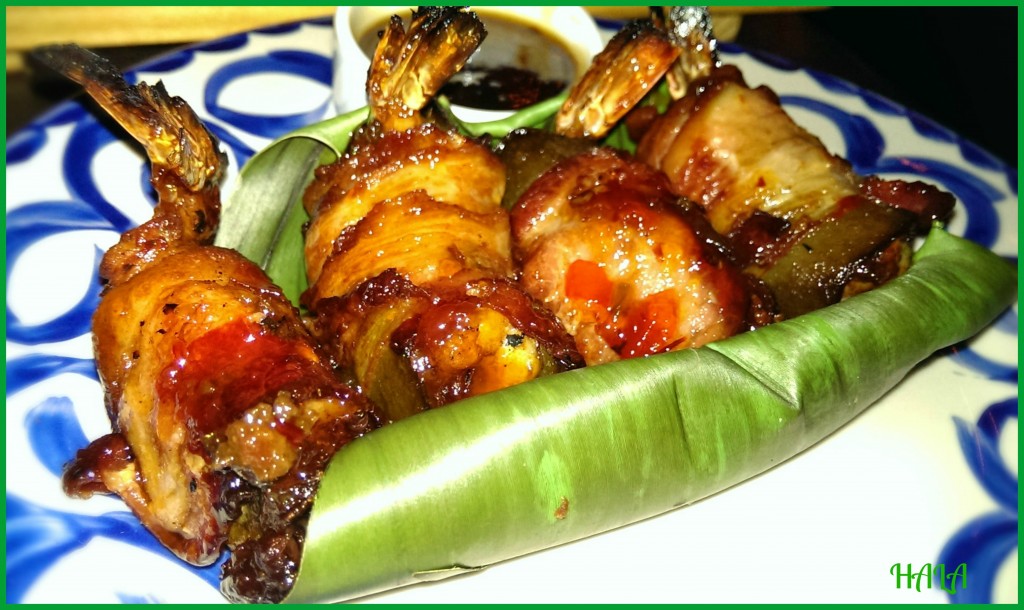 Jalapeño Bacon Wrapped Shrimp: Grilled wild Mexican shrimp, bacon, roasted jalapeños, manchego cheese
If you like some spice with your meal, you must try this one. It was a bit too spicy for me but I love shrimp and bacon too much to not have tried this one!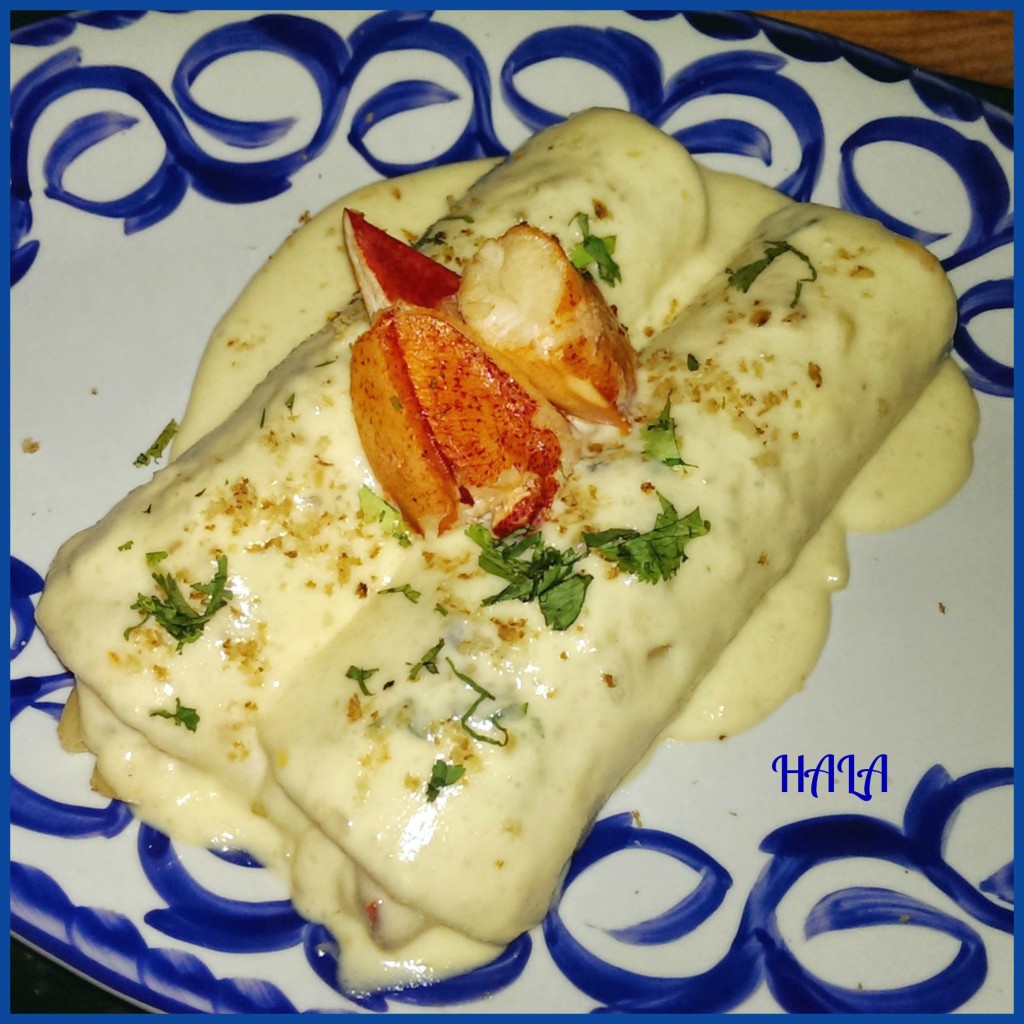 Lobster Mac & Cheese Enchilada: Grown-up mac & cheese made with muenster, manchego, gruyere, and Oaxaca in enchiladas, topped with buttered panko and cilantro
If you only try one thing here, THIS would be my number one recommendation. I had many favorites here, but if I HAD to choose, I would choose this one. Two things that I love; Lobster and Mac and Cheese combined into one delicious enchilada.

Shrimp & Lump Crab Enchilada: WSL 3-cheese blend, corn, red bell peppers and spinach topped with a habanero-pesto cream sauce
AND
 Mini Tacos: An assortment of different tacos you can order.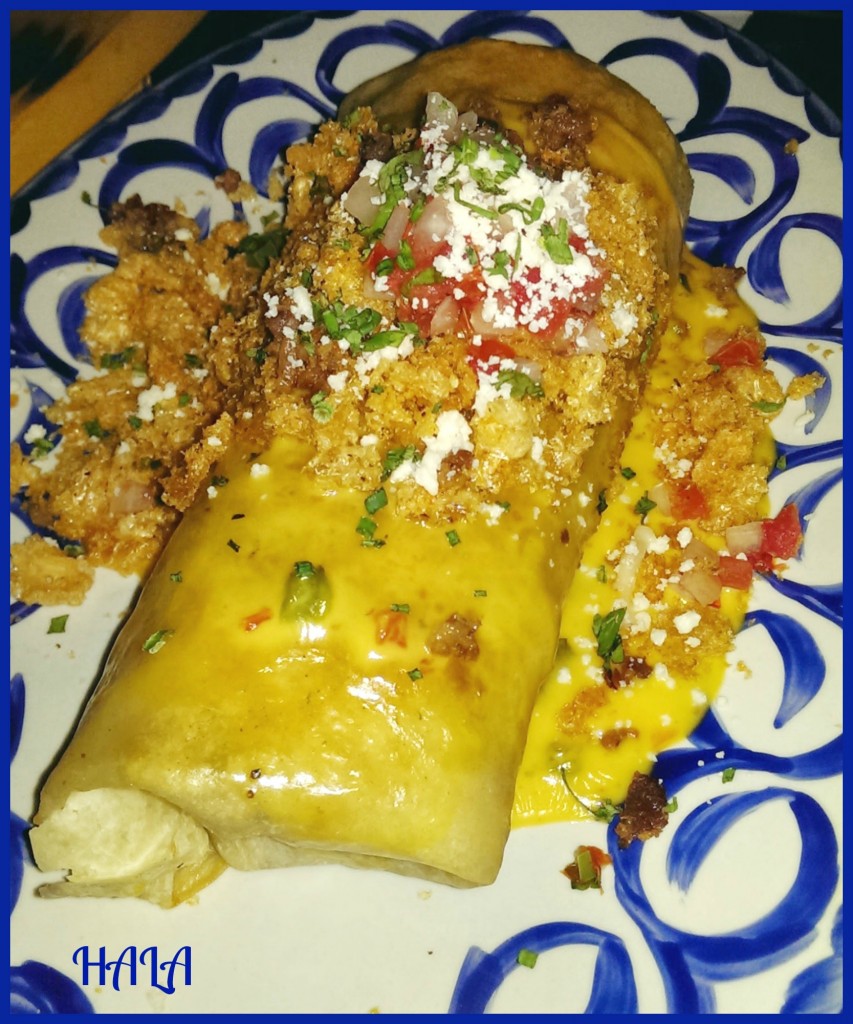 Larry's Burrito: Carnitas, bacon, chicharron, pickled red onion, rice, chili queso. Served with rice & beans
Dessert Time!! Dessert Nachos: Cinnamon and sugar chips, strawberry gastrique, chocolate sauce, whipped cream, and ice cream and my new favorite dessert, Avocado Split: Fresh Avocado, dulce de leche ice cream, pecan brittle, XO sauce. I love my desserts and both of these offered a sweet ending to the meal. I especially enjoyed the Avocado Split! The sweetness of the ice cream and the sauce paired very well with the avocado. I was a little skeptical of this one at first, but it has my approval now! I loved it.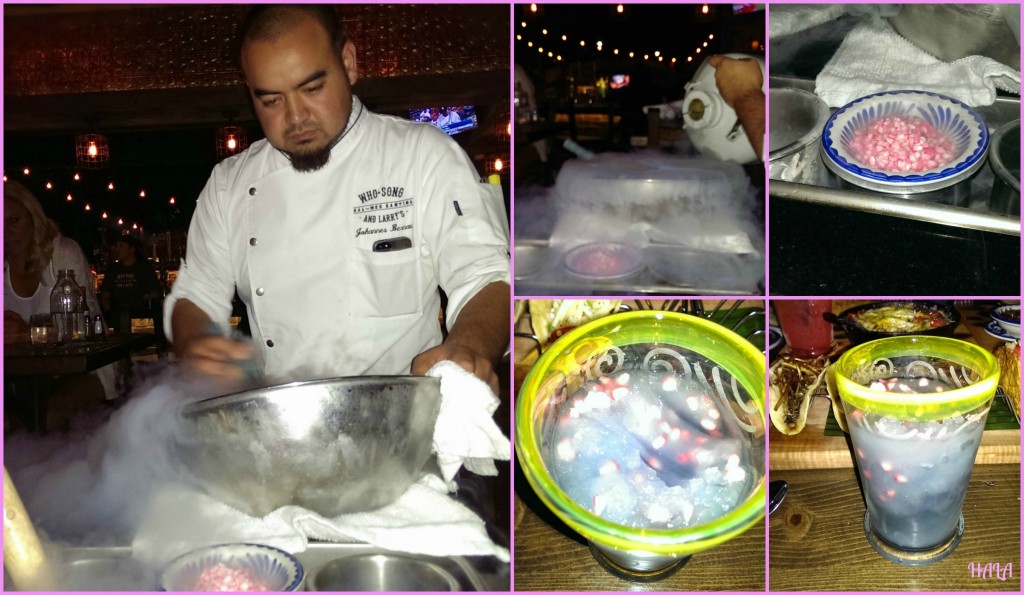 As an extra special treat,  Executive Chef Johannes Bernau made us a very special dessert, table side! He can take your drink (we used the leftovers from our Jack and Jill drink) and turn it into a very delightful and refreshing sorbet! It was a very spectacular sight to see this being made right in front of our own eyes! Look at that! What a way to end the night!
For more pics from this foodie adventure, check out my Album for Who Song & Larry's on my Facebook Page below!
What are you most excited to try out? Have you been here yet? I'd love to hear what you thought about Who Song and Larry's! 🙂
Who Song & Larry's is located at 1535 W. Katella Ave in Orange, CA and is open for brunch, lunch and dinner.
For more information be sure to check them out here:
Who Song & Larry's on Facebook
To make a reservation call:  (714)-639-9550.
The Legend of Who Song & Larry's
Legend has it, after a lifetime of travel, best friends Who Song and Larry had more tales than they could tell. Their stories revolved around the good people they met, the great food they enjoyed, and tequila that helped guide their way. When they returned home, they yearned for a place to sit back, relax and share their stories. They couldn't find that place, so they opened it…and Who Song & Larry's was born. The menu is filled with their favorite things to eat, amazing cocktails and the walls are adorned with the mementos they collected along the way in their travels. Who Song and Larry hired their best friends to work here to make sure everyone who came in would be treated like one of their own. Enjoy!
About Real Mex Restaurants
Headquartered in Cypress, California, Real Mex Restaurants is the largest full-service, casual dining Mexican restaurant chain operator in the United States with 118 company-owned and operated restaurants, as well as 13 franchised restaurants. Their brands include El Torito Restaurants, Acapulco Mexican Restaurants, Chevys Fresh Mex® Restaurants, El Torito Grill Restaurants, Las Brisas Restaurant in Laguna Beach, Sinigual Restaurant in New York City, Who Song and Larry's in Vancouver, WA, and El Paso Cantina in Torrance, CA.