Knott's Summer is in Full Swing & Grand Re-Opening!
By Erin
Knott's Summer is now happening at Knott's Berry Farm! So many exciting things are happening over here that you won't want to miss out on! First of all, you will want to cool off at Knott's Soak City OC sometime this summer, go check that out too! I was invited out to a special media day last Thursday for the Grand Re-Opening of the Mine Ride, Camp Snoopy with 3 new rides, and some awesome new shows to check out to be able to share with you here.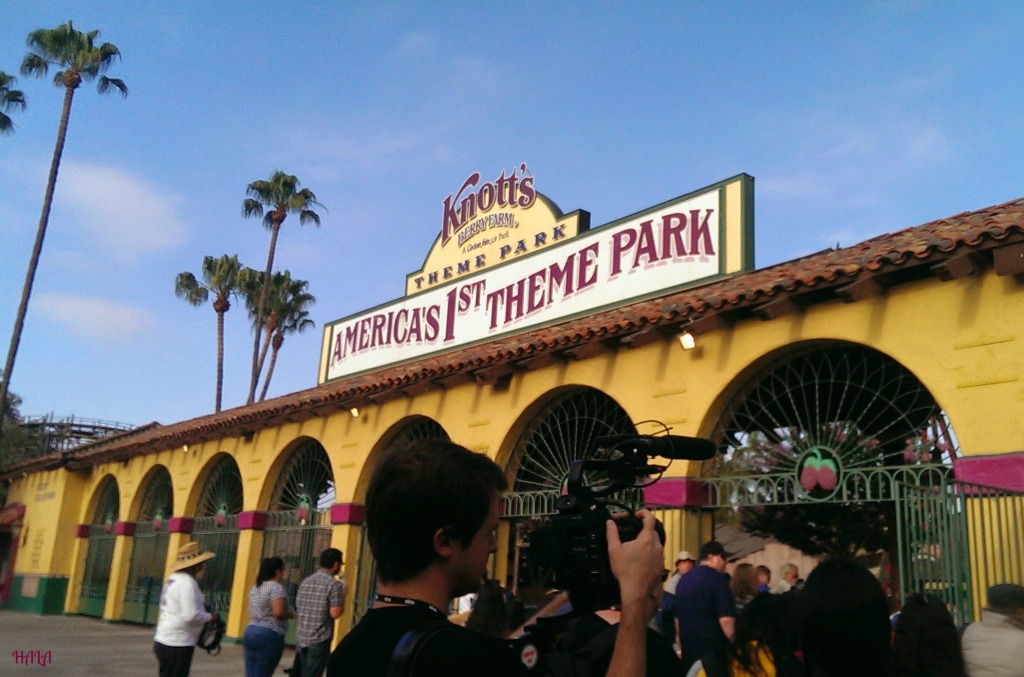 At Knott's Berry Farm bright and early for the special Media Day!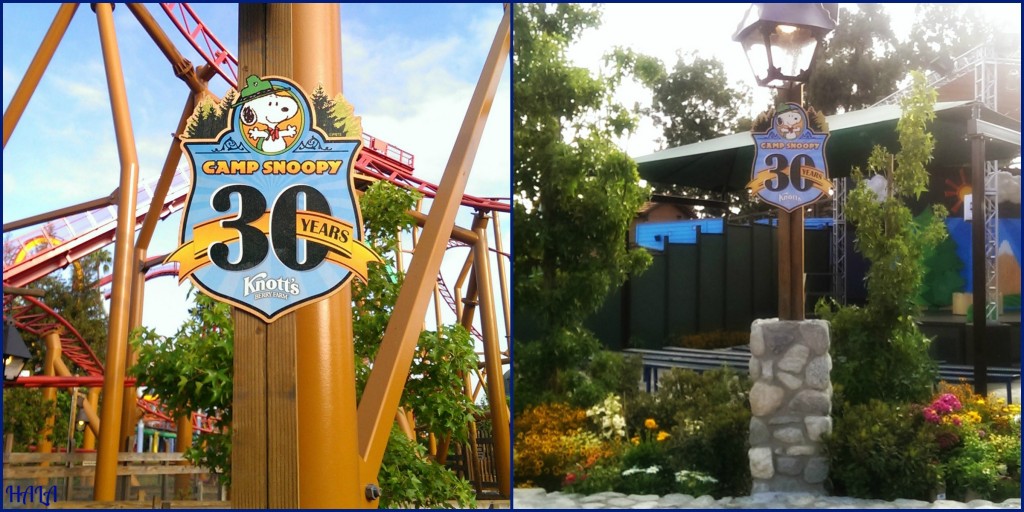 Did you know that this year marks the 30th Anniversary of Camp Snoopy?  Camp Snoopy officially opened on July 1, 1983 on the site of a former parking lot at the corner of Beach Boulevard and La Palma Avenue. Themed to the California High Sierras, the six-acre children's area was designed by the Knott's Berry Farm Design and Planning team. To celebrate this special occasion, Darrell Anderson (Grandson of Walter and Cornelia Knott), Craig Schultz(Son of Charles Schultz) and the whole Peanuts Gang were on hand to kick off the Grand Re-Opening festivities! All of Camp Snoopy has had a wonderful make-over and three new rides have been added! Now lets take a peak at what these rides look like! Charlie Brown's Kite Flyer, The Linus Launcher, and Pig Pen's Mud Buggies.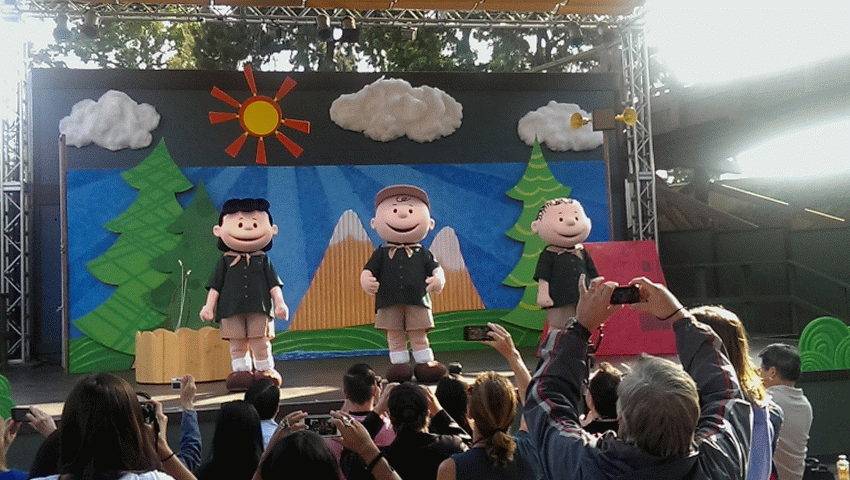 The Grand Re-Opening Dedication at the Camp Snoopy Theatre.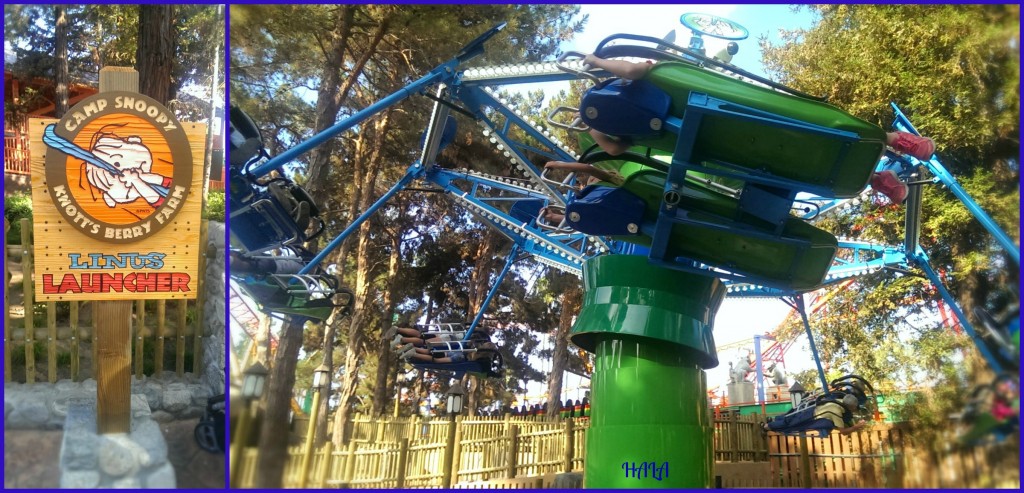 Linus Launcher– Fly high on Linus' blanket! Lay down and go for a wild ride as you relive a classic Peanut's moment. Kids (and adults) will fly 10 ft in the air while enjoying a Woodstock's-eye view of Camp Snoopy below! Height Requirements: 42 inches minimum.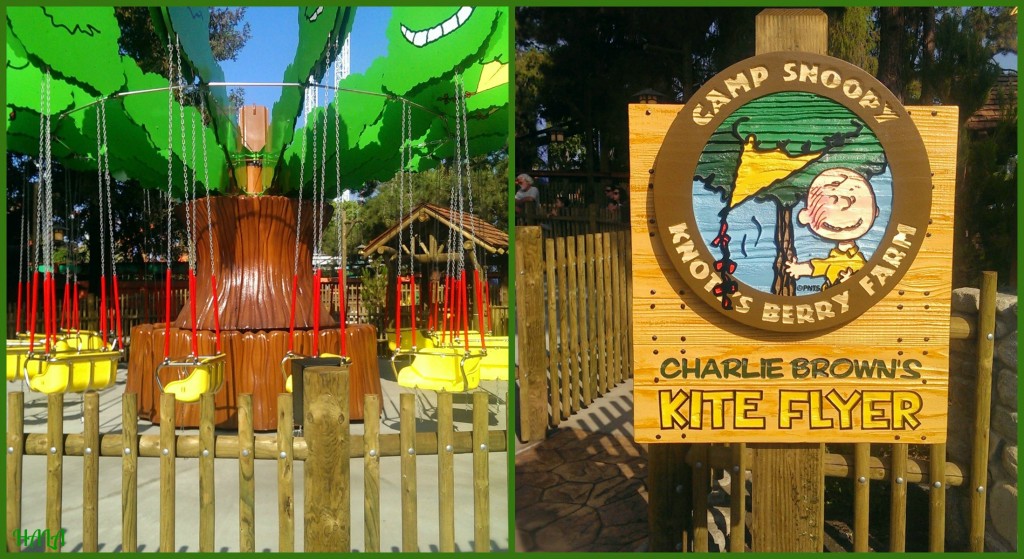 Charlie Brown's Kite Flyer!  Swing through the trees and fly a kite with Charlie Brown! Campers soar above the land's winding paths and babbling streams.  Height Requirements: 42 inches tall or accompanied by a supervising companion.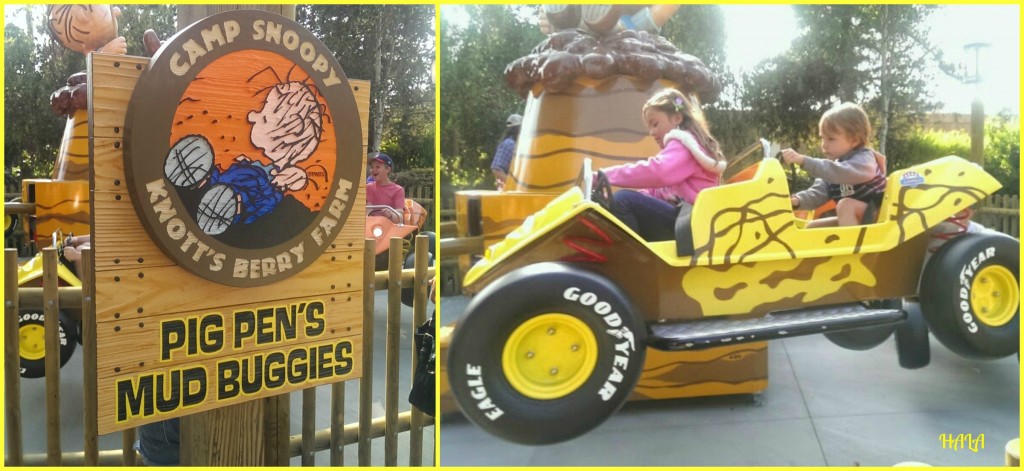 This one was my favorite one to watch! I wanted to go on this one! Pig Pen's Mud Buggies– Climb aboard an all-terrain vehicle for an adventurous ride! Spin, bounce, and bump, while Pig Pen looks on from his center perch.  You're in for a bumpy ride on this one! Height Requirements: 36 inches tall or accompanied by a supervising companion.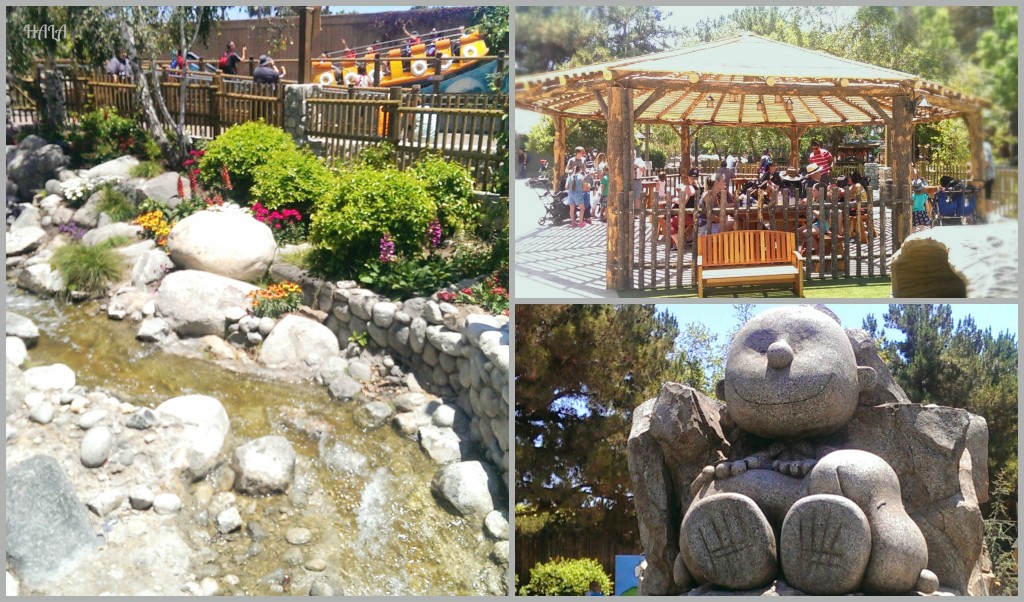 There is a beautiful new picnic area that you can have a bite to eat or drink at, relax, and take a break for a moment. Be sure to take it all in and look closely, you will find the Peanuts Gang relaxing and fishing nearby you in the creek as well as in the rock formations nearby. 😉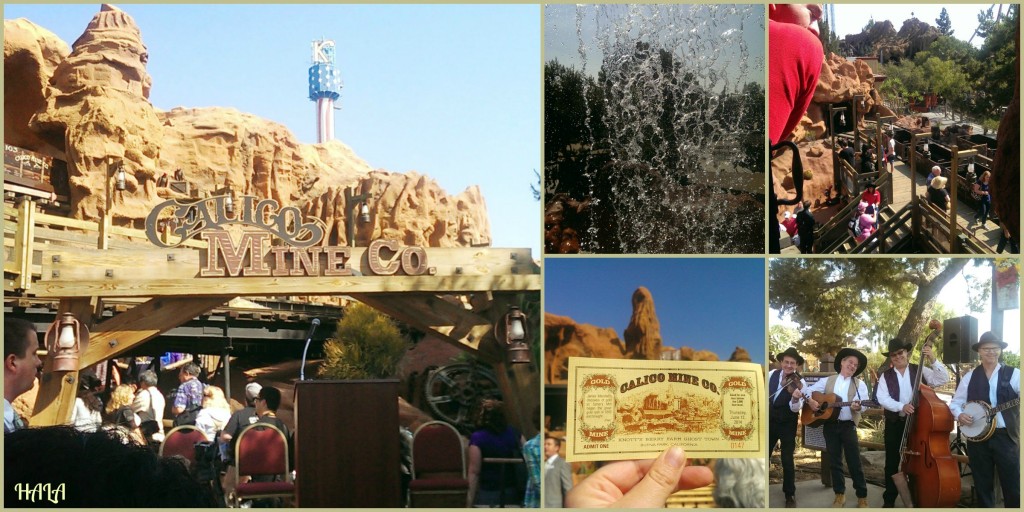 The newly refurbished Calico Mine Ride! We were lucky enough to be some of the first to ride it! We were given a golden ticket to ride! 50 animatronic humans and lots more animals now occupy this updated adventure, with more than 120 characters spread through this classic ride. Look for new additions such as the old miner just inside the first tunnel who will welcome you into the Calico Mine and try to warn you of the of dangers that lie along the rails ahead. One lucky miner will be seen striking it rich with gold in-hand! This ride has always been a favorite of mine since I was a young child visiting Knott's.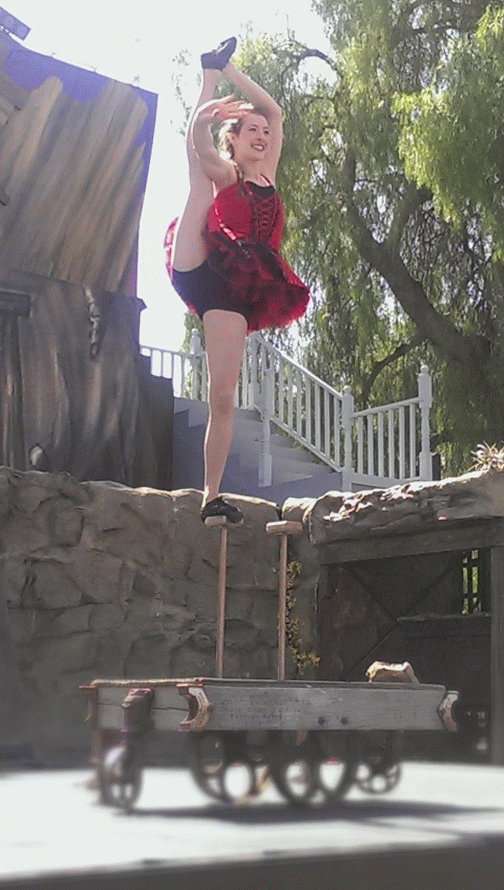 New shows! Boom Town! New this summer is a fantastic show that you won't want to miss called Boom Town at the Calico Stage! I always love a show involving acrobatics, gymnastics, trampolines, and other aerial stunts. As a former gymnast myself, I always admire these athletes. The strength, stamina, and hard work that I know it takes to be able to do these tricks, especially as we get older is so awe-inspiring to me! You will love the comedic story line from the Gold Rush.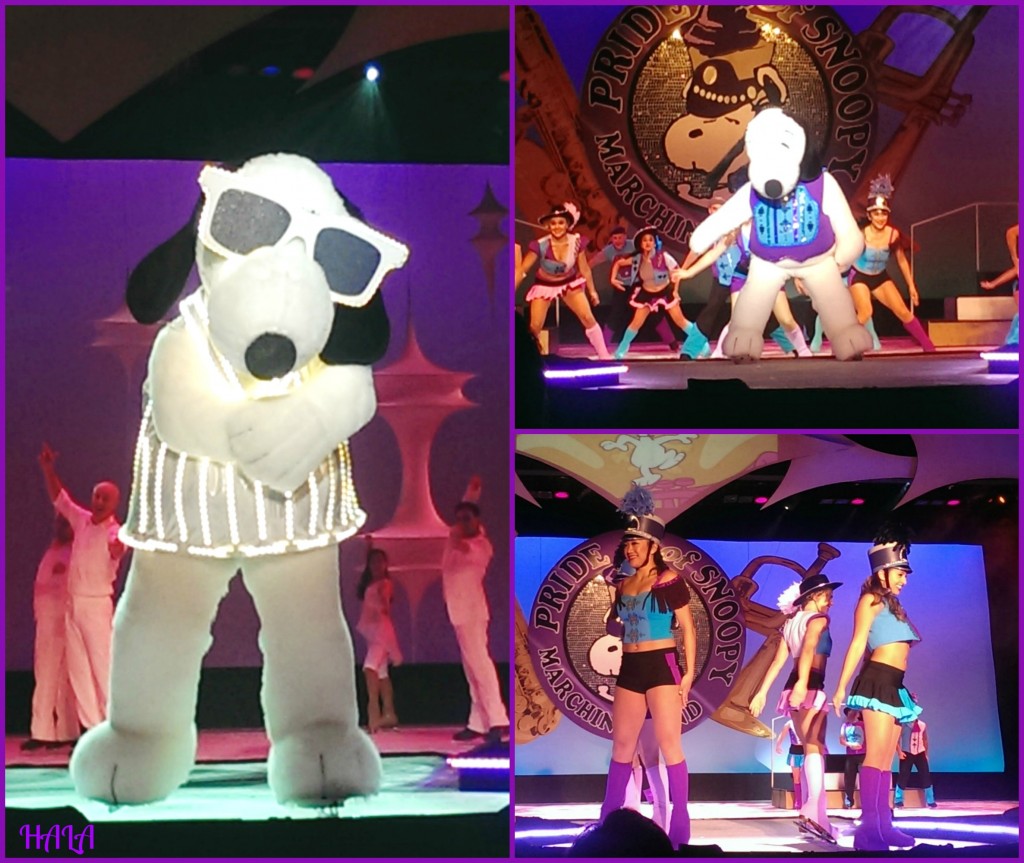 Another show you will not want to miss is called Snoopy Unleashed. What is a trip to Knott's without seeing a Snoopy on Ice show, right? This new show is filled with popular hits from today and yesterday. You are sure to recognize them all. Snoopy even throws some Gangnam Style in there! He really had the crowd going! The bright colors, upbeat songs, paired with Snoopy and his Gang are a perfect way to escape the heat of the day and cool down for a bit with the coolest dog in town.
Thank you Knott's for another great day!
Be sure to check out Knott's Berry Farm's webpage for all the latest deals on tickets and other special events.
What are you most looking forward to at Knott's Summer?
Disclaimer: All opinions in this article are my own. I do not work for, or with, any brand mentioned in this article, nor do I have any official relationship with them. I have a relationship with GigaSavvy, for whom I create original editorial content.