Muppets Most Wanted Goes Global
By Erin
*I attended a media/press event for the purposes of this post. All thoughts and opinions are my own.*
Ever since I was a child, I loved waking up, turning on the TV and watching the Muppets. Fast forward many years later, and when I received the opportunity now to actually MEET, In PERSON (or in Muppet?) Kermit the Frog and Miss Piggy I could not turn that down. I could not wait to hear what the whole gang had to say about their new movie, Muppets Most Wanted, about life and other odds and ends. The movie is set to hit theaters this Friday, March 21st,  and sends the entire Muppets gang on a global tour through many of Europe's most sought after destinations. It doesn't take long until they find themselves entangled in an international crime caper….. lets see what the gang has to share with us.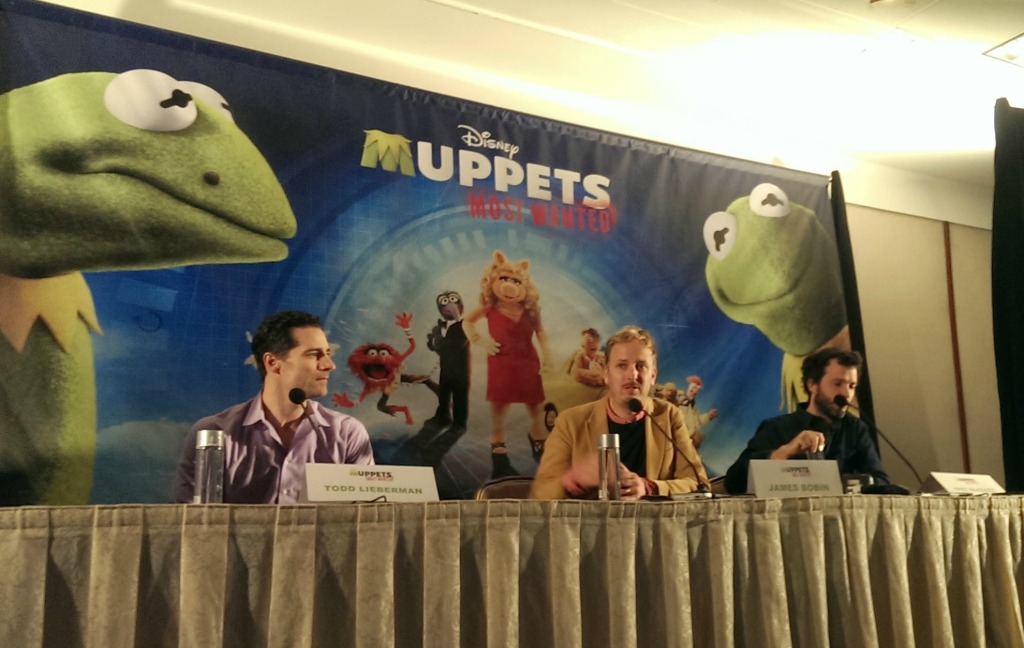 Filmmakers: Todd Lieberman (Producer), James Bobin (Director), Bret McKenzie (Music Supervisor)
One of the first things that caught my interest was that the movie was originally going to be called "The Muppets Again."
 Bret McKenzie made some remarks on this, "The first song we're doing a sequel ends with the Muppets all singing "it's the Muppets again," because we'd thought it be great to, you know, the song to have the title of the movie in it but then well after we'd filmed it all, uh, Marketing decided to change the name of the movie  and so, we tried going "it's the Muppets Most Wanted and, it really didn't sit very well on the mouths of the Muppets, so we did okay."
Another interesting bit about the film is that you will see many cameos throughout it. I enjoyed seeing so many familiar faces, the cameos made the film that more enjoyable to me. Here's a little on what was said about the cameos.
Todd Lieberman, "A lot of the cameos, we have a list of people who want to be in the movie and then as we kinda go through, as these guys go through writing the movie, we gather other intel of fans and people we like and people that like us and then we kinda do this grid..
Bret chimed in, "intel meaning, just Google them. Google celebrity and Muppet."
When asked if it was attempted to get anyone from the royal family to be a cameo in the movie, James Bobin replied, "That's a good question.  We tried to get the young prince to be one of the babies. But, they never—they never responded."
What about the music? The Muppets are known for some great songs, including the Oscar winning Man or Muppet. Did Bret feel an added pressure because of this?
Bret, "Yeah, but what can you do? You know there's a little bit of pressure and, on my piano at home I have the Oscar. It sits on my piano and so occasionally I'll be working around looking at, oh, that's not good enough. But then I moved to LA to work on the songs and we hired a space in—on Hollywood Boulevard, an old—an old shop and I put a piano in there.  It was like this sorta dusty old shop to hide away and work on these songs and these guys came and visited, to listen to the demos and it was quite a funny scene because people would be walking by hearing this, me hitting on, you know, playing the piano and occasionally—occasionally they'd walk in and they'd say, "is there music lessons going on here?" Or what is this?  Is this some sort of art installation?"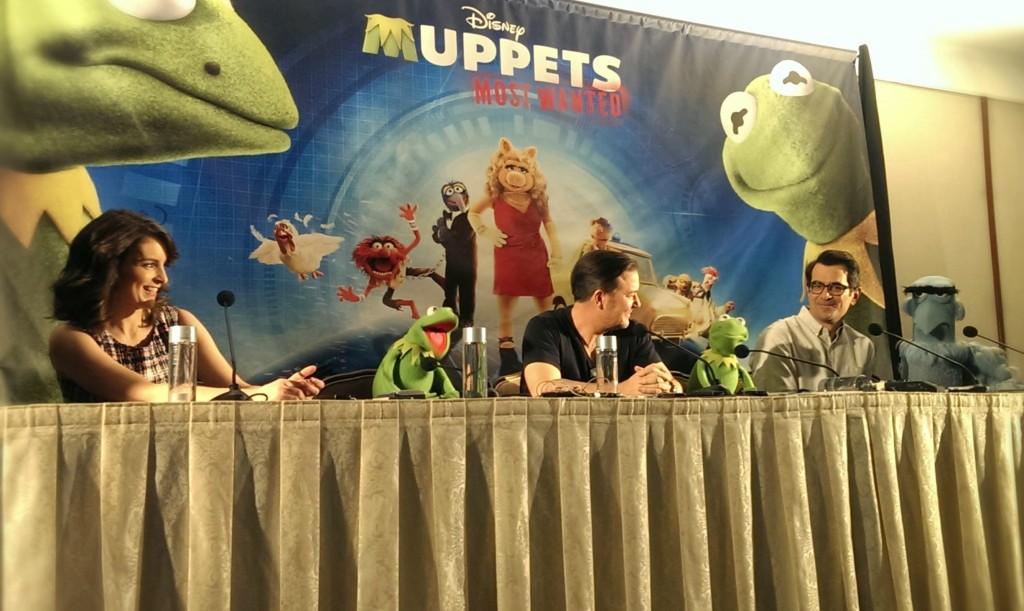 Talent: Tina Fey (Nadya), Kermit, Ricky Gervais (Dominic Badguy),  Constantine, Ty Burrell (Jean Pierre Napoleon), Sam Eagle, and Miss Piggy? Ummm Where's Miss Piggy??