Bruxie Introduces the Bold Blend!
By Erin
Looking for a morning pick me up to get your day going? Most mornings I need a good cup of joe to help wake myself up and to get going. This is where Bruxie comes in, but honestly I could have Bruxie for breakfast, lunch and dinner! 😉  Earlier this week I was invited to come in and try out Bruxie's new custom crafted coffee, The BOLD Blend! I have been a long time fan of Bruxie ever since I saw friends post some mouthwatering photos of the offerings here on their Facebook pages back in 2010. I was determined to go try this place out after that and planned a meet-up for brunch at the Orange location with a local meet-up group that I am an assistant organizer for. I've been hooked ever since! Now that they have this amazing Bold Blend Coffee to compliment the waffle sandwiches, I will be even more tempted to go here!
Bruxie  now offers a new locally roasted proprietary blend of 100% Fair Trade Coffee lovingly called "The Bold Blend." The idea is to offer folks a coffee experience that would be bold and complex enough to stand up to and complement the flavors on the Bruxie menu. After trying it myself, I would have to say they have succeeded! 🙂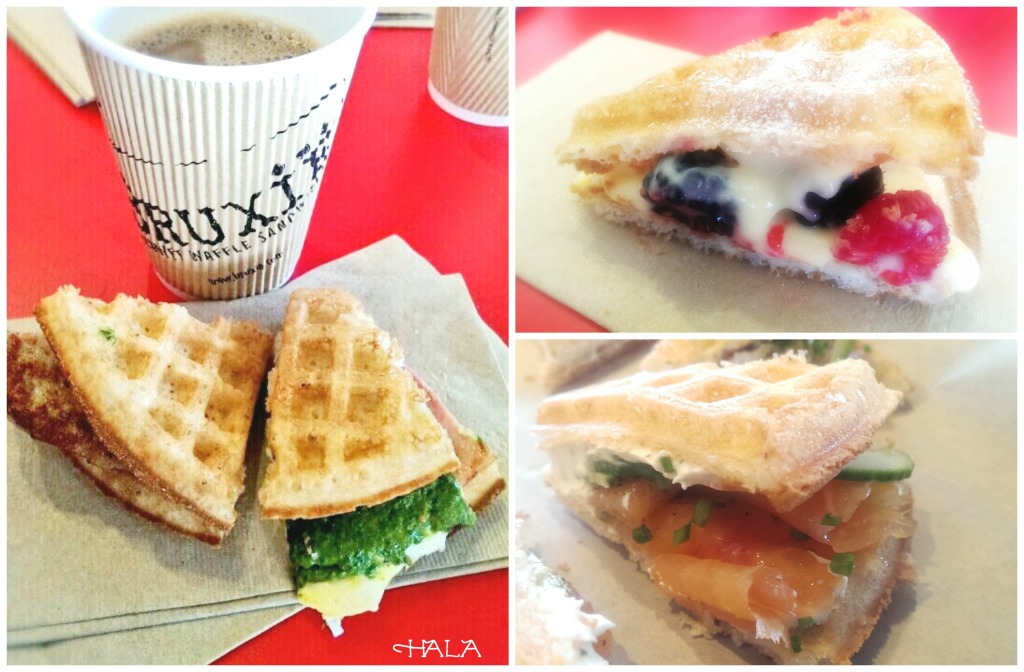 Pictured with the Bold Blend here is the Green Eggs & Ham, Lemon Cream & Berries, and Smoked Salmon Lox & Dill Cream Cheese. All are heavenly and will leave you craving more. I always am!
"From the very first sip, guests will find a pleasant linger on the palate that will evolve into a combination of savory, sweet, and even floral nuances."
Don't forget to partner up your coffee with your favorite Bruxie Breakfast Sandwich! 😉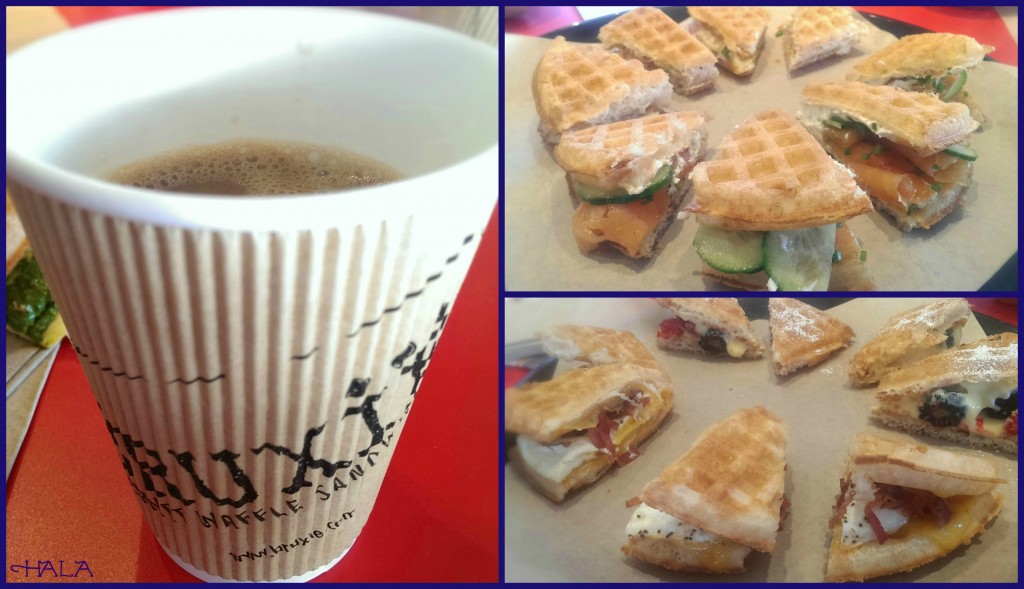 Smoked Salmon Lox & Dill Cream Cheese, Lemon Cream & Berries, and Bacon, Egg & Cheddar
The Bold Blend coffee will be available at all six restaurant locations. Bruxie Partners, Kelly Mullarney and Dean Simon, wanted an experience that would be bold enough to complement the flavors on the Bruxie menu. The four-bean blend utilizes varying roasting techniques and styles to create a truly unique coffee experience.
The Bold Blend is comprised of the following beans, flavor profiles and bodies:
Sumatra: Cedar, rich tobacco, dried peppers and citrus. Roasted separately and a little darker it provides The Bold Blend with its long lingering finish.
Brazil: Almonds, cocoa and butter. Is very delicate and roasted a little lighter.Consisting of mild flavors of dark chocolate, with a wonderful balance and acidity that really layers well in The Bold Blend.
Ethiopia: Blueberries, kiwi and exotic. Gives The Bold Blend it's amazing aroma! Ethiopian coffee is so inviting and vibrant, it leaves a sweet scent.
Costa Rica: Caramel aroma, nutty, citrus and balanced acidity. Typically very sweet, this coffee puts the first sweet notes into The Bold Blend.
For those looking for a rich experience that is free of caffeine, you can also order The Bold Blend in Decaf.  "Roasted with similar techniques and beans, this coffee over-delivers, compared to other decaf options available," added Mullarney.
BRUXIE FULL BARISTA SERVICE
All Bruxie locations offer full barista service with espresso beverages, cappuccinos and signature flavored lattes. The espresso served at each of the Bruxie locations is created from the same blend used in The Bold Blend coffee.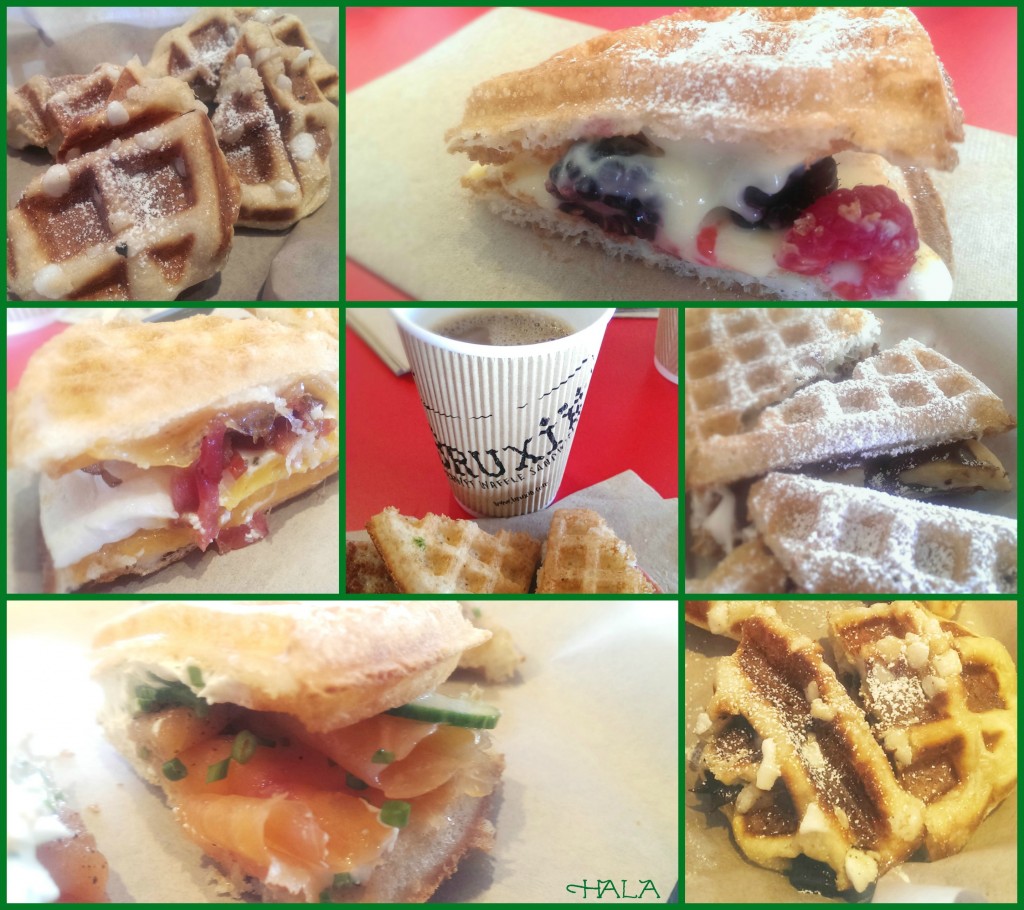 So many to choose from! Which one would you choose? I choose them all! 😉
Bruxie uses a creative version of an authentic Belgian Waffle as the bread of its sandwiches. The waffles are light, airy, crispy and not sweet –reminds me of very freshly baked bread. Paired up with quality seasonal ingredients, makes for winning combinations of Bruxie sandwiches. There are savory choices to choose from like Buttermilk Fried Chicken, Prosciutto & Gruyere, and Hot Pastrami  as well as a variety of Sweet options, such as their Seasonal Crème Brulee, Nutella & Banana, and S'Mores. Each location also features a variety of daily specials, such as the Carolina BBQ Pulled Pork, Braised Beef Short Rib and Philly Cheesesteak Bruxie.
Bruxie has the following locations in Southern California:
Orange – Old Town
Brea – Downtown at Birch Street Promenade
Chino Hills – The Shoppes at Chino Hills
Huntington Beach – The Strand on 5th
Irvine – Heritage Plaza Center
Costa Mesa – 17th Street
Have you been to Bruxie yet? What are you looking forward to having on your next visit? I can never decide what I want, I love them all! =)