Veggie Grill: Taste & Believe
By: Erin
Disclosure: This is not a sponsored post. I was invited out to try some of their new summer items as well as some of their favorites! All thoughts and opinions remain my own and I have enjoyed coming here ever since I found out about this place last summer! 🙂
I am not a vegetarian by any means. I do LOVE a good steak or other well prepared piece of meat. In my attempt to eat healthier and fresher foods and finding alternatives to your typical unhealthy fast food joints, I found this place. Veggie Grill! They have locations throughout Southern California, Northern California, Oregon, and Washington. Veggie Grill serves  food you can feel good about. They are proudly committed to serving 100% plant-based food. No matter what you enjoy at Veggie Grill, you can be assured that your food has no meat, dairy, eggs, cholesterol, animal fat or trans fat in it. It's so good, that you'd never know it was vegetarian. 😉

I arrived at the Veggie Grill in Hollywood at The Dome on Sunset. I was pretty hungry as we had just walked over from the El Capitan after seeing a preview of the new Monsters University movie. I loved how clean, fresh, and modern the place looked. It is very open and airy.
After putting our order in, which was gladly taken by John O' Neil, the general manager at this location, we went to get some drinks. We were given some great suggestions on things to try by him and we were not disappointed in the slightest. Everything that was recommended to us was spot on and left us craving more. Sometimes I like to come here just for their teas and lemonade! You will NOT find any carbonated beverages here, which is one thing I truly like about this place! Be sure to try out their ginger hibiscus tea, it is amazing. Perfect for these hot summer days to cool you down.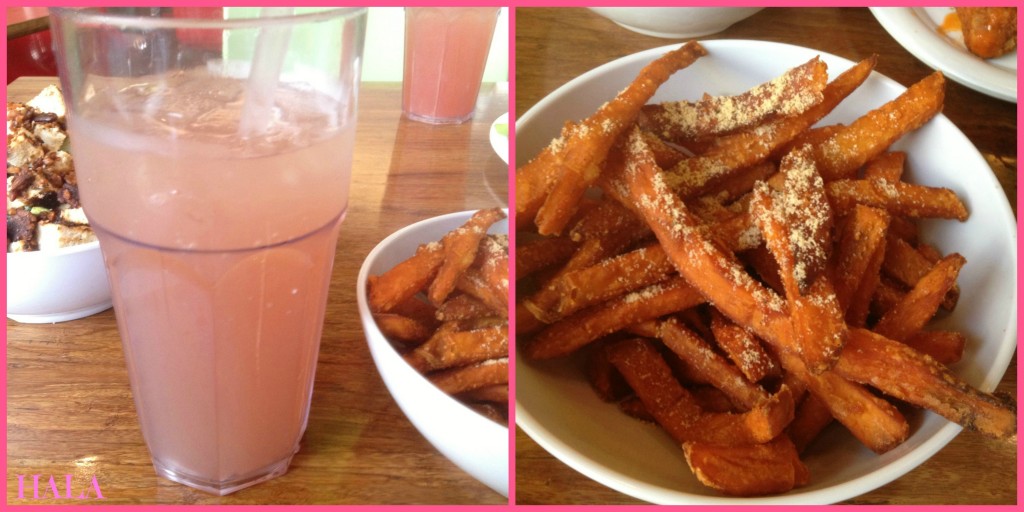 The ginger hibiscus tea and their delightful Sweetheart Fries ($4.25 or $2.25 if ordered as a side with your meal). This wasn't the first time I've had their sweetheart fries, but they are one of my favorite items to order at Veggie Grill! It's some sweet crunchy goodness while the tea is nice and refreshing, with just the right amount of sweetness. No sugar needs to be added to it. It's great just the way it is on its own.

The main courses that we tried.  The Bayou Chickin' ($8.95) with Cauli-Mashed Potatoes (extra $1.95) and the Baja "Fish" Tacos with "Bean Me Up" Chili ($9.95). OMG these mashed potatoes are a MUST TRY!! Recommended to us by John, I could take a whole batch of this and just have this for a meal all by itself! 😉 The Bayou Chickin was very tasty, I never would have known it wasn't really chicken and it had just a slight kick to it, but not too much. The Baja Fish tacos were also excellent. The tacos are a new menu item at the Veggie Grill, and one that I hope stays on the menu as I enjoyed these very much! I am not much for beans, but these were pretty good!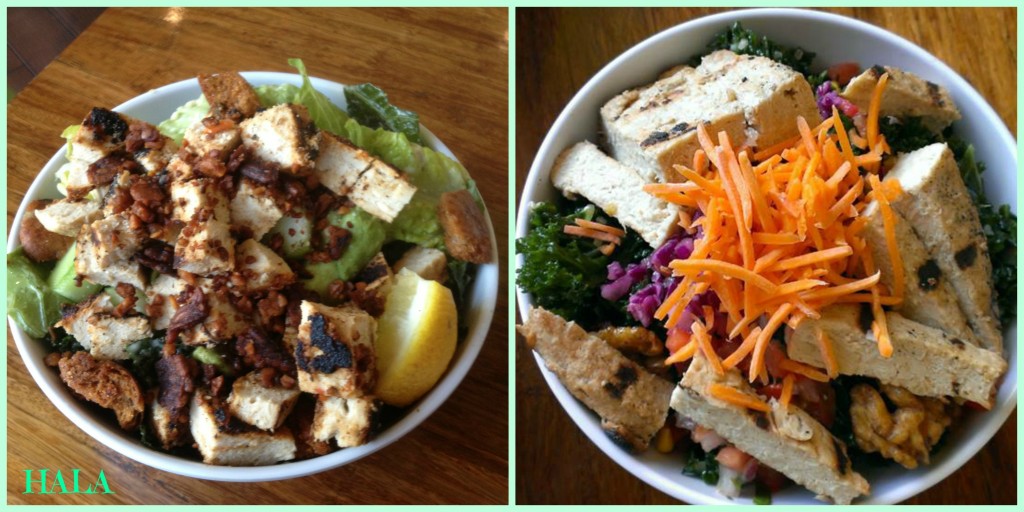 Next we tried a couple of their salads! The Savory Kale Caesar ($8.95+ $2.75 if you want to add Grilled Chickin' to your order) and the All Hail Kale ($7.25 for the lunch size or $8.95 for the entrée size). The Savory Kale Caesar is another NEW item on their menu and it includes marinated kale, romaine hearts, chopped Tempeh Bacon, chunky avocado, cucumber, croutons, veggie parmesan, and grilled chickin'.  I LOVED the avocado chunks and the bacon on this salad. The marinated kale also was tantalizing to the senses. The All Hail Kale salad consists of marinated kale and red cabbage, corn salsa, agave-roasted walnuts, ginger-papaya vinaigrette with blackened chickin'.  This salad was very enjoyable and I loved the roasted walnuts and the vinaigrette that is used on it.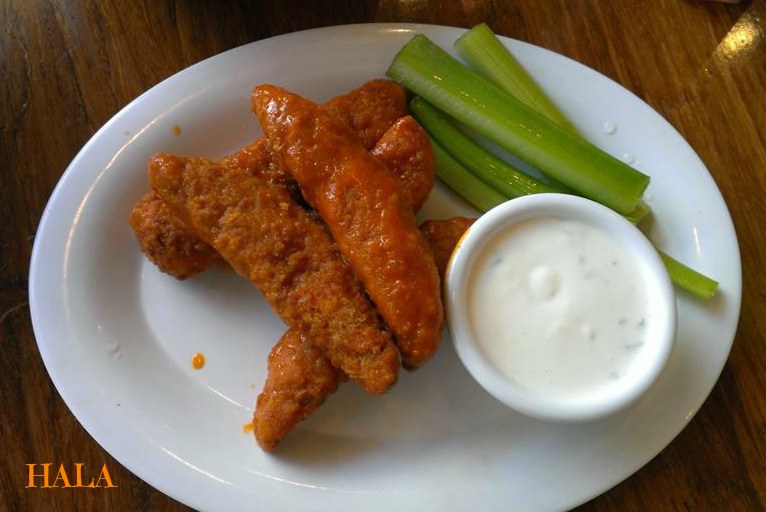 This is one item I would NEVER have thought to order unless John had suggested it. Buffalo Wings at a vegetarian place? NO WAY!!! However, I was pleasantly surprised by this one! They truly did taste very much like buffalo wings. You totally could have fooled me into thinking that these were real buffalo wings and not vegetarian! Buffalo Wings ($6.95) tossed in spicy Buffalo sauce with celery sticks and creamy ranch dressing.

Of course, you know me and my sweet tooth! We could not leave without having dessert! 😉 We ended with another new item on the menu. The Grilled Cookie! ($4.50) A hand-crafted chocolate chip cookie, griddled and topped with chocolate pudding, VG Crema, and chocolate sauce. A total chocolate lovers dream!! YUM! As full as we were,  you will be glad to know that we were able to gobble this one all up, not a crumb was left behind. 😉
Have you been to the Veggie Grill yet? If you have, what's your favorite thing to order there? If you have not been yet, then what would you be excited to try out there? I know I can't wait to go back soon to get my Veggie Grill fix!
You can connect with Veggie Grill here: