Nestle Crunch 75th Birthday and Birthday Showdown Kick-Off!
By Erin
Disclosure: This is not a sponsored post. I was invited out to Nestle Crunch's 75th birthday Celebration to preview and taste a few of the local bakeries treats participating in their Birthday Showdown! All thoughts and opinions are my own. 🙂
It's birthday time! Can you believe it? Nestlé Crunch™' is celebrating its 75th Birthday this year! In honor of this most favorite and iconic chocolate bar's birthday celebration, Nestlé Crunch is hosting an exclusive national bakery challenge – The Nestlé Crunch 75th Birthday Showdown – highlighting 15 of the most prestigious bakeries from around the country. From Crumbs Bake Shops nationwide, Casey's Cupcakes , Sweet E's Bake Shop in Los Angeles, to Coolhaus  these sweet bakers are competing to see who can create a birthday treat worthy of holding Nestlé Crunch's 75 royal birthday candles.  The contest kicked off on Wednesday, March 27  and ends Sunday, April 21, during which, the treats can be purchased at each bakery and chocolate lovers can vote for their favorite Nestle Crunch treat. For a complete list of participating bakeries and to vote for your favorites visit them here at  Facebook.com/NestleCrunch.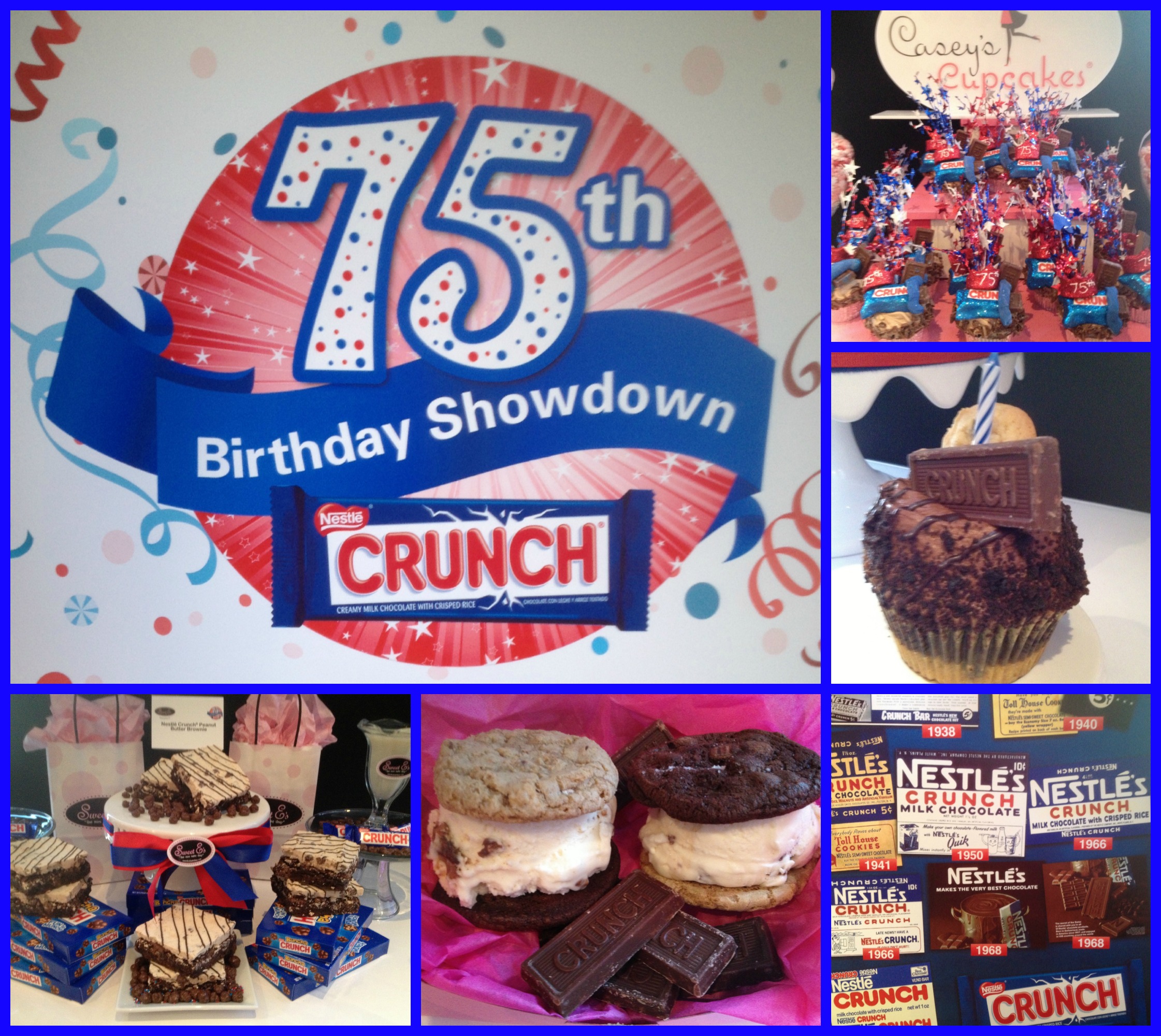 This exclusive preview and tasting of four local bakeries'  for  the Nestle Crunch Birthday Treats  was graciously hosted at Erica Tucker's bakery; Sweet E's Bake Shop. It sure is an adorable place!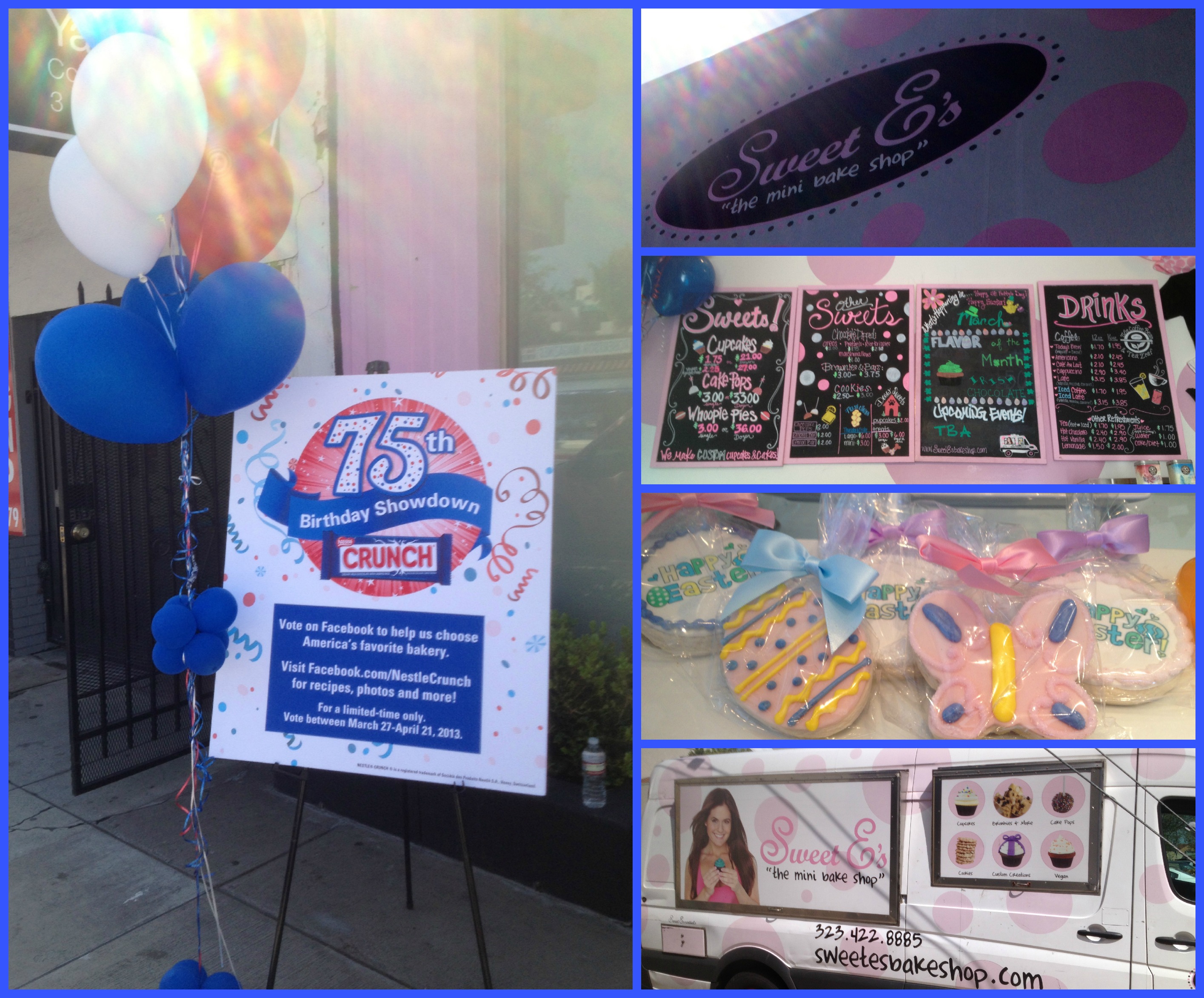 Outside of Sweet E's, Nastassia Johnson, CEO of Coolhaus, was onsite in the fabulous Coolhaus truck, giving away samples of their Nestle Crunch™ Brown Butter Candied Bacon Ice Cream Sandwich which was baconlicious! Also, actress Casey Reinhardt and owner of Casey's Cupcakes as well as Crumbs Bake Shop were in attendance, providing their Nestle Crunch Birthday Treat Creations.
Here are the tasty treats we were able to taste-test before voting on our favorites on  the Nestle Crunch Facebook Page.
Sweet E's
Nestlé® Crunch® Peanut Butter Brownie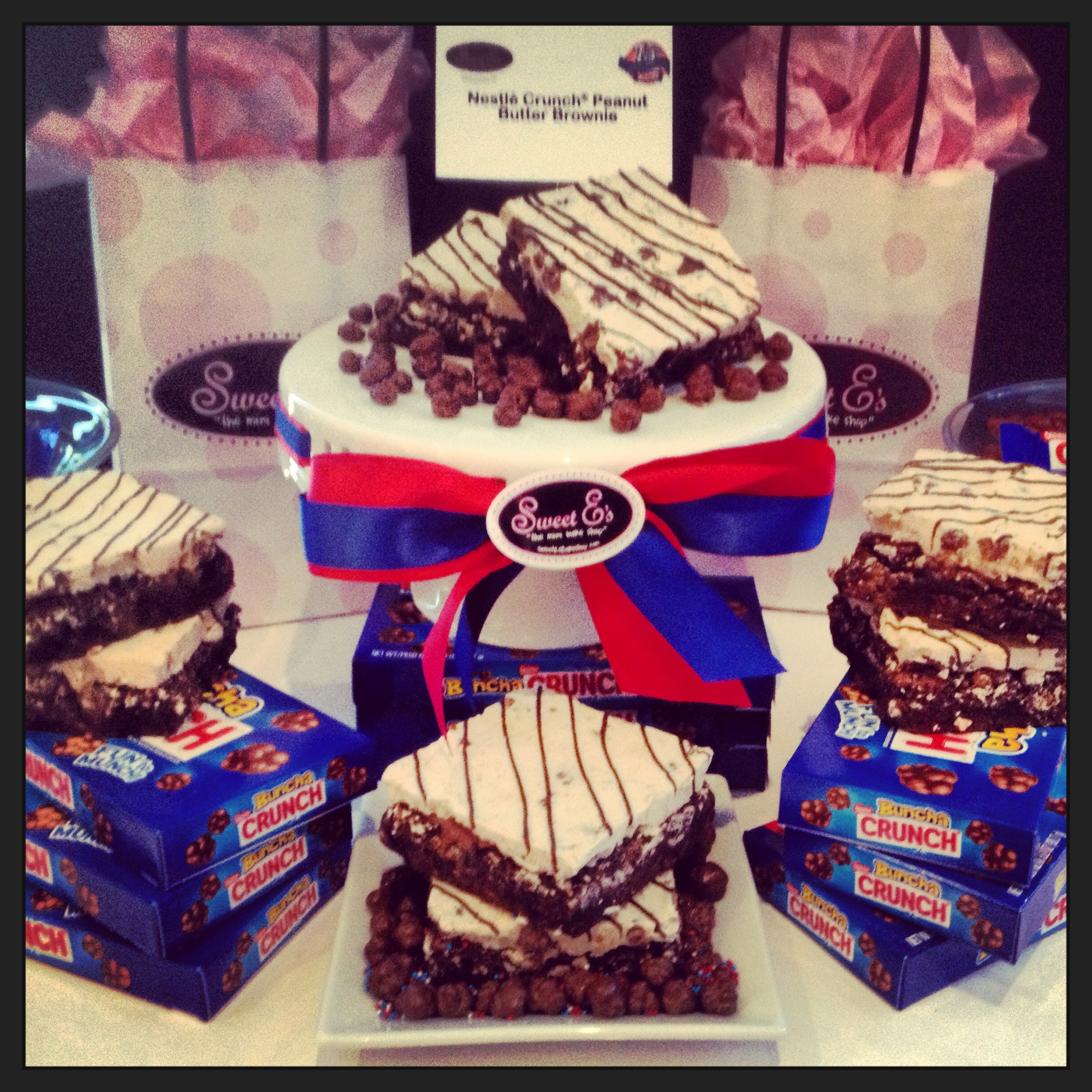 The perfect pairing of peanut butter and chocolate! The rich gooey  chocolate chip brownie together with creamy peanut butter fudge, and crispy Nestlé® Crunch® makes for a delightful combination of flavors and textures for one to indulge and savor.
Coolhaus
Nestlé® Crunch® Brown Butter Candied Bacon Ice Cream Sandwich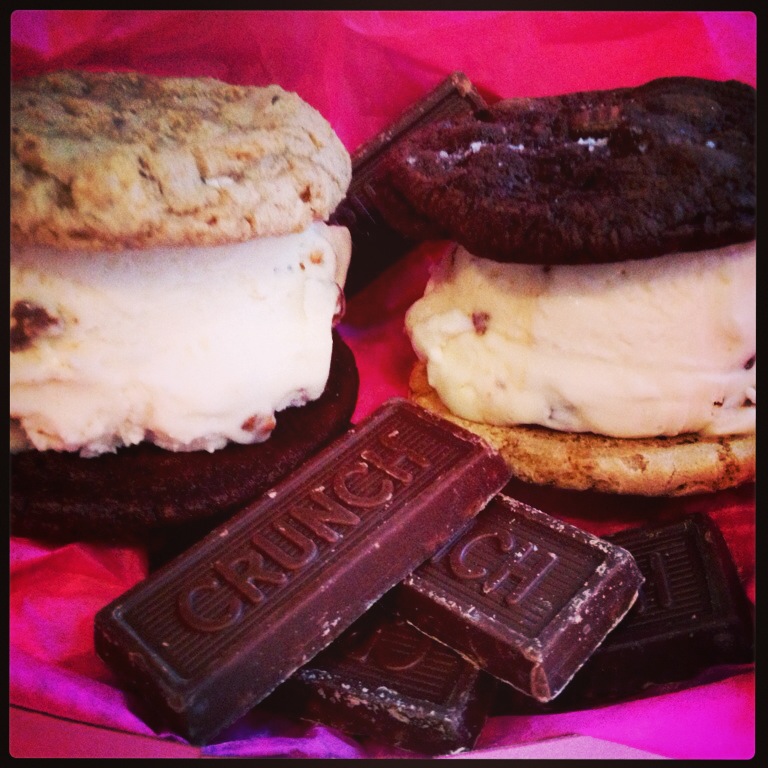 A very sweet and savory treat! I truly enjoyed this one. The Nestlé® Crunch® Brown Butter Candied Bacon has a brilliant combination of ice cream with nutty browned butter, swirled with giant bacon bits caramelized in brown sugar and maple syrup, along with chunks of Nestlé®Crunch® Bar. This unique flavor was paired well with a Chocolate Chip cookie and one Double Chocolate Sea Salt cookie. I LOVED these sea salt cookies, I need to find out if I can get more of these! Paired with this ice cream, it really hit the spot. If you are a bacon lover, you will LOVE this special creation! Very Baconlicious indeed! 😉
Crumbs Bake Shop
Crumbs Crunch Cupcake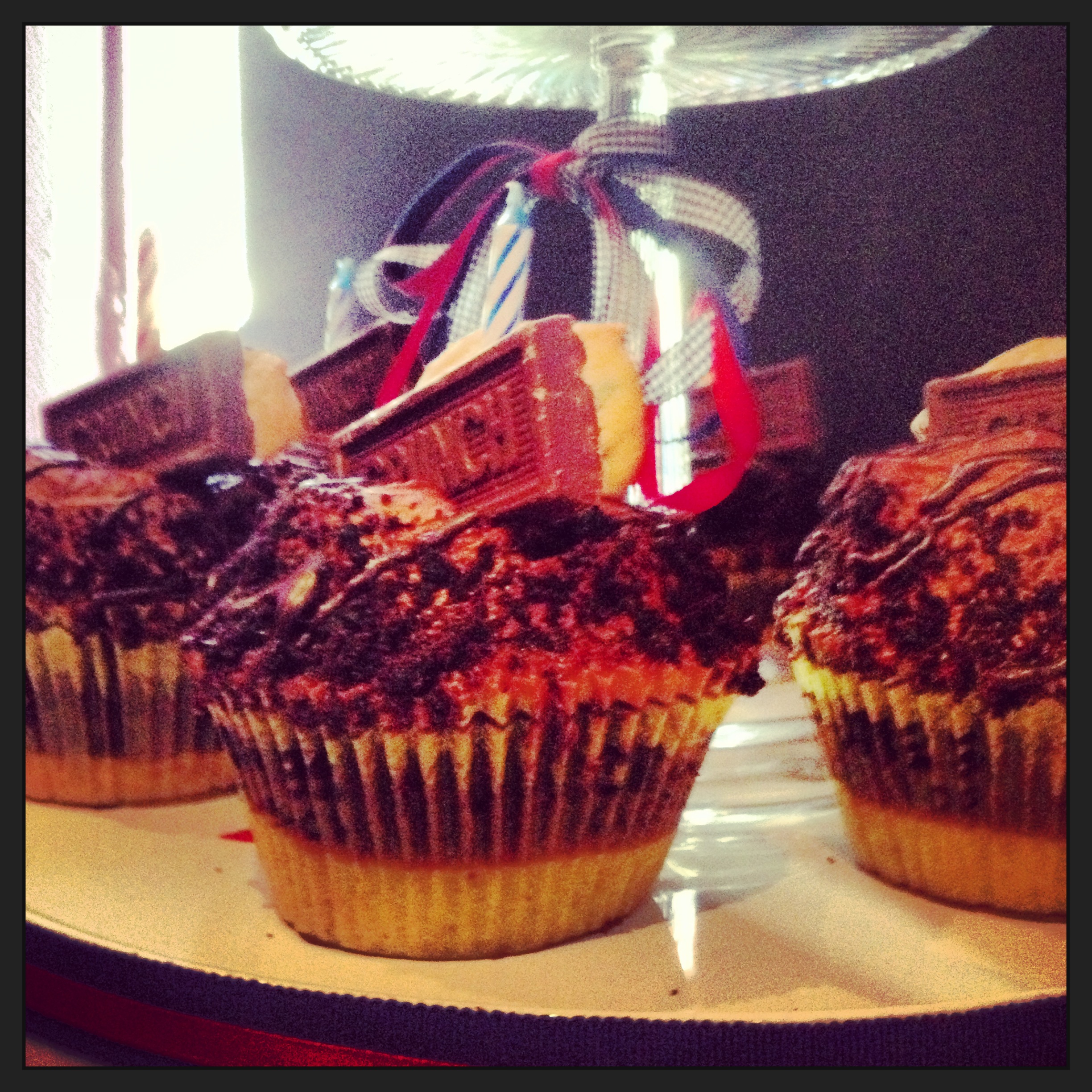 In this cupcake, chocolate meets blondie meets crunchy and creamy for a most delectable treat. Start with a blondie base and add Nestlé® Crunch® chunks in the middle. Topped off with moist chocolate cake and a chocolate buttercream. To make it even more special, a mini cookie and a mini Nestlé® Crunch® bar are drizzled with chocolate ganache and added to make this cupcake even more delightful to the tastebuds.
Casey's Cupcakes
Nestlé® Crunch® Chocolate Royalty Cupcake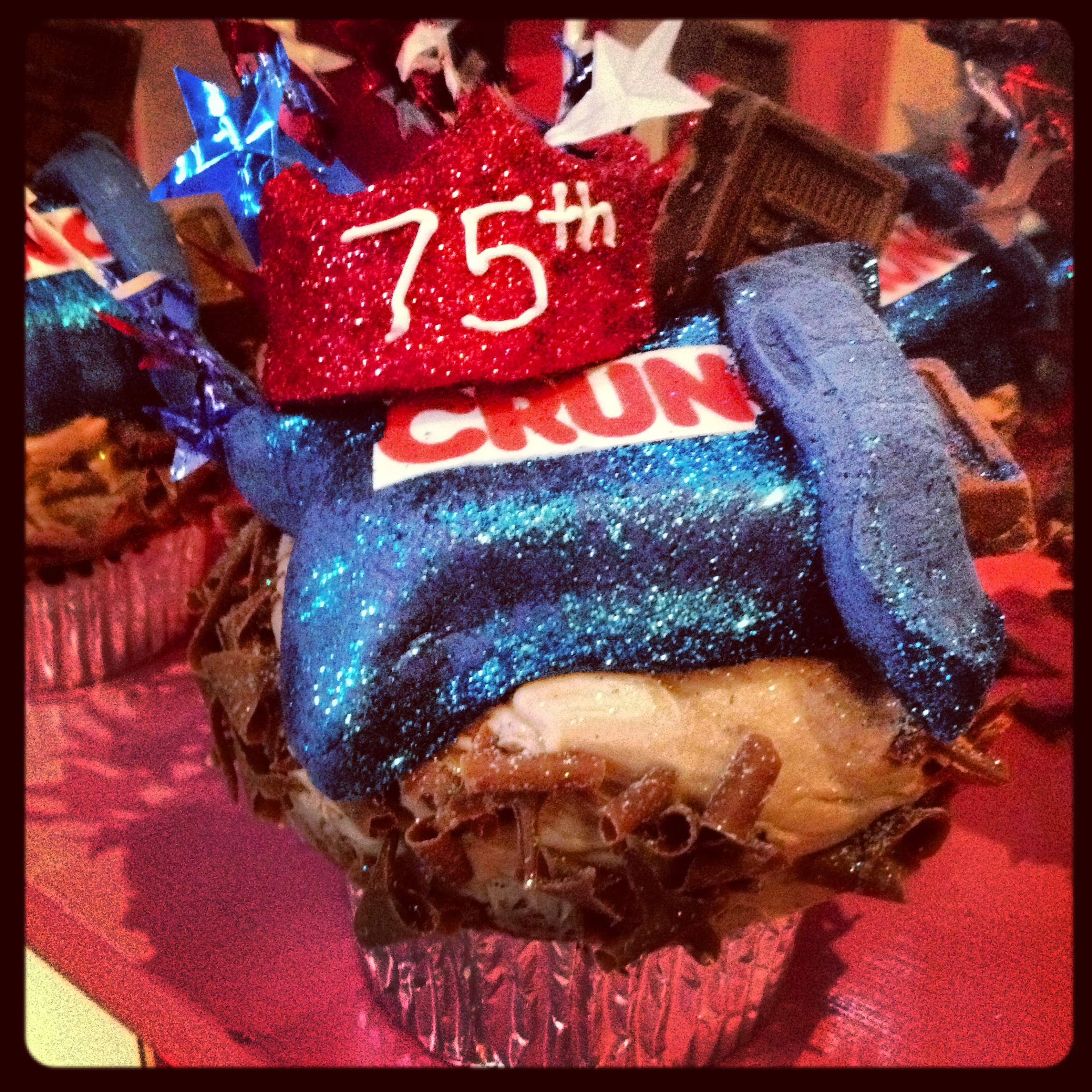 A cupcake fit for a King (or Queen).  Talk about bling! Glitter and sparkles adorn this beauty of a cupcake. The best part is that it tastes as good as it looks! Indulge in this special celebration, fit for royalty with the red crown, representing Nestlé's royal reign over the chocolate kingdom. Made of a rich devil's food cake mixed in with pieces of a Nestlé® Crunch® bar and a light and creamy chocolate  filling it is a chocolate lovers paradise. It is topped with chocolate shavings. A Glamorous cupcake indeed, it is ready for a royal party!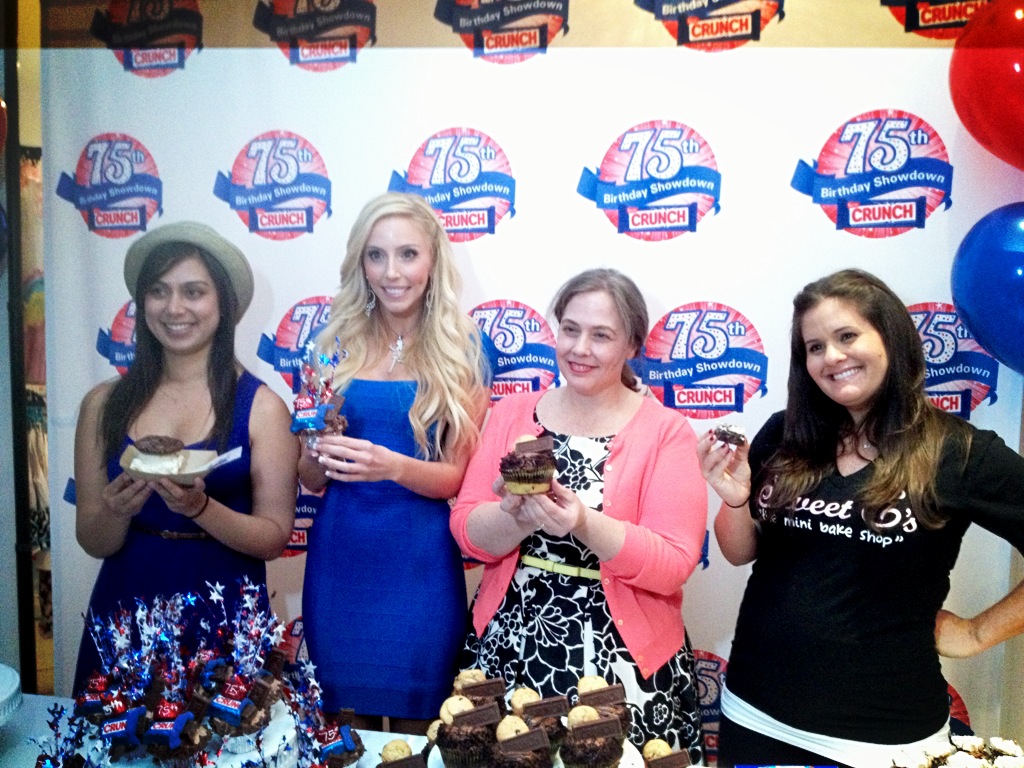 The fabulous bakers showing us their creations for the Nestle Crunch Birthday Showdown! Let the games begin!? 😉 So make sure to go vote for your favorite as the top three Crunch-inspired treats, that receive the most votes on Facebook through April 21, will be featured in a grand prize bake-off.  The  grand prize winner will be chosen by the Nestlé Crunch culinary team along with all-star baker and celebrity chef Carla Hall.  You may know Carla as a co-host on ABC's hit show"The Chew" and she also has her own artisan cookie company called Alchemy by Carla Hall.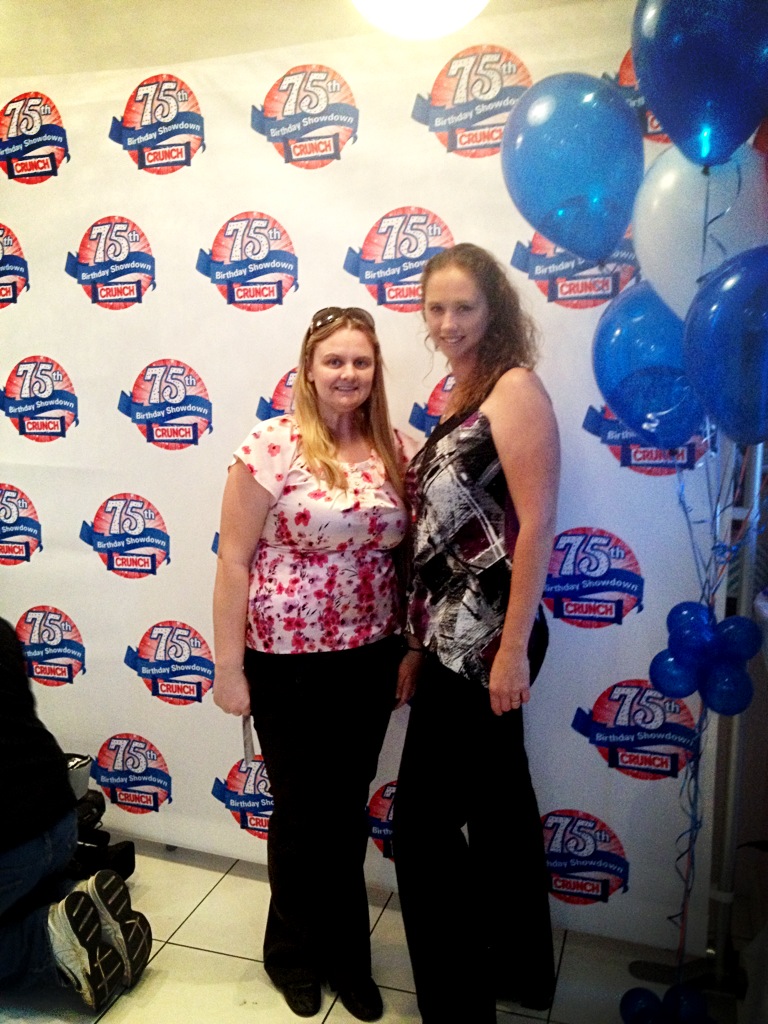 Myself and Kirsten from SoCal Kids Outdoor Adventures taking in all the Nestle Crunch chocolatey goodness! #happybirthdaycrunch!
Which baker do YOU think will come out on top? Which treat would you like to try? I can't wait to find out!