Starting the Year Off Right With Lean Cuisine & Skinny Cow
It's a new year. Many of us have resolutions or goals to focus on eating healthier and living a healthier lifestyle. Working out, getting to the gym more or just doing something else that you enjoy to stay active, making healthier choices when it comes to what you eat, are all important things to consider if you wish to truly get healthier in the coming year. This is something I've been working on for awhile now, not just in the new year. It is definitely a work in progress and isn't always easy, but it is worth every effort to keep on going.
One of the biggest obstacles for me is finding an easy, fast, but still healthy lunch option as most of the time I have to leave early for work in the morning and I have a short lunch period at school, so I don't have a lot of time to sit around to make anything from scratch that would be super healthy.
So off to Sam's club I went to do some shopping for some low calorie options to help me get the year started off right. I knew they would have a good selection of fresh or frozen meals to choose from and offer a great price by buying in bulk.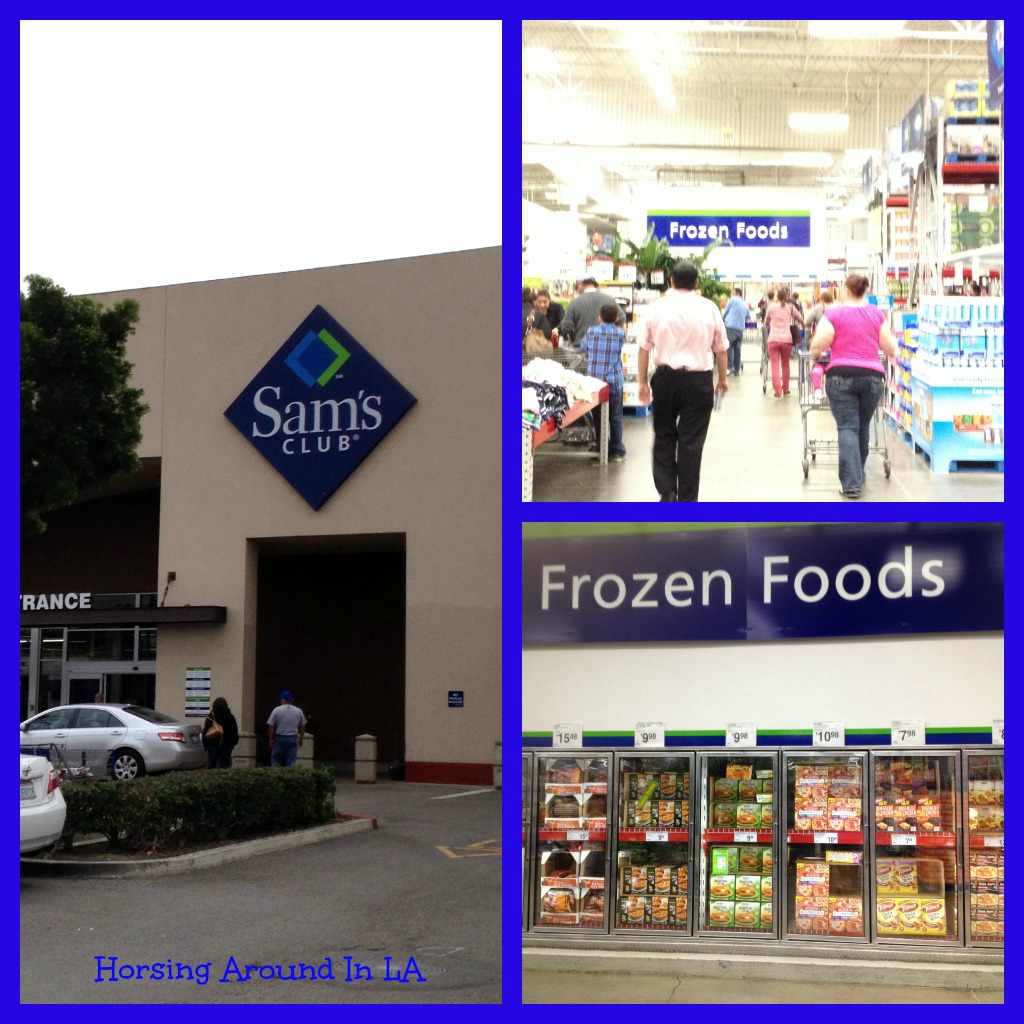 I arrived on a VERY VERY busy Saturday morning after being at the barn and helping to take care of the horses. There were a lot of shoppers out stocking up for the Super Bowl, which was the next day on Sunday! It was not hard at all to find the frozen section of the store as you can see. It was totally lit up and visible from the very front of the store.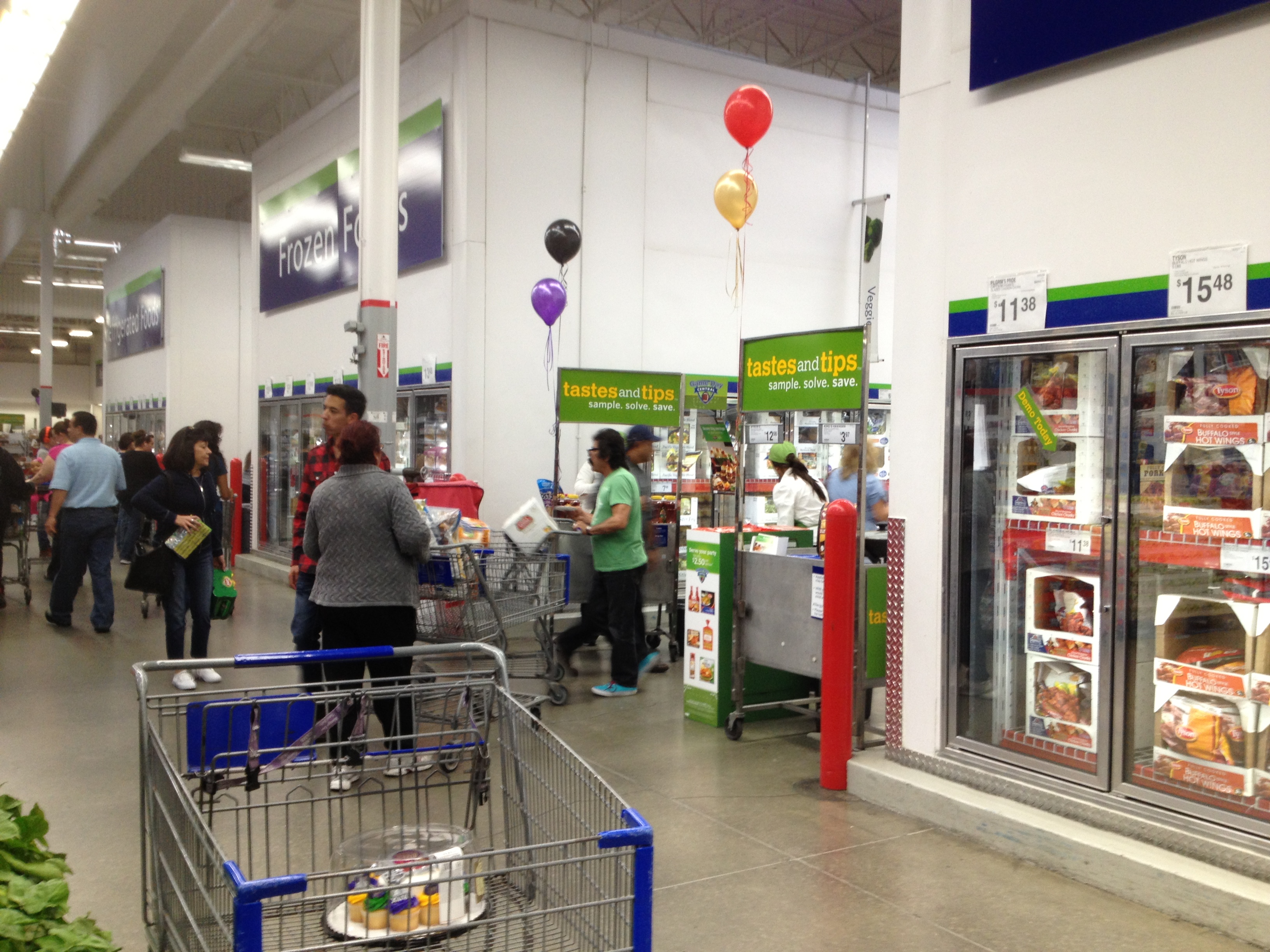 Samples galore were out for the occasion to grab shoppers attention to buy their appetizers and side dishes for the big game. Everything from sliders, potato skins, meats and cheeses, taquitos, pulled pork, cookies, cheesecake, salsas and guacamole were out to sample for the taking.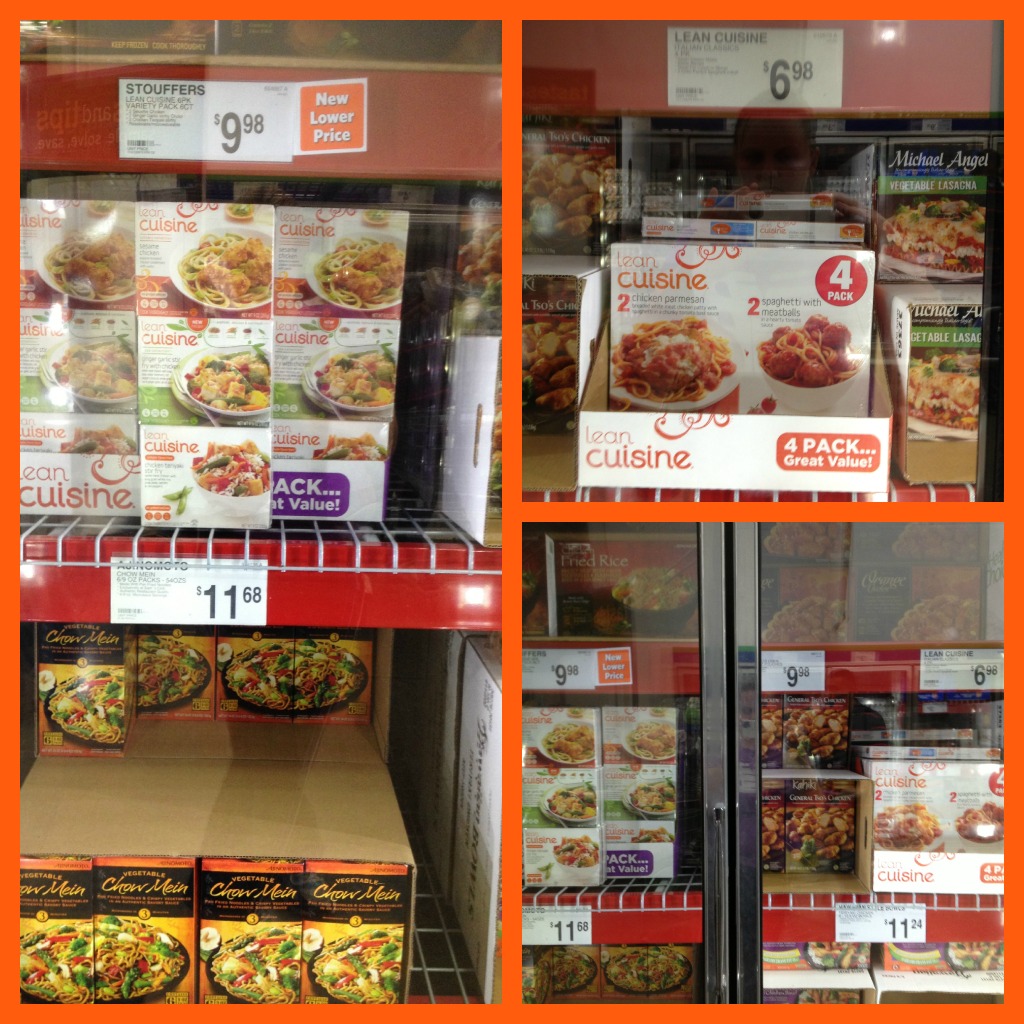 There were many different items to choose from, Italian, Mexican, Asian meals, you name it, it was there! I found out that the Lean Cuisine meals and Skinny Cow ice cream sandwiches were on sale! Not only that, but they were low calorie items, just what I was looking for! These would be fast and easy to make at school, and they are low calorie, healthy options, so I was sold!
The Asian Flavor 6-pack was just $9.98 ($1.66 per meal!) and the Italian Favorites 4-pack was only $6.98 ($1.75 per meal!) Not only was I going to be saving calories, I was saving money too! My waistline and wallet would be happy with that.
That calls for some dessert, don't you think?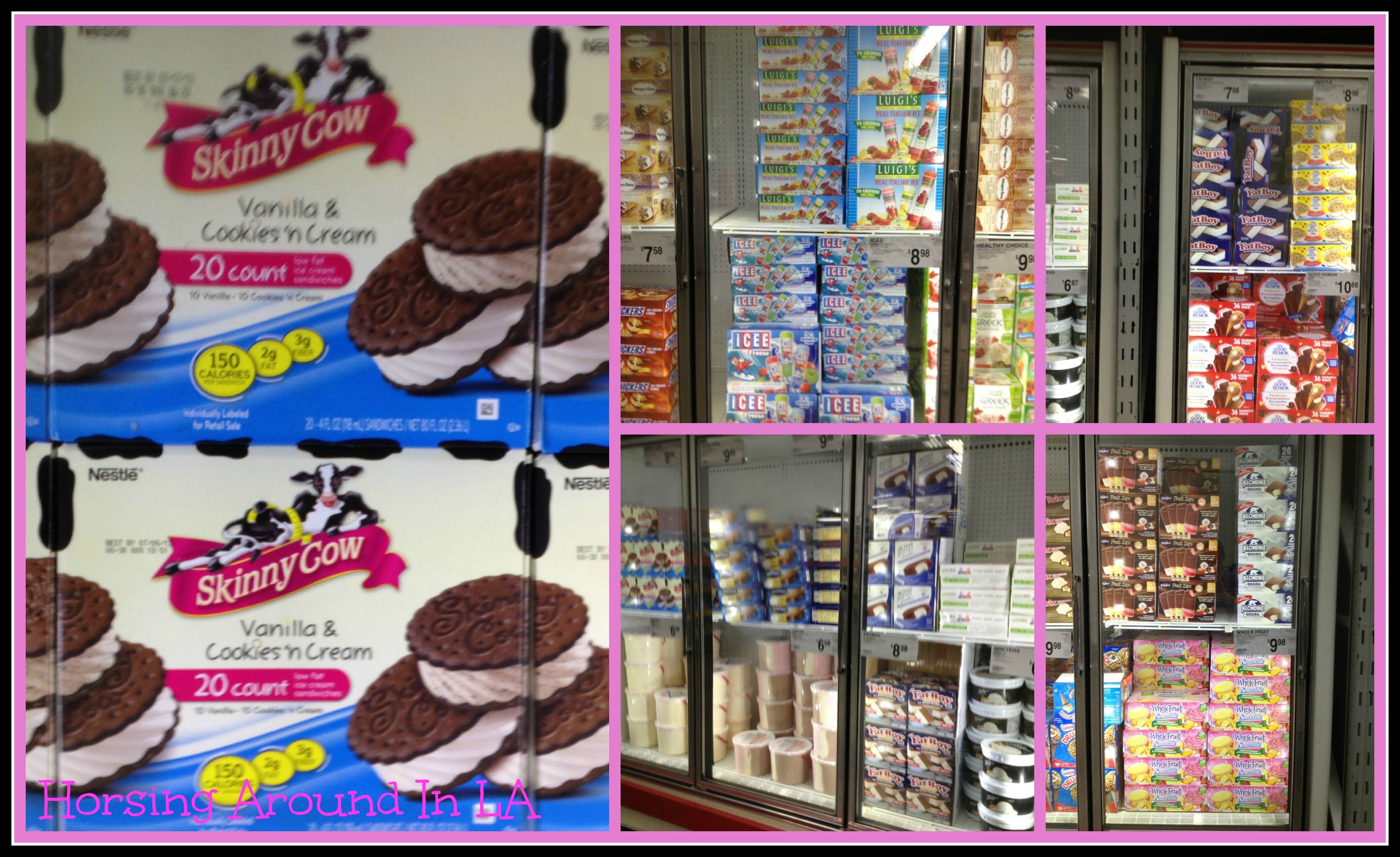 I managed to snake my way over to the Sam's Club ice cream section through the crowds of people and found this amazing display of ice cream heaven! What caught my eye the most was the Skinny Cow and it's beautiful packaging! How clever of them to create their boxes so that when stacked together they make a whole Skinny Cow! Not just that, but I could not pass up the incredible price for the Skinny Cow vanilla and cookies-n-cream ice cream sandwiches. Through February it has a discounted price of only $8.98 (was $9.98) for TWENTY, yes 20 ice cream sandwiches! That's only $0.45 per sandwich! Topped by the fact that they are only 150 calories per serving…. you have to love that! NOW I have room to even add a healthy side dish to my meal!
Off I went to go buy a few extra things to make a side dish with and to top my Skinny Cow off with!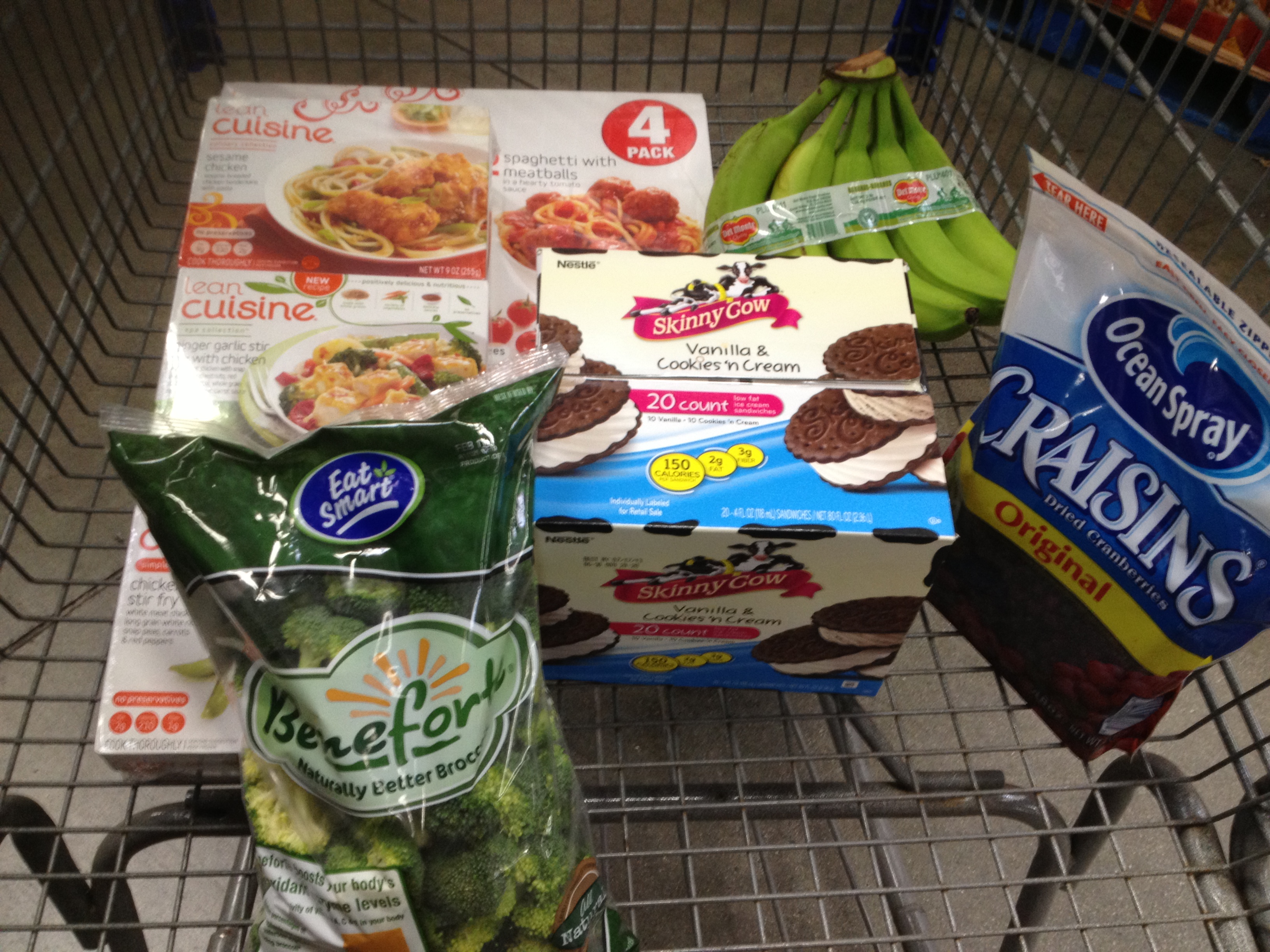 Here's everything I ended up buying. I also bought some fresh broccoli, bananas, and dried cranberries to create a tasty side dish and to go with my Skinny Cow at Dessert time!
When I arrived home, I could not wait to get started on my side dish to go along with the main course and the skinny cow, as they are both so low calorie I am able to indulge in a delicious low calorie side dish as well and still not be eating too much!
I decided on making a delicious, low calorie, yet still healthy Broccoli and Bacon Salad!
Broccoli & Bacon Salad Recipe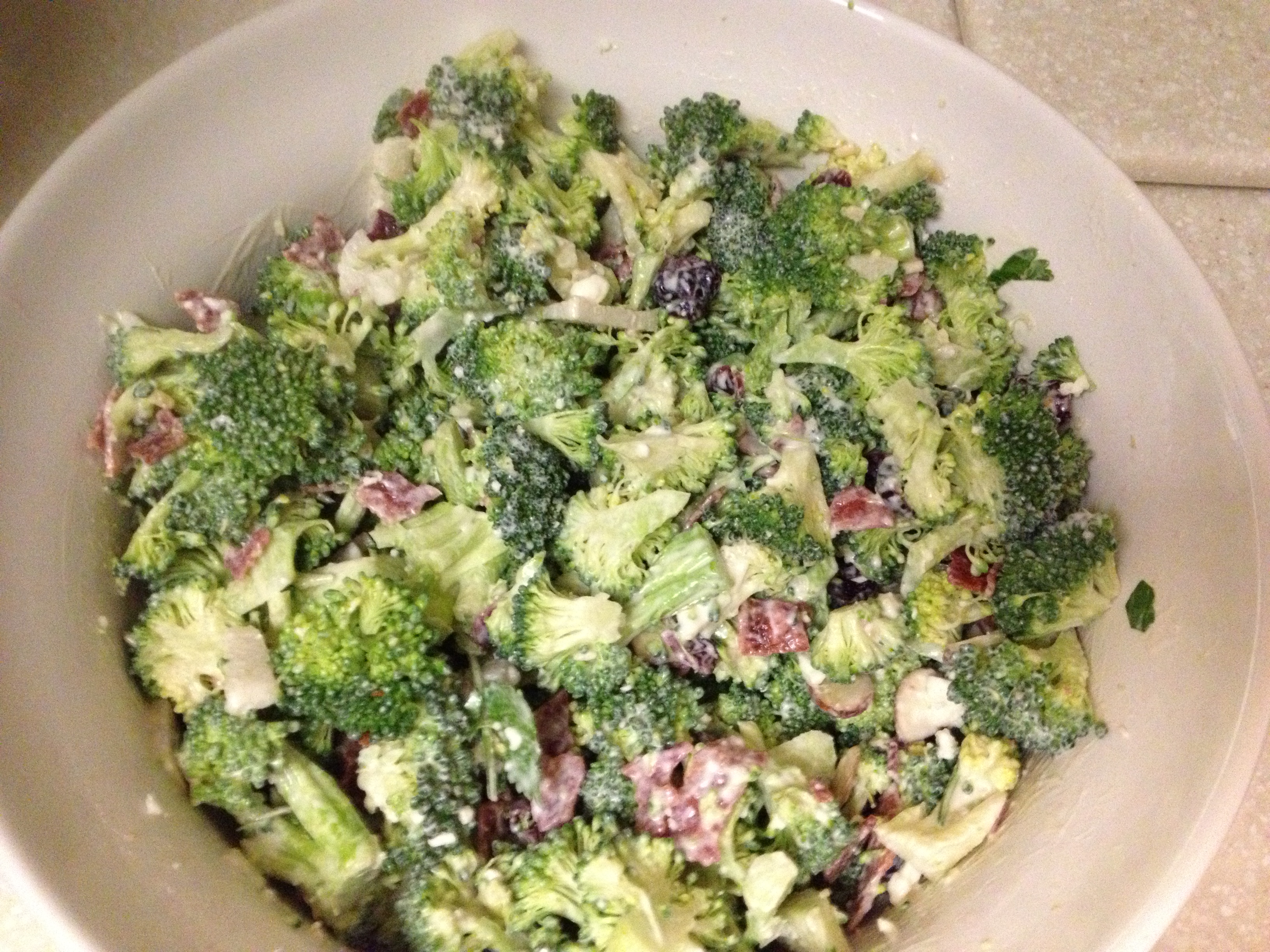 This healthy side dish is one of my favorites since you can change it up and add what you like (or take out what you don't like). You really can't go wrong with this! If something sounds tasty to you that would go well with broccoli, it probably will, and it will be delightful! I wanted something sweet, but not too sweet, and also was a bit salty. So this was a great option for me to make to go along with my healthy meal!
Ingredients
*4 cups broccoli
*Jicama (as much or as little as you like, I ended up using 1/2 of the jicama that I bought)
*green onions to taste (I put a very tiny bit in mine)
*6 slices of Turkey Bacon crumbled up into tiny bits (for that salty flavor I was craving)
*6 tbsp dried cranberries (for that SWEET flavor I was craving)
*4 tbsp almonds
*2 garlic cloves, minced
*4 tbsp Feta Cheese (you can add more or less, or not at all if you'd prefer)
*1/4 cup reduced-fat mayo
* 1/2 cup fat free greek yogurt (plain)
*1 tbsp apple cider vinegar
*1 tbsp brown sugar
* 1 tbsp honey
Directions:
To Make the Dressing:
1. Whisk the mayo, apple cider vinegar, greek yogurt, brown sugar, garlic, and honey into a large bowl.
For the Salad:
1.  Chop up and mix the broccoli, jicama, dried cranberries, turkey bacon, green onions, feta cheese and sliced almonds.
Then mix the dressing and salad together, and let your taste buds enjoy all the wonderful flavors!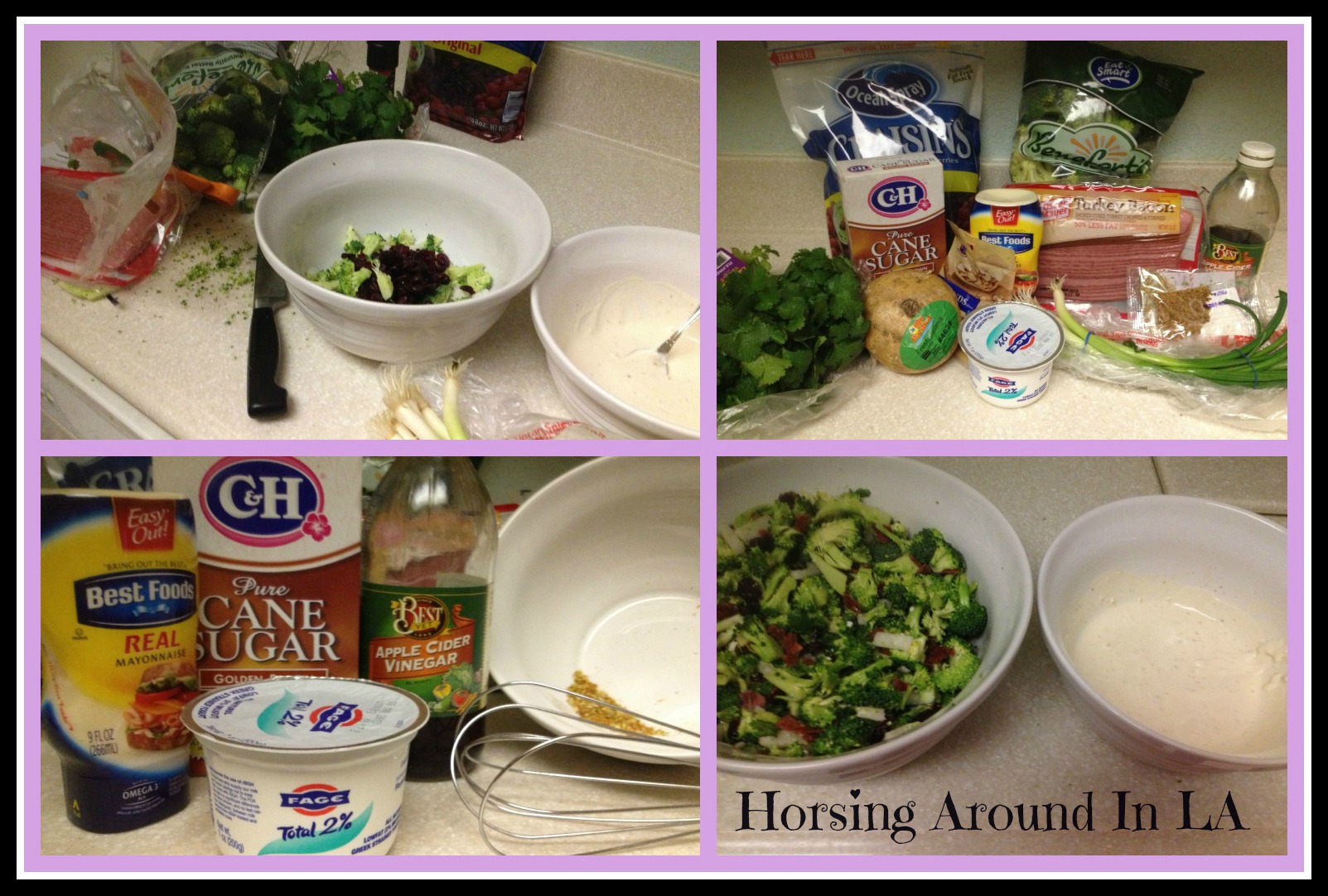 Now that my side dish was complete, it's time to get the main course (Lean Cuisine's Spaghetti with meatballs) and my Skinny Cow dessert ready!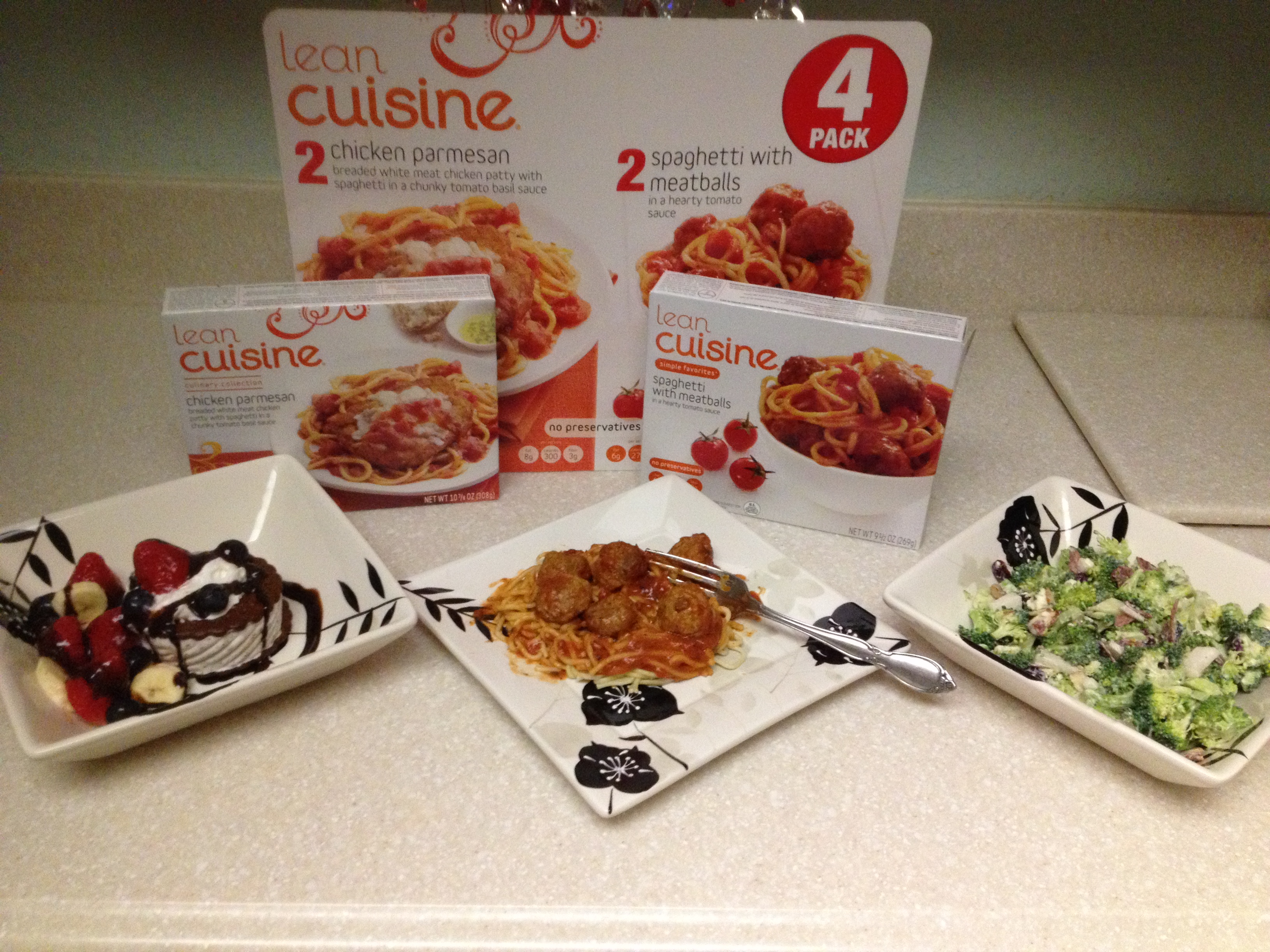 Ta-Da!! Lunch is ready (or dinner)!! I decided to try out the Spaghetti with Meatballs Lean Cuisine from the Italian Favorites Value Pack. I was very impressed that there were NO preservatives in the Lean Cuisines. All the nutrition information is highlighted on the front of the box and more details can be found on the back of the box. You can either microwave or bake them in the oven. I decided to bake mine in the oven. Again I was impressed with the outcome. The noodles weren't too hard and stiff or too soggy. The meatballs were also just right. Not something you would exactly expect from a frozen meal! For my Skinny Cow dessert I decided to dress it up into a fun sundae! I added some fresh berries, bananas, and just a tiny bit of whipped cream and chocolate sauce! It was absolutely amazing! I think it's now my new favorite dessert to make at home. 😉

 A beautiful display of the Broccoli & Bacon Salad, the Lean Cuisine Spaghetti & Meatballs, and the Skinny Cow Sundae!
Are you hungry yet? If you are, then head on over to your local Sam's Club and get your own! 😉 You can also connect with Lean Cuisine and Skinny Cow at the links below:
Lean Cuisine on Twitter & Facebook
Skinny Cow: on Twitter & Facebook
To see more of my shopping fun check out my Google+ Album for this fun shop!
Disclosure: I am a member of the Collective Bias®  Social Fabric® Community.  This shop has been compensated as part of a social shopper insights study for Collective Bias®  and Nestle Lean Cuisine  and Skinny Cow #cbias #SocialFabric All thoughts & opinions are my own.